featured Daily Fantasy
Expert Advice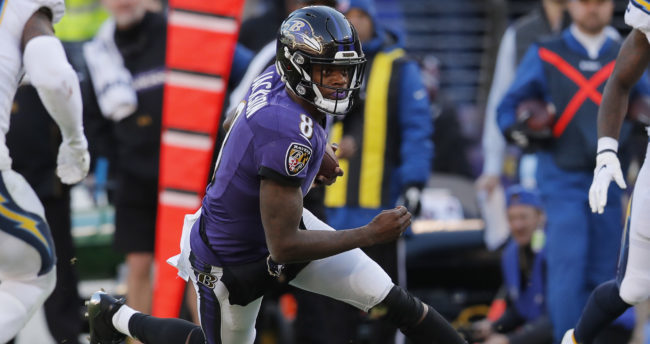 Daily Fantasy Football Game by Game Breakdowns for FanDuel and DraftKings Divisional Round - Saturday
It's the Divisional Round of the NFL playoffs, and Saturday's slate features the two teams with the best odds to meet in the Superbowl squaring off against the two teams that pulled off Wild Card round upsets. Will these games be as lopsided as the spreads suggest, or do the Titans and Vikings still have some magic left in the tank? Let's have a look. And also check in on our picks for
Sunday's Divisional Round games



Want access to the projections that power these picks? For a limited time we're offering a free one week trial to all the sports that we cover - that's optimal lineups for NFL, NBA, NHL, and MLB - for the same low price. Get started now!
Minnesota Vikings (7) vs. San Francisco 49ers (-7)
The Vikings worked their overtime magic against the Saints as 8 points dogs last week, and now Vegas is giving them a hair more respect against a better 49ers team. We know how the Vikes operated in a tight one vs. the Saints, but how will they do here? Let's see what
our system
thinks.
The Minnesota Vikings

Dalvin Cook FD 8600 DK 8000
Opponent SF
Proj Points FD - 20.85 DK - 22.61
If you're considering a Viking this Saturday, there's pretty much one name you need to know. Cook was the target of 33 of the Vikings 71 plays from scrimmage, and while it's true that the Vikings found themselves in the unlikely position of having a commanding lead through three quarters, that was the situation they were in nonetheless. It was clear from the opening kickoff that the Vikes wanted to keep the Saints off the field, and one has to assume they'll try the same against the Niners this week.
Now one might look at this and say, "James, the 49ers have the best DVOA of any team left in the playoffs! Surely we can't play Cook against them!" Well, hypothetical skeptic, it's true that the Niners have a great defense. But there are only four teams going on Saturday, and the Vikings have to do something when they get the ball offensively. The Vikes have also shown many times this season that they are willing to go all in on the Cook plan, especially when the opposing defense is better against the pass than against the run. The 49ers are exactly that, as they ranked 2nd this season in DVOA against the pass but "just" 12th against the run. Given the fact that two teams playing on Saturday don't really feature traditional RB1, Cook looks like a must.
The rest of the Vikings look a little bit rough. I don't want to play crybaby Diggs and his potential 3 targets. Kyle Rudolph showed up when the Vikings were in a position to play a more conservative match-up, and is playable. Our system thinks Adam Thielen is the third highest points per dollar wide receiver here, but he doesn't totally fit into cash games at the moment. The Vikings defense does, though.
The San Francisco 49ers
For a really awesome team, this team offers little in the way of DFS interest.
Jimmy Garoppolo
passed 22 times in the 49ers final game of the season against the Seahawks, and while they were up solidly after the first half, it was still pretty harrowing. 6 different players had a carry in that game as well. I think we can discard the running game altogether, unfortunately.

George Kittle FD 7300 DK 6200
Opponent MIN
Proj Points FD - 16.1 DK - 18.92
After a week where we had to play Fells at tight end on Saturday, Kittle brings some welcome relief. In any game that isn't a walk, Kittle should be a heavy favorite for double digit targets, and we of course saw him hit 17 targets against Atlanta earlier this season. That's upside and safety that you won't find from this position elsewhere, and on a slate with next to no safe wide receivers Kittle is the next best thing. It's hard for me to imagine covering my eyes and praying for a good Mark Andrews game when Kittle is on the slate for not much more.

Deebo Samuel FD 6600 DK 5200
Opponent MIN
Proj Points FD - 11.83 DK - 13.14
Emmanuel Sanders FD 5800 DK 5400
Opponent MIN
Proj Points FD - 9.16 DK - 10.85
Given how tough wide receiver is on this slate, you have to consider at least one of these 49ers guys. While we know that either can disappear if the game goes the Niners way, we know it can go the other way as well. San Francisco seems to be really depending on Samuel's big play ability as well, with him popping off for not just 102 yards receiving on 5 targets in week 17 but chipping in a rushing touchdown as well. Sanders seems riskier since he basically disappeared in week 17, but he's also cheap, and has more talent than a lot of receivers in the same price range.
Tennessee Titans (9) vs. Baltimore Ravens (-9)
The Titans may have (potentially) ended New England's reign of terror a round early, but what can they do against the league's best team this week? Vegas has them as 9 point dogs,
our system
is just as bearish. Let's see what we can pull from this game, though.
The Tennessee Titans
Derrick Henry FD 9800 DK 8200
Opponent BAL
Proj Points FD - 18.34 DK - 19.27
In his last two games Derrick Henry has touched the ball 67 times and scored 66 fantasy points. Which is pretty good. While last week there was a clear path to Henry putting up 30+ touches, I am having a hard time seeing him do the same thing this week. Yes the Titans were underdogs in New England, and that was a great defense, but given the Ravens explosive offense I just have to believe the Titans can't get away with only running 15 passing plays. That said, if there is a path, it's that the Ravens were basically league average in terms of DVOA against the run while being the 2nd best team overall against the pass. I still don't know if you can afford him, but it doesn't seem like a crazy play at the very least.
A.J. Brown FD 7500 DK 6000
Opponent BAL
Proj Points FD - 13.44 DK - 16.38
Now here's one I want to talk about for a second. AJ Brown has had a Jekyll and Hyde rookie year, with some truly jaw-dropping performances (153 yards and 2 touchdowns on 5 catches against Oakland??) and some total disappearances as well (like, well, last week). So where do we land here? On one hand, the Titans should be trailing and in a position where they need his big play making ability. On the other hand, the Ravens feature one of the league's best CB duos in Peters and Humphrey, and Brown won't really have anywhere to hide. As of now I'm sort of wondering if I should just go cheap across the board at WR and play Kittle with Andrews at the TE and flex, but I haven't made up my mind just yet.
The Baltimore Ravens

Lamar Jackson FD 9500 DK 8400
Opponent TEN
Proj Points FD - 28.54 DK - 28.44
The one man band himself. The NFL's best player is also the best DFS player, and getting him against by far the worst defensive team on the slate just makes this a no-brainer. We know the Ravens have two gears with Lamar. In games they need to win they are content to let Jackson carry the ball 20 times, and when he does he's basically an RB1 with a solid QB's passing game sprinkled in. I just don't see any cash game line-up that doesn't start with
Lamar Jackson
at the top of it.
After Jackson, things get a bit hairier. I am certainly down to run Mark Andrews in the flex spot if it comes to that, as his last two games rival any of the similarly priced wide receivers right now.
I don't know what to make of this running game, though. Mark Ingram appears to be headed toward being healthy, but we've seen games where Edwards chips in double digit carries even when Ingram is healthy. As for Edwards, he's also next to free here, and if you think he can put together 8 carries and 4 targets or something I don't think he's stone cold unplayable. But man, I'd be nervous to roster either of these guys in cash games this week and would rather take a chance on a cheap receiver like Emamnuel Sanders or something.
That's it for now! Be sure to turn in tomorrow for Doug's article on the Sunday games, and good look this weekend!
GRAB A FREE TRIAL OF OUR PROJECTION SYSTEM, AND CHECK OUT DFSR PRO!
FREE EBOOK
SECRETS TO CRUSHING DAILY FANTASY FOOTBALL!
DON'T SET ANOTHER LINEUP BEFORE YOU READ THIS BOOK.