News Daily Fantasy
Expert Advice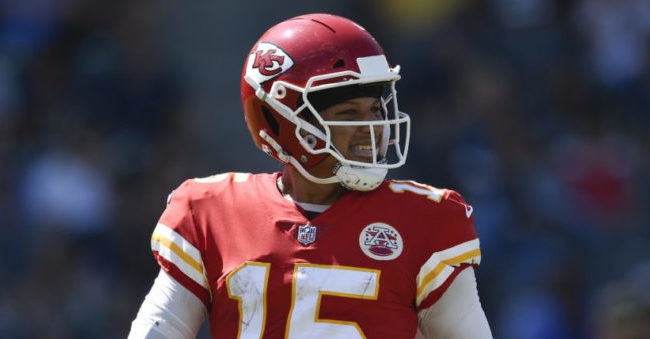 Daily Fantasy Football Game by Game Breakdowns for FanDuel and DraftKings Conference Championships - Sunday 1/19/2020
It's Championship Sunday in the NFL, the second-biggest leverage day of the season where teams try to fulfill the ultimate goal: a trip to the Super Bowl. It was a wild weekend in the Divisional round with the Ravens getting dealt a stunning upset at the hands of the Titans and the Chiefs weathering an early storm from the Texans on their way to a decisive win. Let's take a look at this week's two games for
FanDuel
and
DraftKings
.
We are covering NFL DraftKings and FanDuel plays for Sunday's Divisional Round. It's a stacked schedule of some potent offenses and plenty of intrigue.

Plus, check out our picks for Saturday's Divisional Round Plays for FanDuel and DraftKings.


Want access to the projections that power these picks? For a limited time we're offering a free one week trial to all the sports that we cover - that's optimal lineups for NFL, NBA, NHL, and MLB - for the same low price. Get started now!
Tennessee Titans (7.5) vs. Kansas City Chiefs (-7.5)
Things started off rough for the Chiefs last week, falling down by three scores early to the Texans in a game that really looked like it was going to be completely out of hand and insurmountable. But you wouldn't have known by the final score when the Chiefs put their foot on the freaking gas. They finished with 51 points in a game that looked out of hand in the other direction by the time things were said and done. This week they'll host the surprise Titans in a game that should feel "easy" but that has been anything but the case with Tennessee. They are coming off two monster upsets on the road against the Patriots and Ravens, games it would have appeared they had no business winning. It's been quite the run and they'll try to cap it off with another mini-miracle in KC.
Tennessee Titans
Derrick Henry FD 9800 DK 8700
Opponent KC
Proj Points FD - 20.86 DK - 22.25
This is the big question for the weekend. Conventional wisdom and long-term analytics would suggest that jamming the most expensive running back on the slate up into an underdog matchup on the road is the exact opposite way to go in cash games. And yet for multiple weeks now Henry has bucked that trend in a big way. Over the last two games, against really good defenses mind you, dude has put up an eye-popping 377 yards on the ground in 34 carries. He's ripping off almost six yards per run and the Titans have made their intentions clear: Henry right, Henry left, Henry up the middle. Kansas City has been bad against the run this season, ranking 29th in DVOA against the rush and it stands to reason Tennessee will continue pounding this script over and over. Henry is a very tough fade here because of the expected volume and even if Tennessee fell down early, I'd expect them to stick to the run for at least the better part of the game.

Ryan Tannehill FD 7700 DK 5500
Opponent KC
Proj Points FD - 16.3 DK - 17.46
The case for Tannehill centers directly around the price, specifically on
DraftKings
. There's a very real scenario in which the Titans fall down early and will need to pass more than the 29 total (total!) passes he's thrown in the first two weeks of the playoffs. I know the Titans don't want to roll this way, but they could be forced into it against such a high-powered offense like the Chiefs. During the season, he completed 70% of his passes with a 22:6 TD:INT rate. He hasn't been nearly as efficient during the postseason facing tougher defense, and KC's pass D ranked in the top ten in DVOA this year. It's merely a cost-benefit piece on Tannehill on this point considering the limited options.
Tannehill only threw 14 passes last week, but spread those out to eight different pass-catchers. It's tough to sniff out much cash game value in the Titans' WR/TE corps because of this. If anything, talk yourself into
A.J. Brown
who has seen targets in the past and has also been part of some trick run plays.
Kansas City Chiefs

Patrick Mahomes FD 9500 DK 7700
Opponent TEN
Proj Points FD - 23.43 DK - 24.39
Mahomes is expensive for sure, but based on the other quarterback options on this slate, he is going to be very tough to fade.
Ryan Tannehill
and
Jimmy Garoppolo
just haven't thrown for enough volume to justify the prices this season or even on this slate really. That's not to say it can't happen and there's a scenario in which Tannehill has to throw from behind for sure. But in terms of floor AND upside, no one else is even in Mahomes' class on this slate. He finished with five touchdowns against the Titans and even added 53 yards on the ground, his third-highest running total of the season. The drop off from QB1 to QB2 is just too drastic to think about fading Mahomes here.

Travis Kelce FD 7800 DK 7100
Opponent TEN
Proj Points FD - 18.59 DK - 22.67
In the Divisional Round, Kelce sat out a couple of series to start the second half and still finished with 10 catches, 134 yards and three touchdowns on 12 targets. Even with
George Kittle
on the slate, Kelce is once again near a cash game lock (I was shocked at his *only* 50% ownership on Sunday) considering he has some of the highest target expectation around. Kelce ranked first among tight ends and 11th overall in targets this season and is such an integral part of what the Chiefs do that it's tough to imagine him killing you even at these prices.
Damien Williams FD 7600 DK 7000
Opponent TEN
Proj Points FD - 17.1 DK - 19.06
In terms of "priorities" stacking Mahomes, Kelce and Williams in cash for this short slate is going to be the way we begin making lineups. Even with the Chiefs guys getting price upticks, this still represents such a lions' share of their offense for a team coming in with the highest projected point total on the weekend. Williams got 18 looks (12 carries, six targets) last week and finished with 68 total yards and two touchdowns. He's clearly 100% the backfield plan at this point and is coming in as a prohibitive home favorite. He's more expensive than
Aaron Jones
on
DraftKings
, but considering the matchup I think I'd lean Williams here.
Tyreek Hill
was a popular cash game play last week that we faded. He could be there again this week and I get it because of the big-play ability. But he just doesn't garner enough target share to lock in the floor.
Green Bay Packers (7.5) vs. San Francisco 49ers (-7.5)
Green Bay Packers
It's tough to think about running Packers into this 49ers' defense. San Fran ranked 2nd overall in defensive DVOA this season and Green Bay has, by far, the lowest implied point total of the slate. There is likely some value in the Packers' secondary receivers if you think
DaVante Adams
sees a lot of
Richard Sherman
coverage this week. It will be a tough matchup for him. But finding the target share after him is tough with no other Packer WR see more than a single target after Adams.
Jimmy Graham
I suppose is something of a punt play after his 4-target game, but even from a points per dollar standpoint at $3700 on
DraftKings
he's still way behind Kelce and Kittle.
Additionally, in a close game
Aaron Jones
could see 20+ touches, but talk to
Dalvin Cook
about that possibility after the 49ers swallowed him up whole last week.
San Francisco 49ers
Tevin Coleman FD 6500 DK 5700
Opponent GB
Proj Points FD - 13.49 DK - 13.68

Raheem Mostert FD 5800 DK 4300
Opponent GB
Proj Points FD - 10.64 DK - 10.88
Since Week 9,
Tevin Coleman
hadn't carried the ball more than five times in a game, becoming the second or third fiddle in the 49ers' running attack. And then, bam, in the Divisional Round he went out and carried the ball 22 times for 105 yards and two touchdowns. In some ways, we shouldn't necessarily be surprised considering the San Fran attack has been to ride hot hands and employ multiple running backs in their scheme. But the volume was way more than even a moderate expectation.
Meanwhile, Mostert who had led the team in the rushes over the last five weeks still carried the ball 12 times for 58 yards in the win. The question now is what to do with the 49ers' running backs. I tend to think the plan of attack is just too unknown to run any of them in cash games. It amounts to a crapshoot and there are three other teams on this slate that you at least can count on the snaps (Henry, Williams, Jones) in a way you just can't with the 49ers. In that respect, I think we can "fade" them (specifically Coleman) in cash. But it's tough because these guys are priced under that other group.

Deebo Samuel FD 6300 DK 5500
Opponent GB
Proj Points FD - 13.05 DK - 14.72
Samuel has emerged as something of the 49ers de facto WR1 though that isn't saying all that much considering San Fran isn't all that interested in throwing many passes. He led the team with six targets against the Vikings and did throw up some double-digit look games earlier in the season. He's reasonably priced on both sites and for the short slate is definitely a cash-game option with upside if the 49ers are forced to pass a bit more than usual.
I do think you can consider
George Kittle
in cash, but Kelce is just a much safer play.
I also don't mind
Emmanuel Sanders
but much prefer Samuel.
GRAB A FREE TRIAL OF OUR PROJECTION SYSTEM, AND CHECK OUT DFSR PRO!
image sources
Chiefs Chargers Football: (AP Photo/Kelvin Kuo)
FREE EBOOK
SECRETS TO CRUSHING DAILY FANTASY FOOTBALL!
DON'T SET ANOTHER LINEUP BEFORE YOU READ THIS BOOK.