Baseball Picks Daily Fantasy
Expert Advice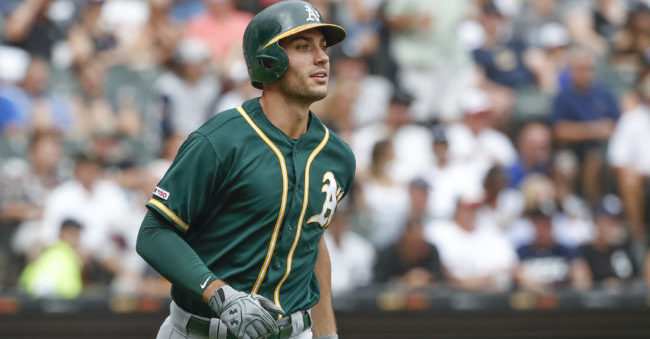 DraftKings and FanDuel MLB Picks for Tuesday 7/28/20
On Monday, things got real weird real fast with the Marlins spiking cases of Covid-19 and having to cancel their game against the Orioles. They've already canceled Tuesday's game as well. But the season pushes on (hopefully) though Tuesday has some issues from a DFS perspective. The pitching situation is suspect at best, a disaster at worst. Let's take a look at some of the plays for
FanDuel
and
DraftKings
.
Now's your chance to get DFSR PRO, which will give you access to our MLB, NBA and NFL optimizers and our new player lab! Get started for free by clicking the button below.
Pitchers

Walker Buehler FD - P 10500 DK - SP 11800
Opponent -
HOU (Framber Valdez)
Park -
HOU
FD
- 31.84
DK
- 17.4
Just a heads up that Tuesday is one of the worst pitching slates you'll see in DFS and the season isn't even a week old. But this is the part of the the rotation for some teams that comes just before turning back over to the aces. Buehler is, by far, the most talented arm on this slate and it isn't particularly close. The issue is he draws one of, if not the, toughest matchup against the Astros. He's a -150 road favorite in Houston with a 9 over/under which is about the lowest for Tuesday's games. Buehler was magnificent in 2019, striking out 10.63 batters per nine, walking fewer than two and finishing with a 3.37 xFIP. He's justifiably expensive on both sites and because of that and the matchup you may decide the juice isn't worth the squeeze. But Buehler has to be at the top of any list for Tuesday because of the talent gap behind him.
Patrick Sandoval FD - P 5600 DK - SP 6600
Opponent -
SEA (Justus Sheffield)
Park -
LAA
FD
- 30.22
DK
- 15.54
See how ugly things got and how quickly? Sandoval does have some things going for him on Tuesday though. He's the slate's best money line favorite at -170 at home against the Mariners. Seattle is mostly a young, inexperienced and bad lineup putting up two or fewer runs in three of the first four games this season. In nine starts in 2019 Sandoval struck out more than 9.5 batters per nine and his 4.02 xFIP was a run better than the 5.03 ERA mostly because he appeared to run very bad on the HR/Fb rate. He's coming incredibly cheap on both sites on a day on which you'll most definitely want to stack some expensive bats.
Look, starting pitching on this slate is a moderate disaster. I don't feel all that great about the guys above and the rest of the list doesn't get any better.
Yonny Chirinos
(
FD
$7400
DK
$8500) is intriguing simply because he had good control last year and could eat innings. But the matchup against the Braves is rough.
Josh Lindblom
(FD $6100 DK $5100) was decent in two seasons in Korea, but those are tough numbers to bank on. That being said he's a -153 road favorite against the Pirates. On a day like today, that might be good enough. At only $5100 on
DraftKings
, I think we can take a flyer.

Catcher/First Base

Matt Olson FD - 1B 3500 DK - 1B 4500
Opponent -
COL (Antonio Senzatela)
Park -
OAK
FD - 13.06 DK - 9.72
Olson finished 2019 with an OPS over .900 thanks to a career-high 36 home runs while keeping the walk rate right around 10%. He raked righties with a .377 wOBA and 142 wRC+ in that split. The A's face
Antonio Senzatela
who was bad even by Coors' standards last season with a 5.12 xFIP striking out only 5.49 batters per nine and walking 4.11 in that same frame. He's a gas can and that has Oakland looking like a great stack for Tuesday.

Ryan Braun FD - 1B 2900 DK - OF 4000
Opponent -
PIT (Derek Holland)
Park -
PIT
FD - 11.9 DK - 9.04
Braun might be getting a little long in the tooth, playing in his age 37 season. But he's still fine when facing lefties. In 2019, Braun was significantly better in that split, rocking a .933 OPS, .384 wOBA and 136 wRC+ against southpaws. He was a tough strikeout too at only 15%. Holland is coming off a disaster season in which the ERA climbed over 6.00 while walking almost five batters per nine. Braun is coming entirely too cheap on both sites considering his platoon advantage and the matchup.
Second Base
Keston Hiura FD - 2B 3300 DK - 2B 4300
Opponent -
PIT (Derek Holland)
Park -
PIT
FD - 12.07 DK - 9.18
Speaking of Brewers, Hiura makes for a great mini-stack with Braun. Hiura's rookie season was a resounding success, finishing with a .938 OPS and 19 home runs in his first 348 plate appearances. No doubt some luck was involved though. His .402 BABIP isn't sustainable and the 24% Hr/Fb ratio is likely a tick high as well. He was bad against lefties, but the 86 plate appearance sample size isn't enough to make tons of meaningful conclusions there. Middle of the Brewers' order against a wild, low-K lefty makes for a great cash game spot.
Howie Kendrick FD - 2B 2500 DK - 1B/2B 3700
Opponent -
TOR (Tanner Roark)
Park -
WSH
FD - 12.16 DK - 9.37
The 37 year-old Kendrick made his 14th season the best one yet in 2019. He was a monster for the Nationals, posting a whopping .967 OPS and .400 wOBA. He's always been tough to K but took it to a new level with a strikeout rate of only 13% and put the ball in play in 80% of his plate appearances. Roark isn't a terrible pitcher, but finished 2019 with a career-worst 4.64 xFIP and 37% hard
contact
rate allowed. For a middle of the order hitter, Kendrick is too cheap on both sites.
Shortstop

Trea Turner FD - SS 3700 DK - SS 4800
Opponent -
TOR (Tanner Roark)
Park -
WSH
FD - 14.72 DK - 11.37
We'll keep it in Washington with
Trea Turner
at shortstop. He isn't a huge OPS guy but derives a ton of fantasy value through his relative power (19 home runs in each of the last two seasons) and the incredible speed. His stolen base numbers over the last three seasons are 35, 43 and 46. He doesn't draw a ton of walks, only 7% last season but makes a lot of
contact
with only a 19% K rate. He's a better
FanDuel
play than
DraftKings
, but considering you aren't likely spending up for pitching, fitting his salary shouldn't be an issue.

Marcus Semien FD - SS 3600 DK - SS 4400
Opponent -
COL (Antonio Senzatela)
Park -
OAK
FD - 13.23 DK - 10.07
Semien is just a bit cheaper on both sites and has upside of his own here on Tuesday. He had his best season in 2019 posting an out-of-nowhere .891 OPS while bombing 33 home runs (only 25 combined the previous two seasons) and getting the walk rate up over 11%. He was a top WAR guy in 2019 and his numbers continue trending in all the right ways. Despite striking out more than 20% for his career, he cut that number to 13% last year. Dude has just become one of the surprise, and under appreciated "stars" in the game. For all the reasons we said Olson had a great matchup against Senzatela, Semien does as well.
Third Base

Josh Donaldson FD - 3B 3000 DK - 3B 4100
Opponent -
STL (Carlos Marti­nez)
Park -
MIN
FD - 14.26 DK - 10.57
For his career, Donaldson has been significantly better against lefties than against righties, but that swapped last season. In the reverse platoon, Donaldson put up numbers with a .381 wOBA and .917 OPS which was 70 points higher than what he did against lefties. Minnesota has one of the tougher matchups against
Carlos Martinez
, but they are also -120 home favorites with a 10.5 over/under at open.

Matt Carpenter FD - 3B 2500 DK - 3B 3400
Opponent -
MIN (Homer Bailey)
Park -
MIN
FD - 11.23 DK - 8.37
Carpenter was dreadful in 2019 looking like father time might have finallyy caught up with him even though he's *only* 34. And frankly, 2020 hasn't started much better with only one hit in his first 12 plate appearances. But I'm not ready to give up just yet. He's still taking walks and faces off against
Homer Bailey
who, while probably not complete toast, likely isn't as "good" as he appeared in 2019 following back-to-back dreadful seasons with the Reds. I want to believe we are still buying low on Carpenter here in the middle of the Cards' lineup.
Strongly consider
Jedd Gyorko
(FD $2200 DK $2700) if he's once again hitting fifth for the Brewers against the lefty.
Outfield

Giancarlo Stanton FD - OF 3800 DK - OF 5600
Opponent -
PHI (Jake Arrieta)
Park -
PHI
FD - 15.91 DK - 11.8
Stanton has two home runs in his first 11 plate appearances this season including an absolute hammer shot with
121 mph exit velocity
on Saturday. The ball had basically cleared the fence before anyone even had a chance to move. It was truly magnificent. Stanton's biggest weakness is the propensity to strikeout, going down on strikes more than 30% of the time over the last two seasons. But that's way less of a concern against
Jake Arrieta
who's only been K-ing about seven batters per nine over the last few seasons. This is a prime spot for Stanton even though Arrieta does tend to induce a lot of ground balls.
Update: The Yankees game has been postponed for Tuesday.

Lorenzo Cain FD - OF 2700 DK - OF 3600
Opponent -
PIT (Derek Holland)
Park -
PIT
FD - 11.86 DK - 9.19 Cain got the nod in the leadoff spot on Monday against the lefty Brault and could be in the same spot here against the southpaw Holland on Tuesday. The plate appearance expectation would be worth most of the price of admission in this matchup and Cain is coming incredibly cheap on both sites. For his career, he's been much better against lefties, going for an .841 OPS and .360 wOBA in that split. There's also some speed upside with Cain having swiped 48 bags over the last two seasons with the Brewers.
Shohei Ohtani FD - OF 3300 DK - 1B/OF 4100
Opponent -
SEA (Justus Sheffield)
Park -
LAA
FD - 13.28 DK - 10.06
He got rocked the other day in his first start on the mound. Maybe he should just stick to hitting. Because he's been fine in that regard. In his first major league season he put up an .848 OPS with 18 home runs and stealing 12 bags. Anyone hitting in the middle of the lineup in the vicinity of
Mike Trout
will have potential as well and the Angels have one of the higher run lines of the day against
Justus Sheffield
.
GRAB A FREE TRIAL OF OUR PROJECTION SYSTEM, AND CHECK OUT DFSR PRO!
FREE EBOOK
SECRETS TO CRUSHING DAILY FANTASY FOOTBALL!
DON'T SET ANOTHER LINEUP BEFORE YOU READ THIS BOOK.