Baseball Picks Daily Fantasy
Expert Advice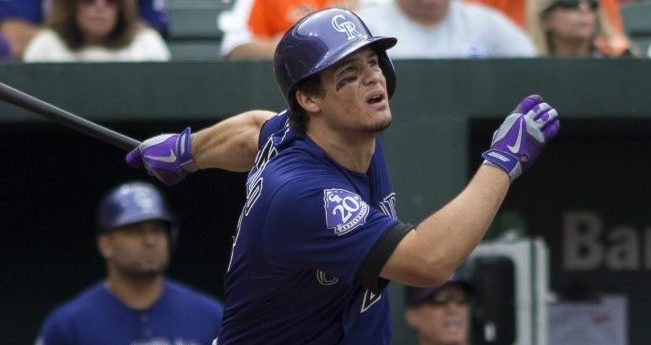 DraftKings and FanDuel MLB Picks for Friday 7/31/20
Now's your chance to get DFSR PRO, which will give you access to our MLB and NBA optimizers and our new player lab! Get started for free by clicking the button below.
It's been a crazy first week to the season and we're already halfway through the year! Just kidding, but it is strange to see every game matter this early into the year. For this slate, we have a daunted Coors Field game. That means it will be featured heavily in this article, so, let's get into some pitchers to stack with those bats.
Pitchers

Trevor Bauer FD - P 11400 DK - SP 10500
Opponent - DET (Spencer Turnbull) Park - DET
FD - 39.58 DK - 21.6
Bauer has always had a ton of potential and he really showed that in the opener. He actually struck out 13 batter across 6.1 one-run innings, allowing just three base runners. What makes that look even better is the fact that is came against the same opponent, the Tigers. Owning the Motor City Kitties is a rather easy task too, posting a lineup with Miguel Cabrera and Christian Stewart in the heart of it. That's why Bauer and the Reds are projected to enter this matchup as a -160 favorite and why Bauer could be looking at another 10-K game.

Jordan Montgomery FD - P 6800 DK - SP 7800
Opponent - BOS (Ryan Weber) Park - NYY
FD - 33.63 DK - 17.33
This probably looks strange on the surface but we need to find some value at pitcher with so many Coors Field bats. Montgomery is just that, facing the Red Sox as a monster favorite. In fact, he and the Yankees enter this game as a -230 favorite. That's one of the biggest spreads of the season and getting that win bonus could be huge for someone priced so affordably. This is a guy who's dominated in the minors throughout his career as well, generating a 2.46 ERA and 1.15 WHIP since 2015. Boston isn't as tough as they used to be either, owning one of the worst bottom halves of a lineup in the AL.
Blake Snell is on a pitch count but is definitely worth keeping an eye on going forward.


Catcher/First Base
Yasmani Grandal FD - C 2800 DK - C 4500
Opponent - KC (Kris Bubic) Park - KC
FD - 12.74 DK - 9.46

José Abreu FD - 1B 3100 DK - 1B 4200
Opponent - KC (Kris Bubic) Park - KC
FD - 13.42 DK - 10.2
Edwin Encarnación FD - 1B 3000 DK - 1B 4500
Opponent - KC (Kris Bubic) Park - KC
FD - 13.37 DK - 9.91
Look at that, three bats in this section and we haven't even gotten into Coors Field yet. If you want to fade that game, using White Sox isn't too bad of an idea. The main reason we like them is this matchup, facing Kris Bubic. I'd be lying to you if I told you I knew who that was prior to today but that's a bad sign on its own. It's no surprise he's a no-name either, making his Major League debut here and never pitching above A-ball. Yes, that means he hasn't even pitched in Double-A.
That inexperience is bad news for the southpaw, particularly against all of these dangerous righties. We'll start things off with Grandal at catcher because he's likely the best catching option on the board. The catcher has been pretty close to equal on both sides of the plate, posting a .360 OBP and .819 OPS against righties since 2018. That's solid but wait until you see these first basemen's numbers. Encarnacion is the league leader in homers over the last decade and posted a .969 OPS against lefties last season. Abreu was even better, tallying an OBP north of .400 and an OPS above 1.000 against southpaws last year. Don't be surprised to see all of these guys go off.
If you happen to hate the White Sox Daniel Murphy and Freddie Freeman make for good alternatives.
Second Base

Jurickson Profar FD - 2B 3000 DK - 2B 4700
Opponent - COL (Jon Gray) Park - COL
FD - 12.11 DK - 9.18
While Profar has been a big disappointment since being the top prospect in baseball, he still has major potential. The reason we like him today is the fact that he's just $3,000 on FanDuel. Good luck finding anyone in the heart of a Coors Field lineup being priced this cheaply. None of the statistics will tell you that Profar is a good play but it's just better to pivot to Coors more often than not.

José Peraza FD - 2B 2500 DK - 2B 2900
Opponent - NYY (Jordan Montgomery) Park - NYY
FD - 10.17 DK - 8
Even though we like Montgomery, Peraza is definitely in play below $3,000. What we really love is that he hit leadoff on Thursday. Anybody hitting ahead of J.D. Martinez and Xander Bogaerts is in play. One of the reasons he was moved to the leadoff spot is because he has a batting average just shy of .300. That's the guy we've been waiting for and we love that he gets the platoon advantage as well. Since 2018, Peraza is hitting .303 against southpaws, en route to a .761 OPS. Those numbers don't pop but it's huge for a guy below $3,000 on both sites.
Mike Moustakas is definitely in play against Spencer Turnbull.
Shortstop
Trevor Story FD - SS 4300 DK - SS 5700
Opponent - SD (Garrett Richards) Park - COL
FD - 15.79 DK - 11.94
Story is back in Coors Field! That automatically makes him one of the best plays out there, generating a .384 OBP, .670 SLG and 1.054 OPS at home since 2018. Those are some of the best power numbers around and it doesn't even take into consideration his 52 steals in the last two years too. The good news is that Story is hot right now too, posting a 1.046 OPS across the first week of the season. If he's that hot on the road right now, wait til' you see what he starts doing at home.

Fernando Tatis Jr. FD - SS 4100 DK - SS 6000
Opponent - COL (Jon Gray) Park - COL
FD - 15.65 DK - 11.97
Let's keep the Coors bats rolling with a Padre. Tatis is expected to assume his usual leadoff spot atop this lineup and that's big news with the Padres projected for six runs. This guy has done nothing but produce in his short time at the Majors too, amassing a .381 OBP and .971 OPS in 90 professional games. That looks even better with his 45 extra-base hits and 17 steals. The talented shortstop had one four-game Coors Field series last year, providing a .526 BA and 1.497 OPS in those 20 at-bats. Yeah, that's truly scary.
If you're sick of hearing about Coors Field, Tim Anderson is in play atop the White Sox lineup.
Third Base

Nolan Arenado FD - 3B 4100 DK - 3B 5500
Opponent - SD (Garrett Richards) Park - COL
FD - 15.91 DK - 11.97
Story and Arenado make minced meat of pitchers when at home. For his career, Arenado has an OPS north of 1.000 at home. He's doing that while hitting close to .350 and he's a monster whenever he gets to step onto that friendly field. While Garrett Richards had a nice debut, this is a guy who could struggle in this tough environment. Between 2018-19, Richards had a 4.13 ERA and 1.34 WHIP, struggling to stay on the field. All of that puts Arenado squarely in play and he's actually usually $500 more on each site when at home, making him a decent value too.

Manny Machado FD - 3B 3800 DK - 3B 5000
Opponent - COL (Jon Gray) Park - COL
FD - 14.97 DK - 11.32
It's no surprise to see players go off in Coors Field but as a Rockies fan, I remember him going bananas there last year. In 10 games at Coors last season, Machado put together a .469 OBP and 1.225 OPS. Obviously, that's absurd and it's clear that the spacious ballpark caters beautifully to a talented bat like the one Machado possesses. We also like that he's gotten off to a solid start this season, homering twice in six games while providing an .850 OPS. It's hard to pick between Arenado and Machado but one has to believe that it's impossible to fade both in such a tasty situation.
If you want someone cheaper, Eugenio Suarez has a great matchup against Spencer Turnbull.
Outfield

Tommy Pham FD - OF 3800 DK - OF 4800
Opponent - COL (Jon Gray) Park - COL
FD - 14.26 DK - 10.84
This marks the final of the Coors Field bats. While the .150 BA is obviously not pretty, it's imperative to look at the other numbers. Five walks has led to a .346 OBP and four steals has kept him fantasy relevant. His .188 BABIP and .000 ISO are certain numbers that are due for some positive regression and what better place to do that than Coors Field? The weak start has kept his price tag rather affordable too, making him one of the best values of all of the Coors Field bats.

Michael Brantley FD - OF 3400 DK - OF 2800
Opponent - LAA (Undecided) Park - LAA
FD - 11.84 DK - 9.06
While this FanDuel price is normal, it's hard to understand what DraftKings is doing. DK is usually the site that prices people up but keeping Brantley below $3,000 is truly laughable. We're talking about a .300-hitter who bats in the heart of the Astros lineup. That alone makes him hard to fade, especially facing a nobody from the Angels farm system. It's not like he's struggling either, accruing a .435 AVG and 1.196 OPS this season. Ti put it simply, DraftKings is making an error here and we need to keep capitalizing until he gets closer to $4,000.
Shogo Akiyama FD - OF 2500 DK - OF 2500
Opponent - DET (Spencer Turnbull) Park - DET
FD - 11.42 DK - 8.8
We've already talked about some of the Reds that we like and Shogo would definitely be one of them if he bats atop this potent lineup. We're talking about a team that's projected for five runs, facing a pitcher who posted a 4.76 ERA and 1.42 WHIP between 2018-19. While Akiyama has yet to prove himself at this level, he was ridiculous in the NPB. In fact, he hit .303 while providing 20 homers and 13 steals. He also killed right-handed pitching while there which is why the Reds want him to bat leadoff against them. The best part of all of this is the price though, with Akiyama flirting with the minimum on both sites.
Don't forget about guys like Charlie Blackmon, David Dahl and J.D. Martinez.
GRAB A FREE TRIAL OF OUR PROJECTION SYSTEM, AND CHECK OUT DFSR PRO!
image sources
Nolan Arenado: By Keith Allison (Flickr: Nolan Arenado) [CC BY-SA 2.0 (http://creativecommons.org/licenses/by-sa/2.0)], via Wikimedia Commons
FREE EBOOK
SECRETS TO CRUSHING DAILY FANTASY FOOTBALL!
DON'T SET ANOTHER LINEUP BEFORE YOU READ THIS BOOK.