Baseball Picks Daily Fantasy
Expert Advice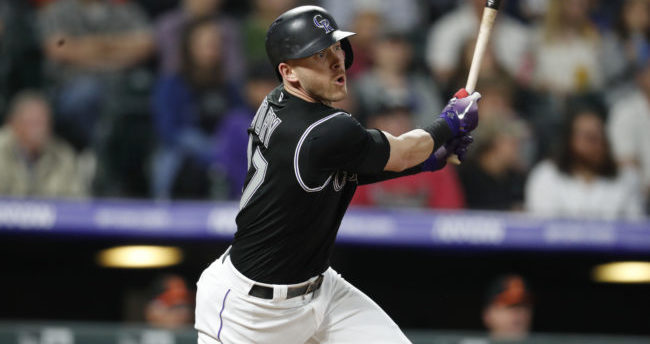 DraftKings and FanDuel MLB Picks for Sunday, 8/2/20
Now's your chance to get DFSR PRO, which will give you access to our MLB and NBA optimizers and our new player lab! Get started for free by clicking the button below.
Great night for DFSR baseball last night!

A near miss for the FanDuel optimal lineup to come in straight up first place in double ups, but hey, we'll take it.
The COVID craziness has wreaked havoc on MLB recently and it looks like we'll be without two or three games here. That limits the field for us and has completely destroyed the pitching. This is one of the weakest slates for pitching that I can remember but it's going to allow us to stack the Coors game with so many cheap arms available. With that in mind, let's look at some of the pitching options!
Pitchers
Yonny Chirinos FD - P 7900 DK - SP 8600
Opponent - BAL (Tommy Milone) Park - BAL
FD - 28.02 DK - 14.58
Man, the pitchers on this slate are downright atrocious. DFSR's James Davis and I had a hard time coming up with guys to use and this is what we're left with. It's by no means a disparaging mark toward Chirinos though, who's been pretty solid over the last two years. In fact, the righty has a 3.74 ERA and 1.06 WHIP since the beginning of last season. That WHIP is truly impressive and it makes us believe that he can slow down this terrible O's offense. This is a team that finished 25th in OPS last season and they should be even worse this year without Trey Mancini. That has Chirinos and the Rays entering this matchup as a -195 favorite which only adds to his value.
Jeff Samardzija FD - P 7200 DK - SP 6500
Opponent - TEX (Kolby Allard) Park - SF
FD - 29.63 DK - 14.82
If this doesn't tell you everything you need to know about this slate, I don't know what will. Shark has flashed moments of brilliance throughout his career though and makes for a cheap pivot in a good situation. The biggest reason we like him is that he's at home, with ORACLE Park playing as one of the most pitcher-friendly ballparks in baseball over the last decade. Shark has actually maintained a WHIP below 1.29 in six of his last seven seasons in total too, which is all you can ask for in a spacious park like this. The matchup might be the best part about this though, with Texas ranked dead-last in scoring and 29th in OPS. That definitely puts Samardzija in play around $7,000.
Clayton Kershaw could be in play if we get any word that he's throwing at least 70 pitches.

Catcher/First Base

Daniel Murphy FD - 1B 3100 DK - 1B 4500
Opponent - SD (Zach Davies) Park - COL
FD - 14.15 DK - 10.82
Colorado bats are going to be a popular theme in this article and it's easy to see why when looking at the matchup. While Zach Davies has a solid 44-32 record for his career, a 4.45 xFIP and 16.8 percent K rate tell a different story. That poor strikeout rate is a beautiful recipe for a guy like Murphy, who has one of the lowest K rates and highest BABIPs of any player over the last 5-10 seasons. That means the ball is going to be in play a ton and that's awesome in a place like Coors Field. Murphy has generally been better against righties too, posting a .351 OBP and .826 OPS against them throughout his career.
Edwin Encarnación FD - 1B 2800 DK - 1B 4000
Opponent - KC (Undecided) Park - KC
FD - 10.32 DK - 7.65
This is a price tag that I just don't understand. Encarnacion has been the best power hitter in the league since 2012, hitting 298 homers. That's ridiculous and it's pretty crazy that he's got at least 32 homers in all eight of those seasons. That means dingers are right around the corner and what better place to get started than against a no one taking the mound for KC. Kansas City has one of the worst rotations in baseball and it appears they'll bring up yet another minor leaguer here, after allowing 11 runs on Saturday. We rolled E5 in our FanDuel lineups last night, and we happy to go back to the well again here.
Jose Abreu is a solid play too if you prefer him over E5.
Second Base

Ryan McMahon FD - 2B 3300 DK - 1B/2B 4700
Opponent - SD (Zach Davies) Park - COL
FD - 13.82 DK - 10.48
It's very rare to find a Coors Field bat in this price range. It's not like McMahon is some bum either, likely hitting sixth in this potent lineup. Anyone batting that high for a lineup who's projected for seven runs is hard to fade. You can really see that McMahon's eyes light up in Coors too, posting a .351 OBP, .527 SLG and .878 OPS there since 2018. That's really all you can ask for against a crappy pitcher like this, particularly at the weakest position in MLB DFS.
Mike Brosseau FD - 2B 2100 DK - 1B/2B 4100
Opponent - BAL (Tommy Milone) Park - BAL
I honestly don't know a whole lot about this guy but he's been popping up highly in our projections anytime a southpaw takes the mound. That's just what we have here, with Tommy Milone pitching to a 5.74 ERA and 1.37 WHIP since 2016. That makes it hard to believe that he's still in the Majors but it's the O's and they need arms to blow up their numbers. The Rays certainly know that Brosseau is more successful against lefties too, hitting .307 against them en route to an .840 OPS for his career. That's why he hit second on Saturday and it seems likely that he'll be in the same spot here. He was 30% owned in cash game last nights and was great, going 2-3 with a homer. You won't be able to count on that every night, but the fact that it's in play makes him a great FanDuel play.
This position is downright ugly, so, going with Jose Altuve up top isn't the worst idea.
Shortstop

Javier Baez FD - SS 3700 DK - SS 4900
Opponent - PIT (Steven Brault) Park - CHC
FD - 13.82 DK - 10.54
If you don't already know, Baez against lefties is a cheat code. Since 2018, Javy has a .313 AVG, .362 OBP, .613 SLG and .975 OPS with the platoon advantage in his favor. That's the All-Star that we love to see and it's scary that he's coming into this matchup homering three times in his last four games. It's not like we're concerned about a lefty like Steven Brault either, with the left-hander posting a 4.84 ERA and 1.57 WHIP for his career. Those averages are actually even worse against righties and this is certainly a recipe for success.

Francisco Lindor FD - SS 3300 DK - SS 4700
Opponent - MIN (Homer Bailey) Park - MIN
FD - 13.61 DK - 10.37
I honestly have no clue what to expect from a guy like Homer Bailey. He has to be the most volatile pitcher in baseball, mixing no-hitters with absolute shellings. The good news is that the blow-ups appear more likely in the back-nine of his career, collecting a 5.54 ERA and 1.53 WHIP since 2015. All of that makes the Indians intriguing and it's strange to see Lindor at such an affordable price tag. We're talking about a guy who had a .560 SLG and .893 OPS against righties last year. It also makes him way more likely to steal and I'd argue that he should be $500 more on each site with all of that in his favor.
Trevor Story is scorching hot and is definitely in play in Coors Field at his sky-high price tag.
Third Base

José Ramírez FD - 3B 3900 DK - 3B 4700
Opponent - MIN (Homer Bailey) Park - MIN
FD - 14.49 DK - 10.92
You probably could have seen this coming with Bailey's 5.54 ERA and 1.53 WHIP from the Lindor write-up. These two guys make for a tasty two-man stack and they're actually more affordable than they usually are. What makes this price tag even more shocking is the fact that J-Ram is raking right now. Through eight games, he has a .429 AVG, .529 OBP, .714 SLG and 1.243 OPS. That doesn't even take into consideration his ability to swipe some bags, making him one of the best fantasy options out there. Not to mention, he owns a .376 OBP and .917 OPS against righties since 2018, if you needed any more incentive.
Yandy Díaz FD - 3B 2600 DK - 3B 4100
Opponent - BAL (Tommy Milone) Park - BAL
FD - 12.8 DK - 9.81
Diaz found his way into our article yesterday against a lefty and we have to love him anytime he gets the benefit of that platoon advantage. Tampa actually decided to lead him off in that game and it's no surprise when you see that he had a .393 OBP and .976 OPS against southpaws last year. Getting the leadoff hitter against a guy like Milone is obviously hard to overlook and it makes these price tags truly shocking with the Rays projected so highly.
Nolan Arenado is also a good play as part of the Coors Field stack. Don't forget about Manny Machado in that game either.
Outfield

Charlie Blackmon FD - OF 3900 DK - OF 5600
Opponent - SD (Zach Davies) Park - COL
FD - 16.39 DK - 12.55

David Dahl FD - OF 3700 DK - OF 5300
Opponent - SD (Zach Davies) Park - COL
FD - 16.19 DK - 12.36
Colorado is easily the best stack of the day. I honestly think we could see double-digit runs from this offense and that puts everyone in play. These two are definitely a major part of that, with Dahl leading off and Blackmon hitting third. Since 2018, Dahl has a .350 OBP, .532 SLG and .882 OPS against righties. In addition, he's got a .340 AVG and 1.019 OPS at home in that same span. Those are All-Star caliber numbers and it's scary for Davies that he has to navigate through this lineup without swing-and-miss stuff.
Blackmon's numbers are even better, generating a .363 OBP, .545 SLG and .909 OPS against righties since 2018. He also has a .413 OBP, .653 SLG and 1.066 OPS at home in that same span. Obviously, these two are key pieces to this stack and they'll definitely play a factor in the seven projected runs for the Rockies. If Sam Hilliard finds his way into the lineup, don't forget about him as a cheaper option.
Hunter Renfroe FD - OF 2800 DK - OF 4300
Opponent - BAL (Tommy Milone) Park - BAL
FD - 14.78 DK - 11.1
José Martínez FD - OF 2900 DK - 1B 4500
Opponent - BAL (Tommy Milone) Park - BAL
FD - 12.24 DK - 9.4
The Tommy Milone hate train just keeps chugging along. Using batters against a guy with a 5.74 ERA and 1.34 WHIP is obviously a good idea and it's why Vegas has this team projected for six runs. That's close to the Coors Field game but these Rays bats are such better values. Renfroe is definitely the riskier of these to guys but he literally has double-dong potential. We're talking about a dude who posted a .575 SLG and .906 OPS against lefties last season. That makes him one of the best values of the slate below $3,000 on FanDuel and you could go a full-on Rays-Rockies lineup if you wanted.
As for Martinez, he's always been a great hitter. Now that he's a DH in the AL, he's actually hit clean-up for Tampa on multiple occasions. He had a .325 average and .980 OPS against southpaws last year, guaranteeing him a prominent spot in this lineup. Both of these guys also saw a price drop on DK since yesterday and that really makes no sense with this being a better matchup.
If you don't like these two stacks, the Dodgers outfield with Joc Pederson, Mookie Betts, Cody Bellinger and A.J. Pollock are all in play against Merrill Kelly.
GRAB A FREE TRIAL OF OUR PROJECTION SYSTEM, AND CHECK OUT DFSR PRO!
FREE EBOOK
SECRETS TO CRUSHING DAILY FANTASY FOOTBALL!
DON'T SET ANOTHER LINEUP BEFORE YOU READ THIS BOOK.