Baseball Picks Daily Fantasy
Expert Advice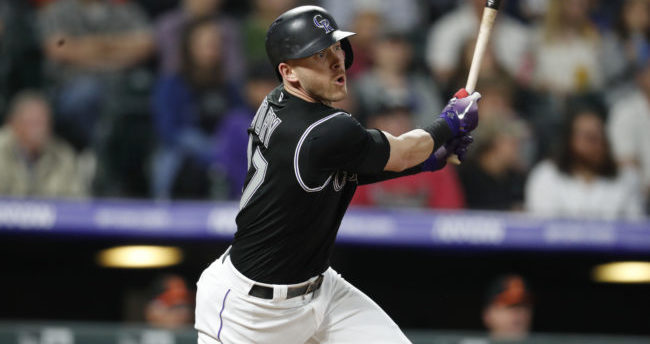 DraftKings and FanDuel MLB Picks for Tuesday 8/4/20
Baseball has been crazy this whole season and it doesn't seem to be getting any saner. Let's take a look at some plays for
FanDuel
and
DraftKings
.
Now's your chance to get DFSR PRO, which will give you access to our MLB, NBA, PGA, NHL, and NFL optimizers and our new player lab! Get started for free by clicking the button below.
Pitchers
Andrew Heaney FD - P 7300 DK - SP 8000
Opponent -
SEA (Justin Dunn)
Park -
SEA
FD
- 35.53
DK
- 19.47
The good news first: Heaney has been nails to start this season, striking out 12 batters in 9 2/3 innings while only walking one total. He's rocking an early 2.70 xFIP and just dominated these same Mariners in his last start, cruising through five innings. The problem is that the pitch counts have eclipsed 70 in either game and there's little margin for error at these prices with that kind of leash. Not going all that deep in games has kept the prices low on both sites, and I do think they work to stretch him out going forward. So while the per inning numbers are about as good as it gets through two starts, there's concern about length here.

Brandon Woodruff FD - P 9200 DK - SP 8300
Opponent -
CHW (Lucas Giolito)
Park -
MIL
FD
- 36.45
DK
- 19.67
This young White Sox lineup has a lot of prospects in it and has one of the better team wOBAs to start the season. That doesn't make for all that appealing a cash game opponent, but pitching is rather thin on this slate and we won't mind spending up again at Coors. As a full-time starter in 2019 Woodruff had a breakout season, striking out more than 10.5 batters per nine and rocking a 3.36 xFIP. He's continued things this season K-ing 15 batters in his first 11 innings while issuing only two walks. This is pretty much an even-money pick'em so Woodruff doesn't get much in the way of win expectation, but his K numbers are as good as anyone going here.
Dustin May
(
FD
$5900
DK
$7500) is still coming cheap but I'm not sure the pitch count gets all the way there.

Catcher/First Base

Daniel Murphy FD - 1B 3400 DK - 1B 4500
Opponent -
SF (Kevin Gausman)
Park -
COL
FD - 13.84 DK - 10.58
Ok, buckle up everyone because you're about to get another healthy dose of Coors plays. Look, I know there isn't a lot of nuance here, but when you have a game with a 12.5 over/under, three runs higher than the next closest game, then this is where we need to live. Murphy's first season in Coors was underwhelming considering the setting, finishing with a sub-.800 OPS and a career-high 15% K rate (which is still pretty elite). He's mashed in his first 25 plate appearances this season which is too small a sample size to go nuts about, but he's hitting around the middle of this Rockies' lineup and that's what counts here. Should be in the five spot against the righty.

Freddie Freeman FD - 1B 3700 DK - 1B 5100
Opponent -
TOR (Matt Shoemaker)
Park -
ATL
FD - 13.82 DK - 10.38
If wanting to pivot off Murphy but in a similar price point, Freeman offers that opportunity and is of course a much better hitter. He's coming off four straight years of .900+ OPS and makes for an incredibly difficult strikeout and takes walks over 12% for the better part of his career. Shoemaker, coming off many injuries, doesn't offer much in the way of resistance and this is a great spot for the Braves' bats.
Second Base

Ozzie Albies FD - 2B 3100 DK - 2B 5000
Opponent -
TOR (Matt Shoemaker)
Park -
ATL
FD - 12.91 DK - 9.91
Albies is expensive on
DraftKings
, but still a totally reasonable price on
FanDuel
in the low $3K range. The 23-year old has struggled out of the gate this season, but is coming off a mid-.800's OPS season with 23 home runs and raising the fantasy floor with 15 steals. The switch-hitter is firmly planted in the two-hole for the Braves and will face off against the decidedly average
Matt Shoemaker
on Tuesday. The latter hasn't been healthy since 2016 and has basically fallen of a cliff when it comes to the strikeout stuff.

Ryan McMahon FD - 2B 3500 DK - 1B/2B 4600
Opponent -
SF (Kevin Gausman)
Park -
COL
FD - 13.51 DK - 10.25
You'd think hitting sixth for the Rockies would be enough to pop some power numbers for even the most mediocre of hitters and that's sort of what happened for McMahon in 2019. He smacked 24 long ones and become something of a three true outcome guy while also striking out close to 30% and walking 10% of the time. This season he's going down on strikes like it's a contract incentive, but I do think we are still getting bargains on these Rockies guys considering the state of pitching. McMahon isn't a great hitter, but he's in a lineup projected to put up the most runs.
Shortstop
Trevor Story FD - SS 4200 DK - SS 5700
Opponent -
SF (Kevin Gausman)
Park -
COL
FD - 17.19 DK - 13.01
We'd much rather get Story in the lefty matchup considering he's tuned up that platoon for his career. The numbers against righties are significantly worse but he's still an above average hitter in that split. For his career he has a 101 wRC+ and .349 against righties to go with an .829 OPS. Those numbers won't knock your socks off, but it isn't like he can't do damage in the reverse platoon. Gausman does bring strikeout potential to the table which is the one thing making me concerned with a full Rockies stack, but it's just too hard to ignore the run line here.

Bo Bichette FD - SS 2800 DK - SS 4500
Opponent -
ATL (Max Fried)
Park -
ATL
FD - 11.07 DK - 8.52
Bichette made a splash after getting the call up in 2019, rocking a .929 OPS thanks in large part to 11 home runs in his first 212 plate appearances. The young prospect is part of the core the Blue Jays are excited about. Though it's a small sample size, he's been better against lefties in his first 300 or so plate appearances with a 159 wRC+ and .995 OPS.
Max Fried
is anything but a pushover, striking out more than a batter per inning for his young career. But I like the price for Bichette on
FanDuel
.
Third Base

Nolan Arenado FD - 3B 3800 DK - 3B 5300
Opponent -
SF (Kevin Gausman)
Park -
COL
FD - 17.33 DK - 13.03
I wish I could tell you this was the last Rockies' guy in the write up, but then I'd be telling a bald-faced lie. Arenado has been mostly a singles hitter to start the season, but this is why we shouldn't get wrapped up all that much in sample size. The is a problem with many folks analyzing early season returns from major league hitters. The fact that Arenado has about a .500 OPS to start the season doesn't really matter all that much. And sure, he's been much better against lefties for his career, but at home versus righties (a somewhat meaningful sample at this point) he has a .925 OPS and .386 wOBA. Let's take that to the bank on Tuesday.

Eduardo Escobar FD - 3B 2500 DK - 3B 4000
Opponent -
HOU (Framber Valdez)
Park -
ARI
FD - 11.51 DK - 8.75
Escobar is the D'Backs cleanup hitter at this point, take it or leave it for this club. He had his best season in the majors in 2019 after getting traded to Arizona in 2018. Escobar finished with a low .800's OPS and cut his K rate under 19% for the first time in his career. Valdez has been decent to start the season, which is kind of a theme on this slate with some of the cheaper bats.
Outfield

David Dahl FD - OF 3800 DK - OF 5100
Opponent -
SF (Kevin Gausman)
Park -
COL
FD - 15.84 DK - 12.09
Getting to hit first in the Rockies' lineup in Coors has a special place in every DFS'ers heart and that's what's going on with Dahl. He's firmly planted at first in the order when they face righties and offers tremendous upside even against a tougher arm like Gausman. Dahl was a mid-.800's OPS guy over the last two seasons. He doesn't take a ton of walks and will tick the K's up a bit, but has much better numbers against righties for his career with an .880 OPS and .368 wOBA in that split.
Obviously,
Charlie Blackmon
(FD $4200 DK $5800) goes right along with Dahl, but this is a pretty steep price point.

David Peralta FD - OF 2400 DK - OF 4600
Opponent -
HOU (Framber Valdez)
Park -
ARI
FD - 9.97 DK - 7.63
Peralta has struggled to start this season, with only six hits in his first 37 plate appearances, five of them singles. This follows up a 2019 campaign that saw the power numbers drop from 30 in 2018 to 12. The 30 feels like an outlier at this point, something we'll need to live with. But it doesn't make take off the board. He's still tough to strike out at under 20% and can tune up righties. The DK price still feels tough to swallow, but on
FanDuel
he's coming close to the minimum.
If you think
Justin Upton
(FD $2700 DK $3700) isn't dead, then I don't mind the matchup here.
It's a bad matchup, but it's still Coors.
Alex Dickerson
(FD $3100 DK $4800) and
Mike Yastrzemski
(FD $3800 DK $5900) get to hit in this zero gravity.
GRAB A FREE TRIAL OF OUR PROJECTION SYSTEM, AND CHECK OUT DFSR PRO!
FREE EBOOK
SECRETS TO CRUSHING DAILY FANTASY FOOTBALL!
DON'T SET ANOTHER LINEUP BEFORE YOU READ THIS BOOK.