Baseball Picks Daily Fantasy
Expert Advice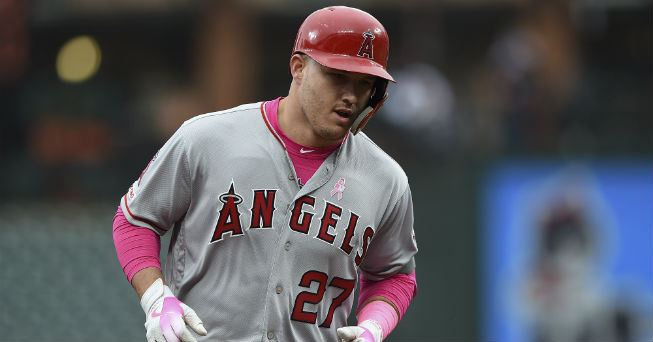 DraftKings and FanDuel MLB Picks for Friday 8/7/20
Now's your chance to get DFSR PRO, which will give you access to our MLB and NBA optimizers and our new player lab! Get started for free by clicking the button below.
Fridays are always my favorite day in terms of DFS, with every team in action. I'm not sure we've had many days with all 30 teams in play with all the COVID stuff but it looks like we have that here with Miami, St. Louis and Philly all back. That makes things fun for us, so, let's go ahead and get into it!
Pitchers

Julio Urías FD - P 8100 DK - SP 9800
Opponent - SF (Jeff Samardzija) Park - LAD
FD - 33.93 DK - 17.99
This FanDuel price is really hard to understand. The talented southpaw has done nothing but produce throughout his Major League career, pitching to a 3.14 ERA and 1.28 WHIP. More importantly, he has exactly one strikeout per inning in that same span, making him a dangerous fantasy option. The matchup against the Giants might be the best part of this play though, with San Fran sitting bottom-three in scoring, OBP and OPS last season. They have improved a little this year but a -250 line in favor of LA and a projected run total below four show you what Vegas thinks of them here.
Matthew Boyd FD - P 7900 DK - SP 8900
Opponent - PIT (Chad Kuhl) Park - PIT
FD - 34.61 DK - 18.48
Boyd has really struggled this season but it's lowered his price tag to a number that we can't overlook. We're talking about a guy who was $1,500 more on each site this time a year ago and he really shouldn't be this cheap in such a tasty matchup. The Pirates currently sit 28th in scoring while owning a league-worst .564 OPS. Yes, a .564 OPS. That's essentially facing a lineup with a bunch of nine-hole hitters. That's big news with Boyd posting a 30 percent K rate last season and Pittsburgh's best hitters being lefty-strong guys like Josh Bell, Colin Moran and Gregory Polanco.
We also think Griffin Canning (FD $7200 DK $8200) is a solid option against a struggling Rangers lineup.


Catcher/First Base

Max Muncy FD - 1B 3900 DK - 1B/2B 5300
Opponent - SF (Jeff Samardzija) Park - LAD
FD - 15.36 DK - 11.37
If you don't already know, Muncy is an absolute masher. Since joining the Dodgers in 2018, he has a .379 OBP, .537 SLG and .916 OPS. Those are All-Star numbers and it looks even better when you see his splits. In that same span, he's got a .384 OBP and .922 OPS with the platoon advantage in his favor. That's why he typically bats in the heart of this order, being protected by studs like Cody Bellinger and Mookie Betts. All of that has the Dodgers projected for more than five runs and Muncy should surely take part in some of that damage against Samardzija.

Rhys Hoskins FD - 1B 3200 DK - 1B 4100
Opponent - ATL (Kyle Wright) Park - PHI
FD - 13.42 DK - 9.91
The numbers from Hoskins don't necessarily jump off the page but he's too good to be priced in this range. We're talking about a dude who has a .365 career OBP to go along with his .490 SLG and .855 OPS. Those averages haven't quite lived up to expectations yet this season but a matchup against Kyle Wright is a good way to get him going. This a righty who has a 7.67 ERA and 2.50 WHIP so far this season and is likely to struggle in a hitter's haven like Citizen's Bank Ballpark. Those horrific averages are right around his career numbers and it's bad news for someone with such poor control facing a hitter who's got an astounding eye at the plate.
If you're in need of a catcher, Mitch Garver is always a solid choice against a guy like Jakob Junis.
Second Base

Ketel Marte FD - 2B 3600 DK - 2B 5100
Opponent - SD (Joey Lucchesi) Park - SD
FD - 10.45 DK - 8.03
Picking second baseman is like picking presidents nowadays and it's really a tough task. The good news is that a stud like Marte is eligible at this weak position and always makes for a good choice. That's why he has a high price tag but he's earned every bit of it with his .968 OPS since the beginning of last season. Marte typically bats much better against lefties too, generating a .325 AVG, .596 SLG and .971 OPS against southpaws since 2018. Those numbers have to horrify a guy like Joey Lucchesi, with the San Diego southpaw owning an 8.44 ERA and 2.44 WHIP so far in this disastrous season.
Tommy La Stella FD - 2B 2500 DK - 1B/2B 3500
Opponent - TEX (Jordan Lyles) Park - TEX
FD - 10.48 DK - 8.04
We really weren't quite sure who to go with for a cheap second baseman but La Stella is an interesting choice with his recent breakout. Since 2017, La Stella has a .356 OBP and .782 OPS. That's plenty good for someone in this price range and he's actually provided an OPS north of .830 in two of the last three years. Almost all of that damage has come against right-handers too, posting a .446 SLG and .803 OPS against righties since 2018. We also happen to like his matchup against Jordan Lyles and we'll go more in-depth on that matchup later.
Shortstop

Marcus Semien FD - SS 2800 DK - SS 4800
Opponent - HOU (Zack Greinke) Park - OAK
FD - 11.93 DK - 9.08
Shortstop is usually one of the easiest positions to pick from but today was tough. It seemed as though every stud option had a tough opponent, so, we're going to go with a nice value like Semien. We really love him on FanDuel, sitting below $3,000. This is a dude who garnered some MVP votes last season, providing a .522 SLG and .891 OPS. That doesn't even take into consideration his speed and tasty spot in the lineup, making him a huge value on FD. Facing Greinke is no easy task but a 17 percent K rate this year and diminshed velocity is not a good sign going forward.
Niko Goodrum FD - SS 2500 DK - SS 3700
Opponent - PIT (Chad Kuhl) Park - PIT
FD - 10.48 DK - 8.01
We really wanted to get some bats in there against Chad Kuhl. The reason for that is because of his career 4.33 ERA and 1.43 WHIP. That sky-high WHIP is truly terrible and it could make the Tigers one of the sneakiest stacks of the day. Goodrum would definitely be a good part of that stack, batting in the heart of the Tigers lineup. One thing that's funny about many Tigers hitters is that they typically bat better away from Comerica which is evident by Goodrum's .845 OPS outside of Detroit since 2018.
Third Base

Justin Turner FD - 3B 3200 DK - 3B 4700
Opponent - SF (Jeff Samardzija) Park - LAD
FD - 13.36 DK - 10.1
Stacking Dodgers is always a profitable endeavor and we're going to go ahead and ride that notion here. Being projected for five runs is really no surprise when looking at Jeff Samardzija's numbers, allowing 10 runs in 9.2 innings so far this year. That puts all of the LA bats in play, especially Turner in the heart of their order. The fiery third baseman has a .380 OBP, .503 SLG and .883 OPS since joining the Dodgers in 2013, proving to be one of the best bats in the league. That makes the $3,200 price tag hard to understand on FD and if we're stacking Dodgers, Turner is one of the only guys who's truly a value.

Eugenio Suárez FD - 3B 3000 DK - 3B 4200
Opponent - MIL (Eric Lauer) Park - MIL
FD - 12.26 DK - 9.16
This might be my favorite per-dollar play on the board. The powerful right-hander has been crushing baseballs for most of his career and these DFS site just continue to disrespect him. Since 2017, Suarez has a .361 OBP, .513 SLG and .874 OPS. The 110 homers in that span are one of the highest marks in the MLB as well, absolutely obliterating left-handed pitching. Since 2018, Eugenio has a .419 OBP, .580 SLG and .999 OPS with the platoon advantage in his favor. That's absurd and it's bad news for Eric Lauer's 1.45 career WHIP.
Outfield

Mike Trout FD - OF 4500 DK - OF 5900
Opponent - TEX (Jordan Lyles) Park - TEX
FD - 17.46 DK - 12.91
Shohei Ohtani FD - OF 3100 DK - 1B/OF 4700
Opponent - TEX (Jordan Lyles) Park - TEX
FD - 14.35 DK - 10.87
We foreshadowed these bats in the La Stella write-up and it's clear that the Angels are one of the best stacks of the day. We'll go ahead and start with Jordan Lyles, with the Rangers righty owning a 5.11 ERA and 1.44 WHIP for his career. That's bad news against a lineup that's finally at full strength, with these two talented bats in the juice of the lineup.
Not much really needs to be said about Trout, with the superstar garnering MVP votes every season he plays. In fact, he's had an OPS north of .990 in every year since 2015 and enters this matchup homering three times in his last two games. He's the best play on the board no matter the price. Ohtani is no slouch either, owning a .528 SLG and .873 OPS for his career. He's also much better against right-handers, totaling a .584 SLG and .942 OPS with the platoon advantage in his favor.

Joc Pederson FD - OF 3100 DK - OF 4100
Opponent - SF (Jeff Samardzija) Park - LAD
FD - 12.52 DK - 9.32
Splits have been a major theme in this article and there may be no better indication of that than Joc Jams. This guy usually bats atop the Dodgers lineup against righties and usually sees a steep increase in price. That's not the case here and that's really strange when you consider his .907 OPS against righties since 2018. It's also clear when you see his splits against Shark, providing three extra-base hits in 12 at-bats against him en route to a 1.135 OPS and .469 wOBA. That means Pederson should be $1,000 more on each site and it makes him one of the best value plays of the day.

Andrew McCutchen FD - OF 2700 DK - OF 4200
Opponent - ATL (Kyle Wright) Park - PHI
FD - 13.32 DK - 10
McCutchen isn't the MVP candidate that we once loved in Pittsburgh but he's too good to be this cheap on FanDuel. We're talking about a guy who has a .377 OBP and .856 OPS for his career, batting atop this potent Phillies lineup. That is the thing that makes him most valuable though, with Philly projected for over five runs, making Cutch a key piece of that stack in the leadoff slot. Going with McCutchen, Hoskins and Bryce Harper is a rather cheap three-man stack and it could be a key build in a GPP winning lineup.
GRAB A FREE TRIAL OF OUR PROJECTION SYSTEM, AND CHECK OUT DFSR PRO!
image sources
AP_19132837167109 Trout: AP Images
FREE EBOOK
SECRETS TO CRUSHING DAILY FANTASY FOOTBALL!
DON'T SET ANOTHER LINEUP BEFORE YOU READ THIS BOOK.