Baseball Picks Daily Fantasy
Expert Advice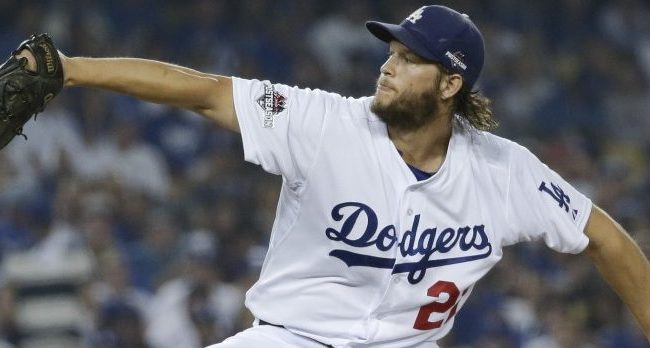 DraftKings and FanDuel MLB Picks for Friday 8/8/20
Now's your chance to get DFSR PRO, which will give you access to our MLB and NBA optimizers and our new player lab! Get started for free by clicking the button below.
Friday's slate was nuts and it's about time that we have almost every team in action. If you don't think this 60-game season is crazy, the Marlins 7-1 record tells you everything you need to know. Anyway, we have a great slate here with games spread all throughout the day. We're going to try to recommend plays spread all throughout, just to cater to everyone. That should cater to all of you and hopefully, it will help you win some dough!
Pitchers

Clayton Kershaw FD - P 10600 DK - SP 10500
Opponent - SF (Johnny Cueto) Park - LAD
FD - 40.65 DK - 22
We really wanted to recommend Kershaw last week in his debut but there was too much uncertainty about his pitch count to do that. He quieted us down though, throwing 81 pitches and sitting around 92-93 MPH with his fastball. That's the guy we know and love and it equated to 5.2 scoreless innings with six Ks and only three baserunners allowed. That means he should be ready to approach 90-100 pitches here, making him the best pitching option on the board. The matchup against San Fran is just as intriguing, facing a Giants team who was at the bottom of nearly every offensive statistic last season. That has the Dodgers entering this matchup as a -290 favorite and the Giants projected for only three runs.
Chris Paddack FD - P 9100 DK - SP 7900
Opponent - ARI (Merrill Kelly) Park - SD
FD - 35.5 DK - 19.15
The Diamondbacks just got shutout on Friday and it appears that this has developed into one of the worst lineups in baseball. In fact, Arizona currently ranks 25th in runs per game and 27th in OPS. It's really no surprise when you take a look at their lineup and that should allow Paddack to cruise to a quality start. That was certainly the case in his one game against them earlier this year, pitching six scoreless innings. This guy has been an absolute stud in his career too, pitching to a 3.25 ERA and 0.98 WHIP while striking out 168 batters across 157.2 innings. All of this has San Diego as a -170 favorite with a game total of just 7.5.

Catcher/First Base

Miguel Sanó FD - 1B 3200 DK - 1B 5000
Opponent - KC (Danny Duffy) Park - KC
FD - 12.76 DK - 9.43
While this DraftKings price is a bit lofty, the $3,200 price tag on FanDuel is hard to overlook. We're talking about one of the best power hitters in the game, maintaining a .498 SLG for his career. A lot of that elite power has come against left-handed pitching, with Sano posting a .651 SLG and 1.007 OPS against southpaws last season. This happens to be a lefty that we're not worried at all about either, with Duffy generating a 4.60 ERA and 1.38 WHIP since 2018. All of that has the Twins projected for over five runs here and Sano is a huge piece of that stack in the heart of their order. Will he sometimes give you a goose egg? Yes. But against a mediocre lefty we might be able to overlook that even in cash games.

C.J. Cron FD - 1B 3000 DK - 1B 2900
Opponent - PIT (Derek Holland) Park - PIT
FD - 9.42 DK - 7.14
The Tigers dropped a 17-spot on the Pirates on Friday and it's clear that this is one of the worst pitching staffs in baseball. Derek Holland certainly isn't helping their cause, pitching to a 4.99 ERA and 1.44 WHIP since 2014. He's even worse against right-handers and that's huge news for a powerful righty like Cron. Since 2018, Cron has a .310 AVG, .374 OBP, .581 SLG and .955 OPS with the platoon advantage in his favor. Those numbers would make you believe that we're looking at a 5K player on DK and 4K player on FanDuel but look at these crazy prices.
If you're in need of a catcher on DraftKings, Mitch Garver is a fantastic option against a lefty.
Second Base

Jonathan Schoop FD - 2B 2900 DK - 2B 2900
Opponent - PIT (Derek Holland) Park - PIT
FD - 9.47 DK - 7.24
Schoop and Cron make for the best cheap two-man stack on this slate. Spending less than $6,000 on both of these guys is absolutely criminal and it allows you to build whatever lineup you want around them. Much like Cron, Schoop is a sneaky power hitter in his own right. Since the beginning of last season, Schoop has a .570 SLG and .927 OPS against left-handed pitching. I mean, we're talking about a team who just scored 17 runs on Friday and it's amazing that these guys are so cheap in such a tasty matchup.

Chad Pinder FD - 2B 2600 DK - 2B/OF 3300
Opponent - HOU (Framber Valdez) Park - OAK
FD - 8.88 DK - 6.77
Picking second basemen is always a tough task and that's why we have guys like Pinder and Schoop in here. What makes them both intriguing is the fact that they both get to face lefties. Much like Schoop, Pinder thrives in this circumstance. Not only does he usually bat second or sixth against southpaws, Pinder also has a .784 OPS against them since 2018. That may sound like nothing special but it's really all you can hope for from a guy in the 3K-range on both sites. Framber Valdez is not necessarily someone we're scared of either, posting a 5.86 ERA and 1.67 WHIP last season.
Shortstop
Corey Seager FD - SS 3700 DK - SS 4600
Opponent - SF (Johnny Cueto) Park - LAD
FD - 11.77 DK - 8.91
Don't look now but Seager is one of the early frontrunners for NL MVP the way he's swinging the lumber right now. Hitting .347 is impressive on its own but he's doing that with a .612 SLG and 1.008 OPS. This is the stud shortstop that we have been waiting for and it's scary that he's finally living up to the potential. He also has a .361 OBP, .519 SLG and .880 OPS against righties since 2018 and he sees the ball significantly better with the platoon advantage in his favor. Johnny Cueto's 4.97 ERA and 1.55 WHIP makes him someone that the Dodgers can absolutely light up too. Seager actually has 36 at-bats against Cueto in his career, providing a .667 SLG and 1.035 OPS.

Francisco Lindor FD - SS 3400 DK - SS 5200
Opponent - CHW (Undecided) Park - CHW
FD - 13.23 DK - 10.08
Anytime you see that undecided next to the pitcher's name, it's usually a good thing for the hitter. There's some word that it's going to be Ross Detwiler and that makes Lindor and the Indians even more enticing. That's a southpaw who pitched to a 6.60 ERA and 1.75 WHIP between 2016-18, which makes it hard to believe that he's still around. Horrific averages like those are truly scary against a guy like Lindor, with the shortstop owning a .378 OBP and .879 OPS against lefties since 2018.
Third Base

José Ramírez FD - 3B 3900 DK - 3B 5500
Opponent - CHW (Undecided) Park - CHW
FD - 14.09 DK - 10.62
We already discussed just how bad Ross Detwiler has been over the last few years in the Lindor piece and that makes Ramirez and Lindor one of the best two-man stacks of the day. While it's a small sample size, a .500 BA, 1.300 SLG and 1.845 OPS against lefties this year is truly absurd for J-Ram. A switch-hitter can do that sort of damage from either side and it appears he's more comfortable from the right side right now. That's even more worrisome for Detwiler with the way Ramirez has been performing all season, tallying a .400 OBP, .615 SLG and 1.015 OPS through 14 games played.

Eugenio Suárez FD - 3B 3000 DK - 3B 4200
Opponent - MIL (Brett Anderson) Park - MIL
FD - 12.77 DK - 9.54
Suarez found his way into our article yesterday and we're going right back to the well. The powerful third baseman provided us with one hit and two walks, proving just how well he sees the ball against left-handers. Since 2018, Eugenio has a .419 OBP, .580 SLG and .999 OPS against lefties. That matches beautifully with his .513 SLG since 2017, hitting 110 homers in that four-year span. Brett Anderson's 15 percent K rate definitely makes him a guy we want to target for all of these talented Reds righties too and his 4.74 ERA and 1.41 WHIP since 2016 is another indication of how far he's fallen.
Outfield

Mike Trout FD - OF 4600 DK - OF 6000
Opponent - TEX (Kolby Allard) Park - TEX
FD - 15.95 DK - 11.8
Justin Upton FD - OF 2700 DK - OF 4100
Opponent - TEX (Kolby Allard) Park - TEX
FD - 11.04 DK - 8.24
Trout found his way into our article yesterday with Shohei Ohtani but we're switching it up a little here. Let's kick things off by talking about the perennial MVP candidate. The superstar has an OPS just shy of 1.000 in five-straight seasons and enters this matchup homering four times in his last three games. That's truly terrifying for a lefty like Kolby Allard, amassing a 5.82 ERA and 1.71 WHIP for his Major League career. Having to pitch from the left side puts the platoon advantage in Trout and Upton's favor, making them another dangerous two-man stack. While J-Up has been worse against southpaws the last few years, his .360 OBP and .860 OPS career averages against them would indicate a different story.

Joc Pederson FD - OF 3200 DK - OF 4200
Opponent - SF (Johnny Cueto) Park - LAD
FD - 11.76 DK - 8.75
Splits are always a huge theme when it comes to picking hitters in DFS and that's the case again here with Pederson against righties. This is a guy who has a .907 OPS against right-handers since 2017, regularly batting atop the Dodgers lineup. That's why he usually sees a price bump in these circumstances but he doesn't here for whatever reason. The main weakness for this guy is his poor discipline at the plate but Cueto's low K rate lowers a lot of that risk for Pederson. Joc happens to be on a bit of a heater right now too, picking up three homers over his last four games played.

Franmil Reyes FD - OF 2500 DK - OF 3900
Opponent - CHW (Undecided) Park - CHW
FD - 11.89 DK - 8.9
Let's cap off our Indians stack with their most powerful righty. What I really like about Reyes is the fact that he's just $2,500 on FanDuel and $3,900 on DraftKings. Do these sites not realize how good of a power hitter this dude is? For his career, Reyes has a .494 SLG and .238 ISO. Those are truly fantastic and he's typically better with the platoon advantage in his favor. Since 2018, The Franimal has a .380 OBP, .540 SLG and .920 OPS against southpaws.
GRAB A FREE TRIAL OF OUR PROJECTION SYSTEM, AND CHECK OUT DFSR PRO!
image sources
NLDS Mets Dodgers Baseball: (AP Photo/Gregory Bull)
FREE EBOOK
SECRETS TO CRUSHING DAILY FANTASY FOOTBALL!
DON'T SET ANOTHER LINEUP BEFORE YOU READ THIS BOOK.