Baseball Picks Daily Fantasy
Expert Advice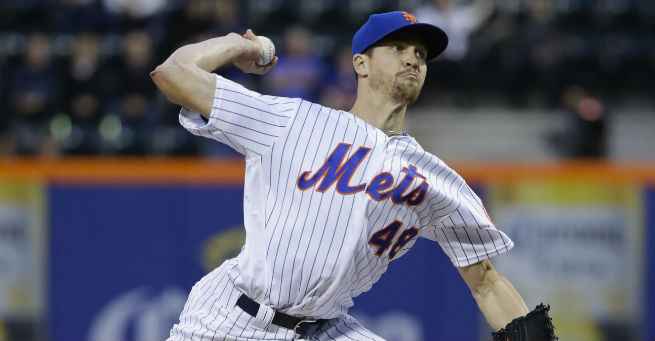 DraftKings and FanDuel MLB Picks for Sunday 8/9/20
Now's your chance to get DFSR PRO, which will give you access to our MLB and NBA optimizers and our new player lab! Get started for free by clicking the button below.
This slate was extremely tough. We have a lot of good offenses facing decent pitchers and it makes the offensive selections very difficult. With that said, there's one elite pitcher that we absolutely love and one value play, who's got a great matchup. With that in mind, let's kick things off with the NL Cy Young winner.
Pitchers

Jacob deGrom FD - P 11100 DK - SP 11600
Opponent - MIA (Pablo Lopez) Park - NYM
FD - 48.2 DK - 27.15
deGrom is pretty much impossible to fade. We're talking about a guy with a 2.05 ERA and 0.93 WHIP since 2018. That's an unbelievable three-year span and it looks even more ridiculous when you consider his 546 Ks in that same span. All of that makes him a worthy play against anyone but getting to face the Marlins is an absolute treat. This is a team that finished either 29th or 30th in OBP, OPS and runs scored last season and will be lucky to get more than one run against deGrom. All of that has deGrom and the Mets entering this matchup as a projected -250 favorite with Miami projected for just three runs.
Andrew Heaney FD - P 7500 DK - SP 7800
Opponent - TEX (Lance Lynn) Park - TEX
FD - 34.18 DK - 18.72
I really wanted to ride Musgrove against the Tigers but he was scratched because of an ankle issue. That leaves us with Heaney, who's had a nice season up to this point. In fact, the southpaw has pitched to a 2.35 ERA and 0.98 WHIP so far, striking out 15 batters across 15.1 innings of action. That's the stud prospect we thought he was all along, and it looks like he could be maturing into the pitcher we thought he could be. What we really like here is this matchup though, with Texas ranked 27th in K rate last season and 25th in both runs scored and OBP this year.

Catcher/First Base

Miguel Sanó FD - 1B 3200 DK - 1B 5100
Opponent - KC (Brady Singer) Park - KC
FD - 13.4 DK - 9.91
Sano just continues to be disrespected on FanDuel. The $5,100 price tag on DraftKings is about what he deserves but this FanDuel price doesn't make any sense. We're talking about a big masher who's got .500 SLG for his career to go along with a .255 ISO. There aren't many players in the league with that sort of pop and it wouldn't be surprising to see him hit a dinger against Brady Singer. The Royals righty is just 24-years-old and never pitched above Double-A before this season. That's scary against this lineup and it's why the Twins are projected for over five runs. As always, Sano can absolutely kill you with the strikeouts, so it's worth hedging your bets with a safer guy for cash game plays if you don't have an appetite for variance.
Josh Bell FD - 1B 2800 DK - 1B 4700
Opponent - DET (Spencer Turnbull) Park - PIT
FD - 11.44 DK - 8.58
Bell has been terrible this season but this FanDuel price is pretty nuts. This is a dude who generated a .567 SLG and .936 OPS last season in what turned out to be a breakout year. He actually did a good amount of that damage against righties, posting a .387 OBP, .615 SLG and 1.002 OPS against them. That sort of potential is hard to fade at a price tag like this and we're certainly not worried about Spencer Turnbull and his 4.61 career ERA and 1.39 WHIP.
If you're in need of a catcher, Christian Vasquez is a great play the way he's raking right now.
Second Base

Adam Frazier FD - 2B 2200 DK - 2B 3700
Opponent - DET (Spencer Turnbull) Park - PIT
FD - 9.46 DK - 7.35
Frazier and Bell make for a sneaky two-man stack, saving salary for a pitcher like deGrom. One of the reasons we like these guys is that they appear to be finding some form on the offensive end. In fact, the Pirates have 24 runs across their last three games which pretty much matches what they did across the first two weeks. You have to like a leadoff hitter for a hot offense and Frazier should be just that against a righty. Between 2018-19, Frazier had an OPS north of .800 against righties and that's really all you can ask for from someone priced so reasonably.
Luis Arraez FD - 2B 2400 DK - 2B 4100
Opponent - KC (Brady Singer) Park - KC
FD - 9.4 DK - 7.39
Arraez is a cult favorite for Twins fans, putting the ball in play nearly every time he's at-bat. Having just 32 strikeouts in over 400 career plate appearances is incredible in this day and age, making Arraez a great DFS pick against a pitcher with almost no experience. The Twins definitely know this, batting him in the heart of their order when facing right-handers. For his career, Arraez has a .341 AVG and .851 OPS with the platoon advantage in his favor, making him one of the best value plays out there.
Shortstop
Corey Seager FD - SS 3500 DK - SS 4400
Opponent - SF (Kevin Gausman) Park - LAD
FD - 10.31 DK - 7.8
Seager is an absolute beast right now and we want to continue to ride him against righties. So far this season, Corey is providing a .612 SLG and 1.008 OPS. Those are the numbers we have been waiting for and it's amazing to see him swinging the bat so fluidly. He's actually always been good against right-handers, amassing a .519 SLG and .880 OPS against them since 2018. All of this is bad news for Kevin Gausman, who's got a 4.63 ERA and 1.40 WHIP dating back to 2017. Look for the Dodgers to blow him up and knock him out after a few innings.

Marcus Semien FD - SS 2700 DK - SS 4900
Opponent - HOU (Cristian Javier) Park - OAK
FD - 12.04 DK - 9.17
This is yet another one where FanDuel is way behind. The $4,900 price tag on DK shows just how good this guy has been the last two years, garnering MVP votes in 2018-19. One of the things that made him so valuable last season was his ability to kill lefties, generating a .394 OBP, .539 SLG and .933 OPS against them. All of that looks even better when you consider that Semien is starting to get hot, picking up four hits, two runs scored, three RBI, a dinger and a steal over the last two games.
Third Base

Manny Machado FD - 3B 3100 DK - 3B 4000
Opponent - ARI (Madison Bumgarner) Park - SD
FD - 11.94 DK - 9.03
This is just one of those cases of an elite arm falling off the table, as Bumgarner simply isn't the same guy he used to be. The velocity is down big time and it has led to a 7.04 ERA and 1.37 WHIP this season. That's really bad news against this righty-heavy lineup, with Machado being the horse. Since 2018, Manny has a .387 OBP, .578 SLG and .965 OPS against southpaws. Those are the numbers we expect from the All-Star and it's amazing that his price remains so affordable in such a tasty matchup.
Jeff McNeil FD - 3B 2600 DK - 3B 4000
Opponent - MIA (Pablo López) Park - NYM
FD - 10.92 DK - 8.42
McNeil is not a guy who finds his way into my articles too often but he's developed into quite the hitter in New York. In 861 career plate appearances, this guy is hitting .320 while generating an .890 OPS. That's truly absurd to be that consistent and he's typically much better with the platoon advantage in his favor. In that same span, McNeil has a .328 BA, .391 OBP, .531 SLG and .922 OPS against right-handers. He's also getting extra plate appearances from batting toward the top of the lineup. That makes these price tags mind-boggling and it's not like we're necessarily scared about Pablo Lopez's 5.09 ERA from last season
Outfield

Max Kepler FD - OF 3700 DK - OF 4500
Opponent - KC (Brady Singer) Park - KC
FD - 12.59 DK - 9.44
Eddie Rosario FD - OF 3000 DK - OF 4400
Opponent - KC (Brady Singer) Park - KC
FD - 12.08 DK - 9.22
You probably could have seen this coming after the Sano write-up because the Twins are one of the best plays on the board. They're actually projected for 5.5 runs and it's really no surprise when you see that they're facing a Double-A pitcher. I mean, he's literally only pitched two seasons in the minors and it's scary that he and this bad bullpen have to navigate through this deep lineup.
Let's kick things off with Kepler, who happens to hit atop this lineup. The talented lefty masher accumulated a .381 OBP, .657 SLG and 1.038 OPS with the platoon advantage in his favor last season. Obviously, those are All-Star type numbers and it's crazy that he's only $3,700 on FD and $4,500 on DK. Eddie Rosario is also way too cheap, batting third or fifth usually in this lineup. Since 2018, Rosario has a .511 SLG and .822 OPS against right-handers. Don't be afraid to pull a full four or five-man stack here with Minnesota, including guys like Nelson Cruz and Mitch Garver.
Andrew Benintendi FD - OF 2400 DK - OF 4100
Opponent - TOR (Matt Shoemaker) Park - BOS
FD - 12.61 DK - 9.58
Alex Verdugo FD - OF 2600 DK - OF 3300
Opponent - TOR (Matt Shoemaker) Park - BOS
FD - 10.84 DK - 8.35
These guys were terrible through the first two weeks of the season but they've both shown signs of life recently. Verdugo especially so, connecting on three homers over his last two games. That has sky-rocketed his numbers to a .569 SLG and .927 OPS, which are even better than any fans could have hoped for.
As for Benintendi, he's scored at least 6.0 FanDuel points in six of his last seven games, showing some small signs of life. That actually got him moved back to the leadoff spot this weekend and that would only add to his intrigue. As for the matchup, both of these guys have the platoon advantage against Shoemaker. The man who makes shoes has struggled early on this year, posting a 5.91 ERA and 1.32 WHIP in his first two starts.
GRAB A FREE TRIAL OF OUR PROJECTION SYSTEM, AND CHECK OUT DFSR PRO!
FREE EBOOK
SECRETS TO CRUSHING DAILY FANTASY FOOTBALL!
DON'T SET ANOTHER LINEUP BEFORE YOU READ THIS BOOK.