Baseball Picks Daily Fantasy
Expert Advice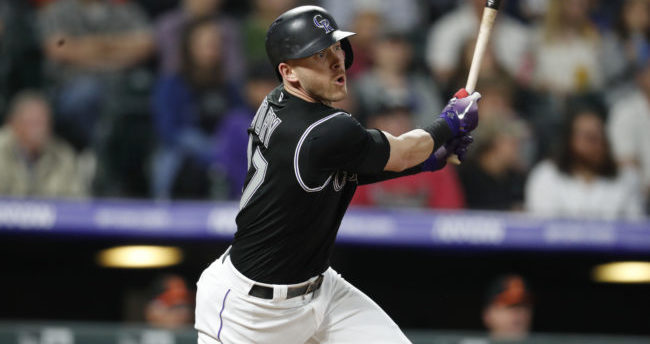 DraftKings and FanDuel MLB Picks for Friday 9/11/20
Now's your chance to get DFSR PRO, which will give you access to our MLB and NBA optimizers and our new player lab! Get started for free by clicking the button below.
There are only two weeks left in the regular season and these games are getting really important. That means it's time to ride stud pitchers to some wins and that's big for us DFS players. That's why we're going to kick things off with one of the hottest pitchers in the league, so, let's get into it!
Pitchers

Lucas Giolito FD - P 10800 DK - SP 10500
Opponent - DET (Casey Mize) Park - CHW
FD - 41.86 DK - 22.64
Giolito is someone who I was skeptical about at the beginning of the season but he has completely changed my mind with his ridiculous 2020 season. Despite struggling against the Twins in the opener, Giolito has a 2.29 ERA, 0.88 WHIP and 12.7 K/9 rate over his last eight starts. Those are Cy Young-like numbers and it's scary to think that he gets to face a Tigers team that owns the worst K rate in the Majors. In his one start against them earlier this season, Giolito pitched seven scoreless innings while striking out 13 batters en route to an absurd 70 FanDuel points. That's why he's a -260 favorite in this game.
Caleb Smith FD - P 7100 DK - SP 5900
Opponent - SEA (Yusei Kikuchi) Park - ARI
FD - 37.69 DK - 19.7
Smith was just acquired by Arizona in the Starling Marte trade and he could be a huge piece for this rotation in the coming years. Between 2018-19, Smith amassed a 4.41 ERA, 1.23 WHIP and 26.5 percent K rate. That might not sound like anything special but that WHIP and K rate indicates that he's better than that ERA. That makes him a really intriguing option at this price, as he truly has 40-point potential in any given start. Facing the Mariners is a good way to get him a quality start, with Seattle sitting 20th in K rate, 21st in runs scored, 24th in OBP and 25th in wOBA. You may be worried about Smith's workload too but he threw over 70 pitches in his last intrasquad game earlier in the week.


Catcher/First Base

José Abreu FD - 1B 3900 DK - 1B 5500
Opponent - DET (Casey Mize) Park - CHW
FD - 13.43 DK - 10.21
Abreu should be the highest-priced player on the slate the way he's seeing the ball and he's not even Top-5. Not only does the big man have a 22-game hitting streak rolling, he's also generating a .370 BA, .772 SLG and 1.186 OPS in that span. That's an awesome month-long stinger, making Abreu a great option no matter who he faces. That's yet another thing that makes him enticing here though, facing a rookie with a 6.75 ERA and 1.70 WHIP.

Daniel Murphy FD - 1B 3100 DK - 1B 3100
Opponent - LAA (Griffin Canning) Park - COL
FD - 12.99 DK - 9.94
It's rare to find value in Coors Field but that's what we have here with Murphy. The reason he's so cheap is because he's been in and out of the lineup but facing a righty should put him in the five or six-spot in this order. That alone makes him intriguing with the Rockies projected for over six runs, especially when you see Murphy's splits. Since joining Colorado, Murph has a .316 AVG and .812 OPS at home while generating a .777 OPS against right-handers. Those numbers are below his career averages too and he can easily produce a monster fantasy night anytime he gets that spacious ballpark in his favor.
Second Base
Keston Hiura FD - 2B 3700 DK - 2B 5300
Opponent - CHC (Jon Lester) Park - MIL
FD - 12.32 DK - 9.37
Hiura has been striking out like crazy all season long but a date with Jon Lester is a good way to get him going. The reason for that is because Lester is posting a 17 percent K rate for the season, allowing Hiura to get more balls in play. That's big for a guy who's been rolling recently, collecting two doubles, four dingers and eight RBI over his last eight games played. That equates to a .389 OBP and 1.113 OPS, making him one of the hottest hitters around too. We also don't mind the fact that he gets the platoon advantage against a pitcher with a 5,61 FIP.

Ozzie Albies FD - 2B 2500 DK - 2B 3800
Opponent - WSH (Erick Fedde) Park - WSH
FD - 12.12 DK - 9.31
This price made my jaw drop. Albies is usually $1,000 more on each site and the only reason he remains this cheap is because he just came off the IL. He showed no rust in his return to action though, dropping a season-best 40.6 FD points. That's the stud we've become accustomed to and we have to keep using him as long as he remains this cheap. We also like that he gets to face Erick Fedde, who's pitching to a 5.29 ERA and 1.55 WHIP so far this season.
Shortstop
Trevor Story FD - SS 4400 DK - SS 5800
Opponent - LAA (Griffin Canning) Park - COL
FD - 16.67 DK - 12.61
Story has truly developed into one of the best fantasy players out there. The power-speed combo has him as the only player with double-digits in homers and steals, totaling a .921 OPS for the season. Story is simply a monster anywhere he plays but he's an absolute beast when he gets to hit in Coors Field. Since being called up, Story has a .383 OBP, .659 SLG and 1.042 OPS at home. That's even scarier when you consider that Story has at least 15 FanDuel points in four-straight games, doing that damage on the road. We're not worried about Griffin Canning either and we'll go over that more later.

Adalberto Mondesi FD - SS 2700 DK - SS 2800
Opponent - PIT (Steven Brault) Park - KC
FD - 12.14 DK - 9.43
Mondesi has been terrible this season but he's showing signs of getting out of it with his recent form. Over his last seven games played, Mondesi is hitting .325 while providing two homers, eight RBI and five steals. That's the stud we've been waiting for all season and it's clear that the slow start is starting to speed up. The price hasn't caught up to his recent form though, sitting around a bunch of nobodies below $3K. Getting the platoon advantage against Steven Brault is the icing on the cake though, with Brault owning a 5.22 xFIP and 1.50 WHIP.
Third Base

Nolan Arenado FD - 3B 4200 DK - 3B 5600
Opponent - LAA (Griffin Canning) Park - COL
FD - 17.23 DK - 12.96
Arenado is probably having the worst season of his career but it's kept his price tag somewhat affordable. He's usually the highest-priced player on the slate when hitting at home but he remains about $500 cheaper than what we're used to seeing. What makes that really surprising is the fact that he's starting to turn things around, hitting .358 over his last 14 games. That's the All-Star we're used to, with Arenado accruing a .344 BA, .409 OBP, .657 SLG  and 1.066 OPS at home since 2018.
Jedd Gyorko FD - 3B 2700 DK - 1B/3B 3900
Opponent - CHC (Jon Lester) Park - MIL
FD - 10.94 DK - 8.25
It's strange to say but Gyorko is the best hitters in Milwaukee right now. So far this season, he's hitting .293 while amassing a .379 OBP, .672 SLG and 1.051 OPS. Those are fantastic numbers and it's scary that he's got a .400 OBP, .758 SLG and 1.158 OPS against left-handers this season. All of that is really bad news for a struggling Lester, especially with Gyorko generating a 1.398 OPS over his last seven games played. It makes these price tags hard to understand and he makes for a great pairing with some of the Coors Field bats.
Outfield

Mike Trout FD - OF 5000 DK - OF 6000
Opponent - COL (German Márquez) Park - COL
FD - 19.03 DK - 14.07
Shohei Ohtani FD - OF 3700 DK - 1B/OF 4400
Opponent - COL (German Márquez) Park - COL
FD - 15.06 DK - 11.39
Guys, we get to use Mike Trout in Coors Field! That's a rare occurrence and it's worth getting him into your lineup whenever that happens. We're simply talking about the best hitter in baseball, tallying a .392 OBP, .653 SLG and 1.045 OPS for the season. Amazingly, that's the lowest OBP he's had since 2015 while never providing an OPS below .990 in that same span. In 34 at-bats in Coors Field, Trout is hitting .483 while providing an OPS just shy of 1.400, obviously.
As for Ohtani, he's got the platoon advantage against German Marquez. Since signing with the Angels, Shohei has a .286 AVG, .351 OBP, .561 SLG and .913 OPS against right-handed pitching. That means he's way too cheap and it's a wonder why he didn't get that Coors Field price bump that we usually see. Some of you might be concerned about facing Marquez but this is a guy who has a 6.54 ERA and 1.59 WHIP at home since the beginning of last season.

Charlie Blackmon FD - OF 4300 DK - OF 5800
Opponent - LAA (Griffin Canning) Park - COL
FD - 15.15 DK - 11.6
Raimel Tapia FD - OF 3200 DK - OF 3700
Opponent - LAA (Griffin Canning) Park - COL
FD - 13.5 DK - 10.57
We've been foreshadowing why we love the Rockies all along, so, let's get into it here. This is a club that always goes off when they're at home which is evident by their 6.2 implied run total. That's obviously a ridiculous total and it's no surprise when you see that Griffin Canning has a 4.54 ERA and 1.36 WHIP. Those numbers put him in a rough spot here and it makes these outfielders really attractive.
We'll start with Blackmon, who's been one of the best hitters in baseball this season. Not only does he have an OPS of .860 or higher in five-straight seasons, Blackmon also has a 1.037 OPS at home since 2018. He's also traditionally better against righties and he's simply one of the best plays on the board. As for Tapia, he should be batting leadoff for this highly-projected lineup. That's enough incentive to use him but he also gets the platoon advantage and owns an OBP north of .400 over the last month. If David Dahl finds his way into the lineup off the IL, he's in play as well.
GRAB A FREE TRIAL OF OUR PROJECTION SYSTEM, AND CHECK OUT DFSR PRO!
FREE EBOOK
SECRETS TO CRUSHING DAILY FANTASY FOOTBALL!
DON'T SET ANOTHER LINEUP BEFORE YOU READ THIS BOOK.