Baseball Picks Daily Fantasy
Expert Advice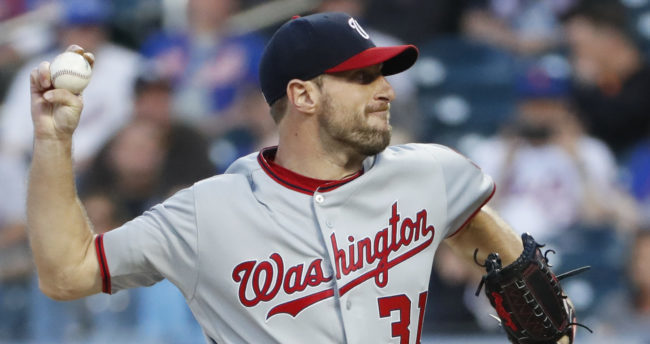 DraftKings and FanDuel MLB Picks for Sunday 9/13/20
Now's your chance to get DFSR PRO, which will give you access to our MLB and NBA optimizers and our new player lab! Get started for free by clicking the button below.
We have a strange slate ahead of us here. While almost everyone is playing during the day, the games are all spread out. What's also interesting is how small these prize pools are. The main reason for that is because the NFL is kicking off but we still need our baseball fix. With that in mind, let's get into it!
Pitchers
You can't go too wrong with the big money guys: Max Scherzer and Charlie Morton. But you know about those guys already, so I figured I'd write up a few guys who might be more off your radar.

Frankie Montas FD - P 6800 DK - SP 9400
Opponent - TEX (Lance Lynn) Park - TEX
FD - 34.66 DK - 18.37
Man, it's tough to ride a guy with a 5.73 ERA and 1.54 WHIP but Montas is in a great spot to succeed here. The reason we say that is because he gets to face the Rangers. This offense currently ranks dead-last in runs scored, 22nd in K rate and 29th in wOBA. That's the perfect opportunity for Montas to have a rebound start, coming off one of his best starts of the season. This is a guy who's shown ace capability in the past too, maintaining a 2.63 ERA and 1.11 WHIP last season. Vegas appears to like him too, making him a -140 favorite in game with a total of 8. Fantastic buy low opportunity on FanDuel.
Brad Keller FD - P 8100 DK - SP 6800
Opponent - PIT (Chad Kuhl) Park - KC
FD - 30.27 DK - 14.49
This DraftKings price blows my mind. Anytime anyone faces the Pirates, they should be one of the highest-priced pitchers on the slate. The reason for that is because they currently rank 29th in runs scored, 25th in K rate and dead-last in both wOBA and OPS. That's fantastic news for Keller, who's pitching to a 2.60 ERA and 1.10 WHIP in what's become a breakout season. That obviously makes him one of the best values of the day, entering this matchup as a -141 favorite, with a total of 8.5.

Catcher/First Base

Luke Voit FD - 1B 3900 DK - 1B 5400
Opponent - BAL (John Means) Park - NYY
FD - 12.17 DK - 9.13
This is easily one of the best plays of the day. We'll start things off by talking about his matchup, facing a lefty with a 6.58 ERA. That's a terrible sign against a potent Yankees lineup, especially with them having so many talented right-handed bats. Voit is certainly one of those, owning a .613 SLG and .956 OPS for the season. Not to mention, he's got a .719 SLG and 1.033 OPS against southpaws this year, tallying three homers and nine RBI over his last six games in total.
Renato Núñez FD - 1B 2900 DK - 1B 4300
Opponent - NYY (J.A. Happ) Park - NYY
FD - 10.54 DK - 7.96
Nunez is quietly a really good hitter for the O's and it's a wonder why he doesn't get more recognition. Dating back to last season, he's got 41 homers and 114 RBI which obviously leads the club. That power has been on full display recently, hitting five dingers over his last 15 games. The best part about using him today is the fact that he gets to face a lefty though, posting a .510 SLG and .836 OPS against southpaws last season. We're definitely not worried about J.A. Happ's 4.31 ERA either.
If you're in need of a catcher, Gary Sanchez is a great choice against a lefty despite his recent struggles.
Second Base

DJ LeMahieu FD - 2B 3900 DK - 2B/3B 5400
Opponent - BAL (John Means) Park - NYY
FD - 13.76 DK - 10.63
If we like the Yankees today against a lefty, we have to love their leadoff hitter. To put it simply, LeMahieu has been a different player since putting on the pinstripes. In fact. the second baseman is hitting .332 since signing with NY, en route to a .523 SLG and .903 OPS. That looks even scarier when you consider Means numbers from the Voit write-up, especially with D.J. totaling a .396 OBP, .575 SLG and .971 OPS against southpaws since 2018. He's absolutely rolling right now too, collecting a 1.081 OPS over his current six-game hitting streak.
Mike Brosseau FD - 2B 2600 DK - 1B/3B 4800
Opponent - BOS (Martin Pérez) Park - TB
FD - 10.2 DK - 7.82
This FanDuel price is laughable. Brosseau has been killing left-handers throughout his career and it's clear that FD doesn't realize it. In fact, Brosseau has a .315 AVG, .593 SLG and .940 OPS against southpaws for his career. His OPS is actually north of 1.100 this season with the platoon advantage in his favor and that's brilliant against a pitcher who has a 1.49 career WHIP. That means he should be $1,000 more on FanDuel and it makes him a free square over there at the weakest position.
Shortstop

Gleyber Torres FD - SS 2900 DK - SS 4900
Opponent - BAL (John Means) Park - NYY
Torres has been struggling this season but we have to love him in a matchup like this. We really don't need to talk about how bad Means is anymore but it needs to be stated that he's a lefty. That makes him a nightmare choice against all these righty bats, with Torres amassing a .544 SLG and .891 OPS against them for his career. What's really crazy about Torres is his career averages against the Orioles. In nearly 150 at-bats against Baltimore, Torres has a .353 AVG, .439 OBP, .824 SLG and 1.262 OPS.

Adalberto Mondesi FD - SS 2800 DK - SS 3100
Opponent - PIT (Chad Kuhl) Park - KC
FD - 10.56 DK - 8.2
I happen to write every weekend article here and that's why Mondesi has been featured heavily recently. The simple fact is, this dude needs to see a price increase. We all know he was struggling early on but it's time for these sites to realize what he's been doing recently. Over his last nine games played, Mondesi has collected nine runs scored, four homers, 11 RBI and eight steals en route to a 1.109 OPS. That's the stud we have been waiting for all season long and we'll discuss his fantastic matchup in the next section.
Third Base

Nolan Arenado FD - 3B 4300 DK -
Opponent - LAA (Andrew Heaney) Park - COL
FD - 16.44 DK - 0
I've been trying to limit the Coors Field bats because everyone knows that these guys are good plays but Arenado is just a brilliant option here. The reason for that is because he gets to face a lefty at home. Dating back to 2018, Arenado has a .344 BA, .408 OBP, .655 SLG and 1.063 OPS in Coors Field. In that same span, he owns a .337 AVG, .422 OBP, .655 SLG and 1.077 OPS against lefties. That means he absolutely obliterates left-handers when he's at home and that's bad news for Andrew Heaney. Not to mention, Arenado is hitting .323 over his last 16 games, reaching base in all but one of those outings.
Maikel Franco FD - 3B 2900 DK - 3B 4200
Opponent - PIT (Chad Kuhl) Park - KC
FD - 9.95 DK - 7.57
We already foreshadowed Mondesi's great matchup in the shortstop section, so, let's get into that here with Franco. The Royals get to face Chad Kuhl, who owns a 4.28 ERA and 1.41 WHIP for his career. That puts Mondesi in a great spot to succeed, making him a great two-man stack with Franco. The Philly send-off has been a pleasant surprise for this organization, generating a .275 BA, .478 SLG and .792 OPS as a fixture in this KC starting lineup. That's really all you can hope for from someone priced so affordably, with the Royals being one of the sneakiest stacks of the day.
Outfield

Franmil Reyes FD - OF 2800 DK - OF 4200
Opponent - MIN (Michael Pineda) Park - MIN
FD - 10.35 DK - 7.75
Why do these sites continue to keep Reyes so cheap? This is a dude who's been raking for a over a month now and he's still sitting around guys who are useless. In fact, The Franimal has a .331 AVG, .401 OBP, .577 SLG and .978 OPS over his last 35 games played. That's a ridiculous stretch and he's doing it despite collecting just four hits over his last nine games. That weak stretch is a little bit worrisome but this price limits any of that risk. It's not like Pine Tar Pineda is someone we need to fade either, accruing a 4.39 ERA and 1.26 WHIP since 2016.
Hunter Renfroe FD - OF 2800 DK - OF 3700
Opponent - BOS (Martin Perez) Park - TB
FD - 11.45 DK - 8.6
This is yet another price that I don't understand. We already talked about how bad Martin Perez can be earlier, attaining a 4.70 ERA and 1.49 WHIP for his career. The thing that makes him a terrible option today is the fact that he pitches from the left side. That makes Renfroe one of the best plays on the board, generating a .575 SLG and .906 OPS against left-handers last season. That's certainly the case again this year, with Hunter's OPS being nearly 150 points higher against lefties than righties.
Ben Gamel FD - OF 2300 DK - OF 3400
Opponent - CHC (Alec Mills) Park - MIL
FD - 9.22 DK - 7.08
This is a total punt play but Gamel has some serious upside here. The thing that makes him most valuable is his lineup spot, batting atop this order against right-handers. What's funny is that his splits are essentially the same no matter who he faces but getting to hit leadoff and flirting with a minimum price is the thing we love. What we also like is his home form, totaling a .375 OBP and .788 OPS at home since 2018. That's no surprise in Miller Park and we don't need to stress about Alec Mills either, who's got a 6.20 ERA and 1.50 WHIP across his last five starts.
GRAB A FREE TRIAL OF OUR PROJECTION SYSTEM, AND CHECK OUT DFSR PRO!
FREE EBOOK
SECRETS TO CRUSHING DAILY FANTASY FOOTBALL!
DON'T SET ANOTHER LINEUP BEFORE YOU READ THIS BOOK.