Baseball Picks Daily Fantasy
Expert Advice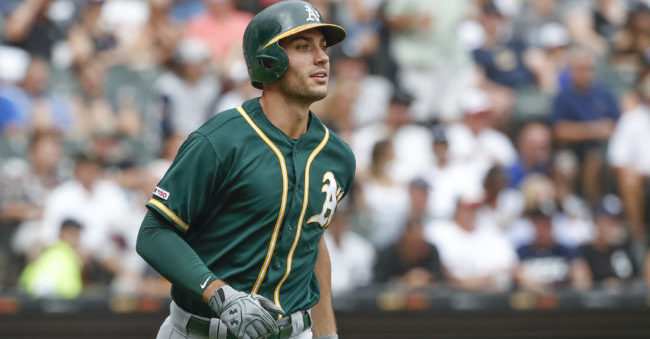 DraftKings and FanDuel MLB Picks for Tuesday 9/15/20
Now's your chance to get DFSR PRO, which will give you access to our MLB, NBA, PGA, NHL and NFL optimizers and our new player lab! Get started for free by clicking the button below.
FanDuel
and
DraftKings
. If playing
DraftKings
, keep in mind the three doubleheaders are just seven-inning games. Let's dig in and take a look at some core plays at each position, covering the entire day.
Pitchers
Jack Flaherty FD - P 9800 DK - SP 9400
Opponent -
MIL (Brett Anderson)
Park -
MIL
FD
- 35.17
DK
- 19.31
After struggling against the Cubs, Flaherty looked a bit more like himself against the Tigers last Thursday. He threw his most pitches of the season (95) and struck out six batters in five innings. The numbers aren't cute to what they were last season with the K's, but he's still putting down more than a batter an inning and the 3.59 xFIP is right in line with previous seasons. He''ll face a depleted Brewers' team as a -144 road favorite.

Jose Urquidy FD - P 6300 DK - SP 6600
Opponent -
TEX (Kyle Cody)
Park -
HOU
FD
- 31.48
DK
- 16.53
Jose Urquidy's numbers in his first two starts are hilarious. He's struck out only three batters in 9.2 innings while walking six. And yet the ERA is only 3.72 thanks to an incredibly low .093 BABIP against. This is all to say, the sample size is small and Urquidy has profiled as a strikeout pitcher throughout his time in the minors. He's the best money line favorite on the day at -210 against the Rangers and I think we are buying way low.
Strongly consider
Deivi García
(
FD
$8900
DK
$6800) against the Blue Jays. He's really looked great in his first three starts.

Catcher/First Base

Matt Olson FD - 1B 3900 DK - 1B 5300
Opponent -
COL (Antonio Senzatela)
Park -
COL
FD - 15.37 DK - 11.45
As we've already established, it doesn't look like we'll be paying all that much for pitching meaning we can likely load up on the Athletics heading into Coors on Monday. This game, of course has the highest total and bats are somewhat reasonably priced. Olson isn't having a repeat to his 2019 season by any means when he OPS'ed right around .900 with 36 home runs. The power numbers per plate appearance are mostly there this season but he's running about .100 points off his BABIP at .203 though the walks have ticked up. All in all, he's just running bad and is a top bat heading into Colorado on Tuesday.
Edwin Encarnación FD - 1B 2900 DK - 1B 4400
Opponent -
MIN (Randy Dobnak)
Park -
CHW
FD - 11.98 DK - 8.89
Randy Dobnak was a nice story to start the season because of the ERA, but the lack of strikeouts are catching up with him. The xFIP is over 4.00 on the season and he's striking out fewer than five batters per nine. Incarnation's biggest problem this season is the strikeout rate, but that's much less of a concern against a pitcher like Dobnak. We could be buying way low on E5 considering the issue driving his price down is the swing and miss.
Second Base

Jean Segura FD - 2B 2900 DK - 2B 4500
Opponent -
NYM (Rick Porcello)
Park -
PHI
FD - 11.43 DK - 8.94
Segura has always been tough to strike out over his career, going down on strikes only 13.6% of the times over his first eight or so seasons. This season the number has ticked up some, but so has the patience, walking close to 11% of the time which is more than double his career number. The mid-700's OPS is fine for the price and he gets a good matchup against a very mediocre arm in
Rick Porcello
who has an xFIP around 5.00 over the last two seasons.

Jonathan Schoop FD - 2B 3000 DK - 2B 4200
Opponent -
KC (Danny Duffy)
Park -
DET
FD - 9.93 DK - 7.59
Schoop has hit lefties well over the last season and change with an OPS over .900 thanks in part to a .354 OBP and a crazy .286 ISO. The 136 wRC+ in that split dwarfs what he's doing against righties as well.
Danny Duffy
's 5.13 xFIP is about a run worse than his 4.24 ERA and though the K's look ok on paper he's still walking 3.66 batters per nine. Schoop should be near the top of the lineup against the lefty and is a nice value.
Shortstop

Marcus Semien FD - SS 3500 DK - SS 5100
Opponent -
COL (Antonio Senzatela)
Park -
COL
FD - 15.2 DK - 11.57
Semien is back at the top of the order for the A's after some time on the IL and it hasn't been anything close to a repeat of last season's breakout .900-ish OPS and 33 home runs. The 2020 OPS is under .700 with the walks down and the K's way up. That for sure a concern, but less so when walking into the Coors on Tuesday. This is such a smash spot for the A's compared to the rest of the field that we can overlook some of Semien's struggles to start this season.

Andrelton Simmons FD - SS 2600 DK - SS 4500
Opponent -
ARI (Madison Bumgarner)
Park -
LAA
FD - 10.89 DK - 8.48
Simmons doesn't pack a ton of punch, but he's also an incredibly tough guy to get pitches past, especially for lefties. Over his career, Simmons has walked 9% of the time and struck out only 7% of the time against lefties. The low .700's OPS is meh, but he's also coming cheap on
FanDuel
and could hit near the top of the order because of the platoon splits and the matchup against Bumgarner. The latter has been hideous this season with an xFIP over 7.00 through 26 innings.
Third Base
Tommy La Stella FD - 3B 3600 DK - 2B 5000
Opponent -
COL (Antonio Senzatela)
Park -
COL
FD - 13.99 DK - 10.74
La Stella's numbers this year are silly in that he's walking (12%) nearly three times as much as he's striking out (4.6%). You simply don't see that kind of thing in the majors and his .366 OBP is only being held back because the BABIP is about 25 points less than his career average. Hitting in the two-hole for the A's in Coors even at these elevated prices has such a high fantasy floor against Senzatela who strikes out fewer than six batters per nine.

Eduardo Escobar FD - 3B 2700 DK - 3B 3800
Opponent -
LAA (Julio Teheran)
Park -
LAA
FD - 10.47 DK - 7.96
The wheels have come completely off for
Julio Teheran
who has an ERA over 8.00 through 27 innings and is striking out batter less than 14% of the time. It's been a real train wreck so far for this guy and even though Escobar doesn't have a ton of pop, that he's a tougher strikeout guy does give him a moderate floor for cash games. His BABIP is about 60 points lower than his career averages and this is still a guy coming off back-to-back seasons of .800+ OPS hitting.
Outfield
Stephen Piscotty FD - OF 3600 DK - OF 4000
Opponent -
COL (Antonio Senzatela)
Park -
COL
FD - 14 DK - 10.62

Mark Canha FD - OF 3400 DK - OF 4700
Opponent -
COL (Antonio Senzatela)
Park -
COL
FD - 13.38 DK - 10.03
Canha is yet another Athletic bat who isn't seeing the kind of power pace he saw in 2019. Dude has only three home runs through his first 188 plate appearances this season after hitting 26 last year. He still walks at a solid 15% clip and has a better OPS against righties than lefties for his career. He's mostly a reverse platoon guy and should hit around the fifth spot in the order on Tuesday. Love this spot in Coors and it's going to be tough to choose the Oakland bats.
Piscotty is the better
DraftKings
play and might end up being the cheapest A's bat who hits in the top six over on that site. He's cheaper for a season with the K's up close to 30% and the OPS looking a bit funky. But his hard hit percentage is still around 45% and this stadium could help turn around some of his groundball issues.

Andrew McCutchen FD - OF 3000 DK - OF 3800
Opponent -
NYM (Rick Porcello)
Park -
PHI
FD - 13.24 DK - 9.95
After a brutal start to the season coming back from the ACL tear, McCutchen has started to turn things around of late, hitting in seven of his last eight games with two home runs over that stretch. That has the OPS up around .750 on the season. I'd like to see the walks get up over 10% like h's been in the past, but he is still striking out less than 20% of the time. Hitting in the leadoff slot against Porcello then he's still a value.
GRAB A FREE TRIAL OF OUR PROJECTION SYSTEM, AND CHECK OUT DFSR PRO!
FREE EBOOK
SECRETS TO CRUSHING DAILY FANTASY FOOTBALL!
DON'T SET ANOTHER LINEUP BEFORE YOU READ THIS BOOK.