featured Daily Fantasy
Expert Advice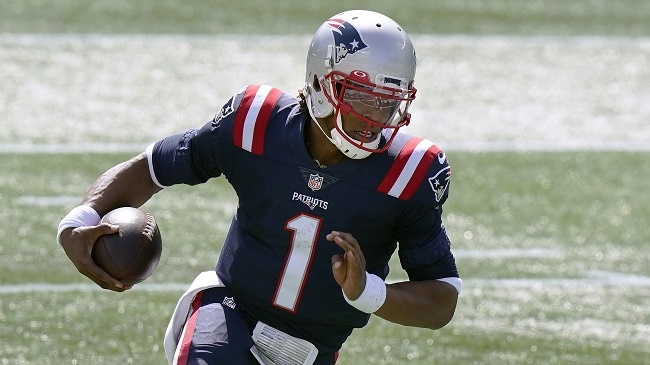 Daily Fantasy Football Cash Game Picks for FanDuel and DraftKings Week 3
Week 2 was a sad one, with a veritable All-Pro team worth of players going down. While it's sad to see as a football fan, it does open up a ton of opportunity in DFS, so let's get down to our NFL cash game picks on
FanDuel
and
DraftKings
for week 3.
Also check out our Week 3 injury breakdown as well as our Week 3 betting strategy.
Want access to the projections that power these picks? For a limited time we're offering a free one week trial to all the sports that we cover - that's optimal lineups for NFL, NBA, NHL, and MLB - for the same low price. Get started now!
Quarterbacks
Kyler Murray FD 8400 DK 6800
Opponent DET
Proj Points FD - 24 DK - 24.79
It's an embarrassment of riches at quarterback this week with a ton of upper-tier QBs in great spots. And we aren't going to worry too much about having to pay a premium on the position. There's just so much value at running back that we'll be able to spend up at quarterback and wide receiver specifically. Let's start with Murray who we recommended in cash games for last week. He was as good as promised with 286 yards and a touchdown through the air and another 67 yards and two touchdowns on the ground. Through two weeks he leads all quarterbacks in rushing yards and is actually ninth overall in the NFL on the ground. He's improved his accuracy, completing 67% of his passes and one has to assume the passing touchdowns tick up as the season goes on. The Lions have been one of the worst defenses in the league through two weeks and Murray is in another smash spot.

Cam Newton FD 7700 DK 6700
Opponent LV
Proj Points FD - 23.23 DK - 24.02
Through two weeks, Cam Newton is sixth overall in DraftKings scoring with 32.14 points per game. It's been a complete effort on his part, essentially contributing to every part of the Patriots' offense. He is second overall in quarterback rushing yards (behind Murray) with 122 yards on the ground and his four rushing touchdowns lead the league. He's also been ultra-efficient through the air with a 71% completion percentage and ranks sixth in yards per attempt. The Giants' defense hasn't been terrible to start the season, but they are going to have trouble keeping the ball out of opponents' hands with Saquon Barkley now lost for the year. The Pats have the third-highest implied point total on the slate (behind Arizona and Dallas) and considering so much of the offense runs through Cam, he makes for a great play. Based on the pricing differences I can see starting Murray on DraftKings and Newton on FanDuel.
Russell Wilson FD 8700 DK 7300
Opponent DAL
Proj Points FD - 22.88 DK - 23.35
It feels crazy to put Russell Wilson third on any list of quarterbacks, but this has as much to do with the price as anything else. Again, because running back offers a ton of value, you are almost definitely going to be paying up at quarterback. Wilson ranks third in DraftKings points per game scoring through the first two weeks and has already thrown for a league-leading nine (9!) touchdowns and one interception in the first two games. He's completed 83% of his passes and is basically as good as it gets. Again, having Wilson as third on the list is only because he's more expensive than Murray and Newton with somewhat similar expectations. It works out that way only because the latter two are running more per game. There are very few ways to go wrong at quarterback this week.
Running Backs

Jonathan Taylor FD 6700 DK 7000
Opponent NYJ
Proj Points FD - 21.44 DK - 23.25
As often happens as the season progresses value plays shift from wide receiver to running back. Taylor was an 84% cash game play in week 2, and exceeded expectations by touching the ball 28 times for 110 total yards and a touchdown. Nyheim Hines was an utter afterthought, and the Colts proved that they will trust Taylor to bring it home for them in the running game. Well, this week the Colts are 9.5 point favorites over the hapless Jets, and Taylor's price just hasn't risen high enough to account for this opportunity and match-up. Taylor might be higher owned this week than last, if possible, but there is a chance that people chase a few other shiny objects instead. Let's talk about those.
Jerick McKinnon FD 5700 DK 4900
Opponent NYG
Proj Points FD - 16.59 DK - 17.91

Mike Davis FD 6000 DK 5100
Opponent LAC
Proj Points FD - 15.24 DK - 18.03
I view McKinnon and Davis very similarly here, though I'd probably give the nod to McKinnon on account of the fact that both Coleman and Mostert went down last week. I like him a little better as well because the Niners are 4.5 point favorites over the Giants whereas the Panthers are 7.5 point dogs. McKinnon is a better pass catcher than pure runner, but he did break off a 16 yard touchdown and a 55 yard run last week. He's also cheaper than Davis, which always matters as things get tight in cash.
As for Mike Davis, he seems far riskier to me. Yes, McCaffrey is an entity unto himself when it comes to his role as a running back in the Panthers offense, but it's not clear that Davis will absorb all of that. The big feather in his cap from last week was his prominence in the passing game, where he hauled in all 8 of the targets thrown his way. In a normal week I think I'd be happy to roll the dice, but with the existence of Taylor and McKinnon we might see Davis just outside of our cash game lineups.

Miles Sanders FD 7400 DK 6400
Opponent CIN
Proj Points FD - 20.54 DK - 22.85
I'm not actually sure that we'll find room for Sanders in cash games this week, but I think he's worth pointing out because sometimes things change for cheaper guys as the week progresses. Sanders missed week 1 and people understandably viewed him with caution going into week 2, but he stepped right into the role many hoped he would, garnering 27 looks en route to 131 total yards and a touchdown. And that was in a tough match-up with the Rams! This week's contest against the Bengals rates to have an even better game script, with the Eagles opening as 6.5 point favorites. If you get spooked by the new situations for the guys above, Sanders should be one of the safest bets for 20+ touches at a reasonable price this week.
If you find yourself in a position where you really want to pay up, consider Derrick Henry. He was a unanimous play last week, and while the usage was there the overall production was a disappointment. He'll be underowned and he's still under priced.
Wide Receivers

DeAndre Hopkins FD 8500 DK 7900
Opponent DET
Proj Points FD - 19.39 DK - 23.72
Through two weeks, Hopkins leads all wide receivers in targets with 25 which is such an overwhelmingly amazing sign considering he came out of the pandemic playing with a new quarterback. It's a testament to both his and Murray's skillsets and there's reason to expect things continue to trend upward as the season moves along. Stacking Hopkins and Murray in cash provides a solid floor and I do think we see an uptick in red-zone targets moving forward. Hopkins has converted 88% of his targets (22/25) and ranks fourth overall in receiving yards. The Lions have done little to stop anyone this season and their prospects aren't set to improve in this matchup. Hopkins could be looking at a chalk week.

Diontae Johnson FD 6300 DK 5400
Opponent HOU
Proj Points FD - 15.41 DK - 18.72
Don't look now, but one Mr. Diontae Johnson ranks second-overall in WR targets this season. Through two games he has 23 looks from Ben Roethlisberger. That's the good news. The iffy part is the conversion percentage hasn't looked all that great. He's converted only 61% of his targets and turned them into 14 catches and 149 yards through two weeks. He's a downfield threat so the consistency might continue to be a struggle but that's also what's keeping the price in check. He's a great middle-tier value on both sites and offers a lot of upside in this price tier. Houston has had tough matchups with the Chiefs and Ravens in the first two weeks, so it's tough to look at their bottom-third defense and be all that bearish. But Johnson's target share for the price is almost too good to pass up.

Calvin Ridley FD 8000 DK 7200
Opponent CHI
Proj Points FD - 16.77 DK - 20.21
Like we said before, spending up at QB and WR this week is likely the way to go, so recommending two upper-tier wideout options feels at least intellectually (and mathematically) honest. The Falcons have passed a ton to start the season with Matt Ryan's 90 passing attempts trailing only Joe Burrow (97) through the first two weeks. Their 723 passing yards also rank second. On a team full of weapons, Ridley has emerged as the top target leader with 22 and already has four receiving touchdowns. They are home favorites against the Bears this week so one could maybe assume they take their foot off the gas, but this has always been a team that's wanted to air it out. It's what makes it possible for them to sustain production from multiple upper-tier WRs. I'm fine running Ridley in cash if you can fit the salary.

D.J. Moore FD 6700 DK 6100
Opponent LAC
Proj Points FD - 15.17 DK - 18.46

Robby Anderson FD 6100 DK 5200
Opponent LAC
Proj Points FD - 13.65 DK - 16.18
It's always a little iffy trying to figure out a new quarterback-to-wide receiver pairing to start a season. But the returns through two weeks from Bridgewater to these two has been promising. For starters, the Carolina defense is brutal leading the Panthers into tons of passing situations. And now they lose Christian McCaffrey for multiple weeks which will open up increased targets for the wide receiver corps. Moore is tied for fourth in targets to start the season (22) though has struggled with a 55% conversion rate. Some of that was left over from Week 1 seeing as how in Week 2 he went for 8/120 on 13 targets against the Bucs. Much like last season, Moore's price simply isn't reflective for how he's targeted in the offense.
Meanwhile, Anderson remains a downfield threat and is fourth overall in receiving yards to start the season despite fewer targets than anyone else in the top-five. He has an 83% conversion rate and is averaging 12.4 yards per target from Bridgewater. The red zone usage likely never materializes considering the nature of his targets, but the lack of touchdowns is also what should keep his price in the lower-middle tier.
Tight Ends
Darren Waller FD 6600 DK 5700
Opponent NE
Proj Points FD - 14.68 DK - 18.07
What on Earth do we make of Darren Waller? He showed flashes of being a true TE1 last season, but he's unequivocally that through two weeks this season. Waller was almost the entire Raiders' passing game last week, as Carr targeted him 16 times in 38 attempts. He was reliable, too, catching 12 of those targets for 103 yards and a touchdown. He's the chain mover in the Raiders' offense right now, and we're still getting him at mid-tier tight end prices. With value flying around at running back this week, we might actually have the money to pay up for a reliable tight end. Let's enjoy it, shall we?
Dallas Goedert FD 5200 DK 4900
Opponent CIN
Proj Points FD - 10.79 DK - 13.24
Dalton Schultz FD 4900 DK 4500
Opponent SEA
Proj Points FD - 9.43 DK - 11.64
Well, Goedert has out targeted Ertz in back to back weeks to start the season, but he's still $1,000 cheaper than the Eagles' incumbent tight end. It feels a little bit like fool's gold with Ertz lurking (especially because the Eagles have been rumored to be in contract talks with him), but Goedert's cheap enough that it might be worth the risk.
As for Schultz, there isn't the same buzz from the Cowboys that you'll hear about Goedert, but he stepped in for Blake Jarwin in an astounding way in week 2, catching 9 of his 10 targets for 88 yards and a touchdown. I wouldn't be shocked if he sees cash game ownership as well.
If Jack Doyle misses another week, Mo Alie-Cox looks like a terrific punt option.
Keep an eye on the George Kittle situation for week 3. Jordan Reed was great in his absence in week 2 and could be a chalk option if Kittle doesn't return as expected.
Defense / Special Teams
Buccaneers FD 3800 DK 3700
Opponent DEN
Proj Points FD - 7.1 DK - 7.1
This one isn't especially complicated, and it's almost entirely match-up based. The Bucs are six point favorites against the Broncos, and while that's good, it's hardly the biggest spread on the slate. The reason they're showing up for us is the opposing quarterback. Drew Lock went down last week and turned over the reins to Jeff Driskel, who is a DFS defense's dream. Driskel can run a little bit, but that also leads to him taking a lot of sacks - he took 6 against the Steelers last week. He's also terribly inaccurate, owning a 58.7% career completion percentage. Combine a low total with a high turnover potential and we're licking our chops here.
Browns FD 3900 DK 3800
Opponent WAS
Proj Points FD - 7.67 DK - 7.67
I like the Browns as sort of a poor man's version of the Bucs for this one. Haskins' career stats look pretty similar to Driskel's, actually. He can run some, but he takes a lot of sacks (7 so far this year) and really can't command a dynamic offense at this point in his career. The 58.1% career completion rate means the interceptions are on the way, even if they haven't come so far.
If you really want to spend up, it can't be too risky to grab the Colts against the Jets. The Colts are the biggest favorites on the week
GRAB A FREE TRIAL OF OUR PROJECTION SYSTEM, AND CHECK OUT DFSR PRO!
FREE EBOOK
SECRETS TO CRUSHING DAILY FANTASY FOOTBALL!
DON'T SET ANOTHER LINEUP BEFORE YOU READ THIS BOOK.