featured Daily Fantasy
Expert Advice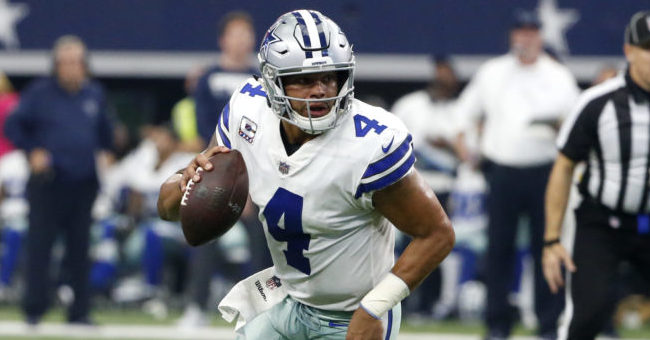 Daily Fantasy Football Cash Game Picks for FanDuel and DraftKings Week 5
Want access to the projections that power these picks? For a limited time we're offering a free one week trial to all the sports that we cover - that's optimal lineups for NFL, NBA, NHL, and MLB - for the same low price. Get started now!
Quarterbacks

Dak Prescott FD 8700 DK 7400
Opponent NYG
Proj Points FD - 25.86 DK - 26.71
The Cowboys' season is getting a little out of hand at this point. They are 1-3 to start the year despite scoring the second-most points in the league through four weeks. They've had to get into shootouts with the defense allowing, by far, the most points in the league at 146. Some of that is poor play, some is ill-timed turnovers. But overall it's been a mess for Dallas. I was on record before Week 4 that Dak's passing attempts per game were unsustainable. Whoops. He chucked up 58 on Sunday for 502 yards, four touchdowns and a loss. They come in Sunday as -9 favorites against the Giants in what should be another smash spot for the offense. Again, it doesn't seem like this kind of volume can continue, but it's also getting tougher to bet against it with each passing week. Dak needs to be at, or near, the top of the list simply because the volume is just out of this world.
Deshaun Watson FD 7900 DK 6900
Opponent JAX
Proj Points FD - 23.14 DK - 23.92
On the one hand, Watson has been pretty bad to start the season, losing his first four games with a 2:1 TD:INT rate. He's also barely getting involved at all on the ground with only 17 total rushing yards. And now the Texans have fired Bill O'Brien. So it's been kind of a dumpster fire. But they did have a very tough schedule through the first quarter of the season and now get their easiest matchup yet. The Jaguars are the 29th-ranked defense, but at dead last against the pass according to DVOA. They are allowing 8.4 yards per pass attempt (third-worst) and a 77% opponent completion percentage which is the highest in the league. If Watson is going to turn it around, this is the game. He's priced a bit lower because of the early season returns and this could be the time to buy low.

Teddy Bridgewater FD 7100 DK 5900
Opponent ATL
Proj Points FD - 18.43 DK - 19.09
Bridgewater continues to look more comfortable under center in his first year with the Panthers, guiding the team to wins in back-to-back weeks. In fact, over the last three weeks, he's completed 75% of his passes and is averaging 24 yards on the ground in the last two. The only thing that really hasn't come around are the touchdowns with only four on the season. Now he'll face the Falcons who've absolutely given it up to opposing quarterbacks this season. They allowed 32.6 DraftKings points to Aaron Rodgers in Week 4, 30.8 to the Trubisky + Foles combo in Week 3, 43.8 to Dak Prescott in Week 2 and 34.8 to Russell Wilson in Week 1. They've been torched. Bridgwater is a cash game value on both sites, with the DraftKings price looking a tick more enticing.
Running Backs

Mike Davis FD 6800 DK 6400
Opponent ATL
Proj Points FD - 18.38 DK - 21.63
Davis was a popular cash game option last week, and I have a hard time picturing him as anything other than the highest owned running back for week 5. He's doing a damned solid Christian McCaffrey impression right now, well, at least a poor man's version. Let's call him Mini-Mac. Still, we're getting him for $2k less than we had to pay for McCaffrey and the production really isn't $2k different. Davis had 22 opportunities for 111 yards and a touchdown in the surprise win against the Cardinals, and he'll likely get a match-up upgrade against the Falcons. As 3.5 point underdogs Davis should be plenty involved regardless of the game script, and given how few options there are at RB this week we'll be playing him in every format.
Jerick McKinnon FD 6400 DK 5800
Opponent MIA
Proj Points FD - 17.11 DK - 18.7
We ran McKinnon a couple weeks ago, and ran bad when he was pulled late in a 49ers blowout of the Giants. He still paid his price in that limited opportunity. Well last week he played 93% of the snaps against the Eagles, and was given 14 carries and 8 targets. He's scored a touchdown every game this season now as well. This week he'll get an all-world match-up with the Dolphins, as an 8.5 point favorite against a team that's allowed 4.6 yards per carry so far this season. Again, with limited options this week, I suspect high ownership for McKinnon.

Ezekiel Elliott FD 9000 DK 7800
Opponent NYG
Proj Points FD - 21 DK - 23.64
Normally we'd headline the section with the most expensive player, but our system just isn't prioritizing Zeke in the same way it's looking at the cheaper options. Still, with some solid mid-range value across a few different positions today you might wind up with the savings, and if you do, you could obviously do a lot worse. The Cowboys should be able to score at will against the hapless Giants (as we talked about in the Dak writeup), and as they hold the lead they're very likely to just keep feeding Elliott. You have to love the targets he's been getting recently as well, netting 26 across the last three games.
Derrick Henry looks like a good play in our system, but as of now we're treating that Tennessee/Buffalo game as a wait and see in its entirety.
Keep an eye on the situation with Zack Moss, as Devin Singletary has looked frisky as the sole ball carrier in Buffalo in his absence. If Moss returns, I'd be a lot less bullish on Singletary's prospects.
Wide Receivers

Amari Cooper FD 7800 DK 7400
Opponent NYG
Proj Points FD - 17.94 DK - 21.83
Much like the case with Dak, it feels unreasonable to assume the Cowboys can keep up with the amount of passing attempts they are chucking up every week. But again, I thought that going into Week 4 and they threw it 58 times. Cooper is the NFL leader in targets with 51 through four weeks and is second in yards (401). The Giants are a bottom-third defense against the pass this season in terms of opponent completion percentage and yards per attempt. Only their slower pace has kept the total yards down. Even on a team full of passing attack threats, Cooper continues to shine above them all and we can project his target share with the best in the game right now.

Robby Anderson FD 6200 DK 5900
Opponent ATL
Proj Points FD - 16 DK - 19.11
It hasn't taken long for Anderson to develop a rapport with Teddy Bridgewater seeing as how both are new to the Panthers in 2020. Anderson, long viewed as a deep threat only option, now has himself in the league's top-8 in targets and has converted 82% of those looks, good for second among the top target guys. And like Bridgewater, Anderson will now face the Falcons who've allowed opposing pass-catchers to put up monster numbers this season. The lack of receiving TDs (only one this season) is what's keeping Anderson's price as a total value. He's an easy cash play this week.

Terry McLaurin FD 6300 DK 6100
Opponent LAR
Proj Points FD - 14.17 DK - 17.21
I'm not usually in the good-receiver-bad-quarterback club when it comes to cash games, but McLaurin's volume puts that to the test. He's sixth in the league in targets but is only converting them at a 67% rate. That being said, he's been over 100 receiving yards in two of the first four games and is fifth-overall in yards this season. Typically he'd see some Jalen Ramsey coverage here in spots, but the latter might be facing a suspension after the fist-a-cuffs with Golden Tate following Week 4's game. And as always, the upside on McLaurin is that the Redskins stink and will be playing from behind most of the season. The targets should continue simply because they'll need to play catch up.

DJ Chark Jr. FD 7000 DK 6500
Opponent HOU
Proj Points FD - 14.16 DK - 16.99
After struggling with some injuries to start the season and sitting out Week 3, Chark finally broke out in Week 4 with an 8/95/2 line on nine total targets. It was a great sign that he's fully healthy and ready to return to the 2019 production in which he topped 1,000 receiving yards and scored eight touchdowns. Houston has allowed opponents to complete 71% of their passes this year though they do have capable corners. I still like buying on Chark as a solid mid-tier WR who could push towards double-digit targets on any given week.
Others situations to monitor this week:
If Sam Darnold plays pain-free this week after suffering the sprained shoulder last Thursday night, then I think Jamison Crowder would be a cash play considering his target share. But I need to hear a little more about Darnold's bum wing before going there.
The same can be said for Jeff Smith if the Jets remain banged up in their wide receiver corps. In a fill-in role on Thursday, Smith had nine targets and finished with a 7/81 line. He's coming at the minimum on DraftKings at $3000.
Also, keep an eye on the injuries in Las Vegas. Hunter Renfrow is still coming cheap on both sites and has 17 targets over the last two weeks. He's put up an 11/141/1 line combined in those two.
Tight Ends

George Kittle FD 7100 DK 6600
Opponent MIA
Proj Points FD - 18.48 DK - 22.4
Hey look, George Kittle is back. After being an afterthought against the Cardinals and being hurt ever since Kittle showed up and caught all 15 of his targets for 183 yards and a touchdown against the Eagles. Tight end has been a true disaster this season, and if Kittle continues to return to his All-Pro form he's going to be 10% more expensive in short order. There's always a tension at tight end between going cheap and rolling the dice and paying for known opportunity. With the Niners desperate for consistent production it's hard to imagine Kittle taking a back seat, and he might be worth paying up for here.

Evan Engram FD 5500 DK 4600
Opponent DAL
Proj Points FD - 9.98 DK - 12.34
Honestly, as I scroll through the options at tight this week, I think we'll probably just pay up for Kittle. If we don't, however, I wouldn't mind considering Evan Engram. The Giants are as thin as any team in the league at skill positions this week, and it's moved Engram into a prominent role once again. He got 10 targets last week, and while he only turned those into 6 catches for 35 yards, it's more than many tight ends can boast. Dallas has been abysmal on defense this year, and perhaps even the lowly G-Men can find pay dirt here.
If the Titans play, Jonnu Smith is a solid option again.
Darren Waller got 12 targets last week, and his target totals from the last 3 weeks are now 12, 4, and 16.
Defense / Special Teams
If you've read DFSR in the past, you'll know that we are often trying to toe the line between going cheap at defense and paying up. We usually lean to the cheaper end, but there are certainly times where it's correct to go expensive. We'll list an option at both price points today.


Steelers FD 4400 DK 3800
Opponent PHI
Proj Points FD - 8.23 DK - 8.23
The Steelers are in our cash game lineups right now, which is unusual for a moderately expensive defense. So what sets them apart? First, they are kind of just awesome at defense. The rush defense has allowed just 2.7 YPC this season, which is good for best in the league. They're also 2nd in the league with 15 sacks (in spite of missing last week's game), and tied for 5th in interceptions with 4. They face the Eagles and their decimated offensive line this week as 7.5 point favorites. I love the Steelers for both safety and upside here.
Cowboys FD 3500 DK 3100
Opponent NYG
Proj Points FD - 5.99 DK - 5.99
It feels at least a little weird writing up the Cowboys after calling them "abysmal" in the Evan Engram writeup, but that's the way of the road when trying to pick defenses. You just aren't going to get high quality defenses for cheap, and defensive production is unreliable enough it that it often makes sense to pay down. And if you're doing that? The Cowboys look like a pretty good options. The Giants have lost basically everyone on their offense, and the 47 points they've scored are by far the worst in the league - even 18 points worse than their cross town compadres in the Jets. The floor here seems great, even if the ceiling is nothing to write home about.
GRAB A FREE TRIAL OF OUR PROJECTION SYSTEM, AND CHECK OUT DFSR PRO!
FREE EBOOK
SECRETS TO CRUSHING DAILY FANTASY FOOTBALL!
DON'T SET ANOTHER LINEUP BEFORE YOU READ THIS BOOK.