featured Daily Fantasy
Expert Advice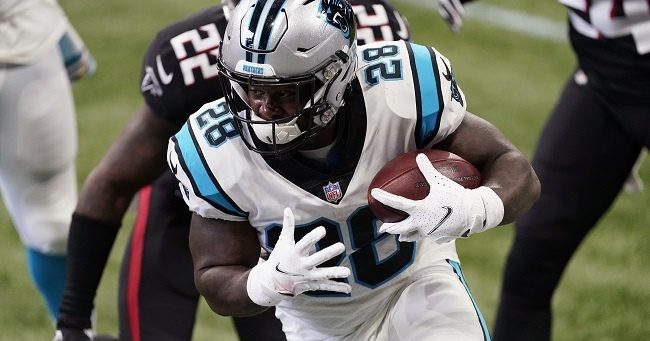 Daily Fantasy Football Cash Game Picks for FanDuel and DraftKings Week 6
Want access to the projections that power these picks? For a limited time we're offering a free one week trial to all the sports that we cover - that's optimal lineups for NFL, NBA, NHL, and MLB - for the same low price. Get started now!
Quarterbacks
Deshaun Watson FD 8200 DK 7000
Opponent TEN
Proj Points FD - 22.48 DK - 23.25
In his first game, post-Bill O'Brien, Watson had his best game of the season against the Jaguars. He threw for 359 yards and three touchdowns while also getting out for 25 rushing yards. Sure, Jacksonville is the league's worst defense, but it was good to see Watson return to some of the big-number form we'd seen from him in years past. After a brutal scheduling run to start the season, we may be getting the old Watson back now. Unfortunately, the matchup against the Titans isn't exactly ideal coming off a week in which they shut down Josh Allen. But Watson still is about as dynamic a quarterback as you'll find on this slate and the price hasn't gotten all the way back after some early-season struggles.
Ryan Fitzpatrick FD 7400 DK 5900
Opponent NYJ
Proj Points FD - 20.59 DK - 21.63
Between byes, scheduling and injuries, the top five DraftKings-scoring quarterbacks aren't on this slate so we are going to have to a dig a bit deeper this week to find some value at the position. Fitzpatrick has had a solid if unspectacular start to the season though some of that is a volume issue. Miami has two games already in which they were in complete control (SF in Week 5, JAX in Week 3) and Fitzpatrick didn't top 30 passing attempts in either. But he's also had two games (SEA in Week 4, NE in Week 1) in which he failed to record a passing touchdown and threw five combined interceptions. So it's been an up-and-down season. This week he gets the Jets who rank 31st against the pass which is even more damning when you see they had three weeks of Brett Rypien, Jimmy G and the no-pass Colts. Fitzpatrick keeps the floor higher with gains on the ground, ranking fourth among quarterbacks in rushing yards this season and he's a total bargain on DraftKings.

Matthew Stafford FD 7300 DK 6300
Opponent JAX
Proj Points FD - 21.12 DK - 21.91
Stafford gets the aforementioned Jaguars this week who rank dead last against the pass in part because they allow a league-worst 8.7 passing yards per attempt. That's a half yard more than the next worst team (the Jets). We typically don't recommend pass-only quarterback plays as cash values but this week is something of the exception because so many of the top QBs are off the main slate. And for what it's worth, this recommendation is more about opponent than anything else seeing as how Stafford's numbers this year aren't exactly worth writing home about. The 61% completion percentage is rough and he's *only* thrown eight touchdowns in his first four games. But he's also faced two top-ten defenses (CHI and NO) so the numbers might have room for growth. This is just the team to do it against seeing as how the Jags have allowed 19 or more DraftKings points to every quarterback they've faced this season.
Running Backs

Mike Davis FD 7500 DK 7000
Opponent CHI
Proj Points FD - 19.97 DK - 23.22
It always feels a little bit weird to keep buying as the price increases, but I don't know what I'm supposed to be afraid of by running Mike Davis. He's not Christian McCaffrey, but he's like, almost Christian McCaffrey, right? Last game he had a McCaffreyesque 16 carries and 10 targets for 149 yards and a touchdown, and he's been involved in the Panthers' offense regardless of the game script. Chicago is a top 10 team in defensive DVOA this season, but the Panthers are still 2.5 point favorites, and I can't imagine Davis randomly gets left out of this one. His price needs to climb another 10% before I'm truly concerned.
Alexander Mattison FD 7000 DK 7200
Opponent ATL
Proj Points FD - 19.76 DK - 22.04
I think there's a decent chance that Alexander Mattison is the second coming of Mike Davis. He's filling in for a great back, but more importantly, as a part of a great running game. We're assuming Dalvin Cook misses this one, of course, but all indications are that he'll do just that. Mattison was terrific against Seattle's excellent rush defense last week, compiling 136 yards from scrimmage on 23 touches. Atlanta has been decent against the run this year, but not as good as Seattle, and the Vikes are actually 3.5 point favorites here. Again, I'm not going to get overly spooked that I might have gotten Mattison for cheaper in the past, and I'm going to run him in cash games if he's starting.

James Robinson FD 6500 DK 6800
Opponent DET
Proj Points FD - 17.34 DK - 19.38
Things get pretty tough after the above guys, so let's hope we actually get a chance to run Mattison this week. If you're looking for a cheaper flex option, I think Robinson is worth a look. The Jags are three point dogs here, but this game has the second highest total on the slate. As a good pass catching back Robinson tends to be involved regardless of the game script, and 15 targets and 4.75 targets a game is plenty of action for a running back in this price tier. He's been effective, too, putting together 4.8 YPC so far this season. And then there's the match-up. The Lions own the second worse DVOA against the rush of any team in the NFL, and one has to think the Jags are going to put the ball on the ground early in this one.
Also considered: Both side of the Jones battle in the battle of the Bays this week. Ronald is an enticing cheap option, and Aaron looks reasonable at the higher price point.
Wide Receivers

Robby Anderson FD 6500 DK 6300
Opponent CHI
Proj Points FD - 17.01 DK - 20.28
Through the first five games, Anderson ranks 7th overall in targets (47) and has the second-best conversion percentage (77%) among the top ten receivers. He has double-digit targets in three of those five games. What's keeping his price in check despite the near-elite target share is the touchdowns haven't followed suit. He only has one through the first five weeks, but that could be due for some positive regression seeing as how he ranks in the top 20 in red-zone targets this season. Still love him at these prices and suspect he's a chalk play once again.

Jamison Crowder FD 6600 DK 6100
Opponent MIA
Proj Points FD - 15.62 DK - 19.17
Crowder has been one of the lone "bright" spots on the dumpster fire New York Jets this season. He has 33 targets in the three games he's played which on a per-game basis, ranks him first in yards, 2nd in DraftKings scoring, 3rd in targets and 4th in receptions. He's been completely elite this season and the price doesn't come anywhere close to reflecting it. It was also encouraging that the production didn't drop off at all moving from Sam Darnold to Joe Flacco. And despite these returns, Crowder is, for some reason, priced as WR14 on DraftKings and WR12 on FanDuel. This is a pretty easy lock and load play for a team that should be playing catch up from here on out.

Calvin Ridley FD 8600 DK 7800
Opponent MIN
Proj Points FD - 17.63 DK - 21.13
The Week 4 performance against the Packers in which he put up a 0/0/0 on five targets is pretty damning for sure. But the other four games have been elite with Ridley averaging 11.25 targets and a 7/121/1 line. Julio Jones is looking more and more washed with every given week and Ridley is the clear WR1 on this team who walk into Week 6 with a new coach. It stands to reason they do pass a bit less under Raheem Morris, but the Falcons haven't shown the ability to keep opponents from racking up huge points leaving them in perpetual catch-up mode. Ridley is a bit expensive but does rank as a high floor option even given the week 4 stinker.

Adam Thielen FD 7400 DK 7300
Opponent ATL
Proj Points FD - 16.98 DK - 20.5
Speaking of the Vikings, they get to face the aforementioned Falcons who rank 30th against the pass this season and have allowed 90 or more receiving yards to seven different opposing wide receivers. And yes, they've only played five games like most everyone else. Opponent passing attacks have slaughtered this team and Thielen is now coming off back-to-back double-digit targets weeks against the Texans and Seahawks respectively. This price has ticked up so he isn't an auto-value here, but it's close especially if we don't need to go into the top tier for running back salaries this week.
Some other wide receiver considerations:
If you think the Travis Fulgham target share from last week is real/ sustainable then he makes for an interesting lower-tier value play with big upside.
A week after chalk Brandin Cooks no-showed against the Vikings, he went off against the Jaguars for an 8/161/1 line against the Jaguars. He's a volatile play, but the middle tier pricing is enticing.
Tight Ends
Jonnu Smith FD 5800 DK 5200
Opponent HOU
Proj Points FD - 12.06 DK - 14.57
Back when the Titans used to play football professionally, Jonnu Smith was looking like reasonable cheap option at tight end. Well, the Titans of Tennessee returned to action on Tuesday against the Bills, and Smith picked up right where he left off, punching in two scores. That's 5 touchdowns in four games, and while that pace obviously isn't sustainable it's not like that's all he's doing. At a hair under 7 targets a game, Smith is also a top 10 tight end in terms of opportunity. Throw in the nearly guaranteed red zone looks and I'm ready to roll Jonnu out there in cash again.
Austin Hooper FD 5200 DK 3900
Opponent PIT
Proj Points FD - 9.75 DK - 11.92
Hooper is taking on a bigger role in the Cleveland passing game each week, and with 10 catches for 91 yard on and a touchdown on 17 targets in the last two weeks he'll move onto our short list of cash playable tight ends. It's a bad match-up with the Steelers, but one could argue that the extra pressure on Mayfield could yield more opportunity in the short passing game. And again, we're talking about tight ends here. We're looking for any port in a storm, people.
Also considered: Gronk? He had 6 targets last week, and OJ Howard's season ending injury could open things up for the former superstar. I am not sure I'm going there in cash, but he'll be a popular tournament play for sure.
I will not be playing Robert Tonyan. He's basically Jonnu Smith at a higher price tag, with fewer targets and a shorter track record. Pass.
Defense / Special Teams
If you've read DFSR in the past, you'll know that we are often trying to toe the line between going cheap at defense and paying up. We usually lean to the cheaper end, but there are certainly times where it's correct to go expensive. We'll list an option at both price points today.


Panthers FD 3700 DK 2900
Opponent CHI
Proj Points FD - 5.39 DK - 5.39
Let's get the awkward part out of the way: the Carolina Panthers do not have a good defense. But these are the types of defenses you have to mess with when you want to save a few bucks, in the same way that we ran the Cowboys in cash games last week. The reasons for playing Carolina are similar, and mostly boil down to the match-up. The Bears have the 7th worst offensive DVOA in the league this year, and their 21 implied points scored this week means the Panthers should have a reasonably high floor. You make a nearly identical argument for playing the New York Giants, who have a great match-up with the Washington Football Team. Carolina is just cheaper, which is why they are showing up for us in some cash games right now.
Steelers FD 4500 DK 3600
Opponent CLE
Proj Points FD - 8.1 DK - 8.1
Alternatively, you could grab an awesome defense. Our system is leaning into the Steelers at the moment, who showed last week why they are likely the highest floor defensive option available. Even in a week where they allowed 29 points they still chipped in two interceptions and five sacks. They're now tied for the league lead in sacks (in spite of skipping the TEN game), tied for third in the league in interceptions, and have by far the best DVOA against the run this year. The Browns have an off again, on again relationship with scoring this season, looking pretty bad against the good defenses and bad against the good ones. Our system likes the Steelers to beat them up a bit here.
GRAB A FREE TRIAL OF OUR PROJECTION SYSTEM, AND CHECK OUT DFSR PRO!
FREE EBOOK
SECRETS TO CRUSHING DAILY FANTASY FOOTBALL!
DON'T SET ANOTHER LINEUP BEFORE YOU READ THIS BOOK.