featured Daily Fantasy
Expert Advice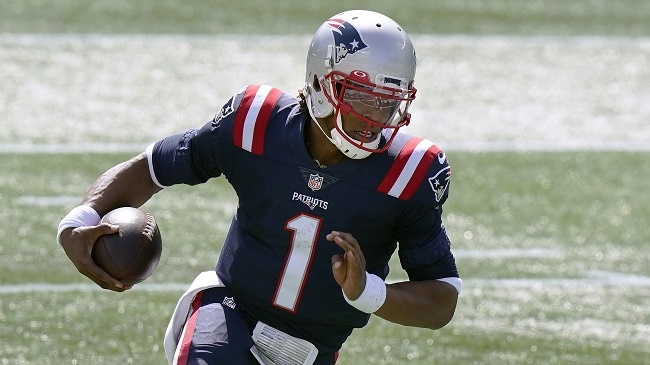 Injury analysis for week 6 of NFL DFS on FanDuel and DraftKings
Welcome to our weekly injury analysis article! It's an odd week with injuries, with a number of interesting quarterback situations leading things off. Let's have a look.
Now's your chance to get DFSR PRO, which will give you access to our NFL and MLB optimizers and our new player lab! Get started for free by clicking the button below.
Games at risk
Welcome to a new segment of the article called "games at risk," where we discuss games that might not play due to Covid-19. The joys of 2020.
Earlier this week, Adam Schefter reported that the Falcons had received at least four positive tests, and that their game was in jeopardy. As the story unfolded, it turned out to be just one staff member, and on Friday the Falcons returned to practice. As of now, the Vikings vs. Falcons game looks like a go.
The Colts shut down their practice facility on Friday after some unknown number of positive tests. It is not yet known how this will impact Sunday's game, but as of right now the Colts vs. Bengals game is currently at risk of not being played.
We'll keep you updated as any of these situations develop.
Quarterback

Drew Lock FD 6700 DK 5400
Opponent NE
Proj Points FD - 13.61 DK - 14.31

Cam Newton FD 8000 DK 6500
Opponent DEN
Proj Points FD - 18.74 DK - 19.41
Both Cam Newton and Drew Lock are on track to return for Sunday's game against one another. Newton had an asymptomatic Covid-19 case and should be treated as exactly the same guy he was before he was sidelined, and while the Patriots aren't the most exciting DFS team, he's an interesting play in his own right.
Lock is not a playable DFS option, and his return really doesn't impact our projections of the Broncos in any meaningful way. Often times getting a QB back makes a team more interesting, but we need to see more production from Lock before we make that declaration.

Baker Mayfield FD 7000 DK 5700
Opponent PIT
Proj Points FD - 14.45 DK - 15.47
Mayfield has been trending in the right direction throughout the week, and while he's not a play in and of himself against this brutal Steelers defense, it would bring guys like Odell Beckham and Jarvis Landry into "interesting big tournament play" status. If Case Keenum starts for Mayfield I can't imagine playing either of those guys in any format.
Running Back

Dalvin Cook FD 9500 DK 8000
Opponent ATL
Proj Points FD - 2.01 DK - 2.42
Cook has missed practice all week, and it's widely believed that he won't suit up on Sunday against the Falcons. Alexander Mattison was excellent in his stead last week, rushing for 112 yards on 20 carries. If Cook sits, we expect that Mattison will be a chalk cash game option in week 6.
UPDATE: Cook is out, and we're all systems go on Mattison in all formats.

Kareem Hunt FD 7000 DK 6900
Opponent PIT
Proj Points FD - 17.83 DK - 19.53
Hunt is currently listed as questionable, and he's been limited in practice this week, but it's believed that the Browns are just being cautious given their issues keeping running backs healthy right now. Hunt is actually cheap enough that it's not outrageous to consider playing him this week, even in a league-worst match-up with Pittsburgh's top ranked defense.

Melvin Gordon III FD 6600 DK 6000
Opponent NE
Proj Points FD - 0 DK - 0

Phillip Lindsay FD 5100 DK 4300
Opponent NE
Proj Points FD - 5.35 DK - 5.75
Gordon missed Wednesday's practice after a drunk driving arrest on Tuesday, but returned to practice on Thursday. The current belief is that the Broncos will let him suit up for this one since he'll potentially face league discipline in the near future, but you obviously want to wait and see before you go out on a limb to play him. If Gordon does sit, Phillip Lindsay immediately becomes a very interesting option. He's sat since week 1 with a toe injury, but is on track to play this weekend against New England. He would be the presumptive RB1 in that case, but Royce Freeman would see be lurking to potentially siphon off some carries.
UPDATE: Gordon is out. Lindsay doesn't make it into our cash game lineups at the moment, but he's an intriguing big tournament option for sure.

Leonard Fournette FD 5500 DK 5000
Opponent GB
Proj Points FD - 1.83 DK - 2.23
Fournette's injury status is quite relevant here, as Ronald Jones has garnered significant cash game interest heading into this week. Fournette's ankle seems to be trending in the right direction, as he actually participated (albeit on a limited basis) this week. Given how close he was to playing last week (he was active in case of emergencies on Thursdays) he could absolutely draw some of Jones' opportunity away from him. I like Jones much better if we get definitive news that Fournette is inactive or active only for emergencies once again.
Antonio Gibson FD 5800 DK 5500
Opponent NYG
Proj Points FD - 10.84 DK - 12.23
Gibson has an injury tag, but practiced in full on Thursday and is on track to play against the Giants on Sunday. He doesn't really seem like a relevant DFS play for cash games, but the upside potential is there if you're dreaming for big tournaments.

Wide Receivers

Julio Jones FD 8200 DK 6700
Opponent MIN
Proj Points FD - 0 DK - 0
Jones hasn't practiced since week 4, and our model assumes he'll miss this Sunday's game with the Vikings. Calvin Ridley has received WR1 caliber targets with Jones shelved, and should be in line for a lot of opportunity in this one as well. He's also the second most expensive receiver on the slate after Davante Adams, and it's not clear that he'll be worth the high price tag. Either way, there is a lot of opportunity available in Atlanta right now.

Chris Godwin FD 7700 DK 6400
Opponent GB
Proj Points FD - 0 DK - 0

Mike Evans FD 7600 DK 6900
Opponent GB
Proj Points FD - 14.95 DK - 17.66
The injury bug has really bit the Tampa Bay wide receiver corp, with both Godwin and Evans listed as limited participants in practice this week. Scotty Miller has been limited as well. And OJ Howard is already done for the season! While we can speculate as to how this will shake out, it's still a little early, and given all the potential moving pieces here you should really wait as late as possible to make your decisions before inserting any of these guys into your lineup. I will say that either of Evans or Godwin sitting would make me interested in the other.

DJ Chark Jr. FD 6600 DK 6300
Opponent DET
Proj Points FD - 9.89 DK - 11.89

Laviska Shenault Jr. FD 5800 DK 5200
Opponent DET
Proj Points FD - 13.04 DK - 15.43
DJ Chark missed practice on both Wednesday and Thursday, and things seem to be heading in the wrong direction for him. If he sits, I'd immediately consider Laviska Shenault, whose targets have been trending up all season. He's also been very efficient, hauling in 12 of the 14 balls thrown his way over the last two games. Shenault is dealing with his own injury issues, but is trending in the opposite direction, missing Wednesday's practice before participating in a limited fashion on Friday. This game has a huge total, and I could certainly see playing Shenault in cash games this week.
A.J. Brown FD 6500 DK 5600
Opponent HOU
Proj Points FD - 14.32 DK - 16.97
Corey Davis FD 5400 DK 4800
Opponent HOU
Proj Points FD - 0 DK - 0
Brown looked great in Tuesday's tilt with the Bills, but he missed practice entirely on Thursday. Keep an eye on his Friday practice status and any news over the weekend, but I'd guess they're just resting their star wideout in a very short week in advance of this Texans game.
Corey Davis looks likely to miss this one with Covid, and if he does, Brown and Jonnu Smith both become more viable.

Darius Slayton FD 6000 DK 5400
Opponent WAS
Proj Points FD - 13.75 DK - 16.24
Slayton was highly owned in week 5, and delivered 8 catches for 129 yards on 11 targets. He's been practicing in a limited fashion this week, but the assumption is that his foot injury isn't serious and that he'll be a full go in a solid match-up with the Professional Football Team this week.

Juju Smith-Schuster FD 7100 DK 6600
Opponent CLE
Proj Points FD - 9.7 DK - 11.91

Diontae Johnson FD 5700 DK 4900
Opponent CLE
Proj Points FD - 0 DK - 0
There are plenty of question marks in Pittsburgh this week, and they'll have serious implications in all DFS formats. Both Johnson and Smith-Schuster are carrying a questionable tag right now, and we're coming off a week where Chase Claypool turned in what might be the best WR performance of the season when it's all said and done. So how do we proceed? Well, Johnson appears to be heading in the right direction, participating in Thursday's practice in a limited basis after missing practice on Wednesday. Juju practiced in full on Thursday, and appears to be on track to play.
If either of these guys does wind up sitting, Claypool becomes an automatic cash game inclusion. It's just not clear what we're supposed to do if both of these guys are fully healthy, since a lot of Claypool's production came from opportunity that should be more evenly spread out when the Steelers are fully healthy.
UPDATE: Diontae Johnson has been ruled out, and Chase Claypool is in our cash game lineups now.

Jarvis Landry FD 5600 DK 4900
Opponent PIT
Proj Points FD - 12.47 DK - 15.06
Landry missed practice on both Wednesday and Thursday, and his status is very much in doubt for Sunday's game against the Steelers. If he were to sit it would free up the 9 targets he received last game to be redistributed among the likes of Odell Beckham and Austin Hooper, and while Landry isn't a great option this week his potential absence could make one of these other guys quite interesting.
Desean Jackson FD 5300 DK 3900
Opponent BAL
Proj Points FD - 0.17 DK - 0.17
For two straight weeks it has appeared as though Desean Jackson could make an appearance, only to remain sidelined. He supposedly "looked ok" running routes on Thursday, but he's been limited in the past couple weeks before missing the game. If he does get the go-ahead I think he makes for an interesting big tournament option, even if he's not playable in cash games.
Tight End

Hayden Hurst FD 5400 DK 4700
Opponent MIN
Proj Points FD - 8.28 DK - 10.24
Hurst has been practicing on a limited basis, and while he hasn't been anything special thus far, his absence could free up even more targets for DFS relevant guys like Calvin Ridley or Russell Gage. I do suspect he'll play based on the reports I've been reading.

Eric Ebron FD 5200 DK 4100
Opponent CLE
Proj Points FD - 8.67 DK - 10.61
Eric Ebron is currently carrying a questionable tag, but after practicing in full on Thursday he appears headed toward playing on Sunday. Keep an eye on those Steelers wide receivers, because if one or more of them sits Ebron becomes cash game viable.
GRAB A FREE TRIAL OF OUR PROJECTION SYSTEM, AND CHECK OUT DFSR PRO!
FREE EBOOK
SECRETS TO CRUSHING DAILY FANTASY FOOTBALL!
DON'T SET ANOTHER LINEUP BEFORE YOU READ THIS BOOK.