featured Daily Fantasy
Expert Advice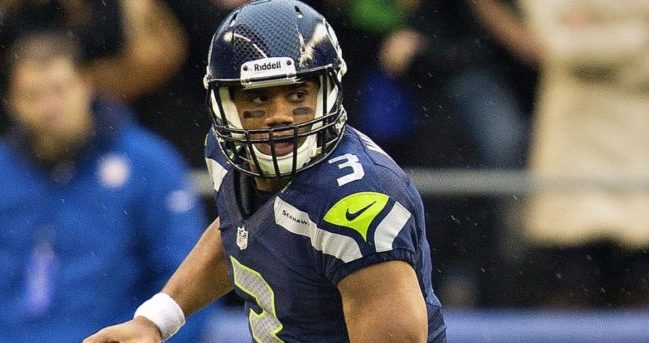 Daily Fantasy Football Cash Game Picks for FanDuel and DraftKings Week 8
Want access to the projections that power these picks? For a limited time we're offering a free one week trial to all the sports that we cover - that's optimal lineups for NFL, NBA, NHL, and MLB - for the same low price. Get started now!
Quarterbacks
Russell Wilson FD 8700 DK 7800
Opponent SF
Proj Points FD - 23.83 DK - 24.31
From a fantasy perspective, Russell Wilson has a couple of things going for him right now. First and foremost, he's incredible. That's the most important thing. But not too far behind is that because Seattle's defense is an absolute sieve, he'll always have a chance to keep his foot on the gas in the offense. Wilson is the number one per game DraftKings' scoring player on the season so far, leading Kyler Murray by about 2.5 per. He's also been remarkably consistent with the lowest coefficient of variation of anyone in the top group. The issue this week is the matchup against the Rams isn't exactly ideal considering they allow the third-fewest opponent plays per game and have a top-10 defense. But the position is a bit problematic for a variety of reasons this week and you get so much safety with Russ.

Ryan Tannehill FD 7500 DK 6800
Opponent CIN
Proj Points FD - 21.13 DK - 21.93
It's funny to say, but through six games this season, Tannehill is a Top-7 DraftKings per-game quarterback, even edging out Aaron Rodgers who is $800 more expensive ($700 on DraftKings). And this week Tannehill is handed one of the better matchups on the main slate against the lowly Bengals. Cincinnati made Baker Mayfield look like an absolute superstar in Week 7. They are a bottom-third defense and worse against the pass on the season. Tannehill has completed 69% of his passes this season with a 15:2 TD: INT rate. Plus, with AJ Brown back and fully healthy Corey Davis, Tannehill has a full complement of weapons. If you don't want to spend all the way up for Russ, this is the first level pivot down.

Derek Carr FD 7300 DK 5500
Opponent CLE
Proj Points FD - 18.58 DK - 19.21
Don't look now, but Derek Carr is putting together a nice season. He's completing 72% of his passes, good for third overall in the league with a respectable 13:2 TD: INT rate. He's starting to take more shots downfield but is also a good intermediate passer that allows him to stay away from big mistakes. And yet he's priced as QB19 (out of 22) on DraftKings this week. That is just a mistake for a guy averaging more than 21 DraftKings points per game. He'll get to face the Cleveland Browns and their 25th-ranked passing defense. This is such a great value on DK and allows the ability to spend up elsewhere.
Running Backs
Derrick Henry FD 9500 DK 8000
Opponent CIN
Proj Points FD - 20.95 DK - 22.1
So far it looks like we're going to have some excellent cheap plays to support some more expensive ones this week, and right now it looks like Derrick Henry is a premier pay off option. In a bad match-up with the Steelers last week Henry still touched the ball 22 times for 73 yards and a touchdown, and while that's nothing to write home about, the consistent touches most certainly are. The Titans will go from facing the Steelers, who own the best DVOA against the run this year, to the Bengals, who are a bottom 10 team against the run. They are also 5.5 point favorites here, which is a sweet spot for high volume backs to maximize their workload. I love Henry as a payoff option for cash games.

Kareem Hunt FD 8200 DK 6900
Opponent LV
Proj Points FD - 17.81 DK - 19.51
Hunt was a chalk option in cash games last week, with ownership north of 50%. He ultimately paid his price, netting 102 yards and a touchdown across 22 opportunities. While Cincinnati was a great match-up, this Vegas one could be even better. The Raiders own the league's 2nd worst defensive DVOA this season, and the Browns are 2.5 point favorites. The Browns are dealing with a number of injuries at skill positions as well. Yes, Hunt is more expensive than he was last week, but he was laughably cheap last week. I still think he's a value here, though to be honest he might wind up being on the outside looking in depending on how injury situations elsewhere shake out.
Jamaal Williams FD 7000 DK 6100
Opponent MIN
Proj Points FD - 18.19 DK - 20.13
Aaron Jones has been ruled out for Sunday's contest against the Vikings, and after a week of seeing how the Packers plan to approach the running game without Jones Williams seems like an automatic cash game inclusion, even at the advanced price. He paid these prices handily last week, compiling 114 total yards and a touchdown on 24 opportunities against the Texans. Perhaps more importantly, he played 55 of the 60 offensive snaps, leaving AJ Dillon as an afterthought. Don't be scared by the increase in price whatsoever.

Wide Receivers

Davante Adams FD 9100 DK 8800
Opponent MIN
Proj Points FD - 19.69 DK - 24.11
Davonte Adams is a top-15 WR on the season which doesn't sound all that great until you realize he's played two or even three fewer games than anyone else above him on the list. It's remarkable what this guy can do when he's healthy and Week 7's performance was a reminder of that. He went 13/196/2 on 16 targets in the win over Houston and it was his third double-digit target game out of the four he's played. This week, with Aaron Jones maybe out again the Packers could go pass-heavy again targeting the Viking's Cameron Dantzler and Jeff Gladney on the outside. It's another smash spot for Adams who will be a tough fade on full PPR sites like DraftKings.

Keenan Allen FD 7400 DK 6200
Opponent DEN
Proj Points FD - 16.38 DK - 20.23
We're now three weeks into the Justin Herbert tenure in Los Angeles for the Chargers and I doubt anyone is happier than Keenan Allen. We had him as a near cash game lock last week and he was once again more than active in the offense. Herbert targeted Allen 13 times and the latter finished with 10/125 line including two redzone looks. Outside of the New Orleans game, in which he left with back spasms, Allen is now averaging a 9.5/104 line on 13.25 targets in with Herbert. The only *issue* this week is he could see a lot of Bryce Callahan in the slot who's been one of the better-rated corners on the season. The slot is where Allen has lined up 43% of the time this season. But that's the only real knock.
Browns Wide Receivers
Rashard Higgins FD 5500 DK 4200
Opponent LV
Proj Points FD - 13.33 DK - 16.13

Jarvis Landry FD 5800 DK 5600
Opponent LV
Proj Points FD - 13.09 DK - 15.93
The Browns lost Odell Beckham Jr. for the year with a torn ACL and now need to fill in that target share and usage. It wasn't like OBJ was a monster in the target share, but it worked out to roughly 22% for a team that admittedly doesn't throw that often. In steps Higgins who tied Jarvis Landry for the most targets (6) in Week 7 and converted all of them for a 6/110 line. The price didn't have time to adjust for what is presumably the new role and it's a great sign that he led all Cleveland WRs in snaps on Sunday with 44.
Meanwhile, Landry has been steady if unspectacular this season with the team's second-most targets (39) after Beckham and inhabiting his typical possession receiver role. The target share should tick up just a bit over the 5.5 per game which, at his lower-middle tier price points would give him some cash game safety. Last season, he saw double-digit targets in six games and nine or more in eight games. We could see a return to that usage with Beckham out of the mix.
A quick note on the Seahawks wide receivers:
It will likely be popular to go back to Tyler Lockett this week after busted it out of the box in Week 7 against the Cardinals with 20 targets and an eye-popping 15/200/3 line. And I'm not saying he's a bad play at all, he's not. But it's worth remembering a few things. First off, we are only a week removed from D.K. Metcalf being the chalk wideout on this team. Also, that game was only the second double-digit target game for Lockett on the season. I actually think both guys are good plays this week against San Fran, but just making a note about some possible recency bias on these guys.
Tight Ends

George Kittle FD 7700 DK 7000
Opponent SEA
Proj Points FD - 16.18 DK - 19.62
I'm coming to the end of my rope with tight ends at this point. Our lineup optimizer is currently showing Kittle as the tight end of choice, and while I didn't feel great about it at first, I couldn't find any better options. While we're not a site that typically recommends paying up at tight end, I'm not sure what other recourse you have this week barring a last-minute injury. While the price is rising on Kittle, at least he's going to be a reliable source of targets and yards. He caught 5 balls on 7 targets against the Pats last week and was poised for a bigger day if the game didn't get out of hand. This week he'll be in what rates to be a much closer game, and his target share should go back north of 10. Yes, you're paying an awful lot here, but otherwise, you'll be out on a limb chasing a touchdown from a player that could disappear entirely from his team's offense.

Eric Ebron FD 5100 DK 3900
Opponent BAL
Proj Points FD - 8.61 DK - 10.65
There are a few situations to keep an eye on that might free up some value at tight end (more on that in the injury article later this week), but if no value comes to light, I'm taking a look at Eric Ebron. While Ebron's targets have come and gone throughout the season, it was heartening to see him garner 8 against the Titans last week while the Pittsburgh receiving corp was at full strength. Ebron is far from a perfect play, but if you simply can not afford to pay up for Kittle, Kelce, or Waller, he's as good as any of the cheap tight ends that are out there.

Jared Cook FD 5800 DK 4400
Opponent CHI
Proj Points FD - 10.99 DK - 13.13
Cook is a late inclusion to this article after we've received news that Thomas, Sanders, and Callaway are ruled out for this game. The Saints have to throw the ball to someone, and while Tre'Quan Smith should get a bunch of these targets I don't think you can pencil him in for 30+ targets or whatever. Cook didn't get there last week, but tight end is shallow enough that you can certainly consider rolling this back again.
Also considered: I'm considering Darren Waller if I can't afford Kittle, as he's been a staple during Derek Carr's pseudo-breakout.
Defense / Special Teams
If you've read DFSR in the past, you'll know that we are often trying to toe the line between going cheap at defense and paying up. We usually lean to the cheaper end, but there are certainly times where it's correct to go expensive. We'll list an option at both price points today.


Saints FD 3600 DK 3400
Opponent CHI
Proj Points FD - 6.52 DK - 6.52
I'm more than a little excited about running the Saints defense this week. They are in one of the rare "check all the boxes" situations. They have a great match-up against the Bears, who have scored the sixth fewest points this season in spite of having played all seven games. Their quarterback situation is a mess and their running game is non-existent. They're a good defense in their own right, with a top 10 defensive DVOA this season. Best of all, they are inexpensive at just $3,600 on FD and $3,400 on DK. This seems like an easy one from where I'm sitting.
Chiefs FD 5000 DK 4500
Opponent NYJ
Proj Points FD - 8.31 DK - 8.31
So you find yourself with a bunch of money left over? The Chiefs seem like a pretty solid investment. The Jets' implied total of 14.5 is laughably low. They already lost Le'Veon Bell, and they could be without Jamison Crowder and Breshad Perriman. We've seen the Chiefs put up some explosive fantasy totals against bad QBs this season in games against New England and Denver. They are second in the league in interceptions with 9, which is what accounts for a lot of their big playmaking ability. It's a lot of money to invest when you have the Saints sitting there for $1,400 less, but you can bet people will take a stab here.
GRAB A FREE TRIAL OF OUR PROJECTION SYSTEM, AND CHECK OUT DFSR PRO!
image sources
Russell_Wilson_vs_Jets,_November_11,_2012: By Larry Maurer [CC BY 2.0 (http://creativecommons.org/licenses/by/2.0)], via Wikimedia Commons
FREE EBOOK
SECRETS TO CRUSHING DAILY FANTASY FOOTBALL!
DON'T SET ANOTHER LINEUP BEFORE YOU READ THIS BOOK.