featured Daily Fantasy
Expert Advice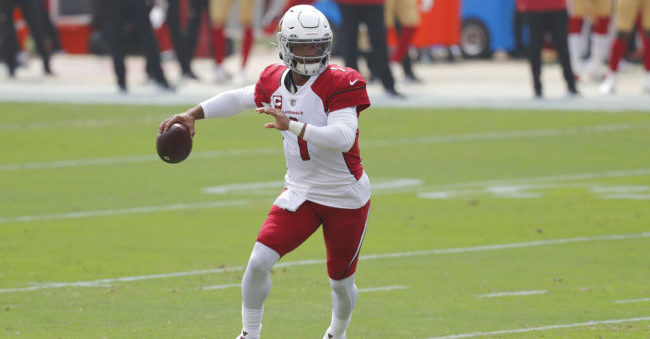 Daily Fantasy Football Cash Game Picks for FanDuel and DraftKings Week 10
Want access to the projections that power these picks? For a limited time we're offering a free one week trial to all the sports that we cover - that's optimal lineups for NFL, NBA, NHL, and MLB - for the same low price. Get started now!
Quarterbacks
Kyler Murray FD 8800 DK 8000
Opponent BUF
Proj Points FD - 25.92 DK - 26.73
Through eight games, Kyler Murray is currently the NFL leader in per game FanDuel scoring and is second for DraftKings behind only Russell Wilson. He leads all quarterbacks in rushing yards this season with 543 which ranks him eighth overall. He has 74 more yards than the next-closest signal-caller (Lamar Jackson) and his rushing touchdowns rank him third overall. It's the gains on the ground which make up for him not throwing for a tremendous amount of yards or touchdowns through the air so far. But no matter. If he's going to average 9.5 runs per game then the fantasy floor remains very high. This game projects to be a shootout with the 56 over/under the highest of any game on the week. The Bills' defense ranks in the bottom third this season and they allow the 11th-most opponent plays per game. It's hard to see Murray not paying this price.

Aaron Rodgers FD 8400 DK 7900
Opponent JAX
Proj Points FD - 21.58 DK - 22.08
It's going to be very enticing to run a full Packers game stack in cash on Sunday's main slate. They are big (-14) home favorites against the woeful Jacksonville Jaguars and their bottom-feeding defense. Rodgers is coming just a bit cheaper than Murray on both sites. Unlike Murray, Rodgers has done his damage through the air this season with 24 touchdowns to just two interceptions. And over the last three games with his preferred target, DaVante Adams back and fully healthy Rodgers has thrown for 11 TDs, zero interceptions, and completed 71% of his passes. Jacksonville allows a whopping 8.4 yards per pass attempt this season, last in the league with no real hope of getting better. Grabbing as much Green Bay offense as you can this week is going to look like the right move.
Daniel Jones FD 6700 DK 5200
Opponent PHI
Proj Points FD - 17.81 DK - 18.55
If looking to go a little cheaper on DraftKings, Danny Dimes could represent a way to cut some costs on this slate. Now let's not kid ourselves, Jones isn't all that good at throwing the ball. He is completing only 62% of his passes and has more interceptions (9) than touchdowns (8). But he makes up for some of that by having the hied-most quarterback rushing yards on the season (320) behind only Kyler Murray and Lamar Jackson. That gives him some leeway when it comes to the lack of returns through the air. The Eagles are a below-average pass defense this season and Jones is coming near the minimum on D as QB18 in terms of price on the main slate.
Running Backs

Christian McCaffrey FD 9700 DK 9000
Opponent TB
Proj Points FD - 22.46 DK - 25.7

Mike Davis FD 5400 DK 6700
Opponent TB
Proj Points FD - 5.92 DK - 7.5
Well, McCaffrey was back to his old ones in week 9, handling the ball 28 times en route to 151 total yards and two touchdowns against the Chiefs. There's no reason to think that he'll be anything other than a $10k player on FanDuel going forward, even in a tough match-up with the Bucs. While you don't love the 21-point implied total, you have to figure that McCaffrey is going to account for most of that production.
I list Mike Davis here as well because McCaffrey did hurt his shoulder on the last drive of the game against the Chiefs. He's currently "very much in doubt" for week 10, and if he sits Mike Davis should be the highest owned running back on the slate.
UPDATE:
McCaffrey is out for week 10, making
Mike Davis
an automatic play in any format where you'd like to run him.

Chase Edmonds FD 7100 DK 6300
Opponent BUF
Proj Points FD - 16.23 DK - 17.44
I'm very curious to see what Chase Edmonds' ownership looks like for this game. In a week where he was the highest owned running back on the main slate, he really didn't do a whole lot, producing 88 total yards and no touchdowns. But did you see the opportunity? Edmonds touched the ball an astounding 28 times against Miami, and while Kyler gobbled up the touchdowns we believe Edmonds' true touchdown expectation should be a lot higher. Buffalo presents a slightly better match-up than Miami, and this kind of opportunity is simply worth more than $7,100 on FanDuel and $6,300 on DraftKings in such a great offense.
If Kenyan Drake winds up returning this week (and he could), this play obviously goes out the window.
The battle of the third slot:
It contains a number of unknown situations at this point. We'd love Kareem Hunt against the Texans if Nick Chubb remains sidelined, but with Chubb looking decent in practice right now it's tough to make that call definitively.
David Johnson left last week's game with a concussion, and if he were to sit, Duke Johnson would be a great cash game play. Heck, David Johnson would be a good play if he actually played.
On DraftKings, Aaron Jones looks far too cheap at $7,100.

Wide Receivers

DaVante Adams FD 9500 DK 9000
Opponent JAX
Proj Points FD - 20.43 DK - 24.79
Davonte Adams has been ridiculous this season and is rather easily the top overall DraftKings wide receiver on a per-game basis. He is averaging 29.58 DK points per game which is seven higher than the next closest wide receiver (DK Metcalf). And on the season, he's third in total DK WR points despite playing two or three games fewer than the two guys above him on the list. He's just nuts. This week he'll draw the Jaguars' passing defense which ranks dead last on the season. The only question we are having here around Adams is the price. But if you can find a way to stack both he and Jones in cash games it stands to reason you're walking into the week with about high a floor as possible.
Cooper Kupp FD 7700 DK 6900
Opponent SEA
Proj Points FD - 15.8 DK - 19.36
Seattle's defense this season, especially through the air, has been a total sieve. The rank 29th in the league in passing defense and as a whole are allowing the most opponent plays per game (73.6). That is five plays per game more than the next-closest team. Kupp had a 20 target game in Week 8, which we really can't count on obviously. But he's had seven or more targets in five of his last six games and is top ten in looks on the season. There's some concern the Rams stick to the ground, but it's worth noting the Seahawks are much better against the run this season.

Robby Anderson FD 6400 DK 6100
Opponent TB
Proj Points FD - 14.86 DK - 17.77
Don't look now but Robby Anderson is now top-five in targets on the season with 80 and judging by the Dallas Cowboy quarterback play it likely won't be long until he passes Amari Cooper. Anderson has double-digit targets in four of his nine games and fewer than eight targets only twice. The matchup against the Bucs is less than ideal considering they've generally been one of the better defenses in the league this season. But the price is still down on Anderson on both sites, but especially on FanDuel where he's WR19.
Sterling Shepard FD 5500 DK 5000
Opponent PHI
Proj Points FD - 11.01 DK - 13.73
Shepard had dealt with a number of different injury issues starting the season but if fully healthy now and seen eight ormolu targets in each of the last three weeks. The nature of his routes and Daniel Jones's general inaccuracy keep Shepard's production and price down just a bit. But his average line over the last three games is seven catches and 58 yards. For FanDuel, I think you can live with it in this price tier with the possibility of a little room for growth around the yards.
Tight Ends

Evan Engram FD 5600 DK 4500
Opponent PHI
Proj Points FD - 10.85 DK - 13.34
Is Engram the best-kept secret at tight end right now? At a position that is as bad as ever, Engram has 9, 10, and 10 targets in his last three games - which is the highest total of any tight end over that period. He had 9 targets in this exact match-up when they played Philly. So why hasn't the price moved? I'm guessing it's just his ownership, as DFS owners have favored more expensive options by and large. He also hasn't necessarily lit the world on fire, but which tight end has? Engram offers a level of consistency that is unusual for the position and allows me to pay very little at the league's worst position. Sign me up.

T.J. Hockenson FD 6200 DK 5100
Opponent WAS
Proj Points FD - 11.45 DK - 14.18
With Kenny Golladay banged up, Hockenson has improved upon his already very reasonable floor (again, for the tight end position), garnering 18 total targets over the last two weeks. He's been more efficient than Engram on his targets this year, and likely has a better quarterback, but he's also more expensive. I view the two as close enough that I'd just take Engram and the savings, but I can certainly see the argument for preferring Hockenson. If Golladay returns that moves the needle even further toward Engram, for me.
Other plays to keep an eye on: Darren Waller was the highest owned TE on FD last week, and while he only caught 5 balls for 22 yards, he did draw 10 targets and haul in a touchdown. He's playable, but too expensive for me. I'm also considering Jordan Reed, who was targeted 6 times with Kittle sidelined. He was bad enough on his targets that I'd still prefer the above guys.
Defense / Special Teams
Football Team FD 3800 DK 3200
Opponent DET
Proj Points FD - 6.27 DK - 6.27
Washington, quite simply, has an excellent defense. They are sixth in defensive DVOA this season and have the fourth-most sacks, giving them a reasonable DFS floor in any game. This week they'll take on the Detroit Lions, a middle of the road pass-first offense. The Lions' 25 point implied total is healthy enough, but at these bargain prices Washington presents a great way to escape an uncertain position on the cheap.
Saints FD 4500 DK 3000
Opponent SF
Proj Points FD - 6.79 DK - 6.79
The Saints are arguably a little pricey on FanDuel, but present a very attractive price on DraftKings. The Saints are an underrated defense at this point, ranking 8th in overall DVOA and 8th against the pass this year. They're also 7th in sacks, lifting their DFS value. They are ten point favorites against a 49ers team with a sub 20 implied total this week, and are fresh off of embarrassing a much better Tampa Bay offense. I just love the Saints on DK this week.
GRAB A FREE TRIAL OF OUR PROJECTION SYSTEM, AND CHECK OUT DFSR PRO!
FREE EBOOK
SECRETS TO CRUSHING DAILY FANTASY FOOTBALL!
DON'T SET ANOTHER LINEUP BEFORE YOU READ THIS BOOK.