featured Daily Fantasy
Expert Advice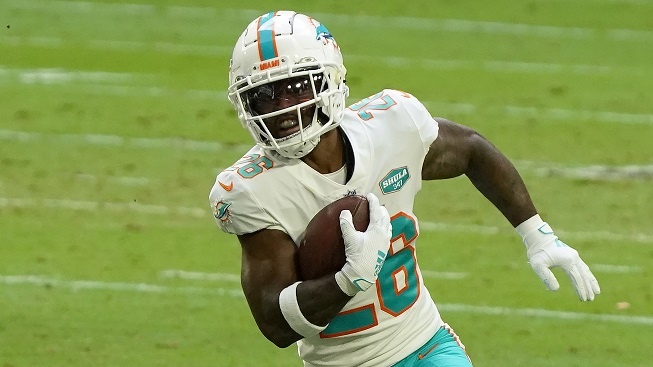 Daily Fantasy Football Cash Game Picks for FanDuel and DraftKings Week 12
Want access to the projections that power these picks? For a limited time we're offering a free one week trial to all the sports that we cover - that's optimal lineups for NFL, NBA, NHL, and MLB - for the same low price. Get started now!
Quarterbacks
Kyler Murray FD 9100 DK 8200
Opponent NE
Proj Points FD - 25.11 DK - 25.93
Murray suffered an AC joint injury in the Seattle game, but after being checked out he returned to action and the Cardinals are assuming he'll play in this one against the floundering Pats. Deshaun Watson just embarrassed this Patriots defense in week 11, paying him price before halftime. Given that Murray is currently a rich man's version of Watson, he should be able to cook here. It's the best fantasy player of the year against the league's worst defense per DVOA - what more could we realistically ask for here?

Josh Allen FD 8600 DK 7600
Opponent LAC
Proj Points FD - 23.06 DK - 23.88
Not that anyone is really sleeping on Allen at this point, but it's certainly worth bringing him up for cash consideration given that he's significantly cheaper than Murray on both sites. Allen hasn't scored as many fantasy points per game as Murray this year, but Vegas totals suggest that the Bills are favored to score the most points of any team this week. It makes sense - the Chargers combine a mediocre defense with a fast-paced offense, letting other teams score the 8th most points per game this season. I could certainly see running Allen out there in a week where every dollar matters thanks to a relative lack of punt plays.
Also considered: Taysom Hill! He was actually very efficient through the air, and his typical ground excellence saw him punching in two rushing touchdowns.
Running Backs

Kalen Ballage FD 5500 DK 5800
Opponent BUF
Proj Points FD - 14.73 DK - 16.59
Ballage was the highest owned running back in week 11, and while his final stat line doesn't jump off the page, the floor is looking pretty darn excellent at this point. He got 25 opportunities in the competent Chargers offense, including 7 receptions. Now, playing him this week depends on the status of Austin Ekeler, who has been activated off the IR and has been practicing in a limited fashion. If Ballage happens to be the RB1 again, he'll ply his trade against Buffalo, who has quietly been a bottom 10 team in terms of DVOA against the run this season. The Chargers have a solid 24 point total this week, and Ballage is simply too cheap as the definitive #1 running back in a good offense.
Let's talk expensive running backs:
It's a very rare week that our lineup optimizer doesn't call out any big money plays, but that's sort of how things are shaping up right now. Dalvin Cook is officially insanely expensive on FanDuel, cresting up to $11,000. He's potentially reasonable at $9,600 on DraftKings, but still potentially prohibitively expensive.
I could consider Derrick Henry at $8,300, who just put up 100+ yards in this exact match-up two games ago. I don't think I want to touch Kamara given that he got just one target from Hill last week.
There are some mid-range options, like Mike Davis and Gio Bernard, but it's nothing that jumps off the page. Is it the rare week that we go in a different direction for our flex? Let's see what else is out there at wide receiver.
Wide Receivers
Stefon Diggs FD 7900 DK 7600
Opponent LAC
Proj Points FD - 17.2 DK - 21.16
It would be pretty tough to overstate how great Diggs has been this season. He's second in targets, receptions, and receiving yards, and he's still under $8,000 thanks to some bad touchdown luck. We know from Diggs' time in Minnesota that he's perfectly capable of scoring touchdowns, and with the Bills' huge 29.5 point implied total there should be a lot of scoring to go around this week. With so many cheap running backs, Diggs is a cash game staple this week.

Keenan Allen FD 8200 DK 8000
Opponent BUF
Proj Points FD - 16.91 DK - 20.92
While Diggs has been great, the one guy who could make a claim to being better would be Keenan Allen. Allen has basically a full game more targets and receptions than the second place Diggs, with 8 more catches on 11 more targets. He doesn't go for as many yards per reception, but he is coming off an absurd 16 catch game against the Jets. This is a tougher match-up, but Allen is just so indispensable that it's hard to imagine him taking a back seat here.

Tyreek Hill FD 8600 DK 7800
Opponent TB
Proj Points FD - 18.92 DK - 22.32
Things are actually looking insanely crowded at WR1 this week, which isn't a problem we've faced down a lot this season. While Hill has historically looked like one of a few too many mouths to feed, that truly hasn't been the case recently. He's averaged 7.5 catches for 92 yards and 1.5 touchdowns on 12 targets over the last four weeks. The real question is whether it's worth paying a premium for Hill in a tougher match-up with Tampa Bay. Hill has the best QB of the group, of course, but Allen and Diggs have plenty of support as well. It's close, but right now I'd lean toward the cheaper guys if I had to pick between them.
Discussing cheaper options:
While RB has a pile of cheap options, WR is more stacked at the higher price points this week. That said, you aren't going to be able to pay $8k for three wide receivers, so you'll need some cheaper guys at your disposal as well.
First of all, we love Curtis Samuel if Bridgewater sits again. Samuel drew 10 targets from a competent PJ Walker, and turned them into 8 catches for 70 yards and a touchdown. Robby Anderson drew 9 targets in that game as well.
Elsewhere, Cole Beasley has been a feast or famine option at a low price point for the Bills. In his last four games he has two with 11 catches for 100+ yards and two with 2-3 catches. It kind of feels like throwing darts, but his average expectation is worth more than his current prices.
If Julio Jones sits, Russell Gage and his 12 targets from week 11 are looking fairly attractive as well.
Tight Ends

Travis Kelce FD 8000 DK 7000
Opponent TB
Proj Points FD - 17.28 DK - 20.99
We'll all be telling our grandkids about how we got to play Taysom Hill at $4,500 on FanDuel last week, but we have no such luck this week. While we haven't been all about the high priced tight ends basically since Gronkowski's peak, it's safe to say that Kelce is finally earning his keep. In his last three weeks he has averaged 132 yards, scored touchdowns in two of three games, and hit double digit targets in each of them. While high priced tight ends rarely match the production of similarly priced wide receivers, Kelce has certainly crossed that threshold. It's a tough match-up with Tampa Bay, but Kelce is the safest option on the board this week, even if he's an expensive one.
Hunter Henry FD 5900 DK 4800
Opponent BUF
Proj Points FD - 10.22 DK - 12.57
Jordan Reed FD 5000 DK 3600
Opponent LAR
Proj Points FD - 8.58 DK - 10.69
These are the two guys I'm looking at if I just run out of money before I can try to play Kelce. While I think we might be able to go a little cheaper at other positions instead of throwing away our tight end this week, it doesn't always work out that way, so it's good to have a few cheaper options holstered. Henry is the resident "high floor" cheap guy, managing 4 catches in all but two games this season, and scoring touchdowns in each of his last two games.
With Reed you're hoping that SF plans to use him more like they did in week 11 (5 catches for 62 yards) than they did in week 10 (1 catch for 3 yards), but he's so cheap on DraftKings that you might be able to stomach the risk.
Defense / Special Teams
Giants FD 4300 DK 3200
Opponent CIN
Proj Points FD - 7.18 DK - 7.18
We don't have many decent defenses on the main slate this week, and I wouldn't put the Giants in that group necessarily, the match-up might be too good to resist. Cincinnati's tragic inability to protect their quarterback came to a sad head last week, with Burrow being sidelined for at least the rest of the season. With Ryan Finley under center behind that same terrible line, things only rate to get worse. The Bengals have just a 18.5 point implied total this week, making the cheap Giants an obvious DFS option this week.
Approaching defense this week:
If you decide you don't have the money for the Giants on FanDuel, it's really not crazy to just pay as little as possible and move on with your life. The position is awful this week, with by far the worst points per dollar projections of any position. Grabbing the New York Jets against an uncertain Miami situation isn't insane, for instance, even if the Jets do have a terrible defense. Me? I'll probably just run the G-Men out there like it's 2008.
GRAB A FREE TRIAL OF OUR PROJECTION SYSTEM, AND CHECK OUT DFSR PRO!
FREE EBOOK
SECRETS TO CRUSHING DAILY FANTASY FOOTBALL!
DON'T SET ANOTHER LINEUP BEFORE YOU READ THIS BOOK.