featured Daily Fantasy
Expert Advice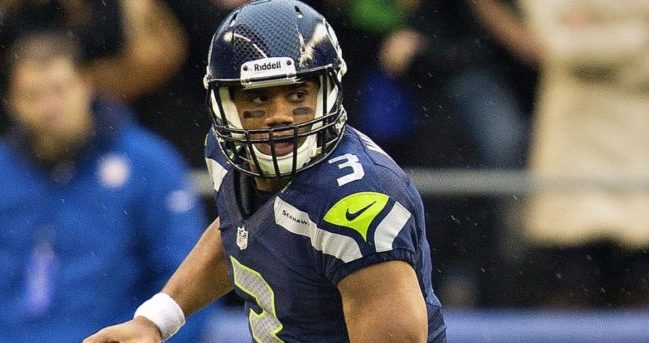 Daily Fantasy Football Cash Game Picks for FanDuel and DraftKings Week 13
Want access to the projections that power these picks? For a limited time we're offering a free one week trial to all the sports that we cover - that's optimal lineups for NFL, NBA, NHL, and MLB - for the same low price. Get started now!
Quarterbacks
Russell Wilson FD 9000 DK 7700
Opponent NYG
Proj Points FD - 25.6 DK - 26.11
This will be yet another week in which we will be spending up at quarterback. It's been that way most of the season and Week 13 is no different. Wilson is QB3 on the season behind only Mahomes and Murray thanks to his obvious skill and Seattle's insistence on keeping other teams in the game. This week he gets a cake matchup against the Giants who rank 20th overall on defense and 25th against the pass. This is a smash spot for the Seahawks who come in as big, -10, favorites. The only concern here with Russ is Seattle gets going early, can keep a Colt McCoy-led offense in check and just grind it out on the ground. But he still has such a high floor it's tough to imagine him sinking you either.
Justin Herbert FD 7900 DK 6900
Opponent NE
Proj Points FD - 23.06 DK - 24.24
Herbert's 26.1 DraftKings points per game rank him fourth in the league in one of the truly surprising seasons we've seen from a rookie in quite some time. The price has come up requisitely but he's still a guy to target this week. The Patriots defense is one of the worst in the league ranking 31st and 30th against the pass. Herbert has 40 or more passing attempts in six of his last seven games thanks to the Chargers often playing from behind. And he's got another weapon back with Austin Ekeler fully off the IR. The issue with Herbert isn't the defensive matchup but rather New England's pace. Because they just grind the clock out on the ground, they allow (by far) the fewest opponent plays per game. But like Wilson the floor is high enough for Herbert here.
Taysom Hill FD 7700 DK 6300
Opponent ATL
Proj Points FD - 20.69 DK - 21.34
Hill runs back a matchup from two weeks ago when he debuted as the Saints' signal caller with Drew Brees hitting the IR. Things started slow, but it didn't take long for him to start racking up points. He ended up as one of the plays of the day throwing for 233 yards but more importantly, putting in 49 yards on the ground with two touchdowns. He followed that up against Denver with two more rushing touchdowns in a game the offense didn't have to do much. I'm fine going back to the well here and he offers a bit of savings over the previous two guys in a game that should stay close. The rushing attempts keep the floor so high, and he could be a safer overall play when factoring in cost.
Running Backs
Austin Ekeler FD 7000 DK 7100
Opponent NE
Proj Points FD - 16.6 DK - 18.96
Ekeler stepped right back into the Chargers' offense last week, getting an astounding 30 opportunities buoyed by 16 targets against the Bills. That's absurd, Christian McCaffrey-like opportunity, and we're getting him for pennies on the dollar compared to the other tier 1 running backs. Throw in a match-up with the Patriots and their 31st ranked defense and you've got a recipe for a mandatory DFS play.

Dalvin Cook FD 10500 DK 9500
Opponent JAX
Proj Points FD - 22.35 DK - 23.65
Cook topped 50% ownership on FanDuel last week before turning in his worst fantasy performance of the season. I'm not sure how much we want to read into that, though. Cook is still by far the best RB of the season, and he'll be in a literal dream spot against the last-place Jags defense. The Vikings are 10 point favorites in this one, which should push Cook toward high 20s touches in this game. It's not totally clear that we have the savings to run Cook this week, but if we do, he's headed toward being a chalk running back once again.
The rest:
Running back gets a little bit hairy after these two rock solid options. You can pay all-time prices for Derrick Henry if you want a little savings on Dalvin Cook, but that feels at least a little scary to me. I like Josh Jacobs in what should be a great game-script against the Jets, but he's currently described as having a "chance" to play. If Jacobs sits, Devontae Booker would be a great cash game option.
James Robinson keeps getting huge opportunity in reasonable game-scripts, but can we really think about a $7,800 running back as a 10 point underdog? Terrifying.
Kenyan Drake touched the ball a season high 26 times last week, and he even vultured some Kyler Murray running touchdowns away from us. He's at least intriguing in what should be a close game with the Rams.
Running back is really hard as of this writing, so we'll want to keep an eye out for any value that might pop up as the week develops.
Wide Receivers

Brandin Cooks FD 6500 DK 5600
Opponent IND
Proj Points FD - 15.15 DK - 18.25
Keke Coutee FD 4800 DK 3500
Opponent IND
Proj Points FD - 8.59 DK - 10.69
Will Fuller has been suspended for six weeks for violating the NFL's PED policy. The Texans are now really short on pass catchers considering they released Kenny Stills the week before and Randall Cobb is hurt. Cooks is the obvious play for starters considering he leads the team in targets (78) and was second behind Fuller in yards. The price doesn't reflect what could be any even bigger increase in opportunity with the Houston receiving corps so thin. The matchup isn't great but the Texans are short on options.
Meanwhile, Coutee should be next guy up here. He played the third-most WR snaps on Thanksgiving and finished with three targets. It's uninspiring for sure, but his role is set for a big jump here considering the circumstances. There's a moderate track record with Watson from previous seasons as well and he's coming cheap enough to take the risk, especially on DraftKings.

Michael Thomas FD 7200 DK 7000
Opponent ATL
Proj Points FD - 15.64 DK - 19.46
I know the game against Denver looked bad for Thomas but, like I said with Hill above, the Saints barely had to throw the ball in that one. Look back two weeks ago against these Falcons when he had 12 targets in Taysom's first game and finished with nine catches for 104 yards. Look for similar usage in this game and we are getting Thomas at a deep discount because the season's returns just haven't been there. But I still think there's upside on this price and folks will game log watch one week back.

Jarvis Landry FD 6000 DK 6200
Opponent TEN
Proj Points FD - 12.76 DK - 15.45
This game projects to see the Browns playing catch up against a high-powered Titan's offense that comes in as -6 favorites. When Baker Mayfield is forced to throw Landry is the primary option with 11 targets in two of the last four games. There's been crazy weather stuff for Cleveland in recent weeks, but in Week 12 when things were *ok* Jarvis finished with a whopping 8/143/1 line against the Jaguars. If you think the script goes the *right* way here (and judging by our Week 13 bets I think it does) then we could see a volume game from Landry.
Tight Ends
Hunter Henry FD 6000 DK 4800
Opponent NE
Proj Points FD - 10.32 DK - 12.74
Henry has been a safe haven for Herbert all season, and things have tilted even further in his favor as the season has developed. With 11 catches for 115 yards and a touchdown over the last two weeks, this is about as safe as the position gets these days. Again, the Pats have truly been bad on defense this season, and Henry is still cheap enough that we don't have to spend much at a bad position.

Evan Engram FD 6000 DK 4900
Opponent SEA
Proj Points FD - 9.77 DK - 12.02
Engram has quietly been kind of awesome compared to most tight ends this season, and if he had a better QB he might have jumped ahead of Henry for the top spot at the position. Engram has 9+ targets in four of the last five weeks, and while the Philly game was a disaster there's no avoiding that possibility at this position. Engram demonstrated his upside with 129 receiving yards against Cinci last week, and he should be very active again in a week where the Giants should be playing from behind.
Defense / Special Teams
Dolphins FD 4900 DK 4400
Opponent CIN
Proj Points FD - 8.23 DK - 8.23
The Dolphins haven't gotten a ton of DFS love this season, but that should change this week. They'll be taking on the Brandon Allen and the Cincinnati Bengals this week. You may remember Allen from last week, when he managed just 136 passing yards against the woeful Giants. For DFS purposes Miami is hardly flashy - they're middle of the road in both sacks and interceptions - but their floor should be as high as possible against a Bengals offense that has an eye-popping 15.25 implied total right now.
Eagles FD 3400 DK 2300
Opponent GB
Proj Points FD - 5.59 DK - 5.59
This one might be a little off-board considering the Packers have a lot of sexy offensive weapons, but the Eagles are a solid DFS option at near minimum prices. While the Dolphins bring their floor to the table thanks to a terrible opponent, Philly brings their floor thanks to their ability to sack the quarterback. The Birds have 36 sacks on the season, second only to the Steelers, and chipping in 2-3 sakcs a game really raises your defensive floor. I'd brace myself before watching this game if I had the Eagles D, but in a week where the pricing is tight the savings could really matter.
GRAB A FREE TRIAL OF OUR PROJECTION SYSTEM, AND CHECK OUT DFSR PRO!
image sources
Russell_Wilson_vs_Jets,_November_11,_2012: By Larry Maurer [CC BY 2.0 (http://creativecommons.org/licenses/by/2.0)], via Wikimedia Commons
FREE EBOOK
SECRETS TO CRUSHING DAILY FANTASY FOOTBALL!
DON'T SET ANOTHER LINEUP BEFORE YOU READ THIS BOOK.