Weekly Fantasy Football Picks Daily Fantasy
Expert Advice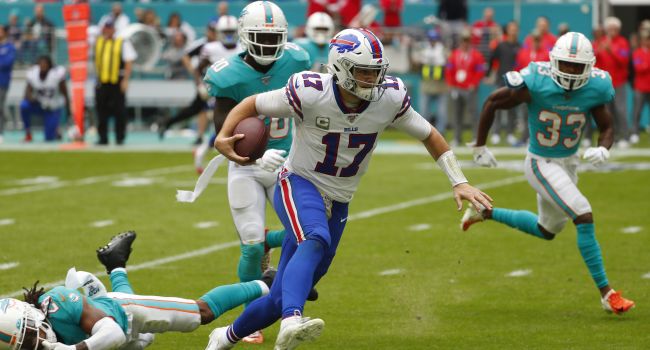 Daily Fantasy Football Game by Game Breakdowns Saturday's FanDuel and DraftKings Slates
Plus, check out our picks for Sunday's Divisional Round Plays for FanDuel and DraftKings.   Want access to the projections that power these picks? For a limited time we're offering a free one week trial to all the sports that we cover - that's optimal lineups for NFL, NBA, NHL, and MLB - for the same low price. Get started now!
Los Angeles Rams (+6) vs. Green Bay Packers (-6)
The big question, as of this writing, is the status of the Rams' quarterback situation. John Wolford left the Wild Card game early with a stinger and was actually to the hospital in an ambulance during the game. He ended up being fine all things considered and there's actually some chance he plays this week. Jared Goff came in with having had finger surgery and was inconsistent going 9-19 though he did connect with Robert Woods for a touchdown pass in the win. We will have to monitor this leading into Saturday's game.
Cam Akers FD 7000 DK 5700
Opponent GB
Proj Points FD - 14.84 DK - 15.56
Akers was one of the fantasy darlings of the Wild Card round. The Rams leaned heavily on the rookie running back and he carried the ball 28 times for 131 yards and a touchdown in the win. Over his last five game (he had an injury in Week 16) Akers is averaging 21 carries per game and 2.6 targets. That's incredibly elite usage and will once again make for a tough fade on Sunday. A negative game script of course could hurt him if LA falls down early, but considering the lack of running back options, for cash you just need to plug and play Akers here.
Cooper Kupp FD 6100 DK 5300
Opponent GB
Proj Points FD - 12.05 DK - 14.97
Kupp left the Wild Card game against the Seahawks early with some knee issues. As of right now, it appears he's going to be okay to play this Saturday. Even with an early exit, Kupp was the Rams' leader in targets on Saturday despite leaving the game early and playing with two different quarterbacks. He finished with nine targets and four catches for 78 yards. It's not a groundbreaking performance, but the price isn't all that much on either slate for the clear target leader if healthy.
If Kupp is out, Robert Woods and Josh Reynolds instantly become very strong cash game plays on both sites. They would increase target share and even if it's inconsistent the price would be low in comparison to the projected increase in usage.

Tyler Higbee FD 5200 DK 3000
Opponent GB
Proj Points FD - 5.64 DK - 7.05
Tight end is once again a terrible position on this short slate so if we can get out of on the cheaper side then so be it. Higbee is coming at the minimum on DraftKings where you almost just have to play him. He's seeing 4.33 targets per game over the last six weeks with about 34 yards per game and that includes a paltry four yards last week. It doesn't look great on paper, but then again neither does the rest of the position.
Green Bay Packers

DaVante Adams FD 9000 DK 8600
Opponent LAR
Proj Points FD - 19.05 DK - 23.41
In his 14 games this season, DaVante Adams saw double-digit targets in 10 of them. Despite not playing a full season, he finished 4th overall in receiving yards, first in touchdowns (18), and fourth in targets. It was a fantastic year for arguably the best wide receiver in football. With the playoffs on the line, it stands to reason the Packers lean heavily on Adams here. The only issue, and it's a real one, is how much Jalen Ramsey Adams sees this week on the other side of the ball. He's expected to see shadow coverage from one of the best cover corners in the game. It could be an issue.
Aaron Jones FD 7800 DK 6800
Opponent LAR
Proj Points FD - 15.35 DK - 16.7
Aaron Jones is a funny one on this slate. On the one hand, talent-wise he's likely the best talent on the slate. But the Packers haven't really moved him to anything close to a bell-cow role this season. He's carried the ball 20 times only once this season, oftentimes splitting carries with Jamaal Williams or even AJ Dillon. That being said, we could see the Packers lean on Jones more here in the playoffs if they've been trying to keep him fresh. As a -6 home favorite, this is where we like to grab running backs and if there was going to be an uptick in usage, this is the week.
If you think Adams is in trouble here with the Ramsey shadow coverage, then pivoting Allen Lazard could make some sense. He averaged about five targets per game this season when healthy and is coming cheap.
Baltimore Ravens (+2.5) vs. Buffalo Bills (-2.5)
This game will feature two of the best fantasy quarterbacks in the game and it might be tough deciding who to choose. The conditions could be typical for a Buffalo winter: cold and snowy. It might mean even more on the ground which could be a problem for the Bills who love to air it out. 
Baltimore Ravens

Lamar Jackson FD 8000 DK 7600
Opponent BUF
Proj Points FD - 22.77 DK - 23.24
Lamar was able to dispel at least some of the talk around his ability to win playoff games last week when he led the Ravens past the Titans in a 20-13 win. He started the game inauspiciously with an interception but turned things around with one of the best runs you'll ever see from a quarterback (or anyone). He sprinted 48 yards for the score and ended up with 136 yards on the ground. Outside of the INT, he was also decently efficient though the air completing 70% of his passes. The Ravens are underdogs here and might be playing from behind. He's cheaper than Allen on FanDuel but more expensive on DraftKings. This could be a way to play both in cash this week.

Marquise Brown FD 6500 DK 5200
Opponent BUF
Proj Points FD - 11.79 DK - 14.1
Over his last seven games, Brown is averaging a tick over seven targets and about 64 yards per game through the air. He's not quite a WR1 with those stats, but he's had a solid floor over that span. He's coming at very reasonable prices on both sites and was a chalk option on the shorter slate last week. That will almost definitely be the case again here.
J.K. Dobbins FD 6500 DK 6000
Opponent BUF
Proj Points FD - 9.3 DK - 9.69
Dobbins and Edwards were mostly in a timeshare last week with the former out snapping the latter 33-29. But Dobbins had one more carry and, more importantly, got the down and close work eventually scoring a touchdown. He also did see a target in the passing game. With the running back position so thin on this slate I do think you need to consider him at least even if Jones and Akers are the clear top guys.

Mark Andrews FD 6600 DK 5000
Opponent BUF
Proj Points FD - 9.79 DK - 11.85
Andrews didn't have a great Wild Card game, finishing with just 41 yards on six targets. But Andrews did finishing the season 5th in tight end receiving yards this year and sixth in touchdowns. It wasn't a break-it-out-of-the-box year, but it was steady and solid which is about all you can ask for from tight end on this slate. I'm not interested in the DraftKings price, but on FanDuel he's a better value than Higbee.
Buffalo Bills

Josh Allen FD 8800 DK 7400
Opponent BAL
Proj Points FD - 22.29 DK - 23.06
Allen was his typical, fantasy-dominant self in the Wild Card weekend against the Colts. He went 26/35 for 324 yards and two touchdowns through the air. And then he added 54 yards and a touchdown on the ground. It was just an all-around performance, something we've gotten used to this season. Like I said with Jackson, you are choosing between these two guys in cash and that's basically the whole part of the problem for this Saturday slate. I think we roll the cheaper option on each site and essentially call it a day. I think their projections are that close.
Stefon Diggs FD 8600 DK 7300
Opponent BAL
Proj Points FD - 15.23 DK - 18.94
Cole Beasley FD 5900 DK 4900
Opponent BAL
Proj Points FD - 10.63 DK - 13.33
It's not crazy sharp analysis to pick Stefon Digg for cash games. After all, this guy led the NFL in receiving yards (by 135) on the season as well as targets and receptions. He was the consummate WR1 this year and is a tough fade considering how much the Bills want to throw the ball. I'm a little concerned about the weather which is going to be cold and wet meaning the Bills could keep the ball on the ground a bit more. But in all, Diggs is close to a must-play on this slate. If forced to choose, paying up for the two stud WRs and foregoing some safety at RB could be the way to go.
Meanwhile, Cole Beasley returned to his possession receiver role on Saturday, going 7-7 for 57 yards. He's seen double-digit targets in four of his last seven weeks and has a higher floor in this game especially if the conditions are adverse.
GRAB A FREE TRIAL OF OUR PROJECTION SYSTEM, AND CHECK OUT DFSR PRO!
FREE EBOOK
SECRETS TO CRUSHING DAILY FANTASY FOOTBALL!
DON'T SET ANOTHER LINEUP BEFORE YOU READ THIS BOOK.