featured Daily Fantasy
Expert Advice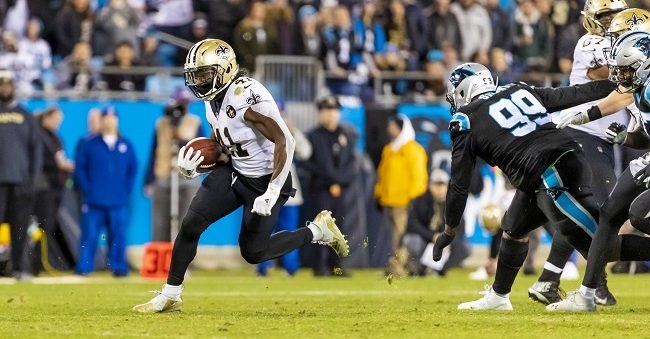 Daily Fantasy Football Game by Game Breakdowns Sunday's FanDuel and DraftKings Slates
After a wild wildcard round, the NFL barrels forward into the divisional round this week. The competition picks up this week with the return of the new #1 seeds, but it doesn't necessarily mean we're only in for close games. Sunday's slate brings us the two biggest totals of the weekend, so we should have enough interesting plays to make a solid squad. Let's dive in.
Plus, check out our picks for Saturday's Divisional Round Plays for FanDuel and DraftKings.
Want access to the projections that power these picks? For a limited time we're offering a free one week trial to all the sports that we cover - that's optimal lineups for NFL, NBA, NHL, and MLB - for the same low price. Get started now!
Cleveland Browns (+10) vs. Kansas City Chiefs (-10)
Our Sunday slate kicks off with the game with the largest spread on the slate, with the defending Superbowl Champs taking on the "surprise team" of round one. The Browns rode good play and good fortune past the big-brother Steelers, and the football world is left wondering if last week was their Superbowl, or if they'll get up to take down the Chiefs this week. The Chiefs, meanwhile, haven't played a meaningful game in weeks, and have one significant piece of injury news we'll need to keep an eye on.
Regardless, Vegas sees this as a game with a huge total, so there should be plenty of fantasy production to go around. Let's have a look.
Cleveland Browns
On a two-game slate, we're not going to be able to fully ignore any team. While we aren't often excited to run guys as a ten-point under-dog, the Browns have shown enough in the passing game that I think we can take a stab here. We will largely be ignoring Nick Chubb and Kareem Hunt for cash games, though it's worth pointing out that there are game-scripts where the Browns get out ahead early and Chubb winds up being a solid big tournament option. Let's have a look at our cash options.

Jarvis Landry FD 6900 DK 5600
Opponent KC
Proj Points FD - 13.25 DK - 16.22
Rashard Higgins FD 5300 DK 4100
Opponent KC
Proj Points FD - 11.5 DK - 13.81
Landry and Higgins exemplify the types of questions we have to ask ourselves every single week in DFS. On one hand, we have Landry, whose targets and production have been more consistent throughout the year. He's coming off a great game against the Steelers and has topped 13.9 FanDuel points in 5 of his last 6 weeks. Then you have Higgins, whose resume is far less impressive but does contain a few bright spots that look quite Landry-esque.
So why is this even close? The price. On a two-game slate, $1,600 is a fortune, and while Landry is far better than Higgins in an absolute sense, he's got a lot of competition in the mid-range wide receiver category with guys like Michael Thomas, Mike Evans, and Chris Godwin. I'd feel happier about running Landry here but Higgins might be a necessary evil if you want to lock in some relative safety at all the other positions.
Austin Hooper FD 5500 DK 3800
Opponent KC
Proj Points FD - 12.52 DK - 15.45
For a two-game slate, tight end is kind of stacked this week? Hooper is coming off a monstrous 11 targets last week, and while it's tempting to call it an outlier, he also had 15 targets against the Jets three weeks ago. On paper this looks like a totally reasonable shot to take - Hooper is cheap, relatively reliable, and the game script should favor him. The problem is the existence of Travis Kelce, who is likely a 100% play for us this week.
It's not something I recommend often, but this might be the rare slate where we want to run two tight ends. Kelce is basically a wide receiver at this point, and getting the savings on Hooper opens up quite a bit elsewhere.
If you find yourself unable to afford Mahomes, Mayfield is actually a playable cash quarterback this week given Cleveland's implied total and his price.
Kansas City Chiefs
The big question for the Chiefs right now concerns the status of Clyde Edwards-Helaire. As of this writing (Tuesday morning) we don't have any update on what the Chiefs will do at running back, but right now we're forecasting a time-share between Le'Veon, Williams, and Thompson. If we get a clean bill of health on Edwards-Helaire you'll probably just grin and bear it at a $6,100 price tag on FanDuel, understanding that he's at risk for a time-share as well.
The real prize is the KC passing game, though, so let's break that down.

Patrick Mahomes FD 9200 DK 8000
Opponent CLE
Proj Points FD - 24.39 DK - 25.08
It's hard to imagine another quarterback being higher owned in cash games than Mahomes this week. The Chiefs have by far the biggest implied total on the slate, the KC running game is pretty banged up, and Mahomes averaged 25 FanDuel points a game over the course of the season. He's got his entire arsenal of pass-catching options and by far the best match-up on the slate against the Browns. Both Tampa Bay and New Orleans have solid pass defenses, and while KC's defense is nothing to write home about, we just saw the Browns let up 500 passing yards to Roethlisberger. You can't pay up everywhere, but starting with Mahomes looks perfectly logical here.

Travis Kelce FD 8500 DK 7800
Opponent CLE
Proj Points FD - 21.16 DK - 25.83
I nodded to this in Hooper's write-up, but Kelce has broken the rules for tight ends this season. He set the record for receiving yards at the position in spite of sitting out the last game of the season. Among tight ends who reached the playoffs, Kelce had 95 more fantasy points than the second-place Mark Andrews. But, yes, he's also far more expensive than those guys. Well, he'd also be the third-highest scoring wide receiver on the season. He's game script-proof since the Chiefs will use him while ahead or behind. He's the first look in the red zone. His team has the highest total. We'll be playing Kelce with a totally clear conscience.

Tyreek Hill FD 8800 DK 8000
Opponent CLE
Proj Points FD - 19.27 DK - 22.83
Hill is a funny DFS play because he consistently priced near the very top while not getting the credit he fully deserves. Like Kelce, he sat the final game of the season. He wound up finishing second in total fantasy points at his position in spite of missing that last game. He finished 40 fantasy points ahead of third-place Stefon Diggs. While Hill's production tapered off toward the end of the season thanks to the Chiefs being in pole position and him nursing a little hamstring issue, we saw that the Chiefs were happy to give him 11-15 targets in meaningful games earlier in the season. Right now Hill is the third priority for us in this passing game, but he's still probably worth it even if it means going down from Landry to Higgins or something.
New Orleans Saints (-3) vs. Tampa Bay Bucs (+3)
It's the third meeting of the season for the Bucs and Saints, with Vegas projecting a closer contest than we saw when these two teams met earlier this year. The Saints absolutely wrecked the Bucs in their last meeting, sacking Brady three times and picking him off three times more. In their first meeting, Brady was sacked three times and picked off twice, and the Saints rode their running game (32 carries!) to an 11 point win.
And yet, Vegas sees this as a three-point game, and our betting system actually sees the Bucs as favorites this year! The truth of the matter is that while the Saints have owned the heads-up match-up this year, the Bucs have been marginally better in terms of DVOA. If we assume at the very least that this is a close game, then we sort of need to throw out a lot of what we learned from their previous two meetings. That being said, let's take a look at the value we're seeing.
New Orleans Saints
Alvin Kamara FD 9000 DK 7900
Opponent TB
Proj Points FD - 18.78 DK - 20.52
The Saints finally showed us that they do, in fact, trust Kamara with a full running load last week. Kamara tallied 23 carries and 2 targets against the Bears, and while we can expect some of those carries to turn into targets if the Saints are trailing, it's clear that he's a true #1 back. This isn't a fantastic match-up by any stretch, but there are two running games on this slate that we are going to have a hard time targeting (the Browns and Chiefs), so this is where we are. Some of that could change if we get definitive news on Clyde Edwards-Helaire, but right now we might need to bite the bullet with Kamara against the Bucs' defense here.

Michael Thomas FD 7200 DK 6700
Opponent TB
Proj Points FD - 13.48 DK - 16.85
Thomas is still dramatically under-priced relative to his true talent, and we'd probably play him at $8k+ prices here. It's crowded at the mid-range, and both Godwin and Evans seemed to outstrip him last week, but there are a couple reasons I love Thomas here. The first is the relative lack of competition. The Bucs just flat out have more weapons than the Saints do, and it's far more likely that you guess wrong between Godwin and Evans than you do between Thomas and his understudies. The next is the match-up - the Bucs were marginally easier against the pass than the Saints were this year.
At the end of the day, Godwin has arguably been more consistent recently, but this does feel awfully close to me. I'd probably give Godwin the slight nod over both Thomas and Evans, who seem pretty similar to me.
Also considered: Deonte Harris had 7 targets last week, but that sort of came out of nowhere. Jared Cook is a decent option, but I'd prefer Austin Hooper straight-up. All in all I'm only going to be excited about two Saints this week.
Tampa Bay Buccaneers

Leonard Fournette FD 6300 DK 4900
Opponent NO
Proj Points FD - 13.27 DK - 14.33
It was pretty shocking when Ronald Jones was ruled out last week, but it left Fournette to gobble up 23 touches for 132 total yards and a touchdown. The Bucs are unlikely to be nursing a lead the same way they were against Washington, but given how thin running back is this week Fournette offers a much-needed price reprieve at a strangely shallow position. If Jones returns, we can consider him, but I'd prefer to stay away at that point.

Chris Godwin FD 7500 DK 6100
Opponent NO
Proj Points FD - 17.95 DK - 21.96

Mike Evans FD 7100 DK 6400
Opponent NO
Proj Points FD - 16 DK - 19.01
Evans or Godwin? Godwin or Evans? Why not both? After a year of taking turns being the team's target leader, Godwin and Evans finally delivered a game that we expected to be typical when Brady joined the Bucs. Evans finished with 6 catches on 10 targets for 119 yards, and Godwin caught 5 balls on 12 targets for 79 yards and a touchdown. I don't see a path to playing neither of these guys this week, and right now our system is prioritizing Godwin based on the consistency he's brought in both target-share and performance.
GRAB A FREE TRIAL OF OUR PROJECTION SYSTEM, AND CHECK OUT DFSR PRO!
FREE EBOOK
SECRETS TO CRUSHING DAILY FANTASY FOOTBALL!
DON'T SET ANOTHER LINEUP BEFORE YOU READ THIS BOOK.