Baseball Picks Daily Fantasy
Expert Advice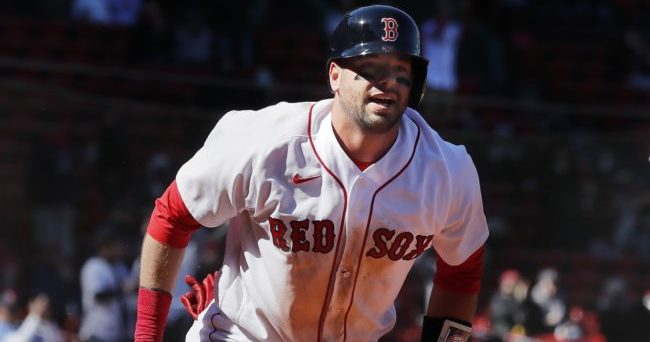 DraftKings and FanDuel MLB Picks for Sunday 4/4/21
Now's your chance to get DFSR PRO, which will give you access to our MLB, NBA, PGA, NHL, and NFL optimizers and our new player lab! Get started for free by clicking the button below.
Pitchers

Ian Anderson FD 9000 DK 9800
Opponent -
PHI (Zach Eflin)
Park -
PHI
FD
- 35.2
DK
- 18.31
He has the best peripherals on the slate coming off an age-21 season that saw him striking out more than 11 batters per nine. The 3.9 BB/9 rate was a little bit of an issue which lowered the distance he could go into games. But from a K-upside standpoint, he has the best chance of a monster on this slate. The matchup against the Phillies isn't a great one but in terms of talent, he and Tarik Skubal are the guys here. They are just both in tougher matchups with lower win probabilities.
Garrett Richards FD - P 6300 DK - SP 8900
Opponent - BAL (Bruce Zimmermann) Park - BOS
FD - 30.22 DK - 15.47
Garrett Richards made the move to Boston in the off-season and will get the start on Sunday. He draws a very good matchup against the Orioles and comes in as a -171 favorite. the Orioles have been a strikeout-happy team in the past and get especially thin down at the bottom of the lineup. He wasn't amazing in a shortened season last year in San Diego but the previous two years saw him striking out more than 11 batters per nine. The velocity was fine, he just leaned on the slider a little more than in previous seasons. I still think this is a good cash play on the Sunday slate considering the state of pitching.
Zach Davies FD - P 8200 DK - SP 7900
Opponent - PIT (Mitch Keller) Park - CHC
FD - 29.81 DK - 14.3
Davies showed some strikeout improvement last season thanks to moving away from his fastball a bit and relying a little more on the changeup. He got the K's up to over eight per nine and on Sunday has a solid matchup against the Pirates. Pittsburgh is among the worst offenses in the league right now giving Davies a high floor. He's a -164 favorite in Wrigley and the only thing we are waiting on for this as a play is to see which direction the wind is blowing around game time.
I don't mind Brady Singer (FD $7500 DK $8700) in this spot either. He's coming off a season of 8.53 k/9 and has a good matchup against the Rangers.
Aaron Civale (FD $8400 DK $9600) is another good option facing the Tigers.

Catcher/First Base

Paul Goldschmidt FD - 1B 4000 DK - 1B 5200
Opponent - CIN (Jeff Hoffman) Park - CIN
FD - 12.11 DK - 9.11
Paul Goldschmidt will face Jeff Hoffman who is finally making his way out of Coors Field, though it doesn't get much better heading into Great American Ballpark which is still one of the best hitter's parks in baseball. Goldie was fine enough last season with an OPS creeping up around .900 thanks to an increased (16%) walk rate and reduced K rate (19%) which helped make up some for the lack of power. It's unclear if the pop will ever come back but if he's going to an uber-patient approach then he's still a cash play in this matchup.

Carlos Santana FD - 1B 3300 DK - 1B 3600
Opponent - TEX (Jordan Lyles) Park - KC
FD - 12.33 DK - 9.18
We've written up Santana for a couple of days now and think we can target him in this matchup. He is also a very patient hitter who walked more times than he struck out last season. And that's been the case over the last three years actually which is a crazy feat. Even with the power dropping off last season after he hit more than 30 home runs in 2019, I still think the approach makes for a safer play on a game-in, game-out basis.
Second Base

Kike Hernández FD - 2B 2800 DK - 2B/OF 3200
Opponent - BAL (Bruce Zimmermann) Park - BOS
FD - 13.81 DK - 10.42
Hernandez got the start in the leadoff spot on Saturday even against the righty. If this is going to be the case going forward then he's simply coming too cheap on both sites, but especially DraftKings. For his career, Hernandez has been a lefty platoon split guy, but the Red Sox might see things differently with him coming over in the off-season. Either way, he'll be there again on Sunday against the lefty Zimmerman and should be a chalk play on both sites, but especially DraftKings.

DJ LeMahieu FD - 2B 3700 DK - 2B/3B 5500
Opponent - TOR (T.J. Zeuch) Park - NYY
FD - 11.75 DK - 9.08
On Sunday, the Yankees will face righty TJ Zeuch whose first 34 major league innings have been pretty damn bad. He is striking out fewer than seven batters per nine and has an xFIP in the high 4's. Because we aren't paying up for pitching this won't be a stretch to grab DJ in this matchup. LeMahieu has put up back-to-back incredible seasons for the Yankees with the OPS over 1.000 last season. He's been among the best hitters in the game and is one of the truly great contact guys, putting the ball in play 82% of the time last season.
Shortstop

Xander Bogaerts FD - SS 3700 DK - SS 5500
Opponent - BAL (Bruce Zimmermann) Park - BOS
FD - 14.99 DK - 11.35
The Red Sox are going to be one of the popular stacks on Sunday for the main slate of games because we aren't getting the Coors game on either site. Facing off against Bruce Zimmerman is a great spot for Xander who has worked over lefties for his career. He owns a .855 OPS and .367 wOBA in that split. Zimmerman doesn't have much of a major league sample size, but the minor league track record was merely meh. Again, we are stacking Red Sox on Sunday early.

Gleyber Torres FD - SS 3500 DK - SS 4700
Opponent - TOR (T.J. Zeuch) Park - NYY
FD - 11.5 DK - 8.66
Gleyber isn't in quite a good a spot as Xander, but the Yankees could be primed for some offense here on Sunday. Torres struggled last season from an OPS perspective, barely scraping over .700 thanks to some batted ball issues and a drop off in hard contact rate. He was still very patient at the plate with a 14% walk rate, but the power was gone. Here's to a bounce-back season this time around for the young shortstop.
Third Base

Nolan Arenado FD - 3B 3800 DK - 3B 5300
Opponent - CIN (Jeff Hoffman) Park - CIN
FD - 12.1 DK - 9.13
Arenado will face his old teammate Hoffman on Sunday in a matchup outside of the hitter-friendly confines of Coors. But the Cardinals could be primed to put up some runs with one of the higher implied run lines of the day. Arenado went yard on Saturday for his first home run as a Cardinal and it will be interesting to see what kind of numbers he can put up in his first full season not playing with the Rockies. Others have fared ok when making the move (see DJ LeMahieu above) and Arenado's approach will translate wherever.

Rafael Devers FD - 3B 3400 DK - 3B 5400
Opponent - BAL (Bruce Zimmermann) Park - BOS
FD - 12.67 DK - 9.59
This is a reverse split situation for Devers but it's hard to get away from the Red Sox in this spot. He should still be in the middle of the lineup and they could get into the bullpen early as well. Devers started off hitting lefties well at the start of his career, but those numbers have dropped off a bit in subsequent seasons. Again, this is more about the matchup overall than it is about Devers specifically. He's a better FanDuel play than DraftKings at these price points.
Outfield

J.D. Martinez FD - OF 3600 DK - OF 4500
Opponent - BAL (Bruce Zimmermann) Park - BOS
FD - 14.66 DK - 11.02
Death, taxes, and playing J.D. Martinez against lefty arms. He's one of the true southpaw killers we have in the game these days. Over close a 1200 plate appearance sample size Martinez is hitting lefties to the tune of a .975 OPS, .405 wOBA, and 157 wRC+. These are video game numbers for a major league hitter over this period of time. He should be among the highest-owned plays on this early slate of games and with very good reason.
Consider Franchy Cordero (FD $2500 DK $2500) if you are trying to fit in even more Red Sox.

Aaron Judge FD - OF 4000 DK - OF 5700
Opponent - TOR (T.J. Zeuch) Park - NYY
FD - 13.81 DK - 10.21
As mentioned with some of the other Yankees, this team is in a good spot on Sunday and we aren't going to be overly concerned with pricing issues because the pitching is coming on the cheaper side of things. He's among the best hitters in the game and through basically four seasons he's got a career OPS at right around .950 thanks to a ton of power and an adequate walk rate. Against a low strikeout arm in Zeuch, this is just the kind of matchup we want to lock and load Judge for.
I also don't mind Whit Merrifield (FD $4000 DK $5200) hitting in the leadoff spot for the Royals. He's started off the season in a nice way and has a couple of ways to score you fantasy points.
GRAB A FREE TRIAL OF OUR PROJECTION SYSTEM, AND CHECK OUT DFSR PRO!
FREE EBOOK
SECRETS TO CRUSHING DAILY FANTASY FOOTBALL!
DON'T SET ANOTHER LINEUP BEFORE YOU READ THIS BOOK.