Baseball Picks Daily Fantasy
Expert Advice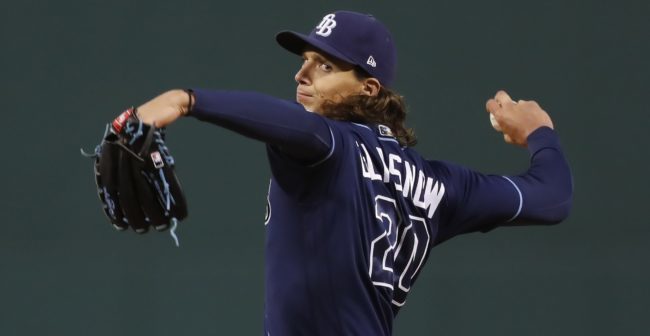 DraftKings and FanDuel MLB Picks for Saturday 4/17/21
Now's your chance to get DFSR PRO, which will give you access to our MLB, NBA, PGA, NHL, and NFL optimizers and our new player lab! Get started for free by clicking the button below.
Pitchers

Tyler Glasnow FD - P 11000 DK - SP 11400
Opponent - NYY (Jordan Montgomery) Park - NYY
FD - 36.74 DK - 20.33
Glasnow has been a revelation to start the season, posting eye-popping numbers through his first three starts. He's struck out 29 batters in 19 2/3 innings with just three walks in that span. The 1.79 xFIP only looks high compared to the 0.46 ERA. He's just started the season as one of the very best pitchers in all of baseball. This isn't a great matchup against the Yankees of course, but that's something of the story with this Saturday slate. There are issues everywhere when it comes to the pitching options. For the early games, just go with the best arm out there.

Zack Greinke FD - P 8700 DK - SP 8700
Opponent - SEA (Chris Flexen) Park - SEA
FD - 34.22 DK - 17.87
Greinke is only a -125 road favorite here against the Mariners and there could be more than a little concern about what his returns will be. The 37-year-old has struggled to start the season and has only struck out 10 batters through is first 17 innings. It isn't a velocity issue though his FB speed is down enough off his peak. But he's made do with that in previous seasons. I think we are buying a little low on him here and I don't think the righty is completely cooked just yet. Seattle meanwhile has been a below-average hitting team this season and is in the top-10 in strikeouts. This is a good time for Greinke to bounce back some.
I don't mind Sandy Alcantara (FD $8500 DK $10800) in this spot against the Giants. Though the DK price is a little steep.

Catcher/First Base
Josh Bell FD - 1B 3200 DK - 1B 4800
Opponent - ARI (Luke Weaver) Park - WSH
FD - 12.65 DK - 9.44
Bell has been mostly injured to start the season but is back in the starting lineup now and coming way too cheap, especially on FanDuel on Saturday. He's not going to get back to the 27 home run power we saw in 2019, but this is still a guy with a very patient approach who has walked about 12% of the time for his career. He's in a decent matchup with Luke Weaver who isn't as good as his low 2's ERA would suggest to start the season. I like buying Bell at a discount getting back into the middle of the Nationals' lineup.

Matt Olson FD - 1B 2900 DK - 1B 4200
Opponent - DET (Casey Mize) Park - OAK
FD - 12.16 DK - 9.01
Casey Mize isn't as good as his 11 K/9 this season would suggest and the xFIP is about four runs higher than the ERA even in a small sample size. Olson has been solid to start the season and for his career owns a low-800s OPS thanks to a solid walk rate and just enough power to get by. He's much better facing off against righties and the middle-tier pricing works well in allowing you to spend up elsewhere. He's not a masher, but this is a good matchup.
Second Base
Nick Solak FD - 2B 2800 DK - 2B 4800
Opponent - BAL (Dean Kremer) Park - TEX
FD - 10.25 DK - 7.86
I don't mind some of the Rangers against Kremer today especially considering that there are a lot of above-average arms taking the mound in other spots. Kremer definitely isn't one of them and has had a lot of control issues through the beginning of his major league career. Solar has struck out a lot to start the season, but that really hasn't been a big issue through his first 400+ plate appearances. He's been able to make contact in the past is likely going to end up somewhere around a high-700s OPS guy when it's all said and done. For a second baseman, that's about all we can ask for.

Ozzie Albies FD - 2B 3000 DK - 2B 4600
Opponent - CHC (Trevor Williams) Park - CHC
FD - 9.82 DK - 7.51
I really want to believe in Ozzie Albies. I really do. The young guy was one of the top prospects in the Braves system and does project to be a well-above-average bat. He's been a high-.700s OPS guy for his first 1800 plate appearances and does project to be a very good, middle-of-the-order bat. He's just been terrible to start the season and that's dropped the price. But the Braves still have him hitting 4-5 in the lineup and I want to draw on the historical numbers rather than the nothing he's seemed to have done this season.
Shortstop

Carlos Correa FD - SS 3000 DK - SS 4800
Opponent - SEA (Chris Flexen) Park - SEA
FD - 10.91 DK - 8.21
Correa hasn't made a great case for himself that he wasn't cheating a couple of years ago with last season looking pretty rough for the guy. But he's starting to bounce back early this year with an OPS hovering around .900 and a K rate lower than his career averages. He's in a good spot against a very mediocre arm in Chris Flexen who has a career 6.43 xFIP through his first 79 major league innings.

Paul DeJong FD - SS 2700 DK - SS 4100
Opponent - PHI (Matt Moore) Park - PHI
FD - 10.63 DK - 8.02
The Cardinals have move DeJong down in the order after some of his struggles to start the season, but this could be a chance for him to break out of it. While he's mostly been a reverse splits guy for his career, he does walk around 12% of the time against lefties with a 38% hard contact rate in that split. Moore's last couple of full seasons saw him sporting an xFIP over 5.00 and he's a below-average arm taking the mound here against St. Louis.
Third Base

José Ramírez FD - 3B 3200 DK - 3B 4800
Opponent - CIN (Sonny Gray) Park - CIN
FD - 13.93 DK - 10.47
This isn't a great matchup against Sonny Gray, but Ramirez has a few things working in his favor on Saturday. For starters, Cincinnati's Great American Ballpark is among the best hitter's parks in baseball. Also, while Gray has very good K upside, he also has issued about three BBs per nine over his career and more this season. Meanwhile, Ramirez is very difficult to strike out at only 12% for his entire career and he got back to mashing last season with an OPS closing in on 1K.

Matt Chapman FD - 3B 3200 DK - 3B 4400
Opponent - DET (Casey Mize) Park - OAK
FD - 11.79 DK - 8.8
We mentioned with Olson that Casey Mize is an arm to target on Saturday and that's where we can roll Chapman out in something like an A's stack for the afternoon. Chapman's main issue for his career is that he just goes down on strikes way too much. He's K'd more than 30% of the time over the last few seasons. But that isn't as big a concern against Mize who's struck out only eight batters per nine to start his career. I like the prices we are getting on for the power upside on Chapman here.
Outfield

Bryce Harper FD - OF 4100 DK - OF 5000
Opponent - STL (Kwang Hyun Kim) Park - PHI
FD - 12.7 DK - 9.37

Andrew McCutchen FD - OF 2700 DK - OF 3600
Opponent - STL (Kwang Hyun Kim) Park - PHI
FD - 12.72 DK - 9.56
We haven't talked about the Phillies yet, but I do like the matchup against Kwang Hyun Kim on Saturday. The Korean star has a good ERA to start his career in his first 39 innings, but the 4.52 xFIP points to a below-average arm, and the 5.54 K/9 is garbage. This is a reverse split situation for Harper against the lefty but there is almost no threat of him striking out even in the lefty-lefty matchup. Harper is coming off a mid-.900s OPS season in 2020 thanks to a nuts 20% walk rate and a .274 ISO. He remains one of the game's elite hitters.
Meanwhile, though he's getting a little long in the baseball tooth, McCutchen has been excellent for his career against lefties. He's put up a 155 wRC+, .401 wOBA, and .940 OPS over the years in that split. He should be hating leadoff in this matchup and is coming way too cheap on both sites despite starting off the season very slow.

Joey Gallo FD - OF 3100 DK - OF 4400
Opponent - BAL (Dean Kremer) Park - TEX
FD - 12.4 DK - 9.1
Yes, Gallo strikes out a lot but he's actually been doing that less this year at *only* 28% which is down off a career 37% number. Plus he's walking 21% of the time this season and showing more patience. That could pay off against Kremer who's walked six batters per nine through his first 24 innings on the mound in the majors. There's still power upside for Gallo here even if last season was a disaster.
Strongly consider Kyle Schwarber (FD $3000 DK $7100) on FanDuel.
GRAB A FREE TRIAL OF OUR PROJECTION SYSTEM, AND CHECK OUT DFSR PRO!
FREE EBOOK
SECRETS TO CRUSHING DAILY FANTASY FOOTBALL!
DON'T SET ANOTHER LINEUP BEFORE YOU READ THIS BOOK.