Baseball Picks Daily Fantasy
Expert Advice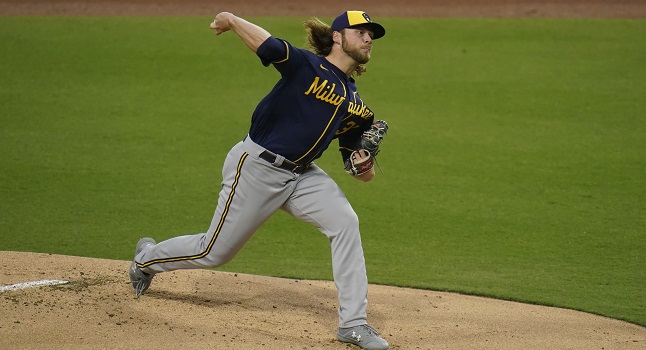 DraftKings and FanDuel MLB Picks for Monday, 4/26/21
Now's your chance to get DFSR PRO, which will give you access to our MLB, NBA, PGA, NHL, and NFL optimizers and our new player lab! Get started for free by clicking the button below.
Pitchers

Corbin Burnes FD - P 11100 DK - RP 10400
Opponent - MIA (Trevor Rogers) Park - MIL
FD - 41.03 DK - 22.21
I hate to be over the top with this, but Burnes is sort of redefining "ace" to start this season. In 24.1 innings he has 40 strikeouts against 0 walks and has allowed a single earned run. This is a terrific match-up as well, with Miami ranking in the bottom 4 in wOBA and the top 10 in strikeout rate so far this season. Burnes is expensive, but expensive for a reason, and as the only thing resembling an ace on this slate you can expect to see huge ownership in cash games.

Charlie Morton FD - P 8600 DK - SP 8000
Opponent - CHC (Zach Davies) Park - ATL
FD - 35.5 DK - 19.04
Some say Morton has lost a step or two, but he's still out there dealing. With 6 IP and 6+ Ks in each of his last two starts, he's bringing reliability that can be tough to find this early in the season (particularly on small slates like this). The Cubs can hit, but they also strike out a lot, ranking fourth in strikeout rate so far this season. The Braves are among the biggest favorites on the slate, and if Morton can keep the ball in the park, he could be a great cash game option.
Also considered: Zack Wheeler.
For big tournaments Trevor Rogers is a great play against Milwaukee. It's not great to go up against Burnes, but Milwaukee's lineup is even worse than Miami's, and Rogers has plenty of strikeout stuff for big tourneys.

Catcher/First Base

Freddie Freeman FD - 1B 3900 DK - 1B 6000
Opponent - CHC (Zach Davies) Park - ATL
FD - 13.84 DK - 10.36

Freeman is an incredible buy-low opportunity right now. He's got an .800+ OPS in spite of a .170 BABIP. He's walking 19% of the time against a 10% BB rate, and he's under $4,000. Things are turning in very short order for Freeman. As for the match-up, prepare yourself to see a few Braves in today's article. Things have gone pear-shaped for Davies early in the 2021 season. He's walking an astounding 6.46 batters per nine innings, while striking out fewer than 6 per nine. Last year's ERA looks like a total fluke, and the Braves should eat him for breakfast here.
Jared Walsh FD - 1B 3600 DK - 1B/OF 4300
Opponent - TEX (Jordan Lyles) Park - TEX
FD - 11.51 DK - 8.64
Walsh is off to a great start this season, building upon last year's incredible power surge to the tune of a .405 wOBA so far. He's .105 OPS points better against right-handed pitching, and he's got a great match-up with the right-handed Jordan Lyles today. Lyles is a true 5 xFIP guy, and Texas remains a terrific place to hit. I love Walsh here.
If you need a catcher, it can't be too bad to run JT Realmuto.
Second Base

Gleyber Torres FD - 2B 2500 DK - SS 4600
Opponent - BAL (Matt Harvey) Park - BAL
FD - 11.1 DK - 8.36
Who's the real Gleyber Torres? The Yankees seem to think it's the Torres of two years ago, rather than the one we saw during last year's abbreviated season or this year's tough start. It's understandable - Torres is just 24 years old, and posted an .872 OPS as a 22 year old. Torres is still batting toward the middle of a good lineup, and he's far too cheap compared to his opportunity right now. The Yankees also have the pleasure of batting against Matt Harvey today. Harvey is one of the sadder stories in recent memory, going from young ace to a washed up 5.4 xFIP guy after one major injury. All the Yankees are in play tonight as a result.
Tommy Edman FD - 2B 2800 DK - 2B/OF 4400
Opponent - PHI (Zack Wheeler) Park - STL
FD - 10.34 DK - 8.04
Chances are good that Edman is a better DFS play than you realize he is. He bats leadoff atop a St. Louis lineup that features plenty of boppers to knock him in, and is currently under $3k. He doesn't hit for power, but he can get on base and steal bases, which is all we really need at these price ranges. Wheeler is a good pitcher, but on a day that might not feature much savings Edman is a very solid way to pay down.
Also considered: David Fletcher.
Shortstop

Carlos Correa FD - SS 3600 DK - SS 5400
Opponent - SEA (Justus Sheffield) Park - HOU
FD - 11.55 DK - 8.69
We've got a lot of Astros appearing in our optimal lineups today as well, with Carlos Correa being among our best shortstop options. Correa hasn't yet recovered his power from 2 years ago, but again, at the ripe old age of 26 we're not quite ready to call him over the hill just yet. For all his prospect hype, Justus Sheffield hasn't really delivered thus far. He's got a career 4.49 xFIP, and Correa should be strongly advantaged with the platoon in his favor here.

Dansby Swanson FD - SS 2600 DK - SS 3900
Opponent - CHC (Zach Davies) Park - ATL
FD - 10.13 DK - 7.69
This is a straightforward Braves stack play if Swanson is batting sixth in the lineup. Davies should be chased in short order, and if the Braves generate more at-bats than usual, they're all looking like great cash game options. Swanson is up to a tough start so far, but we're looking at a 27 year old shortstop who had an .800 OPS last season. There isn't huge upside here, but again with these cheap guys we're usually trying to capture a great floor, which Swanson provides.
Also considered: Corey Seager.
Third Base

Alex Bregman FD - 3B 3800 DK - 3B 5000
Opponent - SEA (Justus Sheffield) Park - HOU
FD - 12.9 DK - 9.61
Bregman is a perennial MVP candidate against a mediocre left handed pitcher with the platoon in his favor. He's under $4,000 on FanDuel. The question isn't really whether he's a great play (he is), it's whether he's the guy you need to target if you're limited to just a couple high-priced options. I'll happily take the guy with 40 home run power and a .402 wOBA so far this year.

Matt Chapman FD - 3B 2900 DK - 3B 4900
Opponent - TB (Rich Hill) Park - TB
FD - 12.24 DK - 9.14
I did a double-take when I saw Chapman near the top of our third base rankings at first, and then I dug a little deeper. First of all, Rich Hill just isn't the guy he was earlier in his career. At the age of 41, Hill is sporting an 8.82 ERA so far this season. He's obviously been a little unlucky so far, but he's probably just paying back the ridiculous luck he needed to finish last season with a 3.03 ERA. Chapman should be batting leadoff here, and probably brings even more upside than some of the other sub $3k options we've discussed so far.
Gio Urshela is way too cheap, and if he's batting 6th or higher he's a great cash game play.
Outfield

Marcell Ozuna FD - OF 3200 DK - OF 5200
Opponent - CHC (Zach Davies) Park - ATL
FD - 13.11 DK - 9.85

Ronald Acuña Jr. FD - OF 4300 DK - OF 6200
Opponent - CHC (Zach Davies) Park - ATL
FD - 15.22 DK - 11.41
We've given you the idea on Davies so far, so it's worth just hammering the point here with two more Braves (since you'll probably want to run four of them anyway). Ozuna is probably a bigger priority than Acuna just based on the ridiculously cheap price, but if you can afford both, you should certainly do so.

Yordan Alvarez FD - OF 3100 DK - OF 5100
Opponent - SEA (Justus Sheffield) Park - HOU
FD - 12.55 DK - 9.36
Alvarez is a full-on raker, with perhaps the most ridiculous stat being that he has a career OPS north of 1k against both left-handers and right-handers. All this to say, we're not going to get scared off a guy with a bat like this at a low $3k price tag against what amounts to an average pitcher in Sheffield.
Mike Yastrzemski FD - OF 3000 DK - OF 4200
Opponent - COL (Austin Gomber) Park - SF
FD - 10.29 DK - 7.78
Yastrzemski hasn't quite delivered in the same way he did last season, but a closer look shows that whatever woes he's experienced are almost entirely BABIP related. Last year his BABIP was nearly .100 points higher, and giving him hits on an extra 10% of his balls in play makes his season line look an awful lot like last year's. Now most players won't sustain a .370 BABIP, but even a .320 BABIP would make him look pretty interesting. Gomber, meanwhile, is on a two-year soire with Lady Luck, sporting an ERA in the 2s and an xFIP near 5. The bill will come due shortly.
Also considered: Cedric Mullins, assuming he's leading off as usual.
GRAB A FREE TRIAL OF OUR PROJECTION SYSTEM, AND CHECK OUT DFSR PRO!
FREE EBOOK
SECRETS TO CRUSHING DAILY FANTASY FOOTBALL!
DON'T SET ANOTHER LINEUP BEFORE YOU READ THIS BOOK.