Baseball Picks Daily Fantasy
Expert Advice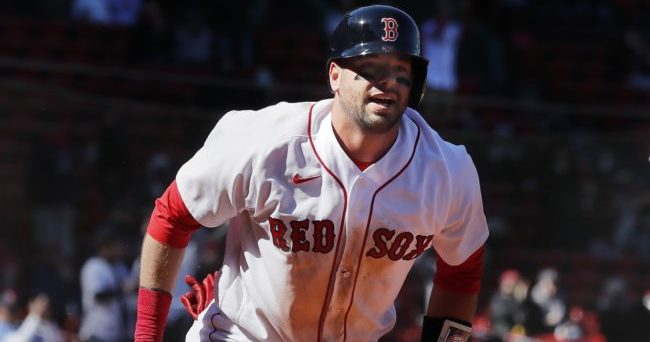 DraftKings and FanDuel MLB Picks for Sunday 4/25/21
Now's your chance to get DFSR PRO, which will give you access to our MLB, NBA, PGA, NHL, and NFL optimizers and our new player lab! Get started for free by clicking the button below.
Pitchers
Eduardo Rodriguez FD 8300 DK 8200
Opponent - SEA (Nick Margevicius) Park - SEA
FD - 35.43 DK - 18.93
E-Rod has been excellent to start this season, really dialing up the K's in a way we haven't seen from the guy since 2018. He's putting down more than 10 batters per nine and has a 2.86 xFIP for his efforts. He's throwing his cutter more which is, in part, responsible for the gains he's making on the mound. But the big news is that he's really limited the walks in a way we haven't seen before from the guy. If he's truly put together the command like this then he's an ace plain and simple.
Jack Flaherty FD 8600 DK 8400
Opponent - CIN (Luis Castillo) Park - CIN
FD - 39.11 DK - 21.39
Flattery hasn't started the season that strongly with a K/9 under nine so far and xFIp sitting in the low 4's. And this is a good matchup against a Reds team that's come out really swinging this season. But we are simply buying really low on Flaherty's projected peripherals and anticipating a return to the 10.5 K/9 rate he's had for most of his career. This is having a little faith for sure and not everyone is going to see it this way, but I think the risk is worth the reward on a day that's light on pitching.
Drew Smyly FD 0 DK 8200
Opponent - ARI (Zac Gallen) Park - ARI
FD - 35.77 DK - 19.42
This game was postponed from yesterday so some of the same writeups are going to apply. Here's what I had to say about him before: Smyly is coming way too cheap on this slate and should be a very popular option on both sites. Smyly has only start two games this season but this guy has been excellent for his last 37 innings or so. The xFIP is in the low 3's over that stretch and is striking out close to ten batters per nine as well. And this season he's been able to limit the walks really well. The matchup is great against a Diamondbacks team that's been middle of the pack this season but isn't projected to have much pop over the long term. The price is too low for the peripherals and there should be more of a price correction on what Smyly has done lately.

Catcher/First Base

Travis Shaw FD 2700 DK 4500
Opponent - CHC (Jake Arrieta) Park - CHC
FD - 10.07 DK - 7.52
Keston Hiura FD 2400 DK 4000
Opponent - CHC (Jake Arrieta) Park - CHC
FD - 10.78 DK - 8.16
I know that Jake Arrieta has a 2.86 ERA on the season. It's completely smoke and mirrors. The guy still hasn't been a very good pitcher and the 5.07 xFIP starts to let on to that fact. He's striking out fewer than eight batters per nine and is living off a low BABIP and high LOB%. These are the hallmarks of a pitcher that's just running hot. I think we can stack the Brewers against him early. Shaw should be hitting in the clean-up slot on Sunday and his biggest issue is striking out too much. That's much less of a problem against an arm like Arrieta. There's been some pop in the bat with three home runs so far this season though the OPS is still sitting on the lower side. But that's why we are getting him on the cheap.
Meanwhile, Hiura should hit fifth or sixth for the Brewers today and also qualifies at 2B on DraftKings. Strikeouts are also his big issue and he's going down swinging more than 30% of the time this season. That's of course an issue, but mitigating some with the matchup against Arrieta. Look, we are getting both of these guys on the cheap because they haven't been all that good. But this is a matchup to turn it around in for sure.
Second Base
Kolten Wong FD 2800 DK 3200
Opponent - CHC (Jake Arrieta) Park - CHC
FD - 9.79 DK - 7.54
Wong is back and hitting in the leadoff spot for the Brewers going forward. He's started off the season showing a lot of patience at the plate with a 17% walk rate. He's not likely to keep that up over the course of the season considering his historical numbers, but it's a good sign. He puts the ball in play a lot which is a good sign against Arrieta and has been known to swipe a bag or two once he's on. I love the DraftKings price especially if he's hitting in the one spot. He's coming much too cheap there.

Kike Hernández FD 3000 DK 4200
Opponent - SEA (Nick Margevicius) Park - SEA
FD - 11.83 DK - 8.92
The Red Sox are facing a lefty so I think you know where we are going with this one. Hernandez should be in the leadoff slot for this matchup considering the platoon. For his career, he has an .810 OPS and .344 wOBA in this split and remains on the cheaper side for both sites because he's so bad against righties. That helps make it easy to buy on the guy when a lefty comes around. This is a lock and load play on both sites if he's in the top slot against Margevicius on Sunday.
Shortstop

Xander Bogaerts FD 3400 DK 5800
Opponent - SEA (Nick Margevicius) Park - SEA
FD - 12.51 DK - 9.48
Like I said, get used to seeing some Red Sox in the cash game picks for Sunday. That's because they are in such a good spot against Margevicius. Bogaerts has been ripping the ball this season with a .987 OPS out of the gate thanks in some part to an elevated BABIP but he's also striking out less than his career average so far. For his career, Margevicius strikes out fewer than 7.5 batters per nine and this season has a 5.40 ERA and 4.64 xFIP. This is a below-average arm through and through so stacking Sox here is probably going to be one of the more popular plays on the main slates.

Tim Anderson FD 4000 DK 5400
Opponent - TEX (Kohei Arihara) Park - TEX
FD - 11.22 DK - 8.72
If you want to go a little cheaper on DraftKings (but not on FanDuel) then Anderson is in a good spot here against Arihara. The former has come out of the gate strong since returning from injury and has the OPS in the high .900s. Anderson is never going to take a walk, but that's okay against an arm like Arihara who pitches to contact with just 13 strikeouts and three walks in his first 20 major league innings. That's the perfect guy to throw Anderson in against who can hit for power and will also flash speed as well.
Third Base

Yoán Moncada FD 3100 DK 4900
Opponent - TEX (Kohei Arihara) Park - TEX
FD - 10.77 DK - 8.16
Here's to hoping that Moncada can stick in the three spot for the White Sox. It's been a struggle for the young man since his breakout in 2019 when he had a .915 OPS and was flashing all the prospect upside. It's been something different since and he's struggled to maintain consistency at the plate. His biggest issue is going down on strikes too often, but as mentioned with Anderson, that's much less of a concern against an arm like Arihara. I think we can keep dreaming on the upside for Moncada and target him against contact-first pitchers.

José Ramírez FD 3400 DK 5200
Opponent - NYY (Jameson Taillon) Park - NYY
FD - 11.43 DK - 8.6
While Jameson Taillon has come out of the gate for the Yankees and really dialed up the K-rate, the other results haven't quite been there. His 5.40 ERA is garbage and it's not all bad luck with the 4.15 xFIP pointing to a league average arm. Third base is a weaker position on this slate and pitching isn't going to cost all that much so I think we can pay up for a superstar like Ramirez in this spot. He's running real bad with a .224 BABIP but is still so hard to K at just 11% on the season. He's among the best hitters in the game and is probably still too cheap on FanDuel at least.
Outfield

J.D. Martinez FD 4300 DK 5700
Opponent - SEA (Nick Margevicius) Park - SEA
FD - 12.84 DK - 9.65
Let's complete the Red Sox stack right here. JD Martinez has been a career lefty-killer and he's started the year really mashing the ball against everyone. He has a 1.163 OPS to start the season and already has seven home runs. And for his career, Martinez is one of the best ever at obliterating lefty arms. He has a .976 OPS and .405 wOBA in that split which is crazy high considering it's over a 1050 plate appearance sample size. This guy is just too good to pass up in this matchup and should be the center point of your cash games.

Ronald Acuña Jr. FD 0 DK 6200
Opponent - ARI (Zac Gallen) Park - ARI
FD - 13.13 DK - 9.85

Marcell Ozuna FD 0 DK 5200
Opponent - ARI (Zac Gallen) Park - ARI
FD - 11.31 DK - 8.5
*These are DraftKings plays only*
This is such a great spot for the Braves against Madison Bumgarner that it's going to be tough to pass up the top of the order righties on Saturday. Acuna is somehow even better this season than last and has started off this year with a whopping 1.300+ OPS mostly because he's hitting for a ton of power (seven home runs already) and has been impossible to strike out (14%). He's heading for an MVP run if things keep up this way. He should have no issues with the corpse of Bumgarner here.
Then there's Ozuna who has gotten out of the gate all that well to start the season with some truly grizzly OPS numbers. The hard contact rate is way down which is definitely a concern, but it's still somewhat early in the season. He's been much better against lefties for his career with an .850 OPS and 129 wRC+ in that split. We are getting him real cheap on FanDuel for a guy who should be hitting cleanup in this matchup.
I also really like the price on Yordan Alvarez (FD $3100 DK $4800) on FanDuel.
If he's in the second spot for the Brewers then Billy McKinney (FD $2200 DK $2400) is a good punt play.
GRAB A FREE TRIAL OF OUR PROJECTION SYSTEM, AND CHECK OUT DFSR PRO!
FREE EBOOK
SECRETS TO CRUSHING DAILY FANTASY FOOTBALL!
DON'T SET ANOTHER LINEUP BEFORE YOU READ THIS BOOK.