Baseball Picks Daily Fantasy
Expert Advice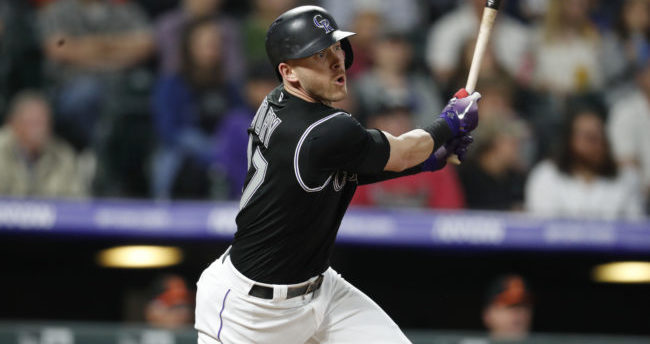 DraftKings and FanDuel MLB Picks for Thursday, 4/29/21
These Thursday slates always tend to be lighter because it's a travel day for many of these clubs, and this honestly might be one of the smallest ledgers we see all year. Only five games make up this night slate that commences at 7ET, so that means the pickings are slim. What's really clear about this slate is that we have some bad pitchers toeing the rubber. There is a Cy Young winner in the bunch, though, so let's kick things off with him.
Now's your chance to get DFSR PRO, which will give you access to our MLB and NBA optimizers and our new player lab! Get started for free by clicking the button below.
Pitchers

Trevor Bauer FD - P 11000 DK - SP 11300
Opponent - MIL (Eric Lauer) Park - MIL
FD - 42.56 DK - 23.38
It's hard to like Bauer as a person with some of the things he says but this dude can downright pitch. In 2020, the right-hander provided a 1.73 ERA and 0.79 WIHP en route to that Cy Young that we mentioned before. Joining the Dodgers hasn't slowed down those numbers one bit, winning three of his five starts while providing a 2.53 ERA and 0.66 WHIP. Those are truly ridiculous numbers, and it looks even crazier when you see that he has 145 strikeouts in those 105 innings. That makes him hard to fade against Milwaukee, with the Brewers sitting 29th in K rate and 22nd in wOBA.
Luke Weaver FD - P 7600 DK - SP 7700
Opponent - COL (Antonio Senzatela) Park - ARI
FD - 33.47 DK - 17.77
Weaver was horrible in the shortened 2020 season, but he's shown the ability to be a stopper in the past. In the year prior, Weaver posted an impressive 2.94 ERA and 1.07 WHIP. That had him in the All-Star discussion, and he's looked more like that guy this year than the one we saw in 2020. In fact, Weaver has a 1.11 WHIP through his four starts this season, allowing four runs or fewer in all of them. The best part of this play is the matchup, though. Dating back to last season, Colorado ranks dead-last in runs scored, OPS, and xwOBA on the road. That's really scary since they lost their best hitter in the offseason. All of those factors have Weaver entering this game as a -155 favorite as well.

Catcher/First Base

José Abreu FD - 1B 3700 DK - 1B 4800
Opponent - DET (Matthew Boyd) Park - CHW
FD - 11.23 DK - 8.5
It's tough to pick guys on a five-game slate, but this was probably the easiest pick of the bunch. Dating back to last season, Abreu has a .290 BA, .351 OBP, .565 SLG, and .916 OPS. Those are obviously some of the best numbers in baseball, and he's been even better against lefties. Since 2019, Abreu has a .332 AVG, .389 OBP, .594 SLG, and .983 OPS with the platoon advantage in his favor. That's bad news with how bad Boyd was last season, especially with Abreu hitting .371 in 37 career at-bats against Boyd, en route to a .977  OPS.
Keston Hiura FD - 1B 2500 DK - 1B/2B 3200
Opponent - LAD (Trevor Bauer) Park - MIL
FD - 8.79 DK - 6.66
This is obviously a risky play with the tough matchup and poor form of Hiura, but he's a sneaky bet for a homer. We say that because Bauer's one weakness has been the long ball, surrendering six dingers already this year. We love that Hiura is generating a .478 SLG and .225 ISO for his career, too, which is even higher in his home ballpark. We're obviously scared about the matchup, but this price limits any of that risk. On the contrary, you can hope for a solo dinger from Hiura and ride both of these guys, with all of the salary you save.
If you need a catcher, Yasmani Grandal is a solid pick if your keen on stacking the White Sox.
Second Base

Ryan McMahon FD - 2B 3500 DK - 2B/3B 5100
Opponent - ARI (Luke Weaver) Park - ARI
FD - 10.04 DK - 7.6
Many people outside of Colorado may not realize this, but McMahon is tied for the league lead in home runs. What's really allowed him to thrive this season is moving up in the order, accruing a .273 BA, .591 SLG, and .895 OPS through the first four weeks of the season. He also enters this matchup in the midst of a seven-game hitting streak and has provided at least 15 FanDuel points in three of his last four games. We already mentioned how Weaver had a bad season last year, and it's actually a good matchup for Mac with him batting from the left side.

Ozzie Albies FD - 2B 3100 DK - 2B 4900
Opponent - CHC (Adbert Alzolay) Park - ATL
FD - 10.39 DK - 7.95
Oz got off to a nightmare start to the season, but he's starting to feel it now. In fact, Albies has at least 19 FanDuel points in three straight games coming into this matchup, hitting three doubles and a homer in the last two games combined. That means this All-Star candidate is starting to find his stroke, which is scary when you see his .292 AVG and .495 SLG between 2019-20. Albies has traditionally been better against lefties, but he showed us last year that his splits might be turning. He finished 2020 with a .547 SLG and .876 OPS when hitting from the left side.
Shortstop

Tim Anderson FD - SS 4000 DK - SS 5100
Opponent - DET (Matthew Boyd) Park - CHW
FD - 11.97 DK - 9.31
If you're looking to stack the White Sox, Anderson would have to be a key part of that stack. One reason you might want to do that is the numbers for Boyd last year, finishing 2020 with a 6.71 ERA and 1.48 WHIP. Two of those starts came against this stacked lineup, with Chicago dropping 10 runs on Boyd in just nine innings of action. That's really no surprise when you see Anderson's BvP numbers, compiling a .690 SLG and 1.048 OPS in 42 career at-bats against Boyd. He's been rolling recently, too, hitting .385 over his last nine games played.
Trevor Story FD - SS 3900 DK - SS 5000
Opponent - ARI (Luke Weaver) Park - ARI
FD - 11.48 DK - 8.73
As a regretful Rockies fan, I can tell you that Story always rakes when he gets to face the Diamondbacks for whatever reason. TS has a .383 OBP, .628 SLG, and 1.011 OPS in 337 at-bats against Arizona for his career. He actually has nearly identical numbers when hitting in Chase Field, too, so you know it's not some fluky Coors Field statistics. The Rockies shortstop has been crushing recently as well, generating a .364 OBP and .984 OPS over his last eight games played. We already discussed how Weaver had some ugly numbers last year, and if you want to stack against him instead of using him at pitcher, Story is a must-use guy.
Third Base

Rafael Devers FD - 3B 3300 DK - 3B 5200
Opponent - TEX (Kyle Gibson) Park - TEX
FD - 12.6 DK - 9.54
It seems like Devers is in every Thursday article that I write, and he's yet to disappoint us. This raking southpaw has been crushing baseballs ever since he was called up, and he might be having the best season of his career. Through the first four weeks, Devers has a .362 OBP, .549 SLG, and .911 OPS. We really love his splits, providing a .315 BA, .602 SLG, and .971 OPS against right-handers since 2019. Those are truly absurd numbers, and it makes him worth it no matter the price. Kyle Gibson has been a pleasant surprise this season, but we don't trust a guy who has a 4.52 ERA and 1.42 WHIP in 200 career starts.

Eduardo Escobar FD - 3B 3600 DK - 2B/3B 4400
Opponent - COL (Antonio Senzatela) Park - ARI
FD - 10.2 DK - 7.77
Arizona has one of the worst lineups in baseball, but Escobar has been a nice surprise for them this year. He's actually leading the team across the board, accumulating a .523 SLG and .825 OPS. A lot of that damage has come recently, with Eduardo providing a 1.050 OPS over his last 17 games played. Getting to face a pitcher like Antonio Senzatela is simply the icing on the cake, though, with Senza owning a 5.04 ERA and 1.43 WHIP for his career.
Outfield

Marcell Ozuna FD - OF 2700 DK - OF 4900
Opponent - CHC (Adbert Alzolay) Park - ATL
FD - 12.58 DK - 9.45
Ozuna was in the running for NL MVP last season, and it's hard to believe he's fallen all the way to $2,700 on FanDuel. He's obviously gotten off to a dreadful start to the season, but he's showing flashes of getting out of it. Over his last 10 games, Ozuna has a .341 OBP, which doesn't even include his two-run dinger on Wednesday. We're talking about a slugger who provided a .636 SLG and 1.067 OPS last year, and it's just a matter of time before he gets close to those absurd averages. Adbert Azolay is not a worrisome matchup either, owning a 4.81 ERA in his three-year career.

Luis Robert FD - OF 3100 DK - OF 4700
Opponent - DET (Matthew Boyd) Park - CHW
FD - 11.74 DK - 8.96
Robert has actually missed the last two games because of the COVID vaccine, but there's some thought he'll return here. If that is the case, he'll be another piece to our Chicago stack. This young stud is one of the most touted prospects in baseball, and he's been showing why recently. Over his last 10 games played, Luis is hitting .395, providing a .992 OPS in that span. That's scary since he also has three steals in that span, making him one of the most dynamic players in the Majors. Not to mention, he gets to hit from the right side against Boyd and has absolutely destroyed lefties in his short career.

AJ Pollock FD - OF 2700 DK - OF 3100
Opponent - MIL (Eric Lauer) Park - MIL
FD - 9.73 DK - 7.35
It seems like Pollock is another guy who's in this article every Thursday, and, strangely, he's faced a lefty three Thursdays in a row. He actually rewarded us with a home run in this spot last week, and it's far from surprising when you see this dude's stellar splits. Since 2019, AJ has a .320 AVG, .586 SLG, and .949 OPS with the platoon advantage in his favor. That always puts him in the heart of this Dodgers order when they face a southpaw, and that'll certainly be the case again here. Eric Lauer is far from scary, too, providing a 4.75 ERA and 1.50 WHIP for his career. All of that makes this some of the most criminal pricing on this slate.
GRAB A FREE TRIAL OF OUR PROJECTION SYSTEM, AND CHECK OUT DFSR PRO!
FREE EBOOK
SECRETS TO CRUSHING DAILY FANTASY FOOTBALL!
DON'T SET ANOTHER LINEUP BEFORE YOU READ THIS BOOK.