Baseball Picks Daily Fantasy
Expert Advice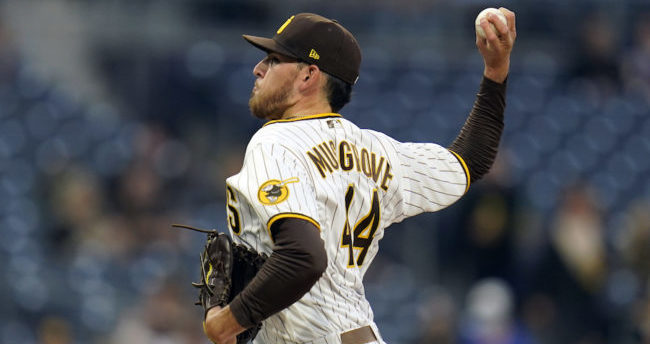 DraftKings and FanDuel MLB Picks for Saturday 5/8/21
Now's your chance to get DFSR PRO, which will give you access to our MLB, NBA, PGA, NHL, and NFL optimizers and our new player lab! Get started for free by clicking the button below.
Pitchers
Joe Musgrove FD - P 9400 DK - SP 9100
Opponent - SF (Kevin Gausman) Park - SF
FD - 41.13 DK - 22.36
Musgrove has been a total ace this season, throwing a no-hitter already and putting up some of the best numbers in the game. He's striking out opposing batters 36% of the time and has a nearly 9:1 K:BB ratio. He's a -135 road favorite against the Giants on Saturday. San Fran has been a patient team and rank in the top half of the league in terms of OPS, but that's set to dip over the course of the season based on their lineup. Musgrove is a pretty easy cash play for the afternoon slate.

Ian Anderson FD - P 7900 DK - SP 8900
Opponent - PHI (Vince Velasquez) Park - ATL
FD - 38.57 DK - 20.41
The Phillies have been in the bottom third of the league in terms of offense this season and are dealing with some injuries as well. They are striking out 28% of the time as a team and offer a good chance to roster arms against them. Anderson is striking out about 10 batters per nine this season and owns a 3.11 xFIP. He's a -175 home favorite in this matchup and is one of the better options on the evening slate of games.
I don't mind Lance Lynn (FD $10400 DK $9500) against the Royals.

Catcher/First Base

Anthony Rizzo FD - 1B 3600 DK - 1B 5000
Opponent - PIT (Wil Crowe) Park - CHC
FD - 10.66 DK - 7.98
Wil Crowe has been horrible through his first 20 or so major league innings and the Cubs are in a great spot on Saturday. Crowe has actually walked more batters than he's struck out and has an xFIP that's pushing 7.00. Rizzo meanwhile hasn't been displaying the power from earlier in his career, but he's still walking as much as he's striking out and he's tough to put down on strikes. This is just too good of a matchup to pass up for the Cubs.

Freddie Freeman FD - 1B 4000 DK - 1B 5300
Opponent - PHI (Vince Velasquez) Park - ATL
FD - 13.93 DK - 10.42
For the evening slate, it's going to be tough fading the Braves who have such a potent top of the order. They are facing Vincent Velasquez who's walking 15% of opposing batters this season and has a 4.64 xFIP. Meanwhile, Freeman has an OPS only in the mid-.700s but a lot of that is because the .188 BABIP is about 140 points lower than his career average. He's running very bad in this respect to start the season and we are getting him at a slight discount on both sites for the upside he offers.
Second Base

Adam Frazier FD - 2B 2800 DK - 2B 4100
Opponent - CHC (Trevor Williams) Park - CHC
FD - 9.12 DK - 7.06
Second base is typically a weaker position so I don't mind trying to get out of it a little on the cheaper side. Frazier should be in the leadoff slot for the Pirates against Trevor Williams and makes for a decent option. He's got an OPS in the mid-.700s and is tough to strike out with a K rate of only 10% on the season. There's not a lot of power in the bat but you make up for some of that with a higher plate appearance expectation because of where he hits in the lineup.

Nick Madrigal FD - 2B 2800 DK - 2B 2700
Opponent - KC (Daniel Lynch) Park - KC
FD - 10.99 DK - 8.69
The White Sox continue to shuffle around their batting order on a near-nightly basis so with this play we are hoping Madrigal finds his way back toward the top of things. He's one of the most unique hitters in the league, putting the ball in play nearly 91% of the time which is basically unheard of. He has a .761 OPS on the season thanks to all of the contact. Lynch doesn't profile as a high-K arm so this is a good spot for Madrigal's skill set. The ball is almost definitely getting put into play.
Shortstop

Paul DeJong FD - SS 3500 DK - SS 4100
Opponent - COL (Chi Chi Gonzalez) Park - STL
FD - 10.46 DK - 7.89
DeJong is having a very odd season in that he's among the league leaders in home runs with seven but the OPS is kind of garbage in the mid-.600s. That's because it's basically been long ball or bust for the guy so far. But there's some bad luck sprinkled in there with a BABIP that's almost 100 points lower than his career average. He has some definite upside in the bat and the Cardinals are still hitting him around the middle of the order. Gonzalez strikes out batters only 13% of the time and is sporting a 4.79 xFIP on the season. This is a great spot for DeJong.

Tim Anderson FD - SS 3800 DK - SS 5300
Opponent - KC (Daniel Lynch) Park - KC
FD - 13.64 DK - 10.6
As mentioned with Madrigal, the White Sox get a good matchup here against Lynch who doesn't have much in the way of K upside. Anderson is one of the better fantasy guys around at shortstop with a healthy combination of speed and power. He already has four homers on the season and has swiped six bags as well. The OPS isn't at quite the same levels we saw over the last two seasons because the hard contact rate is down some. That's a minor concern for now, but this matchup is still too good to pass up.
Third Base

Kris Bryant FD - 3B 4400 DK - OF 5700
Opponent - PIT (Wil Crowe) Park - CHC
FD - 9.91 DK - 7.42
Third base is going to be a position we can spend up on for sure. Like I said with Rizzo, this is a place we can probably stack the Cubs considering Crowe is one of the weaker arms going on the day. And man has Bryant ever been awesome to start the season. He's putting up MVP-level early numbers with a 1.068 OPS thanks to nine home runs in his first 124 plate appearances and a 12% walk rate. He's been great and that should be set to continue against such a weak arm. Bryant is getting up there in price but the case is strong to pay the premium on the upside.

Alex Bregman FD - 3B 3600 DK - 3B 4600
Opponent - TOR (Steven Matz) Park - HOU
FD - 14.13 DK - 10.52
Matt has been decent this season so far striking out more than a batter per inning and an xFIP about a run lower than 4.79 ERA. But Bregman has really worked lefty pitching over the course of his career. He has a 1.007 OPS and .418 wOBA in that split with a .277 ISO. He's elite at tagging southpaw pitching and that makes up a lot for the matchup such as it were. Though Bregman's numbers are down a bit to start this season I'm not all that concerned and it's only lowered his price some on both sites.
Outfield

Joc Pederson FD - OF 2700 DK - OF 3400
Opponent - PIT (Wil Crowe) Park - CHC
FD - 10.53 DK - 7.87
With Ian Happ on the shelf, Joc Pederson took over the leadoff duties for the Cubs on Friday. He's coming too cheap on both sites if this is going to be his steady slot in the order and we need to take advantage. He strikes out a lot at 32% but he also has a 13% walk rate this season. The numbers, overall, aren't good but if the Cubs are going to trust him setting the table then I think we can too in this matchup against Crowe.

Ronald Acuña Jr. FD - OF 4400 DK - OF 5600
Opponent - PHI (Vince Velasquez) Park - ATL
FD - 15.31 DK - 11.48

Marcell Ozuna FD - OF 3500 DK - OF 4900
Opponent - PHI (Vince Velasquez) Park - ATL
FD - 13.19 DK - 9.91
Vince Velasquez could be in for a world of hurting in the evening game against the Braves. He'll have to run through a buzz saw at the top of the order and just getting through Acuna alone is tough sledding. He's got an OPS sitting over 1.100 on the season and already has 10 home runs in fewer than 129 plate appearances. He's also walking more than he's striking out. Simply put, he's one of the best hitters in the game right now and it's just that easy.
Meanwhile, Ozuna doesn't offer quite the same upside, but he doesn't cost as much either. He should be in the cleanup slot for the Braves though it should be said that he's struggled this season. The OPS is in the low .600s though some of that is bad luck with a low BABIP. He's also way under his Hr/FB ratio averages though the hard contact rate is also down. This play is much riskier than Acuna.
GRAB A FREE TRIAL OF OUR PROJECTION SYSTEM, AND CHECK OUT DFSR PRO!
FREE EBOOK
SECRETS TO CRUSHING DAILY FANTASY FOOTBALL!
DON'T SET ANOTHER LINEUP BEFORE YOU READ THIS BOOK.