Baseball Picks Daily Fantasy
Expert Advice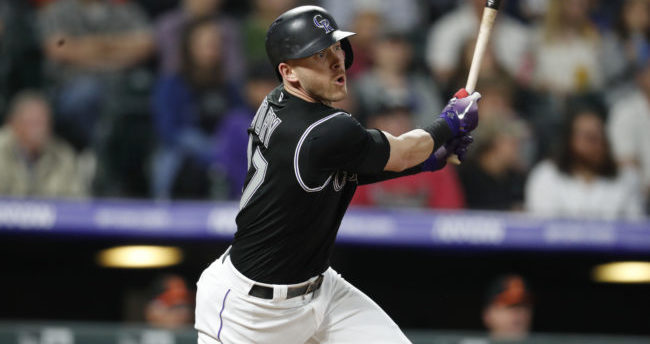 DraftKings and FanDuel MLB Picks for Thursday, 5/13/21
Like most Thursdays, we have games spread throughout the day. We actually have a day slate that features five games, while the nightcap has six games on the docket. That means we're going to focus on the night slate beginning at 7ET, with many West Coast teams taking the field. That happens to be my specialty, though, so let's go ahead and get into it!
Now's your chance to get DFSR PRO, which will give you access to our MLB and NBA optimizers and our new player lab! Get started for free by clicking the button below.
Pitchers
Cristian Javier FD - P 9200 DK - SP 10000
Opponent - TEX (Mike Foltynewicz) Park - HOU
FD - 32.8 DK - 16.83
Javier doesn't pop up too high in our projection system, but he's still the best raw play on the board. We say that because he's been the best pitcher of this player pool and has one of the best matchups. Let's kick things off by talking about his opposition. The Rangers currently rank 20th in xwOBA and 23rd in K rate, posting some of the worst offensive numbers in MLB. That puts any pitcher in play against them, especially a guy like Javier. The right-hander has a 2.90 ERA and 1.00 WHIP for the season, striking out 38 batters across 31 innings of action. All of that has Javier and the Astros entering this matchup as a -200 favorite if you need any more incentive.
Zach Plesac FD - P 8400 DK - RP 8300
Opponent - SEA (Logan Gilbert) Park - SEA
FD - 40.74 DK - 21.69
Plesac had a terrible two-start stretch against the White Sox earlier in the season but has been practically unhittable aside from that. In fact, he's got a 1.31 ERA and 0.79 WHIP across his other six starts. That's the stud we saw throughout most of last season, and it makes this price tag pretty intriguing. That sort of form is even more enticing when you look at this matchup, though, with Seattle having one of the most pitcher-friendly ballparks in baseball. It's not like their lineup is any good either, ranked 26th in K rate, 28th in OPS, and dead-last in BA and OBP. That makes Plesac a near guarantee for a quality start, and that's all you can ask for from an $8K pitcher.

Catcher/First Base

Luke Voit FD - 1B 3000 DK - 1B 4800
Opponent - TB (Rich Hill) Park - TB
FD - 11.57 DK - 8.65
This $3K price tag on FanDuel is laughable. Voit played at an MVP level for most of last season, and a return from injury has kept his price tag way too low. Since joining the Yankees in 2018, Voit has a .371 OBP, .539 SLG, and .910 OPS. Those are obviously some of the best numbers you'll see, and it's got him in the heart of one of the best orders in baseball. His splits are pretty even in that span, but we clearly don't mind that he has the platoon advantage in his favor as well. Rich Hill has not been scary either, pitching to a 5.17 ERA so far this season.

Matt Olson FD - 1B 3000 DK - 1B 4200
Opponent - BOS (Garrett Richards) Park - BOS
FD - 12.24 DK - 9.07
Olson has also been one of the best power hitters in baseball over the last three seasons, and it makes this one of the most mind-boggling prices out there. We're talking about a guy who has a .501 SLG, .354 wOBA, and .254 ISO for his career. There are only a handful of hitters with better numbers in that five-year span, making him a great option in a hitter's haven like Fenway Park. We adore the matchup, too, with Olson owning a .361 OBP, .531 SLG, and .892 OPS against right-handers since 2018. Garrett Richards is certainly a guy Olson can obliterate, and we'll discuss that more in the next section.
Gary Sanchez has been finding his homer stroke if you need to use a catcher.
Second Base

Jed Lowrie FD - 2B 2900 DK - 2B 4900
Opponent - BOS (Garrett Richards) Park - BOS
FD - 10.49 DK - 8
We foreshadowed why we want to use these Oakland bats, so let's go ahead and talk about Garrett Richards. The right-hander has gotten off to a decent start this season, but that's a mirage. Since 2018, Richards has a 4.61 ERA and 1.38 WHIP. That means he's in for some rough times in Fenway Park, and this is the sort of lineup that can destroy him. While Lowrie isn't necessarily an elite hitter, we love that he's been batting third for this team. Lowrie is also in the best stretch of his season right now, hitting .400 over his last eight games while accruing a .973 OPS.

Jonathan India FD - 2B 2800 DK - 2B 3500
Opponent - COL (Chi Chi González) Park - COL
FD - 10.13 DK - 7.72
It's tough to find good values in Coors Field, but it seems like the unknown youngsters are always the best value plays. Getting any hitter this talented around $3K is hard to overlook in Coors, simply because using hitters in that ballpark is a cheat code for DFS. India has proven to be a beast at the Minor League level too. In nearly 700 plate appearances at the Minors, India has a brilliant .369 OBP. That's a godsend at a BABIP ballpark like this, and Chi Chi Gonzalez is about as bad as you'd expect from a name like that. In fact, he's got a 5.97 ERA and 1.57 WHIP this year which is right on par with his ugly career averages.
Shortstop
Trevor Story FD - SS 3600 DK - SS 5300
Opponent - CIN (Wade Miley) Park - COL
FD - 14.35 DK - 10.9
If you've been reading these articles for a few years, you should have known this was coming. Story will always be in this section whenever he faces a lefty at home. Since 2018, Story has a SLG north of .500 and an OPS above 1.000 when he's at home or when he faces a lefty. The numbers are even more absurd when he does both, flirting with a 1.200 OPS in those occurrences. Wade Miley has actually been amazing this season, but he was stretched out for a no-hitter in his most recent outing. That means the Coors Field regression but is likely to hit him hard, with Wade providing a 5.65 ERA and 1.67 WHIP last season.

Xander Bogaerts FD - SS 3500 DK - SS 5500
Opponent - OAK (Sean Manaea) Park - BOS
FD - 13.02 DK - 9.86
It really feels like Bogey is in this section every Thursday. The simple fact is, he's one of the most reliable options out there and always seems to have a good matchup. Let's start by talking about Bogaerts, providing a .341 AVG, .578 SLG, and .973 OPS this season. That might look like an outlier, but his lowest OPS since 2017 is .866. That shows why he's one of the most consistent hitters in baseball, and we love that he faces a southpaw here. Bogey has a .557 SLG and .935 OPS in that same span, with the platoon advantage in his favor. Sean Manaea has been amazing this year, but he could struggle to get through all of the talented righty bats the Bo Sox possess.
Third Base

José Ramírez FD - 3B 4000 DK - 3B 5300
Opponent - SEA (Logan Gilbert) Park - SEA
FD - 12.97 DK - 9.75
Anytime a guy is taking the mound that you've never heard of, it's usually a good idea to stack the best hitters in baseball against them. Gilbert is certainly one of those guys, making his MLB debut here. His Minor League numbers are impressive, but his first appearance was in 2018, and he's never pitched above Double-A. That's scary against an elite hitter like J-Ram, with the switch-hitter posting a .392 OBP, .674 SLG, and 1.067 OPS over his last 12 games played. That doesn't even take into consideration his elite ability to swipe a bag, making him one of the best options on the board.

Eugenio Suárez FD - 3B 3700 DK - 3B/SS 4900
Opponent - COL (Chi Chi González) Park - COL
FD - 13.63 DK - 10.14
There's no doubt that Eugenio has been horrendous this season, but we just love him in Coors Field. Everyone usually goes off when they hit in Denver, and that's certainly the case for Suarez. In 16 games at Coors Field, Eugenio has a .394 OBP, .623 SLG, and 1.017 OPS. That's really no surprise when you see his power numbers over the decade, hitting 130 homers since 2017 en route to a .503 SLG and an ISO just shy of .250. Getting to face Chi Chi in Coors is the best part of this, though, with Gonzalez posting a 6.33 ERA and 1.59 WHIP since the start of last year.
Outfield

Giancarlo Stanton FD - OF 3600 DK - OF 5400
Opponent - TB (Rich Hill) Park - TB
FD - 13.46 DK - 9.96
It's hard to fade Stanton the way he's crushing baseballs right now. He's leading the Majors in pretty much every advanced statistic, hitting the ball harder than any player in the history of the game. It really shows in his recent form, compiling a .349 AVG, .419 OBP, .699 SLG, and 1.118 OPS since sitting on April 18. That's the MVP we saw from his Miami days, and it's clear he's locked in at the plate right now. That looks even better here against a lefty, with Giancarlo slaughtering southpaws throughout his career, to the tune of a 1.012 OPS.
Corey Dickerson FD - OF 2500 DK - OF 4100
Opponent - ARI (Merrill Kelly) Park - ARI
FD - 9.79 DK - 7.55
Dickerson is never priced where he should be. He's been killing right-handed pitchers throughout his career, and it makes no sense why he's always priced like a bench warmer. Since 2018, Dickerson is hitting .305 against righties, en route to a .499 SLG and .860 OPS. Those are some great splits, and it's actually right on par with his career averages against righty arms. Getting to face a guy like Merrill Kelly here should add to those impressive numbers, with the D'Backs right-hander pitching to a 5.40 ERA and 1.46 WHIP.
Hunter Renfroe FD - OF 2600 DK - OF 2900
Opponent - OAK (Sean Manaea) Park - BOS
FD - 10.96 DK - 8.19
Here's the final piece to our Boston stack. While Renfroe is far from an impressive hitter, he's made minced meat of southpaws throughout his career. Since 2019, Hunter's got a .538 SLG and .863 OPS with the platoon advantage in his favor. That's hard to find from such a cheap player, and the only thing that's kept his numbers low is his ugly strikeout totals. That really shouldn't be an issue here against a guy like Manaea, with the lefty owning one of the worst K rates in baseball since his call-up.
GRAB A FREE TRIAL OF OUR PROJECTION SYSTEM, AND CHECK OUT DFSR PRO!
FREE EBOOK
SECRETS TO CRUSHING DAILY FANTASY FOOTBALL!
DON'T SET ANOTHER LINEUP BEFORE YOU READ THIS BOOK.