Baseball Picks Daily Fantasy
Expert Advice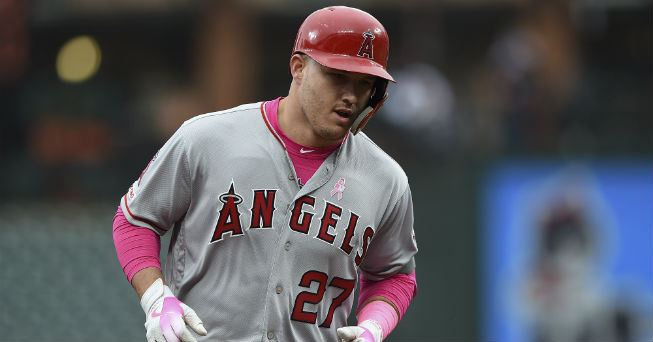 DraftKings and FanDuel MLB Picks for Monday 5/17/21
Now's your chance to get DFSR PRO, which will give you access to our MLB, NBA, PGA, NHL, and NFL optimizers and our new player lab! Get started for free by clicking the button below.
Pitchers

Gerrit Cole FD - P 12300 DK - SP 10900
Opponent - TEX (Jordan Lyles) Park - TEX
FD - 50.36 DK - 28.62
It's really hard to overstate how dominant Cole has been so far this season. He's been .4 WAR better than the second-place Jacob deGrom, who is .5 WAR better than the third-place John Means. That's bananas! With a K/9 north of 13 and a BB/9 below 1, Cole is doing legitimately everything you could possibly ask for. Texas, meanwhile, pairs a league average wOBA with a top 9 K%. That's plenty of match-up for a guy like Cole, and he should see huge cash game ownership here.

Max Fried FD - P 7200 DK - SP 7300
Opponent - NYM (Taijuan Walker) Park - ATL
FD - 33.77 DK - 17.66
I kind of feel like Max Fried is a little bit slept on right now. Yes, the ERA this season is ugly, but this is a 27 year old pitcher with a career 3.59 xFIP. His fastball velocity is as good as ever, and he just had a quality start against a potent Blue Jays offense. Today he gets the Mets, a team that doesn't strike out very much, but also owns the tenth worst wOBA in the league. At these bargain basement prices, I'm buying Max Fried.
Also considered: Walker Buehler.

Catcher/First Base

José Abreu FD - 1B 3800 DK - 1B 5400
Opponent - MIN (J.A. Happ) Park - MIN
FD - 11.29 DK - 8.54
Andrew Vaughn FD - 1B 2300 DK - OF 2400
Opponent - MIN (J.A. Happ) Park - MIN
FD - 8.65 DK - 6.57
We've got two solid White Sox options out of the first base position today, though both are obviously different plays. Abreu is a classic pay-up option - a career lefty killer who has had some bad BABIP luck this season. Vaughn is more of a down-lineup punt, though one with real merit. Fangraphs has him as the league's 13th best prospect, and he's off to a fine stat for his rookie year. Happ, meanwhile, is hot trash at this point his career. His 5.52 ERA will likely be good for worst in the Majors if it holds up, and his 5.4 K/9 isn't fooling anyone.

Freddie Freeman FD - 1B 3900 DK - 1B 5600
Opponent - NYM (Taijuan Walker) Park - ATL
FD - 12.21 DK - 9.13
This is an awkward spot. The price is too high on DraftKings, but FanDuel is likely over-correcting on the match-up here. Walker was a big prospect and has been very solid so far this year, but Freeman is truly elite against right handed pitchers of any stripe. Another victim of ridiculous early season BABIP woes, Freeman would likely be making an All-Star case with even average luck. I think you can take some risk at this FanDuel price and play him in cash games.
Second Base

DJ LeMahieu FD - 2B 3000 DK - 2B/3B 5300
Opponent - TEX (Jordan Lyles) Park - TEX
FD - 12.29 DK - 9.5
Our system is enamored with the Yankees against Lyles today, and it's easy to see why. The Yanks have the highest implied total on the slate against Lyles, who has an xFIP in the mid 5s over the last two abbreviated seasons. We're getting a discount on LeMahieu since the power hasn't clicked yet this season, but at this FanDuel price it's extremely hard to picture him as anything less than the highest owned second-baseman on the slate.

Cesar Hernández FD - 2B 2300 DK - 2B 4100
Opponent - LAA (Patrick Sandoval) Park - LAA
FD - 9.24 DK - 7.13
Hernandez is still batting atop the Cleveland lineup in spite of his uninspiring triple-slash line to start the season, and the reasoning is very similar to a lot of guys on this list: bad BABIP. In fact, if you correct for BABIP Hernandez is having a season almost identical to his last two, well, identical seasons. He doesn't hit for power, and he doesn't steal bases, but he gets a lot of cuts atop a good lineup against a pitcher in Sandoval who has a career 5.4 ERA. Indians stacks are looking very juicy today.
Shortstop

Francisco Lindor FD - SS 3000 DK - SS 4400
Opponent - ATL (Max Fried) Park - ATL
FD - 11.15 DK - 8.47
Are you sick of hearing about bad luck to start the season? Well, too bad. Lindor is .080 BABIP points below his career levels, and while the power might never return to his MVP levels, this is a lot of bat to hide at a $3k price tag at this position. Fried is a solid pitcher, but the switch-hitting Lindor will be hitting from his preferred side of the plate, and is absolutely a cash game option today.

Amed Rosario FD - SS 2100 DK - OF/SS 3300
Opponent - LAA (Patrick Sandoval) Park - LAA
FD - 8.73 DK - 6.84
It's rare that we get these prices on a reasonable hitter that bats second for his team, but here we are. At first blush Rosario doesn't look like a reasonable hitter, but digging into the underlying data suggests otherwise. His .232 BABIP is .085 points below his established levels, and at his age you have to think he's not cooked just yet. When things return to normal his prices will rise by 20% almost instantly.
Also considered: Tim Anderson.
Third Base

Josh Donaldson FD - 3B 3000 DK - 3B 5400
Opponent - CHW (Dallas Keuchel) Park - MIN
FD - 11.9 DK - 8.81
Am I alone in finding Dallas Keuchel starts absolutely hilarious at this point? His 3.71 K/9 is like nothing I've ever seen in my entire life, and while a great ground-ball rate keeps him from being a complete disaster, he's at least a mini-disaster. Donaldson is raking lefties for a .969 OPS so far this season, and should bat second in a great match-up here.

Yoán Moncada FD - 3B 3500 DK - 3B 4700
Opponent - MIN (J.A. Happ) Park - MIN
FD - 9.55 DK - 7.23
We've made the case against Happ already, so let's just talk about Moncada. A former #1 overall prospect, Moncada has been fairly erratic over the last few years. He rode a ridiculous .404 BABIP to 5.6 WAR in 2019, and came crashing down to Earth last season. He's deomnstrating a great approach again this season, and while the power hasn't been there, this match-up with Happ is particularly strong for him. Moncada is a huge strikeout risk, and going against a pitcher without strikeout stuff mitigates his biggest weakness.
Also considered: Jose Ramirez.
Outfield

Giancarlo Stanton FD - OF 3500 DK - OF 5700
Opponent - TEX (Jordan Lyles) Park - TEX
FD - 14.37 DK - 10.63

Aaron Judge FD - OF 3600 DK - OF 5600
Opponent - TEX (Jordan Lyles) Park - TEX
FD - 14.15 DK - 10.46
Clint Frazier FD - OF 2100 DK - OF 3100
Opponent - TEX (Jordan Lyles) Park - TEX
FD - 11.03 DK - 8.3
This is our projected starting outfield for the Yankees, and our system wants to play every single one of them. Given the match-up, this is probably pretty unsurprising. Getting bats like these against a pitcher like this in a great hitter's park is a recipe for some hard hit balls, that's for sure. If you're gunshy on Frazier, I wouldn't be. He's got real talent pedigree, and he really only looks bad under the lens of small sample size.

Mike Trout FD - OF 4300 DK - OF 6100
Opponent - CLE (Sam Hentges) Park - LAA
FD - 14.93 DK - 11.02
This is a mismatch concocted in a laboratory. Trout is somehow having his best season ever, and he's going up against a guy that FanGraphs ranks as the 13th best prospect... in the Cleveland farm system. Which is to say: he's a nobody. The DK price might be prohibitive, but the FD price is an insult, and Trout will be hugely popular here.

Kyle Schwarber FD - OF 2800 DK - OF 3700
Opponent - CHC (Adbert Alzolay) Park - CHC
FD - 9.47 DK - 7.01
A member of the platoon All-Stars, Schwarber is always in play when he's up against a right handed pitcher at these prices. His career .850 OPS against righties is more than enough for prices like these, especially when you consider that a lot of that comes from his power stroke. Alzolay has been a nice surprise for the Cubs this season, but I'm still happy to take a risk on Schwarber's upside.
Also considered: Mookie Betts.
GRAB A FREE TRIAL OF OUR PROJECTION SYSTEM, AND CHECK OUT DFSR PRO!
image sources
AP_19132837167109 Trout: AP Images
FREE EBOOK
SECRETS TO CRUSHING DAILY FANTASY FOOTBALL!
DON'T SET ANOTHER LINEUP BEFORE YOU READ THIS BOOK.