Baseball Picks Daily Fantasy
Expert Advice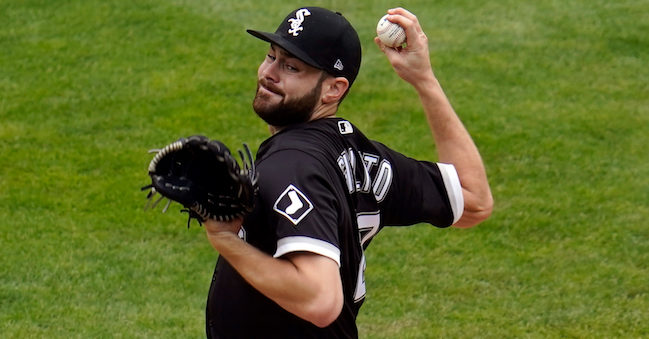 DraftKings and FanDuel MLB Picks for Sunday 5/30/21
Now's your chance to get DFSR PRO, which will give you access to our MLB, NBA, PGA, NHL, and NFL optimizers and our new player lab! Get started for free by clicking the button below.
Pitchers

Lucas Giolito FD - P 10000 DK - SP 9600
Opponent - BAL (Keegan Akin) Park - CHW
FD - 42.99 DK - 23.45
Giolito enters as the biggest money line favorite on the main slate at -235 against the Orioles. He has big strikeout upside in this matchup against a bottom-third offense in baseball right now. Giolito struggled with one bad start this season when he allowed 8 runs in one inning against the Red Sox. Back that single game out and his numbers are pretty elite this season. He'd have a 2.78 ERA and is still striking out almost 11 batters per nine.

Max Scherzer FD - P 12000 DK - SP 10800
Opponent - MIL (Brandon Woodruff) Park - WSH
FD - 39.39 DK - 22.09
Scherzer just keeps going out there and dominating year after year. And this season is no different. In line with previous seasons, he's striking out more than 12 batters per nine, but this year has even more control than last and is walking fewer than two batters per nine. His 3.06 xFIP is about three-quarters a run higher than the 2.27 ERA, but this is still a guy with some of the best stuff in the majors. He'll face a Brewers team that is getting Yelich back, but has still been very weak this season, ranking third-to-last in team wOBA. Yelich will help, but this lineup is still mostly bad.
Eduardo Rodriguez FD - P 7500 DK - SP 8500
Opponent - MIA (Sandy Alcantara) Park - BOS
FD - 34.35 DK - 18.01
Eduardo Rodriguez is having the best season of his career, finally putting together his stuff with the ability to locate his pitchers more consistently as well. And sure, you are going to look at the 5.06 ERA and think "best season?!?" and I would say "yes!". He's struggled with a .368 BABIP and a 70% LOB%, both of which are the worst of his career. The 5:1 K:BB rate is the best control he's ever had and this Miami team is ranked 25th in team offense this season. I love spotting E-Rod here in a good matchup with a little run bad at his heels.

Catcher/First Base

Carlos Santana FD - 1B 3300 DK - 1B 4100
Opponent - MIN (Matt Shoemaker) Park - MIN
FD - 10.71 DK - 7.97
He's the first Royals guy we have on the list, but he won't be the last. Santana remains among the most patient hitters in the league, walking (17%) more than he's striking out (16%) which is even more impressive in this day and age of K-heavy baseball. He's got the OPS in the low .800s and already has 10 home runs on the season. I love him in this matchup against Shoemaker who, how do I put this delicately, stinks.

C.J. Cron FD - 1B 2600 DK - 1B 4800
Opponent - PIT (Undecided) Park - PIT
FD - 10.34 DK - 7.79
The Pirates haven't settled on their starter for this game yet which is almost always a great sign for the opposing team. It's for sure Coors-fueled, but Cron has been good this season with a .840 OPS so far. He's walking 11% of the time and has a .370 wOBA. He isn't a huge masher, but this is going to be a good spot. He's coming cheap on FanDuel for starters and that's where you are going to want to target him.
Second Base

Whit Merrifield FD - 2B 3000 DK - 2B/OF 5200
Opponent - MIN (Matt Shoemaker) Park - MIN
FD - 10.91 DK - 8.5

Adalberto Mondesi FD - 2B 3000 DK - SS 3600
Opponent - MIN (Matt Shoemaker) Park - MIN
FD - 11.01 DK - 8.54
Both of these guys are 2B eligible on FanDuel though Mondesi is a SS on DraftKings. They get a great matchup against Matt Shoemaker on Sunday. The latter has been terrible this season, striking out batters at only a 14% rate this season and rocking a 5.29 xFIP through about 46 innings. It's been awful and he might be not long for the majors. But while he's here, we can stack some Royals' bats. Merrifield should be in the leadoff slot and though the OPS isn't great, he already has a whopping 14 stolen bases on the season. He makes contact around 80% of the time and that should go up against Shoemaker.
Mondesi is just getting off the DL and has been back for a few games now. He's come out of the gate hit hitting in the middle of the lineup and is set to also tear up the base paths. He's stolen 113 bases in his first 1K plate appearances, one of the higher numbers you'll see around the league. Stacking both of these guys in this matchup makes a lot of sense.
Shortstop

Tim Anderson FD - SS 3700 DK - SS 5500
Opponent - BAL (Keegan Akin) Park - CHW
FD - 13.81 DK - 10.74
The Orioles are getting a spot start from the lefty Akin who does have some stuff though he likely won't be in the game all that long. For when he is in there, he could have trouble with the top of this lineup, especially against Anderson who's been considerably better against southpaws for his career. He has a 129 wRC+ and .853 career OPS in that split with a .360 wOBA. The Ks get cut dramatically and he's a top-tier fantasy option here.
I think Anderson is the clear favorite for cash games here on the main slate. If you can stomach a top of the order Willy Adames (FD $2100 DK $4000) at the minimum on FanDuel against Scherzer then I think that's a risk but it doesn't cost much.
Third Base

Josh Donaldson FD - 3B 2900 DK - 3B 3800
Opponent - KC (Brad Keller) Park - MIN
FD - 12.8 DK - 9.47
We don't usually love taking him in righty-righty matchups but I think we can make the exception with this one. He's not having a great season OPS-wise with that number sitting in the low .700s. But he's greatly reduced the strikeout rate and as a BABIP sitting about 60 points lower than his career average. The hard contact rate isn't terrible though and he's still walking at about 14%. This is too good a matchup against Keller to pass up and Donaldson should be hitting number two.

Rafael Devers FD - 3B 3500 DK - 3B 4300
Opponent - MIA (Sandy Alcantara) Park - BOS
FD - 11.11 DK - 8.42
He's more expensive and less of a value, but you can spend up for Devers in this spot. He's having an amazing year, returning to the 2019 form and sitting with an OPS well into the mid-.900s. He already has 14 home runs on the season and has actually stolen three bases as well. The strikeout rate remains high, but you are much less concerned with that in a matchup against Alcantara who strikes out less than a batter an inning.
Outfield

Max Kepler FD - OF 3500 DK - OF 4200
Opponent - KC (Brad Keller) Park - MIN
FD - 12.6 DK - 9.45
Alex Kirilloff FD - OF 3500 DK - 1B/OF 4000
Opponent - KC (Brad Keller) Park - MIN
FD - 11.28 DK - 8.74
The Twins will switch their lineup around, but against the righty Keller, I think we see Kepler in the leadoff spot once again. He was there on Saturday as well and it's a typical landing spot when righties are on the mound. He has five home runs and five steals on the season so far with a mid-700s OPS. He's tough to strike out which means the ball will be in play a lot here against Keller who has almost no K stuff to speak of.
Meanwhile, Kiriloff has found himself fairly consistently in the three spot for the Twins when they are facing righties and he projects to be much better than the low.700s OPS would suggest. The .245 BABIP should come up and he does already have four home runs in his first 74 plate appearances in the majors. The prospect raked the minors for the most part and the Twins have faith hitting him in the middle of the order.

Tommy Pham FD - OF 2800 DK - OF 3400
Opponent - HOU (Zack Greinke) Park - HOU
FD - 11.29 DK - 8.55
Pham has been hitting leadoff again for the Padres lately and should be able to stick in that spot on Sunday even against the righty Greinke. The latter doesn't have anything close to the same stuff anymore and is only striking out batters seven times per nine innings. Pham is walking an elite 17% of the time with the power being nonexistent so far. But the hard contact rate is mostly fine and I think there should be regression on the Hr/FB% and the BABIP as well.
GRAB A FREE TRIAL OF OUR PROJECTION SYSTEM, AND CHECK OUT DFSR PRO!
FREE EBOOK
SECRETS TO CRUSHING DAILY FANTASY FOOTBALL!
DON'T SET ANOTHER LINEUP BEFORE YOU READ THIS BOOK.