Baseball Picks Daily Fantasy
Expert Advice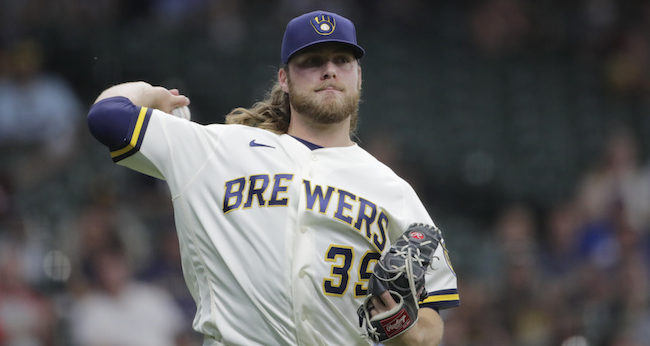 DraftKings and FanDuel MLB Picks for Sunday 6/6/21
Now's your chance to get DFSR PRO, which will give you access to our MLB, NBA, PGA, NHL, and NFL optimizers and our new player lab! Get started for free by clicking the button below.
Pitchers

Corbin Burnes FD - P 11000 DK - RP 11000
Opponent - ARI (Caleb Smith) Park - MIL
FD - 43.43 DK - 23.85
Burnes has some of the best peripherals you'll ever see for a starting pitcher and has been absolutely dominant when on the mound this season. In his 52 innings, he's struck out a whopping 41% of the batters he's face and walked only 3.5%. This is just ridiculous and has him at a 11.6:1 K:BB ratio. He's rocking a minuscule 1.83 xFIP which is about as low as you'll ever see. On Sunday, he opens as a -233 home favorite against the Arizona Diamondbacks who rank as a below-average offense on the season. Burnes is a very tough fade here considering the peripherals and win expectation, making him the best play on the slate.
Dylan Cease FD - P 7600 DK - SP 9400
Opponent - DET (Jose Urena) Park - CHW
FD - 37.49 DK - 19.79
Cease isn't as good as Burnes but has put together a solid season so far especially in the strikeout department. He has an 11.2 K/9 rate which is a dramatic improvement over his first few seasons in the majors. He's throwing his fastball a bit more this year than last and the results have been good. His one issue is the walk rate making the ability to go longer in games a problem. But he's a -210 home favorite against the Tigers who rank 26th as a team in offense this year.

Catcher/First Base

Rhys Hoskins FD - 1B 3500 DK - 1B 4800
Opponent - WSH (Undecided) Park - PHI
FD - 14.18 DK - 10.42
The Nationals haven't decided who is going to pitch for them on Sunday and that's usually a good sign for opposing hitters. Hoskins isn't as patient this season with an 8% walk rate that's about half of what he's done in the past. But the power is there with 12 home runs through his first 232 plate appearances and a solid .850 OPS. He should be no lower than the cleanup spot for the Phillies depending on who they end up facing here.

Carlos Santana FD - 1B 3000 DK - 1B 4100
Opponent - MIN (Undecided) Park - KC
FD - 12.15 DK - 9.04
Like Hoskins and the Phillies, The Royals face an undecided pitcher on the Twins for Sunday. Santana is one of the most patient around, walking (18%) more than he strikes out (15%). The mid-.800s OPS is built on the walk rate, but he also has 10 home runs on the season, two more than he had last season in fewer plate appearances. I love the FanDuel price especially.
Second Base

Whit Merrifield FD - 2B 3400 DK - 2B/OF 5300
Opponent - MIN (Undecided) Park - KC
FD - 12.38 DK - 9.64
What I said for Santana applies to Merrifield as well. The Twins haven't announced a starter and that should prove to be an advantageous situation for Kansas City. Merrifield has one of the best contact rates in the game, putting the ball in play almost 83% of the time this season. The OPS doesn't bear it out, but he's more a fantasy commodity than an actual great hitter. That's because when he gets on base, it's off the races with 17 stolen bases already.
Freddy Galvis FD - 2B 2500 DK - SS 3700
Opponent - CLE (Cal Quantrill) Park - BAL
FD - 9.77 DK - 7.51
The Orioles aren't our typical spot to go for when it comes to cash games, but they get one of the better matchups on Sunday. Galvis hit cleanup on Saturday, and if he's there again then he makes an excellent value play on both sites. He's had a solid season with a .776 OPS so far thanks to a solid contact rate and nine early-season home runs. The power has come and gone over the years, but he's started off this season showing enough flashes of it. If he's in the middle of the order then we are all over this play.
Shortstop

Bo Bichette FD - SS 3900 DK - SS 4800
Opponent - HOU (Luis Garcia) Park - TOR
FD - 13.63 DK - 10.46
I don't like the matchup against Luis Garcia who is striking out more than 10 batters per nine. But the latter isn't as good as the sub-3 ERA would suggest. The xFIP is over 4.00 and he's living off a low BABIP. Bichette meanwhile is a fantasy superstar with 11 home runs and seven stolen bases already on the season. He's not crazy expensive for the upside he provides either.
Willy Adames FD - SS 2500 DK - SS 4000
Opponent - ARI (Caleb Smith) Park - MIL
FD - 10.45 DK - 7.97
Caleb Smith has a decent K rate, but continues to struggle with control, walking more than four batters per nine. The high-4's xFIP points to a below-average pitcher. Adames has been worse against lefties for his career, but some of that is because the BABIP is about 100 points lower in that split than against righties. There's a lot of run bad in there. It stands to reason this is at least a platoon-neutral situation. He's been hitting around the middle of the order for the Brewers.
Third Base

Alex Bregman FD - 3B 3200 DK - 3B 5500
Opponent - TOR (Steven Matz) Park - TOR
FD - 13.9 DK - 10.35
Bregman has the OPS up over .800 now and the price remains low on FanDuel. It's a different story on DraftKings. Matz is an above-average pitcher, but this is really the platoon we want to target for Bregman. Over his career, the third baseman has tuned up lefties to a 1.002 OPS, .416 wOBA, and 169 wRC+. Those numbers are about as good as you'll ever see in that sample size and makes him a consideration nearly every time there's a southpaw on the mound.

José Ramírez FD - 3B 4200 DK - 3B 5000
Opponent - BAL (Jorge Lopez) Park - BAL
FD - 14.12 DK - 10.62
Third base is a position we can probably spend up on for Sunday. Ramirez is in a good spot against Jorge Lopez who is simply an average pitcher. The 4.02 xFIP is better than the 5.29 ERA but he's still just *meh* to say the least. Meanwhile, Ramirez remains an elite hitter with a low .900s OPS this season and he's putting the ball in play better than 85% of the time. He already has 13 home runs this season and has stolen six bases as well. He's a better deal than Bregman on DraftKings.
Outfield

Bryce Harper FD - OF 3500 DK - OF 4800
Opponent - WSH (Undecided) Park - PHI
FD - 15.24 DK - 11.24
As with Hoskins, Harper gets to face a now-unknown pitcher for the Nationals. Harper hasn't been as good as he was last season with the strikeouts spiking a bit and the walks down to around 15%. But he still has a .380 wOBA which would represent the second-best number for him over the last four seasons. He remains a high-upside bat who should be no lower than third in the order. The price is more than reasonable on both sites and as long as he isn't facing a lefty on Sunday this is a great way to go.
Cedric Mullins FD - OF 3100 DK - OF 4000
Opponent - CLE (Cal Quantrill) Park - BAL
FD - 11.14 DK - 8.64
Anthony Santander FD - OF 2700 DK - OF 3300
Opponent - CLE (Cal Quantrill) Park - BAL
FD - 12.14 DK - 9.25
Cal Quantrill is striking out only 7.4 batters per nine this season and you shouldn't be fooled by the low-2's ERA. The 3.98 xFIP is almost two runs higher. This will only be an opener-type starter, but they will be into the bullpen shortly. Mullins is a solid hitter, striking out less than 20% of the time this season, and has a mid-.800s OPS on the season. He's got some pop with six home runs, but hat also already stolen nine bases as well. He's not crazy cheap, but hitting in the leadoff spot gives him a nice floor.
Meanwhile, Santander should be hitting in the two spot for the Orioles. He doesn't have the same fantasy profile as Mullins, considering there isn't much power or speed. But here he's hitting in one of the more advantageous matchups on the slate and is coming cheap on both sites.
GRAB A FREE TRIAL OF OUR PROJECTION SYSTEM, AND CHECK OUT DFSR PRO!
FREE EBOOK
SECRETS TO CRUSHING DAILY FANTASY FOOTBALL!
DON'T SET ANOTHER LINEUP BEFORE YOU READ THIS BOOK.