Baseball Picks Daily Fantasy
Expert Advice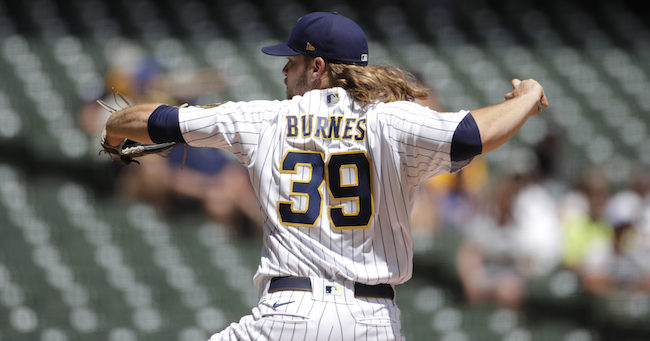 DraftKings and FanDuel MLB Picks for Saturday 6/12/21
Now's your chance to get DFSR PRO, which will give you access to our MLB, NBA, PGA, NHL, and NFL optimizers and our new player lab! Get started for free by clicking the button below.
Pitchers
Afternoon

Corbin Burnes FD - P 12000 DK - RP 10500
Opponent - PIT (Chad Kuhl) Park - MIL
FD - 44.56 DK - 24.42
Burnes has been stupid good this season with numbers that are truly eye-popping even for the strikeout age of baseball. Through his first 59 innings and change, he's struck out 42% of the haters he's faced for a 14 K/9 rate. It's led to a 1.71 xFIP and 0.97 FIP. These are cheat-code level stats for a starting pitcher and he's just been fully dominating. On Saturday afternoon he'll face off against a very weak Pirates team and is opening as a -270 home favorite. Even at the high prices, this is just a very tough fade based on what he's done this season.
Joe Musgrove (FD $8300 DK $9300) is a great play against the Mets. The FanDuel price is a total steal for what he's been doing this season.
Evening

Trevor Bauer FD - P 11000 DK - SP 9800
Opponent - TEX (Kolby Allard) Park - LAD
FD - 51.69 DK - 28.73
Bauer is a monster favorite for the evening slate of games, with the Dodgers opening at -290 at home against the Rangers. Bauer isn't as good as the 2.40 ERA would suggest, but the xFIP is only trailing by a little more than a run this season. He's struck out more than 11 batters per nine and has the walk rate under his career average. The Rangers rank 28th in terms of team offense on the season and are striking out 26% of the time as a team. This is a smash spot for Bauer and he'll likely be the chalk pitcher for the evening.

Catcher/First Base
Afternoon

Freddie Freeman FD - 1B 3400 DK - 1B 5200
Opponent - MIA (Undecided) Park - MIA
FD - 14.63 DK - 10.95
The Marlins haven't announced their starter for Saturday and that's going to have the Braves in a good spot for this game. While there isn't an early line on the game, we can assume Atlanta is the clear favorite. Freeman's OPS is down a bit this season compared to years past, but he's still tough to K at only 18%, takes a ton of walks, and is running so bad on batted ball stuff with a BABIP over 100 points lower than his career average. He's coming at a deal because of the bad luck stuff and is a value on FanDuel.
Evening

Anthony Rizzo FD - 1B 3000 DK - 1B 5000
Opponent - STL (John Gant) Park - CHC
FD - 11.31 DK - 8.46
The Cubs get to face off against John Gant who's really struggled this season. He has a 5.18 xFIP and is walking as many batters as he's striking out. That's great for Rizzo who remains one of the toughest guys to put down in the game. He's putting the ball in play almost 80% of the time this season with a .357 OBP. The power might not round back into 2017-2018 form, but he's still a dangerous hitter and the prices on both sites are too low.
Second Base
Afternoon
Brandon Lowe FD - 2B 2600 DK - 2B 4400
Opponent - BAL (Jorge López) Park - TB
FD - 10.71 DK - 8.06
If we are trying to get out of this position a little on the cheaper side, I don't mind Lowe in this spot. He remains in the middle of the order for the Rays and is in the better side of his platoon split against Jorge Lopez. The latter strikes out less than a batter an inning and has an xFIP over 4.00. Meanwhile, Lowe's OPS is nothing to write home about, but his BABIP is 70 points off his career average and he does already have 10 home runs on the season.
Evening
Second base on the evening slate, at this point, is a real problem. There are very few viable options and we might need to wait until something opens up when teams release their lineups. Tommy Edman (FD $2800 DK $4400) would be an option at the top of the lineup, and Kyle Hendricks isn't exactly an ace.
Shortstop
Afternoon

Dansby Swanson FD - SS 2200 DK - SS 4300
Opponent - MIA (Undecided) Park - MIA
FD - 11.06 DK - 8.39
Like we said with Freeman, considering the Marlins pitcher is unknown at this point, it's likely to put Swanson in an ideal spot when it comes to the matchup. He's been hitting around the fifth slot in the lineup meaning the plate appearance expectation is fine enough for these price points, and the .720 OPS does the job all things considered. He's on pace for his best power season yet with 10 home runs already and that's where he derives most of his fantasy impact.
Evening

Trea Turner FD DK 4800
Opponent - SF (Undecided) Park - SF
FD - 11.99 DK - 9.23
The Giants haven't released their starting pitcher for Saturday's evening game, the second half of the doubleheader against the Nationals. While the seven-inning game offers some problems for Turner because of the plate appearance issues, it's also tough to get away from the fantasy profile. He already has 10 home runs and 13 stolen bases on the season with a low-.800s OPS. As long as this isn't Gausman starting the second game, then Turner is in play.
Third Base
Afternoon

Yoán Moncada FD 3100 DK 5300
Opponent - DET (Jose Urena) Park - DET
FD - 12.38 DK - 9.38
Moncada, even for his strikeout issues, remains one of the better on-base options in baseball. His .405 OBP is elite thanks to a 16% walk rate. He's unlikely to return to the 25 home runs he had in 2019, but that was a season that saw a number of guys spike some power. Regardless, he's definitely a middle-of-the-order value on the afternoon slate. He should be hitting in the cleanup slot against Urena who doesn't have any strikeout stuff to speak of giving Moncada a high floor.
Evening

Justin Turner FD 3500 DK 5200
Opponent - TEX (Kolby Allard) Park - TEX
FD - 12.52 DK - 9.46
Kolby Allard is no slouch, but this is a shorter, four-game slate of games for the evening. Turner has picked things up this season, getting the OPS into the mid-.800s while increasing his walk rate to a career-best 12%. He already has 12 home runs and is on pace for one of his better power seasons. He's been mostly platoon neutral for his career, but better against lefties in recent seasons.
Outfield
Afternoon

J.D. Martinez FD 3800 DK 5200
Opponent - TOR (Steven Matz) Park - TOR
FD - 14.52 DK - 10.91
Hunter Renfroe FD 2200 DK 4000
Opponent - TOR (Steven Matz) Park - TOR
FD - 13.36 DK - 9.99
He's not facing a bum in Steven Matz, but what Martinez has done against lefties for his career is just too much to ignore. This season, overall he has an OPS well over .900 and 13 home runs already. And against southpaws overall he has a .964 OPS and .401 wOBA. That's just dumb considering it's over 1200 plate appearances. We can happily run JD in cash in this game.
Meanwhile, Renfroe is coming cheaper, and for a reason, but I think we can roll him in cash as well. He should hit around 5-6 in the lineup today against the lefty Matz and offers a punt option on FanDuel for starters. He has the OPS in the mid-700s this season and for his career has tuned up lefties. He has a .913 OPS in that split with a 138 wRC+ as well. On FanDuel, he makes it easy to fit big arms and some bats as long as he's in the middle of the lineup.
Evening

Joc Pederson FD 2700 DK 4800
Opponent - STL (John Gant) Park - STL
FD - 11.43 DK - 8.54
Pederson should be in the leadoff slot on the later slate against the righty Gant, and that's a good place to be for this shorter slate. Don't let the 2.68 ERA fool you on the righty, he's stunk. Pederson meanwhile doesn't project like a typical leadoff hitter with the lower walk rate, but the Cubs have him there anyway and that's really all we care about. The price on both sites is just a tick too low for hitting at the top of the order in this matchup.
Obviously, Mookie Betts (FD $4200 DK $5700) is in play against the lefty Allard and could make for a staple of lineups.
GRAB A FREE TRIAL OF OUR PROJECTION SYSTEM, AND CHECK OUT DFSR PRO!
FREE EBOOK
SECRETS TO CRUSHING DAILY FANTASY FOOTBALL!
DON'T SET ANOTHER LINEUP BEFORE YOU READ THIS BOOK.