Baseball Picks Daily Fantasy
Expert Advice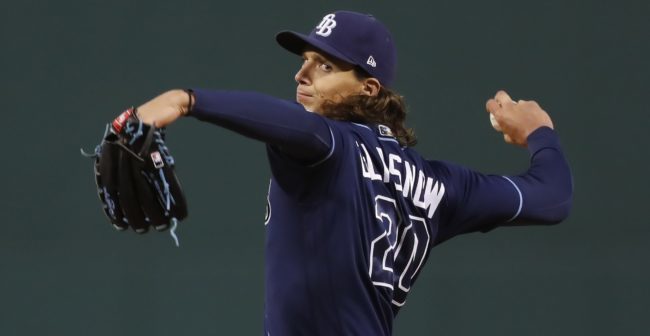 DraftKings and FanDuel MLB Picks for Monday 6/14/21
Now's your chance to get DFSR PRO, which will give you access to our MLB, NBA, PGA, NHL, and NFL optimizers and our new player lab! Get started for free by clicking the button below.
Pitchers

Tyler Glasnow FD - P 10800 DK - SP 10700
Opponent - CHW (Lance Lynn) Park - CHW
FD - 42.14 DK - 24.01
Lance Lynn FD - P 11000 DK - SP 9900
Opponent - TB (Tyler Glasnow) Park - CHW
FD - 33.46 DK - 17.7
We have the grim misfortune of having the two aces on the slate A) squaring off with each other and B) facing off against good opposing offenses. The White Sox and Rays have the fourth and thirteenth best offenses in the Majors, respectively, and the Rays are slight -135 favorites in this one. Glasnow is a better pitcher than Lynn, but the White Sox are a decidedly tougher match-up as well. Still, these two are in a league of their own today, and your first stop for cash game options. Our system leans Glasnow, even as a slight underdog.
Adam Wainwright FD - P 8000 DK - SP 8800
Opponent - MIA (Braxton Garrett) Park - STL
FD - 32.87 DK - 16.54
If you find yourself unable to pull the trigger on a top-tier guy, you find yourself without the money for both on DraftKings, consider Adam Wainwright. The aging Cardinal has his best xFIP since 2015 on the back of a reasonable K rate and a 2.32 BB/9. For DFS purposes he's also attractive because he's averaging better than 6 innings a start in 2021. The match-up is excellent as well, with the Marlins ranking in the top 5 in strikeout percentage and the bottom 5 in wOBA.
Also considered: Alex Wood.

Catcher/First Base

Paul Goldschmidt FD - 1B 3100 DK - 1B 4000
Opponent - MIA (Braxton Garrett) Park - STL
FD - 12.75 DK - 9.59
We'll start our position players with the aging Goldschmidt, who is undoubtedly having the worst season of his career. While it's generally exciting to run hitters during their decline phase, I think we have reason to take a risk here. Goldschmidt's BABIP is .050 points below his career levels, and while some of the power is gone, he's still got pop. Then there's the match-up. Braxton Garrett has been flat out terrible in his 20 or so Major League innings, with a walk rate in the mid 5s per 9. With the platoon advantage in his favor, Goldschmidt should farm him here.

C.J. Cron FD - 1B 2900 DK - 1B 4300
Opponent - SD (Dinelson Lamet) Park - COL
FD - 11.7 DK - 8.81
Cron's season has been something of a roller coaster this season, but the Rockies are still trotting him out there, and I think we should as well. The Rockies have the second-highest implied total on the slate against Dinelson Lamet, who has been slowly stretched out this season. Lamet's breaking stuff is unlikely to be able to save him in Coors, and I'd like to buy low on Cron to get a cheap taste of this Rockies lineup today.
Consider: Sean Murphy, if you need a catcher.
Second Base

Cesar Hernández FD - 2B 2700 DK - 2B 4500
Opponent - BAL (Undecided) Park - CLE
FD - 10.88 DK - 8.4
Hernandez is a funny cash game recommendation, because we're not typically in the habit of running guys with an OBP below .300. That being said, Hernandez does a lot well for a guy at this price. With a 10% walk rate and 10 homers so far on the year, he provides a decent bat for the position. He also bats leadoff for the Indians, so the opportunity is there in spades. Throw in a great match-up with Hunter Harvey and you have a very reasonable cash game option.
Chris Taylor FD - 2B 3200 DK - 2B/OF 4600
Opponent - PHI (Spencer Howard) Park - LAD
FD - 11.93 DK - 9.03
With a 1.9 WAR on the season, Taylor ranks 4th in the league at second base this season. He's getting on base a ton thanks to his 13.5% walk rate on the season, and getting on base that often among so many great hitters is a recipe for DFS success. Spencer Howard presents an interesting match-up for the Dodgers. He's a top prospect, but it hasn't translated to Major League success thus far. He's got a 5.03 xFIP in his 38 innings so far, and he could be in for a world of hurt against Los Angeles.
Also considered: Tommy Edman.
Shortstop

Paul DeJong FD - SS 2400 DK - SS 3400
Opponent - MIA (Braxton Garrett) Park - STL
FD - 11.74 DK - 8.85
DeJong is back after a long stint on the IL, and is back to hitting home runs or getting out. In all seriousness, this is a dirt-cheap price point for a guy who can bat toward the middle of the lineup against a truly bad lefty in Braxton Garrett. With the platoon advantage in his favor, DeJong could be among the highest owned shortstops on the slate today.

Amed Rosario FD - SS 2800 DK - SS 3700
Opponent - BAL (Undecided) Park - CLE
FD - 12.23 DK - 9.59
It's easy to forget now, but Amed Rosario was the 3rd ranked prospect on FanGraphs when he "graduated" in 2017. The bat hasn't exactly flourished in the way many prospectors thought it would, but he's been on a relative tear recently. He's now batting second on most nights for the Indians, and is in a great spot against non-prospcet Hunter Harvey.
Also considered: Francisco Lindor.
Third Base

Josh Donaldson FD - 3B 2900 DK - 3B 5100
Opponent - SEA (Marco Gonzales) Park - SEA
FD - 12.34 DK - 9.13
After back to back seasons where Gonzales' ERA outperformed his xFIP by more than a run, he seems to finally be turning into a pumpkin this year. With a 4.77 xFIP, he's below league average, which puts Donaldson in prime position to do some raking. Donaldson has been .092 OPS points better against lefties for his career, and his strikeout rate is at the second lowest number for his career. I love him as a cash game option if he's batting second as usual.

José Ramírez FD - 3B 3700 DK - 3B 5700
Opponent - BAL (Undecided) Park - CLE
FD - 15.27 DK - 11.48
Ramirez is the logical conclusion to any Indians stack today, as he's posting a typically excellent year in spite of running about .020 points below expectation on his BABIP this year. With 14 homers and 6 steals he's a fantasy dream in a match-up with a bottom-tier pitcher like Harvey.
Also considered: Rafael Devers.
Outfield

Mookie Betts FD - OF 4400 DK - OF 5800
Opponent - PHI (Spencer Howard) Park - LAD
FD - 16.7 DK - 12.58
We've got a lot of cheap value going today, so why not grab one of the best hitters in the league to start your outfield? Wait, you're not worried about a sample size that spans 1/3 of the season, are you? That's why we get such a great price on a talent like this. I love Betts batting atop the Dodgers lineup for the extra plate appearances, and think he's a fine play in any format today.
Teoscar Hernández FD - OF 2700 DK - OF 4300
Opponent - BOS (Nathan Eovaldi) Park - BOS
FD - 10.97 DK - 8.24
Hat tip to DFSR's own Eden Stone for calling a big day out of Hernandez on Sunday, as the Blue Jays slugger ripped two homers en route to an excellent day of DFS production. Going up against Eovaldi isn't especially exciting (he's got a ~3.5 xFIP over the last two seasons), but Hernandez is far too cheap for his production when he's batting in the middle of the lineup.

Kyle Schwarber FD - OF 2700 DK - OF 4100
Opponent - PIT (JT Brubaker) Park - WSH
FD - 10.88 DK - 8.05
Schwarber has been leading off against right-handed pitchers recently, and while the strikeouts are always going to be a problem, the power probably makes up for it. Schwarber homered twice on Sunday (I swear that we don't just write up the best guys from the previous day in these articles), bringing his season total to 12, and it's tough to find upside like this at these prices. Brubaker is probably underrated at this point, but the pedigree is nothing special, and I like Schwarber regardless.
Also considered: Wil Myers as a cheap bat in the Coors game.
GRAB A FREE TRIAL OF OUR PROJECTION SYSTEM, AND CHECK OUT DFSR PRO!
FREE EBOOK
SECRETS TO CRUSHING DAILY FANTASY FOOTBALL!
DON'T SET ANOTHER LINEUP BEFORE YOU READ THIS BOOK.