Baseball Picks Daily Fantasy
Expert Advice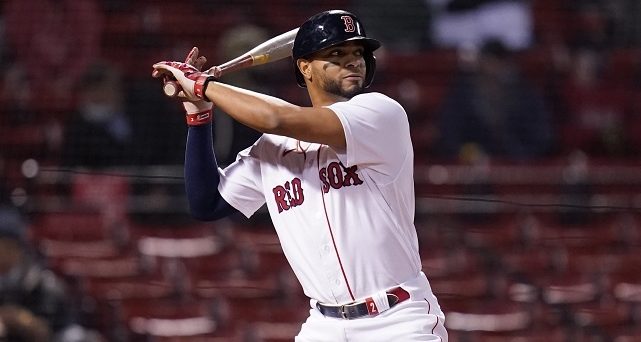 DraftKings and FanDuel MLB Picks for Saturday 6/19/21
Now's your chance to get DFSR PRO, which will give you access to our MLB, NBA, PGA, NHL, and NFL optimizers and our new player lab! Get started for free by clicking the button below.
Pitchers
Afternoon
Aaron Nola FD - P 10000 DK - SP 10500
Opponent - SF (Alex Wood) Park - SF
FD - 38.48 DK - 20.91
Nola is only even money on the afternoon slate, but he's one of the few aces actually taking the mound during that time slot. On the season, Nola is striking out close to 11 batters per nine with a 5:1 K:BB ration on the season and 3.51 xFIP. The matchup against the Giants isn't a good one considering how good they've been on offense this season, ranking 6th in the league in team wOBA. But Nola is the best pound-for-pound pitcher going here and it's tough to get away from that skill set.
Evening
Patrick Sandoval FD - P 7800 DK - SP 8600
Opponent - DET (Wily Peralta) Park - LAA
FD - 29.89 DK - 15.73
Sandoval has the second-best win odds on the evening slate as a -190 home favorite against the Tigers. He isn't the best arm going here, striking out less than a batter per inning and walking more 3.5 in that same frame. But he's got one of the better matchups around against the Tigers. They ranked 24th in the league in team offense on the season and striking out more than 27% of the time on the season. Sometimes the matchup can win out in a situation like this.
Dinelson Lamet (FD $6200 DK $7100) is coming cheap here, but the matchup is bad.
Catcher/First Base
Afternoon

Carlos Santana FD - 1B 3000 DK - 1B 4800
Opponent - BOS (Martin Perez) Park - KC
FD - 11.25 DK - 8.37
Santana is rarely an exciting play, but that doesn't make him a bad play. He's one of the most patient hitters in the league and has been that way for some time now. He already has 11 home runs on the season and is walking more than he's striking out. This is the much better side of the platoon for the switch hitter and for his career has a .362 wOBA and .833 OPS against lefties. He's striking out only 13% of the time in this split which means there should be plenty of contact against the lefty Perez.
Evening

Freddie Freeman FD - 1B 3800 DK - 1B 5800
Opponent - STL (Adam Wainwright) Park - ATL
FD - 14.2 DK - 10.62
Adam Wainwright is still kicking around the majors, making the best of what he's got left. The peripherals are fine enough and the xFIP is sitting in the 4.00 range. He's a pitcher we can target. Freeman meanwhile has an OPS lower than his career average, but it's primarily BABIP related with that number sitting about 90 points lower than expected. That simple regression would put the OPS right back above .900 and he's still one of the elite hitters in the league.
Second Base
Afternoon
Christian Arroyo FD - 2B 2600 DK - 2B 3400
Opponent - KC (Kris Bubic) Park - KC
FD - 10.67 DK - 8.16

Kike Hernández FD - 2B 3000 DK - OF 3700
Opponent - KC (Kris Bubic) Park - KC
FD - 12.26 DK - 9.25
One of these two guys is going to hit leadoff for the Red Sox on Saturday and that's going to make them a value against the lefty Bubic. If it's Hernandez then we know that he rakes southpaws for his career and has been one of the better cheap values in this split for DFS purposes. Meanwhile, Arroyo is likely the better overall hitter, but has been worse against lefties. That being said, Bubic is one of the worst pitchers on the slate and Red Sox are poised to put up runs in this matchup. This is a smash spot for one, or maybe both of these hitters.
Evening

Ozzie Albies FD - 2B 3000 DK - 2B 4900
Opponent - STL (Adam Wainwright) Park - ATL
FD - 11.73 DK - 8.97
Albies is hitting third for the Braves right now which is one of the best spots you can be following Acuna and Freeman. His .800 OPS has room for growth based on the BABIP and he puts the ball in play about 75% of the time. There are trickles of power (9 home runs) and speed (6 stolen bases) keeping the floor higher on a game-to-game basis. He's a very good price on FanDuel hitting at this spot in the lineup. The DraftKings price is closer, but we don't need to be worried about Wainwright in this matchup.
Shortstop
Afternoon

Xander Bogaerts FD - SS 4200 DK - SS 5300
Opponent - KC (Kris Bubic) Park - KC
FD - 14.38 DK - 10.89
He won't be the last Red Sox hitter we mention here. If Bubic is starting then then we really need to stack the top of the order for the Red Sox. Xander continues to crush it this season with an OPS sitting in the mid .900s range and he's an elite offensive option especially considering the power. For his career, he's been better against lefties with a 132 wRC+ and .372 wOBA. The price is way up there for Bogaerts which makes sense considering the returns, but he's worth it in this matchup.
Evening
Willy Adames FD - SS 3200 DK - SS 4200
Opponent - COL (Austin Gomber) Park - COL
FD - 12.35 DK - 9.41
Here's to hoping he's hitting in the top-6 spots in the order for the Brewers when they walk into Coors on Saturday. The Brewers are favored in the best hitting environment in the league, which helps and Adames, considering the context, isn't coming at crazy prices. He has some power, but he strikes out too much. That being said, it's just too tough to pass up some of these Brewers in this spot against Gomber.
Third Base
Afternoon
Hunter Dozier (FD $2900 DK $3100) or Kelvin Gutierrez (FD $2400 DK $3000)
could be good cheap options against Martin Perez. Both are really struggling to start the season, but they aren't below replacement level hitters. Against Perez, there is something of a floor considering they are in the better side of their splits.
Evening

Manny Machado FD - 3B 3600 DK - 3B 4800
Opponent - CIN (Vladimir Gutierrez) Park - SD
FD - 13.21 DK - 9.94
Gutierrez is one of the worst arms on this slate with a 5.23 xFIP. Don't get confused by the sub-3 ERA in his first 30 or so innings. That's mostly smoke and mirrors. This is a great spot for Machado and the Padres on Saturday. The OPS is sitting under .800 right now which is something of a problem after his excellent bounce-back season last year. A big problem is his Hr/FB rate is down off his career averages which is cutting in the power numbers. I still think there's plenty of upside here.
Outfield
Afternoon
Hunter Renfroe FD - OF 3300 DK - OF 3900
Opponent - KC (Kris Bubic) Park - KC
FD - 13.2 DK - 9.86
Renfroe's been a decent hitter this season with an OPS in the mid-.700s and he's tough to strike out at only 22%. Bubic stinks by starting pitcher standards and this is the much better side of Renfroe's splits. This guy is one of the better hitters in the league against lefties with a .381 and .920 OPS in this split for his career.
Mookie Betts
(FD $4200 DK $5700).Look, the Dodgers are in a great spot but this play will cost you an arm and a leg. It's often worth both.
Evening

Tommy Pham FD - OF 3200 DK - OF 5200
Opponent - CIN (Vladimir Gutierrez) Park - SD
FD - 12.83 DK - 9.72 Pham is interesting from a fantasy perspective because he's struggling to keep the OPS in the mid-.700s range, but he's also got plenty to offer for you lineups. He's walking 17% of the the time and has 11 stolen bases already on the season. On FanDuel, he's more than a bargain if hitting in the leadoff slot.
I don't mind Wil Myers (FD $2800 DK $3700) who's coming cheap, but they've moved him down in the lineup.
There's a good chance we get AJ Pollock (FD $2600 DK $3100) into a solid situation considering the Dodgers' injury issues.
GRAB A FREE TRIAL OF OUR PROJECTION SYSTEM, AND CHECK OUT DFSR PRO!
FREE EBOOK
SECRETS TO CRUSHING DAILY FANTASY FOOTBALL!
DON'T SET ANOTHER LINEUP BEFORE YOU READ THIS BOOK.