Baseball Picks Daily Fantasy
Expert Advice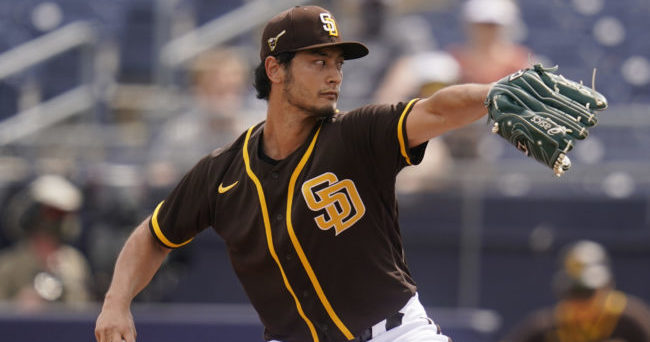 DraftKings and FanDuel MLB Picks for Monday 6/21/21
Now's your chance to get DFSR PRO, which will give you access to our MLB, NBA, PGA, NHL, and NFL optimizers and our new player lab! Get started for free by clicking the button below.
Pitchers
Yu Darvish FD - P 10000 DK - SP 10200
Opponent - LAD (Julio Urías) Park - SD
FD - 37.88 DK - 20.96
It's a little odd to invest this much in a pitcher that's just a -116 favorite, but a tiny slate like this is going to bring us out of our comfort zone. Darvish's reputation is unimpeachable at this point. He's not quite the same pitcher he was in last year's abbreviated season, but honestly he had room to regress and still be dominant. He's still topping double-digit Ks/9 with excellent control, and going deep into games. The only issue here is the match-up, with the Dodgers ranking 2nd best in the Majors in wOBA. Still, if you want an ace today, Darvish is your guy.
Tyler Mahle FD - P 8800 DK - SP 9800
Opponent - MIN (J.A. Happ) Park - MIN
FD - 32.85 DK - 17.21
While no one would call Mahle a true-blue ace, he certainly has the upside of one. He's hit 45+ FanDuel points in each of his last three starts, including a 61 point outing in which he struck out 12 Brewers. Minnesota is no great match-up either, but they are "just" a top 10 offense, and if you want a little savings Mahle isn't an outrageous pivot from Darvish (or more realistically a pitcher 2 on DK).
The rest: Kyle Gibson will get some attention today, but he hasn't been nearly as dominant as his ERA suggests. Urias is basically a poor man's Darvish at the same price, so I don't see myself playing him on FD (though you can make a case for playing both on DK).

Catcher/First Base
Willson Contreras FD - C 2600 DK - C 4100
Opponent - CLE (Aaron Civale) Park - CHC
FD - 12.83 DK - 9.64

Anthony Rizzo FD - 1B 3000 DK - 1B 5000
Opponent - CLE (Aaron Civale) Park - CHC
FD - 13.64 DK - 10.21
There's a theme running through today that will avail itself to you shortly, but I'll just give it away now: we're stacking this Cubs/Indians game. With a 10.5 run total, this game's number is a full run above every other game on the slate. And with good reason! These are two good offenses, and two sub-par pitchers. We'll start with Civale, who is in the Majors solely due to his excellent command. He doesn't pair it with strikeout stuff, though, and the Cubs are set to rake here. For DFS purposes we don't mind that Civale commands the ball, since we are in the market for homers.
You can play both of these guys on DraftKings, but if you're pressed on FanDuel I'd probably prefer Rizzo.
Second Base
Luis Arraez FD - 2B 2200 DK - 2B/OF 2900
Opponent - CIN (Tyler Mahle) Park - MIN
FD - 9.12 DK - 7.16
Arraez will wind up being an every lineup guy if he's leading off again today. He went 3-5 with a run scored on Sunday, and that level of upside at near the minimum price is probably too good to pass up even in a rather tough match-up with Mahle.

Cesar Hernández FD - 2B 3000 DK - 2B 4900
Opponent - CHC (Adbert Alzolay) Park - CHC
FD - 10.24 DK - 7.9
We broke down Civale's qualifications above, so let's focus on Alzolay. He's been better than advertised at the Major League level, but all that's gotten him is a 4.24 career ERA. He struggles to control the long ball thanks to his low ground-ball rate, and doesn't go especially deep into games. As for Hernandez, he should be leading off for the Indians as usual, and is looking very affordable here. With 11 homers, he's on pace to smash his career best, and if his BABIP weren't almost .080 points below his established levels he'd be on pace to have a career year by any measurement.
Shortstop

Amed Rosario FD - SS 2600 DK - SS 4000
Opponent - CHC (Adbert Alzolay) Park - CHC
FD - 11.51 DK - 9.02

Javier Báez FD - SS 3300 DK - SS 4400
Opponent - CLE (Aaron Civale) Park - CHC
FD - 12 DK - 9.15
It's an unfortunate reality of slates like these that you can find yourself in a position where you're just writing up guys from the same game from beginning to end, but here we are. I think it's worth taking a look at Baez and Rosario individually based on your needs, though. Rosario should be batting higher in the lineup than Baez, and strikes out far less often. Baez has far more upside, but the 38.4% K rate is obviously terrifying. The flip side there is that Civale really doesn't strike anyone out, mitigating Baez's biggest weakness. For cash, I'd probably just go with Rosario.
Also considered: Carlos Correa.
Third Base

Alex Bregman FD - 3B 3000 DK - 3B 5000
Opponent - BAL (Keegan Akin) Park - BAL
FD - 14.77 DK - 11
I can't let the entire article pass by without at least pointing out that the Astros are are a great stack in their own right. Keegan Akin is your classic never-has-been, a lefty with a 4.62 xFIP that includes bullpen innings. Bregman has lost a step or two from his prime, but the man still has an OPS north of 1k against lefties for his career. I'm looking for some renaissance Bregman in a dream spot like this.

José Ramírez FD - 3B 3800 DK - 3B 5800
Opponent - CHC (Adbert Alzolay) Park - CHC
FD - 14.36 DK - 10.8
Yet another player from the Indians/Cubs game. The switch-hitting super-star has his lowest K-rate since 2017, is pushing a .900 OPS in spite of a BABIP that's .030 points below his career levels, and is on pace for the 2nd most home runs of his career. He's just a great play from top to bottom.
Also considered: Kris Bryant.
Outfield

Joc Pederson FD - OF 2900 DK - OF 4800
Opponent - CLE (Aaron Civale) Park - CHC
FD - 13.48 DK - 10.07
Joc will be batting leadoff against Civale, and at a sub $3k price he is one of the must-plays in the Cubs lineup to me. If there's a risk to playing Pederson, it's actually his huge platoon splits. He's nearly .300+ OPS points better against righties this year, and is thus at a risk to get pulled if the Indians pull out a lefty for him.

Yordan Alvarez FD - OF 3700 DK - OF 5000
Opponent - BAL (Keegan Akin) Park - BAL
FD - 14.37 DK - 10.72

Michael Brantley FD - OF 3200 DK - OF 3900
Opponent - BAL (Keegan Akin) Park - BAL
FD - 11.55 DK - 8.85
Two more Astros pieces for your Astros stack, and I'd prioritize them in this order. Alvarez has other-worldly upside with the platoon advantage in his favor, and Brantley is actually much better against right handed pitching. Still, Brantley is good enough and Akin is unproven enough that I think you can run the pair of them at these prices with a clear conscience.

Mark Canha FD - OF 3300 DK - OF 4700
Opponent - TEX (Kyle Gibson) Park - TEX
FD - 12 DK - 8.98
Anthony Santander FD - OF 2600 DK - OF 3300
Opponent - HOU (Jake Odorizzi) Park - BAL
FD - 10.61 DK - 8.08
A few consolation pieces if you can't fit a whole lineup of Cubs, Indians, and Astros. I mentioned Gibson earlier, but I want to reiterate: this is a guy with a 4+ xFIP who's running hotter than the sun. If you want a GPP stack that goes against the grain, the A's are a very interesting option.
As for Santander, he will be batting toward the top of the lineup against the washed-up Odorizzi, and is mostly a throwaway guy if you can't fit guys from the best teams due to price.
GRAB A FREE TRIAL OF OUR PROJECTION SYSTEM, AND CHECK OUT DFSR PRO!
FREE EBOOK
SECRETS TO CRUSHING DAILY FANTASY FOOTBALL!
DON'T SET ANOTHER LINEUP BEFORE YOU READ THIS BOOK.