Baseball Picks Daily Fantasy
Expert Advice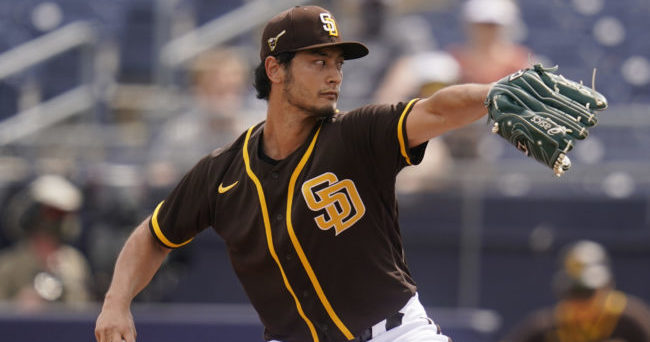 DraftKings and FanDuel MLB Picks for Saturday 7/31/21 - Main slate
Now's your chance to get DFSR PRO, which will give you access to our MLB, NBA, PGA, NHL, and NFL optimizers and our new player lab! Get started for free by clickiang the button below.
Pitchers
Yu Darvish FD 9600 DK 10500
Opponent - COL (German Márquez) Park - COL
FD - 41.89 DK - 23.66
Darvish has the best money line odds of the main slate, facing off a against a very weak Colorado Rockies lineups outside of Coors. He is -188 at home with the lowest implied run line of the slate. Darvish has a 3.27 RA on the season, though the xFIP is about a half a run worse. Still, he's striking out close to 10.5 batters per nine and has mostly been able to keep the walks in check. This is too good a spot to pass up o him, especially for the sub$10K price on FanDuel.
Aaron Nola FD 11000 DK 9700
Opponent - PIT (JT Brubaker) Park - PIT
FD - 41.05 DK - 22.23
Nola is also in a great spot against the Pirates on Saturday evening with the latter bringing in the third-worst team wOBA in the majors this season. The Pirates are just a bad team all-around and Nola is a -168 road favorite in this one. Nola has an xFIP that is about a run better than his ERA and brings in great peripherals to the matchup. He is striking out close to 11 batters per nine and has a nearly 7:1 K:BB ratio. That is among the best in the majors this season. I think you can easily roll both of these arms on DraftKings too.
Catcher/First Base

José Abreu FD 3400 DK 5000
Opponent - CLE (Triston McKenzie) Park - CLE
FD - 12.48 DK - 9.44
The White Sox are in one of the best spots on the slate facing off against Triston McKenzie on Saturday afternoon. They have the highest implied run line going here and Abreu, in the middle of the order is in a good spot against a very wild McKenzie. The former hasn't put up quite the same power numbers this time around, but there is still some pop in the bat and he doesn't strike out a ton. With a little patience, the White Sox should be able to get to the righty in this matchup.

Max Muncy FD 3900 DK 5600
Opponent - ARI (Merrill Kelly) Park - ARI
FD - 14.28 DK - 10.52
The Dodgers are another team with a higher implied run line on the day and will be without both Mookie Betts and newly acquired Trea Turner. That should have Muncy hitting second again. And though he's expensive, this guy has been one of the better hitters in the game. He has an OPS well over 900, is walking (17%) almost as much as he is striking out (18%), and has 22 home runs already. Merrill Kelly could be in trouble here.
Second Base

Cesar Hernández FD 3100 DK 3500
Opponent - CLE (Triston McKenzie) Park - CLE
FD - 10.33 DK - 7.97
Cesar Hernandez came over from the Indians prior to the trade deadline and the White Sox have slotted him into the second spot in the lineup. He is a relatively patient hitter, striking out only around 21% of the time and taking walks at a 9% rate. And he is having the best power season of his career with 18 home runs already. You would think the OPS would be higher than the mid-700s with that number, but he has been a little more of a three true outcome guy than expected. Regardless, his DraftKings price is especially cheap here.

Ian Happ FD 2200 DK 3500
Opponent - WSH (Joe Ross) Park - WSH
FD - 10.27 DK - 7.7
With the Cubs shipping off players at the deadline, they have shifted their order around some and guys are finding their way to the top of it. One of them is Happ who should hit second moving forward for the now-rebuilding squad. The OPS is bad, but he is also running about 100 points low on his BABIP this season. He still has 10 home runs, a 13% walk rate with a Hr/FB rate lower than his career average despite a hard contact rate mostly in line with what he has done before.
Shortstop
Chris Taylor FD 3900 DK 5400
Opponent - ARI (Merrill Kelly) Park - ARI
FD - 12.89 DK - 9.75
It is looking like we are also going to want to stack Dodgers on this slate as well. Like I said with Muncy, they are missing a couple of key bats from the lineup in this tilt and Taylor should be in line to hit leadoff. It also looks like Corey Seager is going to get a day off as well. Taylor is having an excellent season with a high-800s OPS thanks to 17 home runs and an 11% walk rate. Shortstop is looking on the thinner side for this slate and Taylor, while, expensive should be in line to put up points.
Tim Anderson (FD $3600 DK $5900) is looking like a slightly better FanDuel play at the price compared to Taylor, but I like the latter on DraftKings.
Third Base

Justin Turner FD 3400 DK 5100
Opponent - ARI (Merrill Kelly) Park - ARI
FD - 12.88 DK - 9.73
It is all about the Dodgers stack on this slate. Turner was rumored to possibly be getting traded at the deadline, but that didn't happen. And now he should be locked into the three-spot in their lineup going forward. He isn't having quite the OPS season we've seen over the last few, but he remains one of the tougher outs in the game. He strikes out only 16% of the time and still has 18 home runs on the season. This is still a dude who could push towards a .900 OPS season when it is all said and done.
David Bote FD 2400 DK 2500
Opponent - WSH (Joe Ross) Park - WSH
FD - 8.68 DK - 6.53
Like we said with Happ, the Cubs lineup is going to look different for the rest of the season and Bote is another guy who should benefit in terms of moving up the order. He is projected to hit fifth on Saturday and has shown moderate power in the past. It is a good matchup against Ross and he is coming very cheap on both sites and is a true punt on DraftKings.
Outfield

Eloy Jiménez FD 3300 DK 3600
Opponent - CLE (Triston McKenzie) Park - CLE
FD - 12.61 DK - 9.56
With the White Sox playing at full strength in their new lineup, Eloy should drop to the sixth slot in the lineup. But he is still coming way too cheap on DraftKings especially. The sample size for this season is too small, but this is a dude with mid-800s OPS for his career thanks to excellent power numbers. He has 46 home runs in his first 740 major league plate appearances. This is an easy play on DK.
Andrew Stevenson FD 2100 DK 2000
Opponent - CHC (Kyle Hendricks) Park - CHC
FD - 9.13 DK - 7.07
He has moved up to the leadoff slot now that Trea Turner has been traded and you are getting him at the absolute minimum on both sites. That is a great opportunity to slot in a cheap bat in order to pay up for some of the other pitchers and expensive hitters in cash games. He isn't all that dynamic of a hitter, but we are getting great plate appearance expectation at these numbers.
AJ Pollock (FD $2600 DK $4400) and Matt Beaty (FD $2100 DK $2100) could feature in the Dodgers lineup on Saturday and both are coming cheap on FanDuel, with Beaty a punt on DraftKings as well.
FREE EBOOK
SECRETS TO CRUSHING DAILY FANTASY FOOTBALL!
DON'T SET ANOTHER LINEUP BEFORE YOU READ THIS BOOK.