Baseball Picks Daily Fantasy
Expert Advice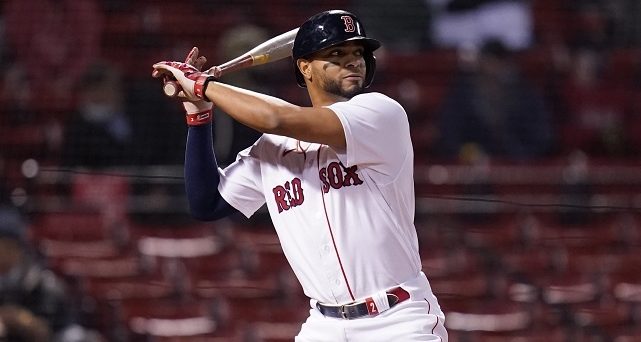 DraftKings and FanDuel MLB Picks for Wednesday, 8/18/21
It feels crazy to say, but we're getting close to the end of the season. There's only a month, and some change left, making things exciting from a DFS perspective. This is where the good teams separate themselves from the poor ones, leading to some lopsided results. The good news is that we've been on some of the right ends of those games, and we're going to look to do that again here. We need to start things off by talking about the arms, though, so let's go ahead and get into it!
Now's your chance to get DFSR PRO, which will give you access to our MLB and NBA optimizers and our new player lab! Get started for free by clicking the button below.
Pitchers

Charlie Morton FD - P 9200 DK - SP 9700
Opponent - MIA (Jesús Luzardo) Park - MIA
FD - 34.68 DK - 19.09
Morton has been one of the most reliable pitchers in baseball over the last decade, and he's been feeling it recently. Over his last 11 starts, Morton has maintained a 2.51 ERA, 0.93 WHIP, and 10.6 K/9 rate. One of those came against this Marlins team, throwing seven scoreless en route to 52 FanDuel points. A gem like that is no surprise when you see his form, but it's even less surprising when you consider this matchup. Morton gets to face a Marlins team that ranks 26th in scoring, 27th in OPS, and dead-last in xwOBA. That's terrifying since they play in one of the most pitcher-friendly ballparks in baseball, making Morton all the more intriguing.
Jack Flaherty FD - P 10100 DK - SP 9100
Opponent - MIL (Freddy Peralta) Park - STL
FD - 34.01 DK - 18.4
It seems like people forget just how special this guy is. Flaherty will be a Cy Young candidate for the next decade, and he's only being priced like a front-end starter. We're talking about a pitcher with a 3.12 ERA and 1.04 WHIP since 2018, posting a 2.65 ERA and 0.97 WHIP this season. Some might worry that he's not in form after missing so much time, but six two-hit innings in his return is a sign that he's ready to go. Milwaukee might look tough when you look at the standings, but the offense is far from worrisome. In fact, the Brewers rank 28th in OPS and 27th in xBA. That certainly appeared to be the case when Flaherty threw six scoreless against them in their one meeting earlier this year.

Catcher/First Base

Max Muncy FD - 1B 3900 DK - 1B/2B 5700
Opponent - PIT (JT Brubaker) Park - LAD
FD - 11.59 DK - 8.53
There should be a permanent spot for Muncy in this section. This guy has been a DFS monster all season, providing elite plate discipline and ridiculous power. Despite getting a breather on Tuesday, Muncy has a .405 OBP and .557 SLG for the season. Those are some of the best marks in the Majors, ranking Muncy as the top-scoring player at the position. We also don't mind that he has second base eligibility on DraftKings, adding to his value even more. That form makes him especially scary against a weak righty, with Brubaker boasting an 8.05 ERA and 1.44 WHIP since the beginning of July.
Ji-Man Choi FD - 1B 2500 DK - 1B 3900
Opponent - BAL (Spenser Watkins) Park - TB
FD - 9.27 DK - 6.94
Choi is also a guy that could be in this article permanently. He's not quite as good as Muncy, but he continues to be one of the values on every slate. Tampa loves to play the platoon game, which works wonders for Choi when he faces a righty. Not only does Tampa bat him second and fourth in these circumstances, but it also gives the platoon advantage to Choi. Since 2019, Ji-Man has a .374 OBP and .864 OPS against righties. That's all you can ask for from such a cheap player, particularly in a premier matchup. Spenser Watkins is yet another bad Baltimore pitcher, owning a 5.25 ERA and 1.44 WHIP.
Second Base
Brandon Lowe FD - 2B 3600 DK - 2B 5300
Opponent - BAL (Spenser Watkins) Park - TB
FD - 10.98 DK - 8.26
We just discussed how much we like the Rays here, which means we have to love their best hitter. It feels like Tampa has been putting it to Baltimore all season, and it makes it far from unexpected when you see Lowe's splits. In 14 games and 54 at-bats against the O's this season, Lowe has a .439 OBP and 1.069 OPS. That's really concerning for Baltimore since Lowe has three doubles, five homers and 14 RBI over his last 10 games played. Not to mention, Brandon has a .933 OPS against right-handers this year as well.

Kike Hernández FD - 2B 3700 DK - 2B/OF  
Opponent - NYY (Andrew Heaney) Park - NYY
FD - 10.87 DK - 8.2
There aren't many better options than Boston on this slate, which means we have to like their leadoff hitter. The former Dodgers utility man has quietly had a really nice season for the Sox, totaling a .795 OPS this year. We really like that he gets to face a lefty here too, with Enrique establishing a .373 OBP and .886 OPS against southpaws this year. Beating up lefties has been common for Hernandez throughout his tenure, and we certainly believe it can continue against Heaney. The Yanks lefty has a 7.58 ERA and 1.45 WHIP over his last nine starts, surrendering dingers like Jimmy in the Little League World Series.
Shortstop

Xander Bogaerts FD - SS 3900 DK - SS 5200
Opponent - NYY (Andrew Heaney) Park - NYY
FD - 12.75 DK - 9.66
The flow of this article is working out nicely, with stacked players following one another. Hernandez is just a piece of the Boston stack, but Bogaerts would be the foundation of it. We say that because he's been Boston's most reliable hitter this season, generating a .307 BA, .513 SLG, and .889 OPS. That's pretty much the guy we've seen for four years now, making Bogey one of the most reliable options on every single slate. That makes him particularly enticing in this matchup, facing a lackluster lefty like Heaney. Xander has also been much better against lefties, and he'd be impossible to fade if Boston is the route you want to go.
Corey Seager FD - SS 3200 DK - SS 5000
Opponent - PIT (JT Brubaker) Park - LAD
FD - 11.09 DK - 8.36
This $3,200 price tag on FanDuel is laughable. There's no doubt that Seager has been struggling since being recalled from the IL, but he's way too good of a player to be $3,200.  Since last year, Corey has collected a .295 AVG, .365 OBP, .516 SLG, and .881 OPS. There are only a few guys with better numbers, and it's truly bizarre to see some of the names Seager sits around in terms of salary. We already discussed how poor Brubaker had been recently, too, and it's even better when you see that Seager hits from the left side as well.
Third Base

Austin Riley FD - 3B 3800 DK - 3B 4600
Opponent - MIA (Jesús Luzardo) Park - MIA
FD - 9.8 DK - 7.39
I actually thought that Luzardo would be good this season, but he's been far from it. On the contrary, his 7.52 ERA and 1.71 WHIP make him one of the worst pitchers in baseball. He's actually been even worse since joining the Marlins, and we have to believe he'll struggle again versus one of the hottest teams in baseball. Riley is a major reason why Atlanta is so hot, accruing a .361 AVG, .763 SLG, and 1.174 OPS over his last 24 games played. That's no good for Miami, considering that Luzardo is a lefty, with Riley posting dominant splits against lefties since his call-up.
Abraham Toro FD - 3B 2700 DK - 2B 4100
Opponent - TEX (Mike Foltynewicz) Park - TEX
FD - 10.35 DK - 7.82
The Mariners paid a pretty penny to get Toro into their everyday lineup, and it's easy to understand why when you look at his minor league averages. Since 2019, Toro has tallied a .392 BA, .497 OBP, .600 SLG, and 1.097 OPS at the Triple-A level. That would be an absurd 10-game stretch, but Toro did that damage in nearly 200 at-bats. That means it's just a matter of time before he starts raking in Seattle, especially when you see that AT has a .419 OBP and 1.013 OPS over his last 22 games played. That's awesome since Toro is pretty much facing a minor league pitcher here, with Folty compiling a 5.66 ERA this year.
Outfield

J.D. Martinez FD - OF 4000 DK - OF 4800
Opponent - NYY (Andrew Heaney) Park - NYY
FD - 13.13 DK - 9.87
We had J.D in Sunday's article in a similar situation, and we're going right back to the well after he went deep in that gem. What made him such an easy choice was that he played a crappy lefty, and that's the case again here. We already talked about how bad Heaney has been, but we haven't discussed Martinez's absurd splits. Since 2019, J.D. has a .399 OBP, .632 SLG, and 1.031 OPS, with the platoon advantage in his favor. Those brilliant averages have earned him a bounceback season for the Sox, and we truly believe this is another fantastic opportunity for J.D. to go deep yet again.

Giancarlo Stanton FD - OF 3600 DK - OF 4700
Opponent - BOS (Nick Pivetta) Park - NYY
FD - 13.57 DK - 10.04
We've been down this road before, and it can certainly be a profitable one when it hits. We always want to use Stanton when he's swinging a hot bat, and it looks like he's found something this week. In fact, Giancarlo enters this matchup in the midst of a six-game hitting streak, homering in two of those. That means things are turning around, which is scary since Stanton can swat 10 dingers in a 10-day span. Nick Pivetta is the sort of guy who can surrender it, too, providing a 4.65 ERA since the middle of June. That definitely makes Giancarlo worth a shot in this price range.
Austin Meadows FD - OF 3200 DK - OF 4700
Opponent - BAL (Spenser Watkins) Park - TB
FD - 10.48 DK - 7.95
Let's finish off our Rays stack with Meadows. There aren't too many consistencies with this lineup, but we know that Meadows will be in the heart of this order against right-handers. While a .233 AVG is nothing to write home about, his .903 OPS against righties is hard to overlook. More importantly, he's got all but one of his dingers against righties and has a .870 OPS against the O's in 11 meetings with them this year. We love that since Tampa is projected for six runs, and it's amazing that you can stack this team at relatively affordable price tags.
GRAB A FREE TRIAL OF OUR PROJECTION SYSTEM, AND CHECK OUT DFSR PRO!
FREE EBOOK
SECRETS TO CRUSHING DAILY FANTASY FOOTBALL!
DON'T SET ANOTHER LINEUP BEFORE YOU READ THIS BOOK.