Baseball Picks Daily Fantasy
Expert Advice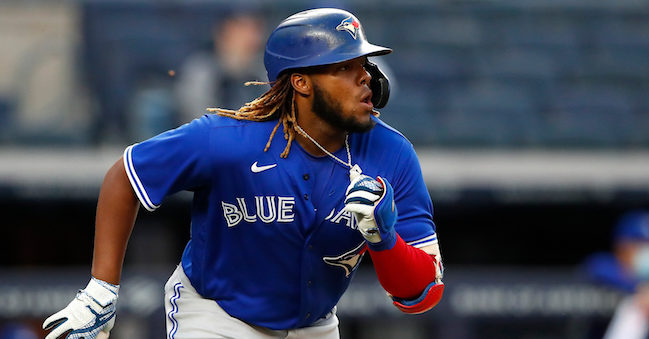 DraftKings and FanDuel MLB Picks for Sunday, 8/22/21
Now's your chance to get DFSR PRO, which will give you access to our MLB and NBA optimizers and our new player lab! Get started for free by clicking the button below.
This is a truly weird slate. It looks like FanDuel and DraftKings want to avoid the Coors Field game, and that's just fine with us. What's also bizarre is that we had the Yankees-Twins game postponed already. That limits some good hitters with those two games out the window, and we haven't even discussed the pitching landscape. There are literally no aces on this slate, and it should allow you to construct things however you please. We have to ride some arms, though, so let's kick things off with a St Louis legend.
Pitchers
Adam Wainwright FD 9600 DK 9300
Opponent - PIT (Steven Brault) Park - PIT
FD - 37.19 DK - 19.53
It's pretty strange that Wainwright is the most trustworthy pitcher on this slate, but it's a good indicator of how weak the position is today. We really shouldn't talk bad about Waino, though, having one of the best seasons of his career. In fact, the 39-year-old has a 3.26 ERA and 1.09 WHIP this season, allowing four runs or fewer in 23 straight starts. That's an amazing run of consistency, and we believe it will continue in this matchup. Pittsburgh currently ranks 29th in both xwWOBA and OPS, which was on full display when Wainwright threw a two-hit shutout against them just last week. If he does that again here, Waino will be a lock in every optimal lineup out there.

Nathan Eovaldi FD 8800 DK 9500
Opponent - TEX (Kolby Allard) Park - TEX
FD - 38.15 DK - 20.49
Man, this feels nuts. Eovaldi is a guy that I never target, but this is one of those slates where you're going to have to ride with him. We say that because he's been pitching above expectations and gets a spectacular matchup here. Let's kick things off by talking about that, with Texas ranked dead-last in runs scored and xwOBA. That puts any pitcher in play against them, especially one as solid as this. This year, Eovaldi has a 3.91 ERA and 1.20 WHIP, scoring 50 combined DK points over his last two outings. We definitely believe he can add to that here with the Sox entering this matchup as a -300 favorite.
Carlos Hernandez is a sneaky pick for the Royals if you want to save some salary, facing a Cubs lineup that ranks dead-last in K rate.

Catcher/First Base

Vladimir Guerrero Jr. FD 4400 DK 6200
Opponent - DET (Drew Hutchison) Park - DET
FD - 17.08 DK - 12.96
Vlad is a clear-cut option on pretty much every slate, but we absolutely adore him in a matchup like this. Toronto gets a matchup with Drew Hutchison, and if you're unfamiliar with him, he's a gas can that's been floating from team to team. It's easy to understand why when you see his 10.80 ERA and 4.80 WHIP this season while attaining a 6.75 ERA and 1.78 WHIP in 2018. That's the last time we saw him at this level, and it's certainly not a good omen that he has to face this stacked Blue Jays lineup. Guerrero is clearly the heart of it, leading every hitter on this slate with 10.3 DK points per game.
Ji-Man Choi FD 2700 DK 4100
Opponent - CHW (Reynaldo López) Park - CHW
FD - 9.99 DK - 7.48
I write about Choi in nearly every article I do. The reason for that is because he's always undervalued in DFS circles, being priced around a bunch of bench players. His small price tag is undoubtedly because he's a platoon player, but that doesn't bother us for DFS. We can use him when he faces a righty and take the strange discount. Since 2019, Choi has collected a .375 OBP and .865 OPS with the platoon advantage in his favor. That's stellar news since he has a hit in six of his last seven games, collecting double-digit DK points in five of those. Reynaldo Lopez has serious blow-up potential, too, totaling a 5.52 ERA and 1.48 WHIP between 2019-20.
Second Base

José Altuve FD 3700 DK 5600
Opponent - SEA (Tyler Anderson) Park - SEA
FD - 14.1 DK - 10.78
Altuve was in a miserable slump this time last week, but Saturday tells us that he's finally out of it. The former MVP collected four hits, two doubles, and three runs scored in that gem and we love that he gets to face a lefty here. Since 2019, Jose has a .346 OBP, .503 SLG, and .849 OPS, with the platoon advantage in his favor. This is certainly not a southpaw we're worried about either, with Tyler Anderson allowing a 4.63 ERA since May 15. All of that has the Stros looking like one of the best stacks of the day after a 15-run outburst on Saturday, and Altuve would obviously be the key to that stack.

Whit Merrifield FD 3800 DK 4400
Opponent - CHC (Alec Mills) Park - CHC
FD - 10.26 DK - 7.99
Merrifield won't blow your socks off with his numbers, but this guy produces. After another big game on Saturday, Whit has recorded a steal in 10 of his last 17 games while hitting over .300 in that span. That alone makes him a good value, and it appears that Merrifield will swipe bags the rest of the year, trying to beat out Starling Marte for the stolen base crown. Those swipes have allowed Whit to score at least 10 DK points in three straight games, and a matchup with Mills likely won't slow him down. This season, the Cubs righty has a 1.41 WHIP, allowing seven or more hits in each of his last three starts.
Shortstop

Marcus Semien FD 4000 DK 5300
Opponent - DET (Drew Hutchison) Park - DET
FD - 15.97 DK - 12.1
We already discussed how much we like Toronto here, projected for about six runs. That's obviously one of the highest totals on this slate, and it makes a table-setter like Semien extremely attractive. We're talking about a guy with 30 homers, 13 steals, 89 runs, and 73 RBI. Those absurd counting numbers have him as the highest-scoring middle infielder on this slate, homering four times in his last five games. That form makes him an amazing option against a guy like Hutchison, and it'd be hard to imagine the Jays falling below five runs with all of these weapons in their arsenal.
Willy Adames FD 3500 DK 5500
Opponent - WSH (Sean Nolin) Park - WSH
FD - 11.93 DK - 9.09
Adames was a complete bust for the Rays, but a change in environment has done him a world of good. In fact, Adames has a .379 OBP, .569 SLG, and .948 OPS since May 27, which almost directly correlates with his trade to Milwaukee. Those ridiculous averages have earned him a three-hole slot in this order, and he's talked about how much more comfortable he feels in Milwaukee with that batter's eye. All of that makes him enticing against a pitcher like Nolin, with the Nats lefty pitching to a 7.34 ERA and 1.86 WHIP for his career. It also gives Adames the platoon advantage from the right side, with Willy posting a .992 OPS against lefties last year.
Third Base

Austin Riley FD 4100 DK 5400
Opponent - BAL (John Means) Park - BAL
FD - 12.81 DK - 9.66
Riley has been one of the biggest breakouts in the NL this season, and it's quite the find after all of the injuries they've suffered. The slugging third baseman is all the way up to 26 homers, 70 runs scored and 75 RBI this season, compiling a .420 OBP over his last 27 games played. He also has six doubles, 12 homers, 28 RBI in that span, making him one of the hottest hitters around. We certainly don't mind that he gets to face a struggling lefty here either, with John Means pitching to a 5.76 ERA over his last 10 starts.

Aledmys Díaz FD 2700 DK 3800
Opponent - SEA (Tyler Anderson) Park - SEA
FD - 9.22 DK - 7.04
Diaz has become a journeyman player, but he's been a sneaky surprise for the Stros this season. We're talking about a dude who's hitting .304 en route to a .485 SLG and .837 OPS. Those are some stupendous averages from someone this cheap, and he's been even better against lefties. In 72 plate appearances against southpaws this year, Diaz has a .328 AVG, .575 SLG, and .957 OPS. All of that has earned him a spot in the Top-6 of this order, and he could be even higher with this being a Sunday game and players surely being rested.
Outfield

J.D. Martinez FD 3900 DK 5300
Opponent - TEX (Kolby Allard) Park - TEX
FD - 17.47 DK - 13.13
Let's just put something out there. Anytime J.D. gets a matchup with a crappy lefty, he's going to be in this section. We say that because he's been slaughtering southpaws throughout his career, compiling a .398 OBP, .627 SLG, and 1.025 OPS against them since 2019. That's a run that's hard to match, and he's also in the midst of a bounceback season as well. It's not like Kolby Allard is an alarming matchup either, with the lefty owning a 4.88 ERA. Not to mention, J.D. has a 1.073 OPS over his last 10 games, ending a small slump after the All-Star break.

Jorge Soler FD 3500 DK 4500
Opponent - BAL (John Means) Park - BAL
FD - 13.94 DK - 10.39
Soler has one of the ugliest batting averages you'll see, but the power swing is starting to turn around. A trade to Atlanta looks like the thing that got him going, with Jorge accruing a .376 OBP, .596 SLG, and .974 OPS since July 20. That's the stud that we saw in the past, with Soler ranking Top-5 in the league in dingers since 2019. If he can keep that power stroke rolling here, Means could be in for another long outing after struggling for the last two months. In addition, Soler gets to hit from the right side , which is scary since his OPS is .218 points higher than his average against righties this year.
Avisaíl García FD 3400 DK 4300
Opponent - WSH (Sean Nolin) Park - WSH
FD - 11.54 DK - 8.86
The Brewers are definitely one of the best stacks of the day. They have a pristine matchup and have a ton of value across the board. Garcia is definitely one of those guys, swinging one of the hottest bats on the team. Little Miggy has a 1.275 over his last 17 games and has been doing just as much damage against lefties. In fact, Avi has swung his way to a .451 OBP, .607 SLG, 1.058 OPS against southpaws this season. It seems unlikely that Nolin will do anything to prevent a big day from Avi, and it's even more bizarre that you can get him at such a discount as well.
GRAB A FREE TRIAL OF OUR PROJECTION SYSTEM, AND CHECK OUT DFSR PRO!
FREE EBOOK
SECRETS TO CRUSHING DAILY FANTASY FOOTBALL!
DON'T SET ANOTHER LINEUP BEFORE YOU READ THIS BOOK.