Baseball Picks Daily Fantasy
Expert Advice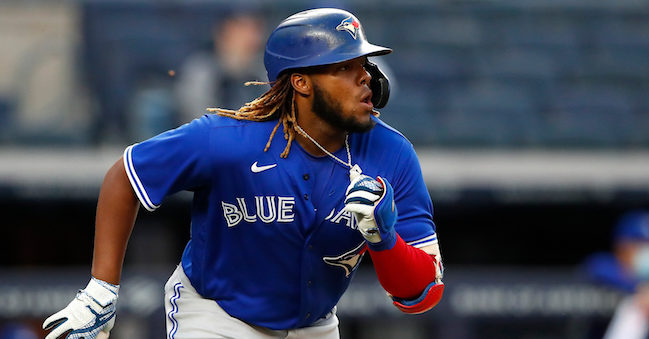 DraftKings and FanDuel MLB Picks for Saturday 8/29/21 - Early and Main slates
Now's your chance to get DFSR PRO, which will give you access to our MLB, NBA, PGA, NHL, and NFL optimizers and our new player lab! Get started for free by clicking the button below.
Pitchers
Early
Kyle Gibson FD 9000 DK 9000
Opponent - ARI (Humberto Mejía) Park - ARI
FD - 36.49 DK - 19.66
Gibson is a -205 home favorite against the Diamondbacks on Saturday, giving him the best-implied win odds on the slate. He has been decent this season, though not quite as good as the 3.06 ERA would suggest. The 4.32 xFIP is closer to the truth for sure. But this is such a good matchup against the lowly Diamondbacks that you can forgive it some. I think he is the cash arm for the afternoon set of games.
Alek Manoah (FD $9500 DK $8700) is close here and it will probably make sense to pair these guys together on DraftKings.
Main
Lance Lynn FD 10400 DK 9600
Opponent - CHC (Alec Mills) Park - CHC
FD - 43.05 DK - 24.3
Lynn is a huge -277 home favorite against the gutted Chicago Cubs who sold off nearly every meaningful bat at the trade deadline. Lynn isn't as good as the 2.20 ERA would have you think considering the xFIP is 1.75 runs higher. But he is still striking out about 10 batters per nine and the Cubs offense is pretty damn weak at this point. Considering the win odds and the matchup I think he is the pretty clear cash game option here for the evening.
If David Price (FD $7100 DK $7000) can hit around five innings then I like his price on DraftKings as an SP2.
Catcher/First Base
Early

Vladimir Guerrero Jr. FD 4500 DK 5700
Opponent - DET (José Ureña) Park - DET
FD - 14.65 DK - 11.11
We should be able to pay up for some bats on the early slate of games and the Blue Jays are going to be the way to go there. Vlad leads the charge and is having one of the best seasons at the plate that you will see. He has 36 home runs and a .998 OPS. The dude gets on base more than 40% of the time and is very tough to strikeout at only 17%. Facing off against Urena who doesn't have much in the way of swing-and-miss stuff has the Jays as the easy stack.
Main

Nelson Cruz FD 3900 DK 5000
Opponent - BAL (John Means) Park - BAL
FD - 15.05 DK - 11.26
The Rays get another god matchup against an Orioles pitcher on Saturday. Means might be the best Baltimore arm, but he still isn't anything more than an average arm. Cruz is significantly better against lefties for his career with a .153 wOBA and .960 OPS split in that platoon. He should be hitting second for the Rays in this matchup and the price on both sites is palatable considering the upside because of the overall offense.
Second Base
Early

Marcus Semien FD 4000 DK 4900
Opponent - DET (José Ureña) Park - DET
FD - 13.36 DK - 10.13
It will start getting a little expensive to stack the entirety of the Toronto lineup, but focusing on the top three guys should provide a solid floor. Semien has seen the OPS dip some over the second half of the season but is still a very dangerous hitter with a .366 wOBA, 32 home runs, and 13 stolen bases that make him an excellent fantasy commodity. This is just too good of a spot against the soft-tossing Urena who Ks fewer than six batters per nine on the season.
Jean Segura (FD $3200 DK $5400) is a good price on FanDuel hitting second for the Phillies.
Main

Javier Báez FD 3100 DK 4600
Opponent - WSH (Sean Nolin) Park - WSH
FD - 12.9 DK - 9.84
Baez qualifies as a 2B on DraftKings and coming at sub-$5K I think we can realistically roster him at a thinner position on the main slate of games. He strikes out way too much (36%) for sure, but from a fantasy perspective, there is still a power/ speed combo you can talk yourself into with 25 home runs and 13 stolen bases on the season. Nolin projects as a below-average arm in the majors and the Mets have a decent implied run line coming in.
Shortstop
Early

Bo Bichette FD 3700 DK 4900
Opponent - DET (José Ureña) Park - DET
FD - 15.07 DK - 11.56
From a pure hitting perspective, Bichette isn't on quite the same level as Vlad and Semien, but he is locked into the top of the order with George Springer out of the mix because of injury. But Bichette does have an excellent power/speed combo with 20 home runs and 19 stolen bases on the season. You would like the OBP to be a little higher considering what he provides on the base paths but hitting at the top of the Jays order, from a run-scoring perspective has its distinct advantages.
Main

Francisco Lindor FD 3200 DK 5000
Opponent - WSH (Sean Nolin) Park - WSH
FD - 13.12 DK - 9.96
Lindor hasn't been exactly who the Mets thought they were signing to the monster contract in the offseason with the OPS still sitting below .700 for the season. He has had some BABIP issues with that number 50 points below his career mark so there is some bad luck in there. But he still makes a lot of contact and the FanDuel price is too cheap for this matchup with him hitting in the two-spot in the lineup.
Third Base
Early
Third base is kind of a mess on this early slate. Considering some of the pay-up options at other positions, I don't think this is the spot we really want to spend a ton of salary. And FanDuel has a pretty thin player pool at the position for this set of games. Rafael Devers (FD $4300 DK $6100) is sort of an option but I don't like rostering all of that salary. Kevin Smith (FD $2100 DK $2000) hitting last for the Jays at the minimums would be another way to go at the opposite end of the spectrum.
Main

Alex Bregman FD 3700 DK 5200
Opponent - TEX (Kolby Allard) Park - TEX
FD - 13.75 DK - 10.24
Bregman is back after missing extended time and is slotting back into the fifth spot in the order for the Astros. He hasn't been able to reproduce the 2019 campaign in the last couple of seasons (I wonder why) but this is still a guy who can hit lefty pitching. He has a career 1.004 OPS and .416 wOBA in that platoon and is facing a lefty in Allard who has a career 5.02 xFIP over 187 innings. This is such a good spot for Bregman on Saturday.
Outfield
Early

Odúbel Herrera FD 2900 DK 4200
Opponent - ARI (Humberto Mejía) Park - ARI
FD - 11.56 DK - 8.85

Bryce Harper FD 4200 DK 6700
Opponent - ARI (Humberto Mejía) Park - ARI
FD - 14.63 DK - 10.79
The Phillies are the other interesting stack on the early slate of games. They face off against Humberto Mejía whose first five major league innings were excellent but doesn't project to be a lights-out, everyday starter. Herrera has been hitting leadoff for the Phillies and makes contact around 78% of the time this season. You would like the OBP gains to be a bit higher than the 31% right now considering his slot in the lineup, but he is coming reasonably priced on both sites.
Meanwhile, Harper is having one of the best seasons of his career with a 1.001 OPS, .418 OBP, 25 home runs, and 12 stolen bases. He has been completely elite over the last two seasons and is every bit the superstar the Phillies thought they were signing with the massive contract.
Main
Randy Arozarena FD 3400 DK 4200
Opponent - BAL (John Means) Park - BAL
FD - 13.53 DK - 10.31
Manuel Margot FD 2500 DK 2700
Opponent - BAL (John Means) Park - BAL
FD - 11.34 DK - 8.76
Arozarena hasn't been able to replicate his breakout rookie campaign, though there was always going to be an expectation that it would have been tough to replicate. He has still been an elite hitter against lefties for his 212 plate appearances in that split. He is rocking a167 wRC+, .975 OPS, and .409 wOBA in that platoon. That is about as good as you will see in the majors and has him easily in play against Means. His price is kept down because he struggles more against righties.
Meanwhile, Margot should be in the middle of the Rays lineup against the lefty means as well and is coming so, so cheap on both sites but DraftKings especially. He has a .754 OPS on the season against lefties and makes a lot of contact as well. There is some power and speed that keep the fantasy floor on the higher side. He makes for a punt play on DK.
FREE EBOOK
SECRETS TO CRUSHING DAILY FANTASY FOOTBALL!
DON'T SET ANOTHER LINEUP BEFORE YOU READ THIS BOOK.