Baseball Picks Daily Fantasy
Expert Advice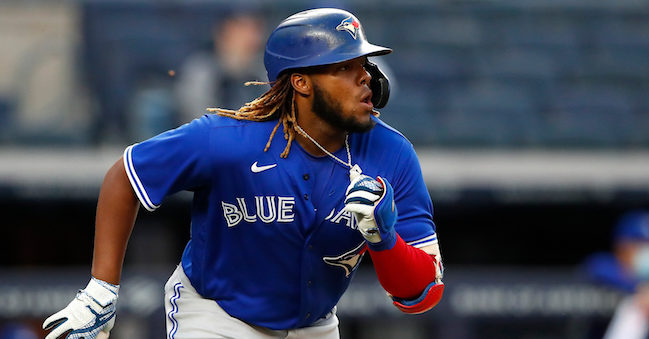 DraftKings and FanDuel MLB Picks for Wednesday, 9/1/21
Yo, how the hell is it September 1? After 2020 lasted about six centuries, we're absolutely flying through 2021. What that does mean is that we have just one month remaining in the season. This is where the playoff contenders beat up on the rebuilders, leading to some lopsided scorelines. It looks like we should have mostly close games here, though, so let's go ahead and get into it!
Now's your chance to get DFSR PRO, which will give you access to our MLB and NBA optimizers and our new player lab! Get started for free by clicking the button below.
Pitchers
Carlos Rodón FD - P 10200 DK - SP 10100
Opponent - PIT (Mitch Keller) Park - CHW
FD - 42.66 DK - 23.22
If you stumbled into Rodon in your season-long leagues, congratulations on a successful season. This guy has come out of nowhere to develop into one of the best pitchers in baseball, generating a 2.49 ERA and 0.99 WHIP. His upside has been amazing, too, scoring at least 46 FanDuel points in 11 starts this year. That's truly incredible, giving him the highest average of any player on this slate. We absolutely love all of that against a team like Pittsburgh, ranked dead-last in both runs scored and OPS. That has Rodon and the Sox entering this matchup as a -350 favorite as well.
Steven Matz FD - P 8000 DK - SP 8300
Opponent - BAL (Matt Harvey) Park - TOR
FD - 36.1 DK - 19.17
This one could back to bite us, but there's a lot in Matz's favor here. The biggest is the matchup, with Baltimore ranked 26th in OBP and 23rd in wOBA. More importantly, they lose pretty much every day inside this division, with Toronto entering this matchup as a -280 favorite. Anybody who's $8K and a -280 favorite needs to be at the top of the list, especially when they're rolling. Matz is doing just that, maintaining a 1.30 ERA and 1.12 WHIP over his last five starts. That's the stud we saw in New York, and we think he should be in line for another quality start and a win here.
Kevin Gausman has been an NL Cy Young candidate all year and should succeed at home against a 22nd-ranked Brewers offense.

Catcher/First Base

Vladimir Guerrero Jr. FD - 1B 4400 DK - 1B 6100
Opponent - BAL (Matt Harvey) Park - TOR
FD - 16.71 DK - 12.67
It's sad that Vlad isn't getting any more consideration for AL MVP, but it's hard to compete with an ace who will likely finish with 50 homers. Finishing second is certainly nothing Vlad will be disappointed with, leading all infielders with 10.3 DK points per game. That's no surprise when you see his .406 OBP, .602 SLG, and 1.008 OPS. That's even scarier since he has a hit in nine straight outings, collecting three homers and five RBI in this two-game series alone. That's horrifying news for Matt Harvey, and we'll go over his ghastly numbers later in the article.

Matt Olson FD - 1B 3900 DK - 1B 5700
Opponent - DET (Wily Peralta) Park - DET
FD - 12.19 DK - 9.03
It feels like Olson doesn't get talked about enough. This is the best hitter on one of the best teams in the AL, and no one ever talks about him. In any case, we will, and we'll certainly give him the credit he deserves. We're talking about a masher who's mustering a .373 OBP, .548 SLG, and .921 OPS. That slugging percentage is actually not far off of his career numbers, developing into one of the best power hitters in baseball. He's been terrific against righties, too, accumulating a .273 ISO and .371 wOBA throughout his career against them. Not to mention, Peralta has pitched to a 5.90 ERA and 1.62 WHIP over his last six starts.
If you need a catcher, Salvador Perez homers every day and gets to face a lefty here.
Second Base

DJ LeMahieu FD - 2B 3400 DK - 2B 4000
Opponent - LAA (Packy Naughton) Park - LAA
FD - 12.8 DK - 9.89
Good ol' DJ has not given us much reason to use him this season, but his price is becoming a number that we cannot fade. We're talking about the leadoff hitter for one of the best lineups in baseball and a guy that flirted with an AL MVP last season. That can help us ignore his subpar 2021 numbers, especially with LeMahieu getting on base in nine of his last 10 games. We believe that can happen again, with DJ totaling a .332 AVG and .902 OPS against lefties since 2019. We want to exploit this lefty, too, and we'll discuss that more in the outfield section!

Wilmer Flores FD - 2B 2600 DK - 1B/3B 3600
Opponent - MIL (Brett Anderson) Park - SF
FD - 9.66 DK - 7.41
The Giants have been putting together this mish-mash lineup of platoon hitters all year, but Wilmer has steadily been one of their go-to guys. One of the reasons he's been a fixture is because he's been slaughtering southpaws throughout his career, amassing a .294 AVG, .546 SLG, and .877 OPS against them since 2019. That looks even better since he's homered twice in the last five days, batting in the heart of this order against lefties. Brett Anderson is certainly a guy we want to use Wilmer against, with BA posting a 5.58 xERA and a disastrous 15 percent K rate.
Shortstop

Bo Bichette FD - SS 3900 DK - SS 5500
Opponent - BAL (Matt Harvey) Park - TOR
FD - 17.19 DK - 13.19
We already foreshadowed that we want to stack against Matt Harvey, so let's dive deeper into that. This season, the Dark Knight has been far from a superhero, compiling a 6.18 ERA and 1.51 WHIP. He's actually been much better recently, but those nightmarish numbers make him a must-fade against a Top-5 Blue Jays offense. In his three starts against Toronto, Harvey has honed in an 8.56 ERA and 2.05 WHIP. Bichette will certainly be one of those who adds to those averages, with Bo leading all shortstops on this slate with 9.2 DK points per game. This is the best stack out there, and it'd be impossible to ride it without Bichette in the bunch.

Amed Rosario FD - SS 3200 DK - SS 4800
Opponent - KC (Mike Minor) Park - KC
FD - 9.51 DK - 7.45
Amed was a huge disappointment with the Mets, but this guy has quietly had an amazing season for The Tribe. He's actually outplayed Francisco Lindor, with Rosario hitting .290 en route to a .759 OPS. What we really like is that he's killed lefties, providing a .331 AVG and .888 OPS against them this season. Those are incredible splits from such a cheap player, and we don't mind that Mike Minor has been struggling mightily recently. In fact, MM has maintained a 5.75 ERA since the beginning of June.
Third Base

José Ramírez FD - 3B 4500 DK - 3B 6400
Opponent - KC (Mike Minor) Park - KC
FD - 11.6 DK - 8.72
We just discussed how bad Minor has been recently, and it certainly makes Ramirez, Rosario, and Reyes a formidable three-man stack. J-Ram would have to be the heart of it, leading all third basemen with 9.9 DK points per game. A lot of that damage has come recently, with Jose having a 1.017 OPS and nine steals over his last 33 games played. That absurd power-speed combo makes him one of the best options in fantasy, particularly against a pitcher that can't get outs right now. Not to mention, Ramirez has also registered an OPS just shy of 1.000 against lefties since the beginning of last season.

Josh Donaldson FD - 3B 3200 DK - 3B 4000
Opponent - CHC (Justin Steele) Park - MIN
FD - 10.84 DK - 8.03
Donaldson has been in my articles for a month now, and recent results indicate that we're doing something right. Over his last 16 games, JD is posting a .391 OBP, .629 SLG, and 1.020 OPS. That's the stud we've seen throughout his career, with Donaldson generating a ridiculous .368 career OBP. We really like that against an unknown lefty like Justin Steele, allowing four runs to a Rockies team that can't score on the road in his most recent start. He also happens to be a lefty, which is awesome since JD has a .937 OPS against southpaws throughout his career.
Outfield

Giancarlo Stanton FD - OF 3800 DK - OF 4800
Opponent - LAA (Packy Naughton) Park - LAA
FD - 14.29 DK - 10.57
When this guy gets hot, Stanton should be in your lineup. Since August 3, Giancarlo has generated a .340 AVG, .411 OBP, .670 SLG, and 1.081 OPS. That's the guy we saw win MVP in Miami, and it wouldn't be surprising to see him do this for the rest of the season. That looks even better when you consider his splits, with Stanton flirting with a .400 OBP against lefties throughout his career. Part of that has to do with when he got hit in the face, and it's clear when you watch him against lefties that he's way more comfortable at that side of the plate. Packy Naughton is not a guy we need to fade either, making his second career start here after pitching to a 4.90 ERA and 1.48 WHIP at the minors this year.

Eloy Jiménez FD - OF 3600 DK - OF 4900
Opponent - PIT (Mitch Keller) Park - CHW
FD - 15.08 DK - 11.43
I really thought that Mitch Keller would be a good pitcher, but this dude is bad right now. In fact, Keller has collected a 6.29 ERA and 1.73 WHIP since his call-up. That's no small 142-inning sample size either, making Chicago one of the best stacks on the board. Jimenez would have to be one of the key pieces to that stack, with Eloy establishing a .921 OPS since his return from the IL. That's the slugger we've seen throughout his career, tallying a .527 SLG and .847 OPS. Don't be afraid to mix in Luis Robert and Jose Abreu in this stack too!

Byron Buxton FD - OF 3700 DK - OF 3400
Opponent - CHC (Justin Steele) Park - MIN
FD - 11.61 DK - 8.83
This FanDuel price is 100 percent appropriate, but the $3,400 price tag on DraftKings is laughable. That's usually where you see minor leaguers and bottom-of-the-order bats, but Buxton is far from that. On the contrary, Buxton leads all outfielders with 10.5 DK points per game. That makes it hard to believe that Bux remains so cheap, especially since he gets to face a southpaw here. BB is actually hitting 34 points higher against lefties since 2019, and it continues to make this price tag look ridiculous.
GRAB A FREE TRIAL OF OUR PROJECTION SYSTEM, AND CHECK OUT DFSR PRO!
FREE EBOOK
SECRETS TO CRUSHING DAILY FANTASY FOOTBALL!
DON'T SET ANOTHER LINEUP BEFORE YOU READ THIS BOOK.