Baseball Picks Daily Fantasy
Expert Advice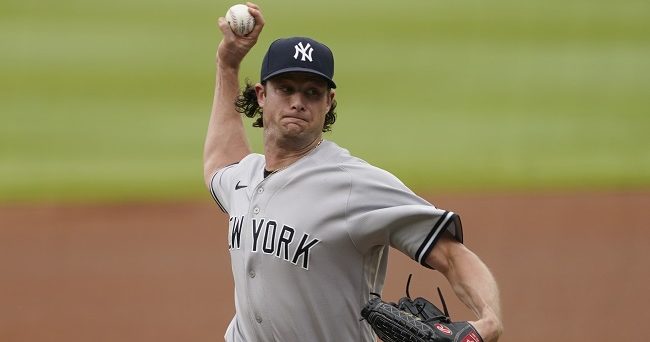 DraftKings and FanDuel MLB Picks for Tuesday 9/14/21 - Main Slate
Now's your chance to get DFSR PRO, which will give you access to our MLB, NBA, PGA, NHL, and NFL optimizers and our new player lab! Get started for free by clicking the button below.
Pitchers

Gerrit Cole FD 11400 DK 10700
Opponent - BAL (Alexander Wells) Park - BAL
FD - 46.58 DK - 26.26
Cole is a massive favorite against the Orioles today, coming in at -325. That is one of the biggest lines you will see and it makes total sense considering his talent against the disaster that is Baltimore. Though the grip issue from earlier in the season looked like it was going to be an issue, the numbers have remained elite with Cole striking out more than 12 batters per inning on the season and carrying in a 2.81 xFIP. Baltimore is a bottom-third team on the season and have started trotting out some younger guys as we get near the end of the season. No reason to fade Cole here considering he is head and shoulders above the rest of the group today.
Kyle Gibson FD 8600 DK 8100
Opponent - CHC (Adrian Sampson) Park - CHC
FD - 33.5 DK - 18.02
After Cole, there is a lot to like with the secondary options on DraftKings especially. Gibson is a big favorite against the rebuilding Cubs on the slate, coming in as a -212 home favorite. Chicago has been using mostly a skeleton crew since shipping most of its talent off at the trade deadline. Gibson isn't probably as good as the low 3's ERA would suggest, but he is coming at a reasonable price on DraftKings and shouldn't face all that much resistance in this matchup.
Catcher/First Base

Luke Voit FD 3200 DK 3800
Opponent - BAL (Alexander Wells) Park - BAL
FD - 14.49 DK - 10.83
You are going to see a decent amount of Yankees on this list today for sure. They are in just such a good spot on the mound but also at the plate as well. Against the lefty, Voit should find himself around the middle of the lineup which bodes well for the run-scoring oppportunites. Voit has actually been platoon neutral for his career, above-average against both sides with a 131 wRC+ and .866 OPS against southpaws. Wells has been terrible through his first 22 major league innings and there is a reason the Yankees are expected to put up runs.
Ryan Zimmerman FD 2000 DK 2900
Opponent - MIA (Jesús Luzardo) Park - MIA
FD - 10.66 DK - 8.05
I really prefer Voit over the rest of the field here on Tuesday, but there is a case for Zimmerman here against the lefty. He is down to a platoon player at this point, getting the start just against lefties. He is still excellent in this split on the season with a .911 OPS. The price is driven down because of how bad he has been against righties. Against Luzardo I think we can for sure play him at these prices and he makes for an excellent punt. Let others be fooled by what he has done against righties this season.
Second Base

DJ LeMahieu FD 3600 DK 4200
Opponent - BAL (Alexander Wells) Park - BAL
FD - 15.43 DK - 11.92
LeMahieu hasn't been able to recreate the success of his first two seasons with the Yankees, with the OPS down a bit this season thanks to some lower power numbers. But over his career, this is the better side of his split with a 115 wRC+ and .360 wOBA against lefties. The price is still on the lower side on DraftKings especially where he makes a very good value play considering he is still hitting in the leadoff spot despite some of the struggles.

Jean Segura FD 3200 DK 4900
Opponent - CHC (Adrian Sampson) Park - CHC
FD - 12.48 DK - 9.67
The Phillies have one of the higher implied run lines on the day at home against Adrian Sampson. Don't be fooled by the latter's low-2s ERA, the reality is more like the mid-4s xFIP. From a fantasy perspective, Segura has been solid this season with 12 home runs and nine stolen bases to go with an .801 OPS and 80% contact rate. You have to like this spot a lot for Philly and with Segura hitting second, his price is much too low on FanDuel.
Shortstop

Didi Gregorius FD 2500 DK 3700
Opponent - CHC (Adrian Sampson) Park - CHC
FD - 12.52 DK - 9.52
The OPS returns have been really bad for Didi this season, with that number currently sitting in the mid-600s. Some of that has been from a BABIP 40 points under his career average, though that can be partially attributed to a reduced hard contact rate on the season. But considering the matchup and the strength of the Phillies' lineup, I think we can still take a shot at him in this matchup considering the Phillies' implied run line.
Corey Seager FD 3600 DK 4200
Opponent - ARI (Luke Weaver) Park - ARI
FD - 14.38 DK - 10.85
Seager is a pretty good deal on DraftKings these days especially if he is hitting cleanup in this Dodgers' lineup. Slotted between guys like Trea Turner and Justin Turner is a great place to be and this is still a dude with a low-800s OPS on the season. The power hasn't really spiked, but he still walks 12% of the time and is tough to strikeout at 17%. His Hr/FB rate is down this season compared to last, but again we are getting a competent bat in a lethal lineup hitting in the middle of the order at mid-tier prices on DraftKings. That is tough to pass up.
Third Base

Gio Urshela FD 2500 DK 3500
Opponent - BAL (Alexander Wells) Park - BAL
FD - 11.35 DK - 8.69
We aren't done with the Yankees yet. Urshela is set to hit much lower in the lineup than some of the other NYY bats we are targeting. But he is also coming much cheaper than the rest of the bunch as well. Urshela's numbers have been merely *meh* this season with an OPS under .700, but for his career, he has been better against lefties and Wells is so bad (5+ xFIP, low Ks) that we can dream on the order continually rolling over for the Yankees in this matchup.

Alex Bregman FD 4200 DK 4200
Opponent - TEX (Jordan Lyles) Park - TEX
FD - 13.02 DK - 9.7
Bregman is still coming too cheap on DraftKings where the price has failed to come up enough following his early-season struggles. The second half of his season has been awesome with a 1.043 OPS, 188 wRC+, and .441 wOBA. Small sample size? Sure, but the tails of his demise at the plate were greatly over-exaggerated. This is a great spot against a very weak arm in Jordan Lyles.
Outfield

Aaron Judge FD 4100 DK 5400
Opponent - BAL (Alexander Wells) Park - BAL
FD - 18.06 DK - 13.36

Giancarlo Stanton FD 4000 DK 5000
Opponent - BAL (Alexander Wells) Park - BAL
FD - 17.05 DK - 12.61
These are the two big bats we are going to want to target and try to fit in with Gerrit Cole to round out cash games. Judge has been awesome this season, sporting a .918 OPS and 33 home runs, while cutting down his Ks to around 25% for the first time in his career. He's been slightly better against lefties in this stretch as well with a 157 wRC+ and .403 wOBA, both of which are elite numbers.
Meanwhile, Stanton's .844 OPS doesn't ring in at quite the same level, but this guy is one of the true lefty killers in the game today. He's just straight-up dominated this split for his career with a 1.004 OPS and .402 wOBA. His price stays in check because he's worse against righties, but this is just the spot to grab him.

Odúbel Herrera FD 2500 DK 4900
Opponent - CHC (Adrian Sampson) Park - CHC
FD - 12.5 DK - 9.57
As stated above, the Phillies are in a good spot here and some are coming too cheap on FanDuel especially. That is the case with Herrera who is close to the minimum there but should be hitting in the leadoff spot for Philly. He has an OPS in the lower 700s but there is power (12 home runs) and speed (six stolen bases) and the season, plus a solid contact rate. That plays real well with a pitcher profile like Sampson who struggles to get bats to swing and miss.
FREE EBOOK
SECRETS TO CRUSHING DAILY FANTASY FOOTBALL!
DON'T SET ANOTHER LINEUP BEFORE YOU READ THIS BOOK.