Baseball Picks Daily Fantasy
Expert Advice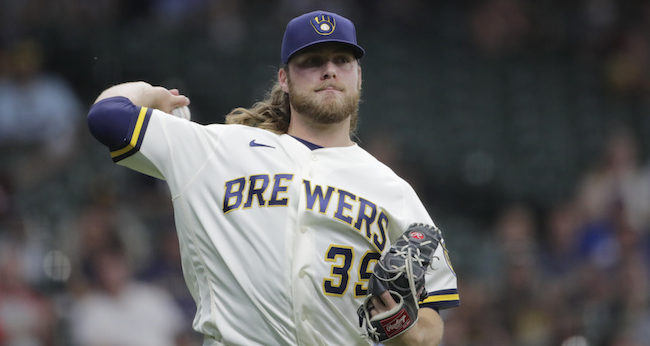 DraftKings and FanDuel MLB Picks for Saturday 9/18/21 - Afternoon and Evening Slates
Now's your chance to get DFSR PRO, which will give you access to our MLB, NBA, PGA, NHL, and NFL optimizers and our new player lab! Get started for free by clicking the button below.
Pitchers
Early

Max Scherzer FD 11300 DK 10700
Opponent - CIN (Sonny Gray) Park - CIN
FD - 39.92 DK - 22.56
Scherzer is the most expensive arm on the early slate and for good reason. He's hands down the best pitcher going here early and it isn't particularly close. He gets a tough matchup with the Reds for sure, and you hate that he's going in Great American Ballpark which plays as well for hitters as any place in the majors not named Coors. Scherzer is having another lights-out season with a 12.17 K/9 rate and a 3.12 xFIP that is about a run higher than his 2.17 ERA. He's a moderate -184 favorite against Cincy here, but on the early slate, I think he will be a tough fade.
For a DraftKings SP2, I like Nick Pivetta (FD $7700 DK $8100) and Ryan Yarbrough (FD $6000 DK $5700). The latter is coming very cheap and allows you to stack some of the bigger bats.
Evening

Corbin Burnes FD 11200 DK 10500
Opponent - CHC (Justin Steele) Park - CHC
FD - 49.09 DK - 28.25
Oh boy, is this one ever easy. Burnes is in the driver's seat for the NL Cy Young Award this season thanks to just some filthy numbers. He has a 35% K rate on the season, sick peripherals with a 7.2:1 K:BB ratio, and a 2.30 xFIP. He faces the rebuilding Cubs as a -291 home favorite, easily the highest of the slate. This is a slam dunk for cash games and he will likely be the chalk play. It's worth paying all the way up for Burnes here even with some other strong arms on the slate.
Lance Lynn (FD $10300 DK $8700) is just cheap enough on DraftKings to pair with Burnes here. He's facing the Rangers on the road as a heavy favorite.
Catcher/First Base
Early

Bobby Dalbec FD 3400 DK 3200
Opponent - BAL (Zac Lowther) Park - BAL
FD - 13.42 DK - 10.03
Dalbec should hit around the 6th or 7th spot for the Red Sox on Saturday and was a chalkier play on Friday in a similar situation. He's significantly better against lefties for his career with an .868 OPS and .362 wOBA in that split. The Red Sox mostly use him in a platoon when they are facing lefties, one of the reasons his price has stayed in the lower middle-tier. He's a fantastic DraftKings play in the low-$3K range.
Evening

Yuli Gurriel FD 3300 DK 4400
Opponent - ARI (Humberto Castellanos) Park - ARI
FD - 14.38 DK - 11.03
We've been on Gurriel all season long and for good reason. He has an .840 OPS and puts the ball in play around 80% of the time. That's helped him get on base 38% of the time on the year. And you don't need to worry about the righty-righty matchup here considering Gurriel has been about platoon neutral for his career. The Astros have the highest implied run line on the evening slate against Castellanos who has struggled at the major league level.
Second Base
Early

DJ LeMahieu FD 3600 DK 3700
Opponent - CLE (Aaron Civale) Park - CLE
FD - 13.23 DK - 10.22
The Yankees are in a good spot early as well, just not as good as the Red Sox. They are facing Aaron Civale and come in with an implied run line over 5.5. LeMahieu has struggled this season for sure, with the OPS hovering around .700, a far cry from what he'd done in his first two seasons with the Yankees. But they still want to keep him at the top of the order and that counts for a lot, especially at these prices and in this lineup. I think we can keep going back to the well with the understanding that he isn't quite the same dude we saw the last two years.
Evening

José Altuve FD 4200 DK 5100
Opponent - ARI (Humberto Castellanos) Park - ARI
FD - 15 DK - 11.48
It might be tough to fit Altuve in here if you are running Burnes, there will need to be some price concessions at some point, but you'd love to have him. After the power dropped off a cliff in 2020, it is all the way back this season and he has 28 home runs in his 617 plate appearances. He is one of the toughest outs in the game, striking out only 14% of the time and putting it in play at a 75% rate. Castellanos has almost no hope of putting him down on strikes and Altuve makes for one of the safer cash plays at the plate.
If you want to go cheaper, Abraham Toro (FD $2600 DK $4900) is a bargain on FanDuel.
Shortstop
Early

Xander Bogaerts FD 4000 DK 4700
Opponent - BAL (Zac Lowther) Park - BAL
FD - 17.37 DK - 13.15
The Red Sox have the highest implied run line of the early slate against Zac Lowther who has struggled mightily with control in his brief major league stint. He's walking close to five batters per nine already. Meanwhile, Bogaerts is racking up another excellent season with an .893 OPS and .371 wOBA, striking out less that 20% of the time and he's swatted 21 home runs. He's about 60 OPS points better against lefties for his career with 4% more walks. This is such a good spot for the Red Sox.
Evening

Carlos Correa FD 3800 DK 4700
Opponent - ARI (Humberto Castellanos) Park - ARI
FD - 14.31 DK - 10.77
If you can't tell, we are stacking Astros on this evening slate. The prices aren't totally out of control and they are in one of the best spots around. Castellanos has a 5.02 xFIP through his 30 major league innings, struggling to miss bats and stay in the strike zone as well. Correa isn't going to return to the per-plate appearance power numbers we saw in his rookie year, but this is still a dude with with a mid-800s OPS who is tough to strikeout and takes a lot of walks. That is kind of the theme for the Astros lineup, a group of patient hitters who can really get to starting pitchers.
If you want to go a little cheaper, Leury García (FD $2600 DK $3300) is a good price on DraftKings even hitting a little lower in the lineup.
Third Base
Early

Rafael Devers FD 4300 DK 4800
Opponent - BAL (Zac Lowther) Park - BAL
FD - 16.38 DK - 12.41
From a power perspective, Devers is having the best season of his career, racking up 34 home runs in his 600+ plate appearances. The OPS isn't quite at the 2019 number, but he is pushing towards .900. He gets dinged a bit in this matchup because he is significantly worse against lefties for his career with an OPS about 150 points lower in that split. That hurts. But Lowther could be just straight-up bad with a 5.97 xFIP through 20 innings and a minor league track record that doesn't inspire a ton of confidence.
Evening
Luis Urías FD 2600 DK 4600
Opponent - CHC (Justin Steele) Park - CHC
FD - 10.75 DK - 8.21
In vein of trying to keep things a little cheaper when possible, Urias makes for a good punt-ish opportunity on FanDuel coming at $2600. He's had a sneaky good season with a .788 OPS, 20 home runs, and five stolen bases. We will take that at the FD price point and he's facing an average arm in Justin Steele. Make sure Urias is hitting in the top-5 of the Brewers lineup to make this work, but I like taking the savings on FanDuel.
Alex Bregman (FD $4300 DK $4400) is the clear DraftKings play where his price hasn't fully adjusted. He's been much, much better for the second half of this season and is too cheap on DK.
Outfield
Early
Hunter Renfroe FD 4100 DK 4100
Opponent - BAL (Zac Lowther) Park - BAL
FD - 17.29 DK - 12.92

J.D. Martinez FD 4200 DK 4500
Opponent - BAL (Zac Lowther) Park - BAL
FD - 16.51 DK - 12.41
Renfroe is having one of the best seasons of his career, with 28 home runs and an .818 OPS. The big thing here is that he's crushed lefties over the course of his career with a .911 OPS and 138 wRC+ in that split. Those are bordering on elite numbers and the Red Sox have moved him up to the second slot in the lineup when they face southpaws. I suspect he is one of the more popular plays on the early slate.
Meanwhile, Martinez has bounced back from a very rough 2020 campaign and is mostly back on track this season. The power numbers are quite where they were in the past as he starts to get up there in years. But this is one of the true lefty-killer bats over the last few years. For his career, he has a .952 OPS against southpaws with an elite .396 wOBA. Stacking Red Sox is the way to go early against Lowther who could really be in trouble here.
Evening

Yordan Alvarez FD 4000 DK 5000
Opponent - ARI (Humberto Castellanos) Park - ARI
FD - 15.8 DK - 11.79
Alvarez continues to rack up home runs on the season, hitting 30 already even though his HR/FB rate is the lowest of his career. He is very expensive on both sites, which will be tough to fit with Burnes and some other bats. But hitting in the middle of this Astros lineup is about as good a place as you can be on this slate.
Avisaíl García FD 3300 DK 3700
Opponent - CHC (Justin Steele) Park - CHC
FD - 11.85 DK - 9.1
I love Garcia here, especially on DraftKings where he is the perfect value to help fit some of the bigger arms on the mound. From a fantasy perspective, he's having a solid season with 28 home runs and five stolen bases. Plus, he's been about 100 OPS points better for his career against lefties than righties and has a 122 wRC+ and .351 wOBA in that split.
Consider Eloy Jiménez (FD $3400 DK $4000).
FREE EBOOK
SECRETS TO CRUSHING DAILY FANTASY FOOTBALL!
DON'T SET ANOTHER LINEUP BEFORE YOU READ THIS BOOK.