Baseball Picks Daily Fantasy
Expert Advice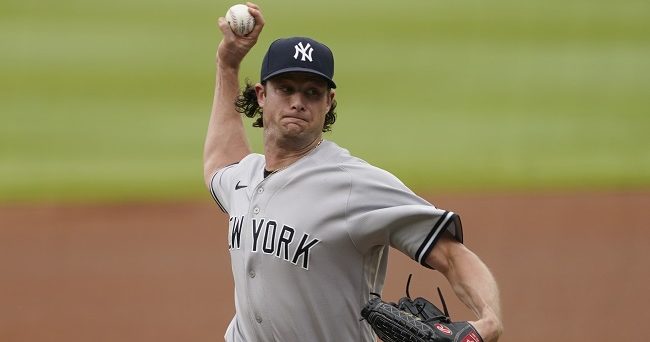 DraftKings and FanDuel MLB Picks for Sunday, 9/19/21
Now's your chance to get DFSR PRO, which will give you access to our MLB and NBA optimizers and our new player lab! Get started for free by clicking the button below.
If you love strange slates, this one's for you! This marks the two-week line until the final day of the season, and it feels like we just started playing a month ago. That's what can be genuinely bizarre about baseball because it felt like we were four months in come May. We're motivated to have some big nights before the regular season commences, and we truly feel like our projection system is speaking on this slate. It likes two of the stud pitchers to build around, so let's kick things off there!
Pitchers

Gerrit Cole FD - P 11500 DK - SP 10900
Opponent - CLE (Eli Morgan) Park - NYY
FD - 49.77 DK - 28.26
Anytime the AL Cy Young favorite is taking the mound, he needs to be taken into consideration for DFS. What makes him an enticing option here is the matchup with Cleveland, with the Indians ranked 27th in OBP, 23rd in wOBA, and 24th in OPS. All of that doesn't matter when it comes to a pitcher like this, with Cole leading every player with 25.4 DK points per game. No other starter is even above 20, and it's a good indicator of how far above the field this guy is right now. Vegas loves him too, with the Yanks entering this matchup as a -300 favorite and Cleveland projected for about 3.5 runs.
Sandy Alcantara FD - P 10800 DK - SP 10200
Opponent - PIT (Undecided) Park - MIA
FD - 35.62 DK - 19.04
It's crazy that Alcantara is not the second-highest pitcher on both of these sites. To put it simply, he's been one of the best pitchers in the NL for nearly two months. Sandy surrendered 10 runs in Coors Field on August 6 but has a 1.55 ERA, 0.75 WHIP, and 11.0 K/9 rate since then. We can omit that Coors Field game because of all the nightmares it gives opposing pitchers, and it's far from the tasty spot he has here. Not only is Miami one of the most pitcher-friendly ballparks around, but Pittsburgh also ranks 28th in xwOBA, 29th in wOBA, and dead-last in runs scored.

Catcher/First Base

José Abreu FD - 1B 4000 DK - 1B 4700
Opponent - TEX (Jordan Lyles) Park - TEX
FD - 13.53 DK - 10.23
I don't understand this pricing on DraftKings. Abreu received an AL MVP last season for his heroics and backed it with a formidable 2020-21 campaign. In fact, Jose is second in MLB with 111 RBI this season, providing a .376 OBP, .574 SLG, and .950 OPS over his last 42 games played. That's no surprise when you see all the talent around him, and it simply opens up opportunities for Abreu that many players never see. We love all of that in a matchup like this, with Jordan Lyles laying down a 5.20 ERA and 1.40 WHIP in yet another lackluster season.

Anthony Rizzo FD - 1B 3400 DK - 1B 4000
Opponent - CLE (Eli Morgan) Park - NYY
FD - 12.94 DK - 9.69
It will be tough to find affordable Yankees for the remainder of the season, but Rizzo can be one of them. The reason he's in this price range is that he's had a "down" year, but .343 OBP and .782 OPS are nothing to scoff at. What we like is that he's been roughing up righties, registering a .481 SLG and .848 OPS against them since 2019. That's all you can hope for from such a generously priced player, especially with the Yanks projected for more than five runs. Their protection is so high because they match up with Eli Morgan, and we'll discuss his exploits later on in the article!
Second Base

José Altuve FD - 2B 4400 DK - 2B 5500
Opponent - ARI (Zac Gallen) Park - HOU
FD - 14.07 DK - 10.76
People were quick to jump on Altuve before the season started, but he's come out and had a great season despite all of the distractions. A .486 SLG and .840 OPS tell you everything you need to know about Altuve, marking the fifth time he's surpassed a .830 OPS over his last six seasons. That's a big mark from such a little guy, and it doesn't even take into his speed and base running abilities. We love how he's seeing the ball right now, too, producing a .450 OBP and 1,123 OPS since sitting on September 4. We're certainly not worried about Gallen either, gathering a 4.44 ERA and 1.34 WHIP this season.

Enrique Hernández FD - 2B 3600 DK - 2B/OF 4300
Opponent - BAL (Alexander Wells) Park - BOS
FD - 14.19 DK - 10.71
We haven't gotten into any of the Red Sox bats yet, but they're going to start streaming in! We say that because they happen to be the best stack on the board, projected for six runs in this superb spot. They have the highest team total of any team on this slate, and we have to love their leadoff hitter if that is the case! Enrique has been entrenched in that role all season against lefties, posting a .355 OBP, .489 SLG, and .844 OPS with the platoon advantage in his favor. That's big news against a subpar southpaw like this, and we'll dive into his numbers later on!
Shortstop

Fernando Tatis Jr. FD - SS 4500 DK - OF/SS 6400
Opponent - STL (J.A. Happ) Park - STL
FD - 15.6 DK - 11.8
I wasn't a massive fan of the shortstop selections on this slate, so that means Tatis was an effortless pivot. This is simply the best player in fantasy baseball right now, leading all position players with 11.3 DK points per game. Many pitchers can't even compete with that, and it's a good indicator of how special Tatis has been from a game-by-game basis. What we love here is that he gets to face a lousy lefty, with Tatis totaling a .404 OBP against left-handers since his call-up. This southpaw has some stinky averages, too, accumulating a 6.00 ERA and 1.49 WHIP this year.

Xander Bogaerts FD - SS 4100 DK - SS 4800
Opponent - BAL (Alexander Wells) Park - BOS
FD - 17.09 DK - 12.94
Alright, let's kick things off by talking about Boston's batting practice pitcher. That happens to be Alex Walls, who's yet another Baltimore arm that can't cut it at this level. He's got a 7.66 ERA and 1.91 WHIP this season, despite facing some of the worst offenses in baseball. That means it's going to be a long day for the lefty here, with Boston throwing out a ton of righties who can mash his horrible averages. Xander is one of them, tallying a .379 OBP, .524 SLG, and .903 OPS against lefties since 2019. He also typically bats third, making him an easy option in the heart of the best stack of the day.
Third Base

Nolan Arenado FD - 3B 4100 DK - 3B 4800
Opponent - SD (Jake Arrieta) Park - STL
FD - 11.22 DK - 8.47
The Cardinals have been aiming to sneak into the playoffs, and the play of Paul Goldschmidt and Arenado is a significant reason they're back in it. The former Rockies bat has been rolling recently, retaining a .567 SLG and .844 OPS over his last 16 games played. That's the Colorado Arenado that we loved, and it's clear that he's entirely motivated with his team now in the hunt. The best part about using him is this matchup, though, with Jake Arrieta accruing a 7.05 ERA and 1.74 WHIP this season. That's bad news with the way the Cards are cruising, and you better believe they're in line for another 5-6 runs here.

Manny Machado FD - 3B 3500 DK - 3B 5500
Opponent - STL (J.A. Happ) Park - STL
FD - 12.18 DK - 9.17
We just talked about how Tatis gets a great matchup against Happ, but we're happy to announce that Machado reaps all the same benefits. Much like Tatis, Manny has slaughtered southpaws to the tune of a .387 OBP, .565 SLG, and .957 OPS since 2019. Those are some of the best splits you'll see, and it makes Manny a menace for a struggling pitcher like Happ. What we also like is the fact that San Diego is projected for five runs here. That means Manny and Fernando are the easy two-man stack from that crew, and you better believe both guys are motivated after their spat on Saturday.
Outfield
Hunter Renfroe FD - OF 4200 DK - OF 4200
Opponent - BAL (Alexander Wells) Park - BOS
FD - 17.01 DK - 12.71
Let's cap off our Boston stack with Renfroe. The first thing we need to say is that you can't forget about J.D. Martinez, though, posting a 1.033 OPS against lefties since 2019. That makes him a great pairing with all of these other Sox bats, with Renfroe looking like one of the best values of the bunch. Renfroe's splits are what we like most, though, with Hunter honing in a .374 OBP, .528 SLG, and .901 OPS against lefties this year. That's amazing since he's amassing a .533 SLG and .879 OPS at home as well. That means everything matches up with the sensational matchup, making Renfroe one of the best values over on DraftKings.

Joey Gallo FD - OF 3300 DK - OF 3900
Opponent - CLE (Eli Morgan) Park - NYY
FD - 14.2 DK - 10.42
Gallo can be a volatile fantasy option with how much he swings and misses, but he absolutely pounds the ball when he connects with it. That sensational swing has been rocking recently, connecting on six homers over his last eight games played. That power stroke is looking better in a hitting haven like Yankee Stadium, and he should have no problem thriving in a matchup like this. Not only does Gallo get the platoon advantage from the right side, but Morgan has maintained a 6.03 ERA in another miserable season. That has the Yanks as one of the highest projections on the board, putting the cherry on top for this play.
Darin Ruf FD - OF 2300 DK - 1B/OF 3400
Opponent - ATL (Max Fried) Park - SF
FD - 11.91 DK - 9.01
Facing a guy like Fried is no easy task, but the Giants have made mincemeat of opposing pitchers all season. One reason for that is because they have some of the best platoons in the game, getting a guy like Ruf atop their lineup against lefties. It's easy to see why he hits there, compiling a .398 OBP, .593 SLG, and .991 OPS against lefties since 2019. That's on par with some of the best bats in the game, and it makes it hard to believe that Ruf is so reasonably priced.
GRAB A FREE TRIAL OF OUR PROJECTION SYSTEM, AND CHECK OUT DFSR PRO!
FREE EBOOK
SECRETS TO CRUSHING DAILY FANTASY FOOTBALL!
DON'T SET ANOTHER LINEUP BEFORE YOU READ THIS BOOK.