Baseball Picks Daily Fantasy
Expert Advice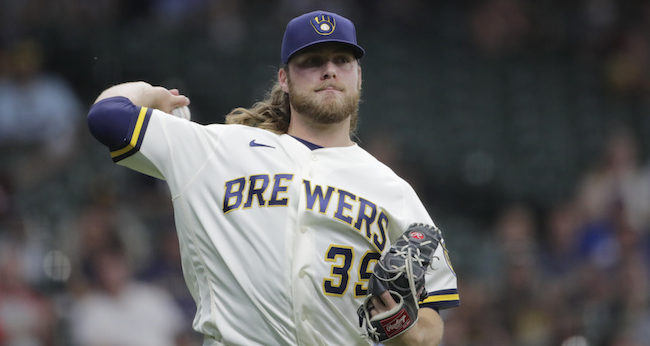 DraftKings and FanDuel MLB Picks for Saturday 9/25/21 - Afternoon and Main Slates
Now's your chance to get DFSR PRO, which will give you access to our MLB, NFL, PGA, NBA, and NHL optimizers and our new player lab! Get started for free by clicking the button below.
Pitchers
Afternoon

Shane McClanahan FD 9600 DK 9800
Opponent - MIA (Sandy Alcantara) Park - MIA
FD - 42.86 DK - 23.27
McClanahan and the Rays come into Saturday having already locked up a playoff spot and the top of the American League East. They don't have much to play for here and it's hard to imagine them pressing the righty a ton. But they are a -204 home favorite on the slate against a very weak Miami team. McClanahan has been excellent this season with a 3.23 xFIP while striking out more than 10.5 batters per nine. Coming under $10K on both sites is attractive even if you think the pitch count runs a little lower.
Ranger Suárez (FD $8800 DK $6800) has been very good over his last six starts, allowing just seven earned runs in 35 innings in that stretch while striking out 38 and walking just eight. He's a big (-282) home favorite against the Pirates.
Main

Corbin Burnes FD 11100 DK 10600
Opponent - NYM (Rich Hill) Park - NYM
FD - 45.75 DK - 26.21
Corbin Burnes will probably end up on the outside looking in when it comes to the Cy Young award, currently sitting second to Max Scherzer in odds for the award. But it won't have been for lack of trying. This guy has put up one of the great seasons, striking out 35.5% of the batters he's faced, walking just 5%, and sporting a 2.31 xFIP. You just won't see many better seasons than that. The 10-4 W-L record is what only really has him trailing Scherzer and that's silly of course. These two should be basically tied. Burnes, as always, is an excellent play here.
Catcher/First Base
Afternoon

Anthony Rizzo FD 3400 DK 4300
Opponent - BOS (Nick Pivetta) Park - BOS
FD - 11.62 DK - 8.7
The Red Sox and Yankees are locked in a playoff battle and have, by far, the highest implied run line on this slate with a 10.5 over/under. Rizzo should be hitting second against the righty Pivetta. The former is tough to strike out, going down on strikes only 15% of the time this season and that number has dropped even more over the second half of the season since coming to the Yankees. His hard contact rate has been down this season, which has led to the OPS dip, but he's still a patient hitter in a dangerous lineup.
Main

C.J. Cron FD 3800 DK 3600
Opponent - SF (Anthony DeSclafani) Park - SF
FD - 12.85 DK - 9.68
Cron has had an excellent season at the plate since coming over the Rockies and will finish with an OPS right around .900 when it is all said and done in a couple of days. He has been better against lefties for his career, but this season has been more than serviceable against righties with an .865 OPS and .368 wOBA. We can live with those numbers at these prices in Coors even with a tougher matchup against DeSclafani.
Strongly consider Brandon Belt (FD $4300 DK $5000), though it will cost you.
Second Base
Afternoon

Adalberto Mondesi FD 3400 DK 5800
Opponent - DET (Tarik Skubal) Park - DET
FD - 11.11 DK - 8.62
Mondesi is much too expensive on DraftKings where he's closing in on $6K, but the FanDuel price looks right in the lower $3K range. He has struggled with injuries this whole season, getting only 104 total plate appearances so far. But when he's been able to play, the fantasy results have been excellent. Even with a 33% K rate, this dude still has six home runs and a whopping 13 stolen bases. He struggles to get on base, but when he's' there he's off to the races to second.
On DraftKings, you are still getting an okay price on DJ LeMahieu (FD $3400 DK $4200)
Main
Tommy La Stella FD 3600 DK 4000
Opponent - COL (Jon Gray) Park - COL
FD - 13.04 DK - 10.02
La Stella should be hitting leadoff for the Giants as they play their second game in Coors on Saturday. San Fran has an implied run line a run-plus higher than every other team on the slate and La Stella has a price that's simply too low on both sites. He's an especially good deal on DraftKings. He's putting the ball in play almost 80% of the time on the season with some power (seven home runs in 220 plate appearances). The .731 OPS isn't amazing, but this is Coors we are talking about, where runs are made from the thin air.
Shortstop
Afternoon

Xander Bogaerts FD 3800 DK 5200
Opponent - NYY (Nestor Cortes) Park - NYY
FD - 14.63 DK - 11.08
The lefty Nestor Cortes has been very good this season, but the Red Sox lineup is still a tough one to roll through, especially for southpaws. Bogaerts is capping off another strong season with an .882 OPS, 23 home runs, and a .371 OBP. He strikes out less than 20% of the time and for his career has been about 55 OPS points better against lefties. He has a .367 wOBA and 129 wRC+ in that split.
Main
Trevor Story FD 3800 DK 4500
Opponent - SF (Anthony DeSclafani) Park - SF
FD - 13.97 DK - 10.61
Story has had a down year for sure, dipping the OPS into the lower .800s thanks to the power taking a dip. The hard contact rate has been down a bit over the last couple of seasons, but he's also running a bit bad on the Hr/FB rate and his BABIP is nearly 50 points lower than his career number. There has been some bad luck for Story this go around and his price is in the middle tier because of it. I think we can still buy him here with the Rockies bringing in a solid implied run line as well.
Third Base
Afternoon

Alex Bregman FD 3700 DK 4800
Opponent - OAK (Sean Manaea) Park - OAK
FD - 13.11 DK - 9.77
The matchup against Manaea isn't amazing, but Bregman has been so good against lefties for his career that I think he's in play on this slate. He's been truly elite in this split, putting up a whopping .992 OPS and .412 wOBA when facing southpaws, some of the better career numbers you will ever see. He walks as much as he strikes out (12.5% for both) and should give Manaea fits here. Bregman is locked back into the second spot for the Astros and is a fair price on both sites.
Main

Kris Bryant FD 4300 DK 5400
Opponent - COL (Jon Gray) Park - COL
FD - 14.03 DK - 10.52
Bryant has been solid since coming over the Giants around the trade deadline and projects to hit fifth in the lineup against the righty Jon Gray on Saturday. The former is much better against lefties for his career but is no slouch against righties either. This season, in that split, he has an OPS in the .800s and against Jon Gray that plays heading into Coors. Bryant will cost you, but we want to try to get those Giants bats into our lineups. 
Outfield
Afternoon

Aaron Judge FD 4300 DK 5500
Opponent - BOS (Nick Pivetta) Park - BOS
FD - 14.76 DK - 10.91

Giancarlo Stanton FD 3900 DK 4700
Opponent - BOS (Nick Pivetta) Park - BOS
FD - 14.02 DK - 10.37

Joey Gallo FD 3600 DK 4200
Opponent - BOS (Nick Pivetta) Park - BOS
FD - 12.75 DK - 9.35
Mix and match these guys based on what you have available in your salary cap. All three are expensive but they will his 3-4-5 in the order for a team coming in with 5.2 implied runs. I think you can consider the Boston guys like J.D. Martinez (FD $4000 DK $4300) as well, so it could become a numbers crunch. The point being, you are going to want to stack the OF in this game in general considering how many elite bats there are for both teams and how many runs are projected.
Main
LaMonte Wade Jr. FD 3800 DK 4600
Opponent - COL (Jon Gray) Park - COL
FD - 10.63 DK - 8.18
Lamonte Wade is holding down the cleanup spot for the Giants lately. They've found something with this guy since he came over from the Twins and he's had a true breakout season. His OPS is sitting around .850 and he has 18 home runs, flashing power he hadn't shown at any other stop in the minors or majors. I like the upper-middle tier prices on both sites and think he offers another chance to get a Giants' bat into your lineup at a fair price.
Raimel Tapia FD 2800 DK 3400
Opponent - SF (Anthony DeSclafani) Park - SF
FD - 11.84 DK - 9.28
Tapia is coming too cheap on both sites considering he's going to be hitting leadoff again for the Rockies. Sure, he doesn't have much in the way of power, but getting these prices for a dude hitting first in Coors is simply too good to pass up.
FREE EBOOK
SECRETS TO CRUSHING DAILY FANTASY FOOTBALL!
DON'T SET ANOTHER LINEUP BEFORE YOU READ THIS BOOK.