Baseball Picks Daily Fantasy
Expert Advice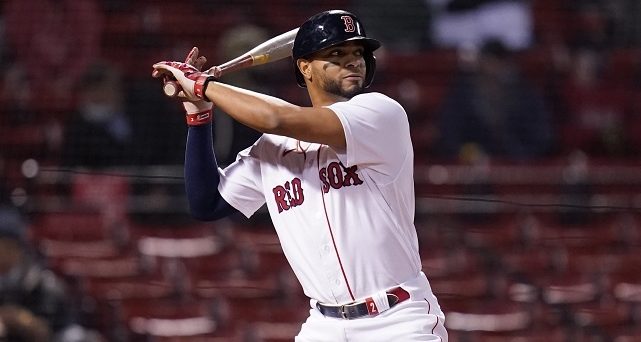 DraftKings and FanDuel MLB Picks for Wednesday, 9/29/21
Now's your chance to get DFSR PRO, which will give you access to our MLB and NBA optimizers and our new player lab! Get started for free by clicking the button below.
We're finally down to the final week of the season! This is when chaos ensues and when we can capitalize on being up on the news. There are so many random things happening in terms of pitch counts and lineups that you need to be zoned in to be successful. We feel like we are here, so let's go ahead and get into it!
Pitchers

Frankie Montas FD - P 9900 DK - SP 9400
Opponent - SEA (Logan Gilbert) Park - SEA
FD - 34.89 DK - 18.49
It looks like Oakland will miss out on a playoff berth, but it's certainly no fault of Frankies! This dude has been electric in the second half, generating a 2.38 ERA, 1.06 WHIP and 10.3 K/9 rate since the end of June. That's a long stretch of success, with Montas scoring at least 37 FanDuel points in 12 of those outings. That's well above our projection, and we believe he can surpass it here in a matchup like this. Seattle currently ranks 27th in OBP, 26th in K rate, and 25th in OPS. That's why they have a projection of 3.6 runs, which would be one of the lowest on this slate.
Taijuan Walker FD - P 7300 DK - SP 6600
Opponent - MIA (Elieser Hernandez) Park - NYM
FD - 38.03 DK - 20.75
This is a risky one, but Walker has some serious upside in this matchup. Let's kick things off by talking about that, with the Marlins ranked 28th in both runs scored and OPS while sitting dead-last in xwOBA. Those horrific averages make Walker an intriguing option at home, with Taijuan tallying a 3.55 ERA, 1.04 WHIP, and 8.9 K/9 rate at Citi Field this season. That's far from surprising when you look at how spacious Citi Field is, and it should allow Walker to maintain this weak lineup despite his recent struggles. Vegas certainly agrees with our assessment, making the Mets a -180 favorite in a game with a total of 7.
If you have the salary, Gerrit Cole is obviously a good pick.

Catcher/First Base

Paul Goldschmidt FD - 1B 4100 DK - 1B 4800
Opponent - MIL (Adrian Houser) Park - STL
FD - 10.6 DK - 7.97
Goldy has been a regular for me recently, and it's easy to understand why when you look at his numbers. He's got a .563 OBP and 1.705 OPS over his last seven games but has been putting on a show for months now. In fact, Paul is providing a .434 OBP, .689 SLG, and 1.122 OPS over his last 48 games played. That has gotten this club into the postseason behind their absurd winning streak, and we have to believe Goldschmidt will keep raking until the clock hits zero on Sunday. Adrian Houser isn't necessarily scary either, posting an inflated 4.34 xFIP.

Miguel Sanó FD - 1B 2600 DK - 1B 3800
Opponent - DET (Casey Mize) Park - MIN
FD - 9.35 DK - 6.91
Sano is one of those guys that you want to ride when he's hot. He's just that right now, knocking out 11 homers over his last 34 games played. We've seen that sort of elite power from Sano throughout his career, and we love that he's finally getting everyday duties in the heart of this lineup. Another reason we don't mind using him is that this is expected to be a bullpen game. Detroit has one of the ugliest bullpens around, and we like that he'll be facing subpar pitchers for three of his four at-bats. All of that makes it hard to believe that Sano is so cheap, especially with his .797 OPS against the Tigers this year.
Second Base

Adalberto Mondesi FD - 2B 3400 DK - 3B 5500
Opponent - CLE (Zach Plesac) Park - KC
FD - 10.44 DK - 8.1
I've said this numerous times, but Adalberto is one of the best players in fantasy when he's healthy. He led all players in fantasy points per game last season and is right there again this year with 9.2 DK points per game. That's the second-highest total among all third baseman, and it's far from unexpected when you see his power-speed combo. It's not like Zach Plesac is some stopper either, pitching to a 4.88 ERA since his first two starts of the year.
Luis Arraez FD - 2B 2100 DK - 2B/3B 3700
Opponent - DET (Casey Mize) Park - MIN
FD - 10.93 DK - 8.58
We have a lot of expensive players coming later, so let's get one of the best values out there. That happens to be Arraez, with the contact-hitter flirting with the minimum on FanDuel. It makes no sense why he remains that cheap, hitting atop this lineup and getting on base at ease. Arraez has amassed .307 AVG and .370 OBP for his career, doing a lot of that damage against right-handers. Anybody who can get on base at a 37 percent clip needs to be considered, especially when you're talking about someone this cheap.
Shortstop

Xander Bogaerts FD - SS 3700 DK - SS 5300
Opponent - BAL (Zac Lowther) Park - BAL
FD - 15.36 DK - 11.64
Bogaerts is quietly one of the most consistent hitters in baseball, and he's always a good option against the O's. That bad Baltimore team has been allowing opposing hitters to go off for years now, and Bogey is one of the many guys who thrive off of their terrible management. He's got a .368 OBP and .851 OPS against them, which is pretty much on par with his season-long averages. What we love is that he gets the platoon advantage against a lefty, making this Sox team one of the stacks of the day. Lowther is undoubtedly a guy we want to stack against, and we'll go over that more later!
Corey Seager FD - SS 3900 DK - SS 5600
Opponent - SD (Undecided) Park - LAD
FD - 11.09 DK - 8.36
It's been a rough season for the World Series MVP, but it appears Corey is getting hot at the right time. Since the end of August, Seager has swung his way to a .440 OBP, .559 SLG, and 1.029 OPS. Those are the averages we've been waiting for, with Seager finally living up to his lofty price tag. Getting to face an undecided pitcher only adds to his intrigue, with the Dodgers projected for more than five runs. It sounds like it'll be a bullpen game for the Padres, and you better believe that Los Angeles will be ready to put it on this struggling San Diego team with so much on the line.
Third Base

José Ramírez FD - 3B 4400 DK - 3B 5900
Opponent - KC (Daniel Lynch) Park - KC
FD - 13.26 DK - 9.97
Many people overlook Ramirez because the Indians are way out of contention, but this dude is an absolute beast. He's leading all third basemen with 9.9 DK points per game, providing 31 doubles, 35 homers, 98 RBI, and 26 steals. Those are genuinely absurd averages, and he's certainly not slowing down with a .492 OBP and 1.145 OPS over his last 15 games played. All of that makes him a worthy option against anyone, but Daniel Lynch makes him one of the best options out there! We'll get into that in the outfield section!

Rafael Devers FD - 3B 3900 DK - 3B 5200
Opponent - BAL (Zac Lowther) Park - BAL
FD - 14.49 DK - 10.98
We foreshadowed how we want to stack the Sox, so let's go ahead and break it down. They're projected for six runs in this sensational spot, and one has to believe they'll roll once again, winning 12 of their last 14 games over the Orioles. It's easy to see why when looking at this staff, with Lowther owning a 7.66 ERA and 1.66 WHIP. Those nightmarish averages are on par with the rest of this rotation, which means we definitely want to ride Devers. The slugging third baseman has a .386 OBP, .683 SLG, and 1.069 OPS against the O's this season and is truly a rising stud at the age of 24.
Outfield

Franmil Reyes FD - OF 3400 DK - OF 5100
Opponent - KC (Daniel Lynch) Park - KC
FD - 11.58 DK - 8.69
Stacking the Indians against Lynch is easily one of the most profitable endeavors on this slate. We say that because Lynch has been lollygagging his way through the year, pitching to a 1.57 WHIP. That's scary since he's got an ERA north of 8.00 over his last four starts, especially considering that he has to pitch from the left side. That gives The Franimal the platoon advantage from the right side, with Reyes registering a .356 OBP and .870 OPS against southpaws since 2019. He also happens to be rolling, accruing a .886 OPS across his last 23 games played.

J.D. Martinez FD - OF 3900 DK - OF 4500
Opponent - BAL (Zac Lowther) Park - BAL
FD - 14.6 DK - 10.98
Let's cap off our BoSox stack with my favorite option of the bunch. Martinez has been middling his way in the second half of the season, but this is a spot for him to succeed. His biggest asset is batting from the right side against this crappy lefty, accumulating a .392 OBP and 1.006 OPS against them since 2019. He was actually even better in the year prior, and it's fantastic that his DraftKings price has fallen all the way to $4,500 in such a tasty matchup. Not to mention, J.D. has a .424 OBP, .820 SLG, and 1.244 OPS against this insufficient Baltimore staff this season.
Adolis García FD - OF 3300 DK - OF 4500
Opponent - LAA (Janson Junk) Park - TEX
FD - 11.19 DK - 8.37
It's weird that Adolis is not getting the credit he deserves. We're talking about a guy who's hitting .250, providing 30 homers and 14 steals. That's an amazing season for anybody, let alone an unknown rookie. All of that makes it shocking that his price remains this low, especially with Adolis averaging 12 FD points per game across his last six outings. The best part about using him is the fact that he gets to face this Junk guy. His name fits, never pitching above Double-A before his call-up while compiling an 8.24 FIP in limited time this season.
GRAB A FREE TRIAL OF OUR PROJECTION SYSTEM, AND CHECK OUT DFSR PRO!
FREE EBOOK
SECRETS TO CRUSHING DAILY FANTASY FOOTBALL!
DON'T SET ANOTHER LINEUP BEFORE YOU READ THIS BOOK.