Baseball Picks Daily Fantasy
Expert Advice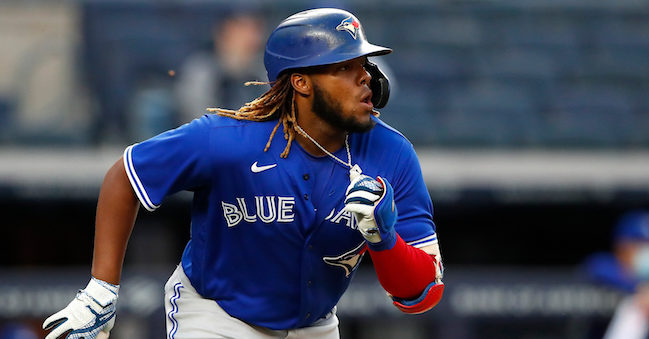 DraftKings and FanDuel MLB Picks for Sunday 10/3/21
Now's your chance to get DFSR PRO, which will give you access to our MLB, NBA, PGA, NHL, and NFL optimizers and our new player lab! Get started for free by clicking the button below.
Pitchers

Hyun Jin Ryu FD 8000 DK 7700
Opponent - BAL (Bruce Zimmermann) Park - BAL
FD - 36.78 DK - 19.34
It's a must-win day for four of the American League teams vying for the Wild Card and the Blue Jays are one of them. They come in as ridiculous -400 home favorites against the Orioles and Bruce Zimmermann, one of the biggest favorites you will ever see. We are going to have a bunch of them in the picks today. Ryu has had a fine enough season, with an xFIP under 4.00 and decent peripherals. He has some, but not much, K stuff and he isn't a lights-out arm. It's just tough to walk away from these win odds on Sunday.
Tyler Anderson FD 8100 DK 8500
Opponent - LAA (Reid Detmers) Park - LAA
FD - 36.85 DK - 18.36
Anderson is another one coming in a must-win situation for the Mariners and gets a very good matchup against the Angels. Los Angeles has about one bat in the lineup that scares you and there is a reason this game comes in with a low 7 over/under. Anderson is a -180 home favorite, though like Ryu isn't one to dial up the strikeout stuff. He's a flyable pitcher who needs to keep the ball in the park. The Angels are middle of the pack against lefties this season and Anderson is in a good spot. The upside just might be limited.
Catcher/First Base

Vladimir Guerrero Jr. FD 4000 DK 6200
Opponent - BAL (Bruce Zimmermann) Park - BAL
FD - 19.53 DK - 14.82
We are stacking Blue Jays bats almost for sure on this slate. With an implied run line pushing towards seven and a choice matchup in a must-win game, you have to like the top of this order. Guerrero would be all the MVP talk if it wasn't for Ohtani and is capping off a season with a .992 OPS and 46 home runs. This is elite for any player and almost historic for a dude in his age-22 season. He's one of the best hitters in the game and priced as such. But I want all of the Blue Jays on this slate.

Carlos Santana FD 2600 DK 2700
Opponent - MIN (Charlie Barnes) Park - MIN
FD - 10.44 DK - 7.77
Santana had a rough year at the plate for sure, but it's worth noting that his struggles came much more against righties than lefties. He was 70 OPS points better against southpaws and was mostly league average in that split. That won't knock your socks off, but he is coming near the minimums on DraftKings which will help to fit some other bats in this slate if you decide to fade Vladdy.
Second Base

Marcus Semien FD 3800 DK 5700
Opponent - BAL (Bruce Zimmermann) Park - BAL
FD - 18.33 DK - 13.89
Let's let the Blue Jays stack keep rolling here with Semien who should be in the second spot in the lineup on Sunday. He's become one of the best overall players in baseball over the last few years which is a major surprise. This season was another world-beater, and he has a career-high 44 home runs with 10 stolen bases thrown in as well. If anything, he ran a little bad on the BABIP side. For his career, Semien has been better against lefties even if that wasn't the case this season. Zimmermann could be in real trouble here against the top of the Jays' order especially.
Luis Arraez FD 2100 DK 3600
Opponent - KC (Jackson Kowar) Park - KC
FD - 11.1 DK - 8.72
I'm not looking to get away from too many Blue Jays, but they are expensive and you might need to pivot here or there. The Twins face off against Jackson Kowar who has really struggled at the major league level with a 6.22 xFIP in his 26 innings. He has almost as many walks as strikeouts which has the Twins in a good spot. Arraez doesn't make much of anything on the power/speed front, but he gets on base 35% of the time and puts the ball in play at an 80% rate.
Shortstop

Bo Bichette FD 3900 DK 5700
Opponent - BAL (Bruce Zimmermann) Park - BAL
FD - 18.73 DK - 14.37
Bichette has been locked into the cleanup slot for just about the entire second half of the season with the Blue Jays keeping things the same on a day-in, day-out basis. From a fantasy perspective, he's everything you want with 28 home runs and 25 stolen bases on the season. Plus, he's absolutely tagged lefties with a career .973 OPS and 159 wRC+ in that split. This is the ideal situation for Bichette and I don't see any reason to fade him on either site.
Look, I really wouldn't advocate playing anyone but Bichette in cash at this point, but his lineup mate Santiago Espinal (FD $2100 DK $2500) is coming cheap on both sites and would make for a punt pivot considering the Blue Jays' implied run line.
Third Base

Rafael Devers FD 3900 DK 6000
Opponent - WSH (Joan Adon) Park - WSH
FD - 15.01 DK - 11.37
The Red Sox, like the Blue Jays, have themselves in a must-win game and will face Joan Adon who looks like he is making his first career start in the majors. Devers isn't cheap either which would make his bat tough to fit with the other Blue Jays. On the last day of the season, it stands to reason we will get some lineup shenanigans from other teams which might unlock something cheaper. Devers will finish the season with a high-800s OPS and 35+ home runs, marking another solid outing for the 24-year-old.
Yoshi Tsutsugo FD 2200 DK 3300
Opponent - CIN (Reiver Sanmartin) Park - CIN
FD - 10.11 DK - 7.54
We are going to have to find some savings somewhere and third base might be the spot. Yoshi Tsutsugo isn't exactly an elite fantasy bat, but he's coming very cheap on both sites and should be hitting second for the Pirates against Sanmartin. The latter hasn't flashed much in the way of K stuff at almost any level and projects out as a league-average, at best, arm. Tsutsugo has a little bit of power, but his *safety* comes from his spot in the order if he sticks in the two-hole.
Outfield

George Springer FD 3700 DK 5100
Opponent - BAL (Bruce Zimmermann) Park - BAL
FD - 20.76 DK - 15.6
Teoscar Hernández FD 3400 DK 4900
Opponent - BAL (Bruce Zimmermann) Park - BAL
FD - 16.73 DK - 12.57
Lourdes Gurriel Jr. FD 3300 DK 4000
Opponent - BAL (Bruce Zimmermann) Park - BAL
FD - 15.8 DK - 12.07
Let's go right down the line. Springer should be in the leadoff spot for the Blue Jays and it looks like he's finally been able to stay healthy for a longer stretch. Injuries plagued him at the beginning of the season but he has been good for a .852 OPS and 19 home runs. If anything, there's been a bit of bad luck here with a BABIP 30 points under his career average. The OPS is about 50 points higher against lefties for his career and he's an easy play on both sites.
Hernandez meanwhile already has a career-best 31 home runs and was really able to cut down on his strikeouts this season, dropping that number to 25% after being well over 30% for the past couple of seasons. He also has a career-best 11 stolen bases and has become one of the better fantasy players around.
Gurriel hits a little lower in the lineup, but is 50 OPS points better against lefties for his career and has decent power all things considered. He's coming a bit cheaper than some of his Toronto battery mates.
Some other guys to consider would be Rafael Ortega (FD $3000 DK $2800) who is coming pretty cheap on DraftKings and should be hitting leadoff for the Cubs.
I don't mind the price on Max Kepler (FD $2500 DK $3800) who should be hitting in the fifth spot for the Twins.
FREE EBOOK
SECRETS TO CRUSHING DAILY FANTASY FOOTBALL!
DON'T SET ANOTHER LINEUP BEFORE YOU READ THIS BOOK.