Weekly Fantasy Football Picks Daily Fantasy
Expert Advice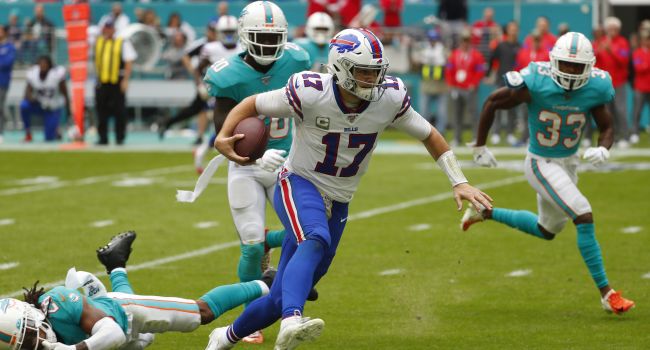 Daily Fantasy Football Cash Game Picks for FanDuel and DraftKings Divisional Round Saturday - Sunday Main Slate
Want access to the projections that power these picks? For a limited time, we're offering a free one-week trial to all the sports that we cover - that's optimal lineups for NFL and NBA - for the same low price. Get started now!
Quarterback

Josh Allen FD 8800 DK 7600
Opponent KC
Proj Points FD - 23.38 DK - 24.02
Josh Allen is coming off one of the most impressive playoff performances you will ever see. In a complete dismantling of the Patriots in the Wild Card round, Allen through for 308 yards and five touchdowns on only 25 total attempts. He also put up 66 rushing yards for good measure and the Bills won 47-17. Now he'll take things to Kansas City in what should be a high-scoring game between these two teams. Considering how Allen has scored his points all year, he's a pretty tough fade in this scenario. There is just almost no way he's not putting up enough points to hit value in this one again the Chiefs.

Patrick Mahomes FD 8500 DK 7300
Opponent BUF
Proj Points FD - 21.68 DK - 22.16
These two are facing each other and are pretty far ahead of the rest of the field when it comes to fantasy scoring. It looks like even at the top of the price scale, you are playing one or the other in cash. Mahomes is coming off a peak game of his own last week, going for 404 yards and five touchdowns in the easy win over the Steelers. Sure, he had to throw a bit more because of Kansas City falling down early, but it only just added up to more points. This game could be a shootout with both teams likely to keep their collective feet on the gas the whole time.
Running Back
Jerick McKinnon FD 6000 DK 4800
Opponent BUF
Proj Points FD - 12.47 DK - 13.97
This is a close one here. On the one hand, he looked as good as any Kansas City Chief running back has looked this season last week against the Steelers. Frankly, he looked like the guy the 49ers signed to a big contract a couple of years ago. On the other hand, if Clyde Edwards-Helaire is back full then all of a sudden the Chiefs have kind of a crowded backfield and things could get weird in terms of reps. Because of the price, I'm tempted to just role with McKinnon here and hope KC is playing the hit hand. But he's not as close as a lock as you would think considering how good he was last week.

Ke'Shawn Vaughn FD 5300 DK 4700
Opponent LAR
Proj Points FD - 11.62 DK - 11.71
Giovani Bernard FD 5400 DK 5000
Opponent LAR
Proj Points FD - 10.18 DK - 11.87
This is another very tough spot. In the first round of the playoffs, these two split snaps at exactly 49% each and touched the ball 19 and 20 times respectively. From a game script perspective, this was the perfect scenario to run the ball with Tampa Bay getting up early. And both backs got down and close opportunities. Vaughn technically started the game, but this was an even mix. From a pass-catching perspective, you have to give Bernard the clear leg up on DraftKings and he likely has the higher floor in general. Because if the game starts to get away from the Bucs then he should be featured in the passing game. Plus, all of this is a bit complicated if Leonard Fournette returns to the mix.
As for the other situations this weekend, well, it's a bit tricky. Let's go through them:
Derrick Henry looks like his is back, but the question is just how much? It's hard to imagine he gets a full workload right out of the gate and that's tough to stomach on a full salary.
And then there are the Rams who now have Cam Akers back alongside Sony Michel. It's tough to trust that situation at all.
Finally, Devin Singletary might be the safest of the bunch, though that's not saying all that much.
Eli Mitchell could put up a lot of carries but we know Deebo Samuel is very much in the mix there. 
Wide Receiver
Cooper Kupp FD 9500 DK 8600
Opponent TB
Proj Points FD - 22.37 DK - 27.36
While running back might be a bit of a dice roll, wide receiver is completely loaded this week. It's actually going to make for some interesting decisions, but just of a different kind. Kupp has been nearly impossible to fade all season long thanks to his ability to just rack up massive amounts of targets. Funny enough, his worst three weeks have been the most recent ones, with only seven targets per game in the short term. But he still caught touchdowns in all three and put up 95+ yards in each. The Bucs are a top-10 pass defense, but it's just so hard to get away from the projected usage for Kupp here, especially if the Rams are playing from behind.

DaVante Adams FD 8700 DK 8500
Opponent SF
Proj Points FD - 22.14 DK - 26.73
If we end up going on the cheaper side at running back, which I think we will, then it looks like we can load up at this position. And you would think that lineups having Kupp and Adams would have a very high floor. Adams was 22 targets behind Kupp on the season, though he did play one fewer game. And in a must-win scenario here against the 49ers, it stands to reason Aaron Rodgers looks his way early and often. His 11 receiving touchdowns were second in the league and he could see the most targets of anyone in this Divisional round.

Julio Jones FD 5600 DK 4700
Opponent CIN
Proj Points FD - 9.19 DK - 11.08
If we are looking to save a little bit of money at the position, I think going with Julio Jones, especially on DraftKings, makes a lot of sense. He's been hurt a lot of the year, but in his last regular-season game, the dude saw nine targets and finished with 58 yards and a touchdown. Considering the DK price and the full-point PPR, I think this is a fine play against the 24th-ranked passing defense in the league in the Bengals.
Mike Evans might see some Jalen Ramsey shadow coverage, but I think he's in play this week and could still see a lot of targets.
Tight End
Rob Gronkowski FD 7100 DK 5800
Opponent LAR
Proj Points FD - 14.9 DK - 17.69
While it might be tempting to pay all the way up for Travis Kelce in this spot, we might save a couple of bucks here with Gronk. He had back-to-back weeks of double-digit targets to close out the season, but those dropped to six last week. That being said, there was some context there with the Bucs firmly in control for nearly the entire game and not needing to go through the air all that much. Gronk also managed a touchdown in there as well. I think we see the targets tick back up some this week.

Tyler Higbee FD 5400 DK 4000
Opponent TB
Proj Points FD - 9.08 DK - 11.53
Higbee was another victim of circumstance last week with the Rams getting up a lot early and never really needing to press all that much through the air. He still saw about a 25% target share on Stafford's 17 passes and had seen six or more targets in each of the previous four weeks. Higbee is coming very cheap on DraftKings and I think we can pretty safely run him in cash there. It helps take a lot of salary burden off of lineups.
Defense/ Special Teams
Tennessee Titans FD DK
Opponent CIN
Proj Points FD - 7.24 DK - 7.24
Look, any defense is going to be tough to run out there this week. These are the playoffs after all and all of the teams left are actually good. That being said, the Titans are at home and could try to keep the ball on the ground a ton with Derrick Henry back. They are also the 4th-most expensive team on DraftKings, so you are getting them right in the middle of the pack. They were a fine enough defense this season and got to the quarterback at an above-average rate. Plus, the Bengals and Joe Burrow took the third-most sacks in the league this season.
CIN FD DK
Opponent TEN
Proj Points FD - 6.12 DK - 6.12
I think you can also just turn it around and play the other side of this game as well. The Titans gave up the 7th-most sacks in the league this season and they also turned it over more than league average. This is a good spot for the Bengals who are coming as the sixth most expensive defense on DraftKings and are the cheapest over on FanDuel.
FREE EBOOK
SECRETS TO CRUSHING DAILY FANTASY FOOTBALL!
DON'T SET ANOTHER LINEUP BEFORE YOU READ THIS BOOK.