Baseball Picks Daily Fantasy
Expert Advice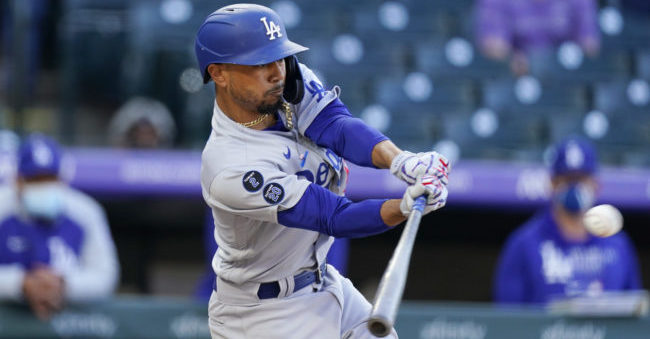 DraftKings and FanDuel MLB Picks for Friday 4/8/22 - All Day
Now's your chance to get DFSR PRO, which will give you access to our MLB, NBA, PGA, NHL, and NFL optimizers and our new player lab! Get started for free by clicking the button below.
Pitchers

Gerrit Cole FD - P 10800 DK - SP 9800
Opponent - BOS (Nathan Eovaldi) Park - NYY
FD - 41.27 DK - 23.33
Cole was masterful again last year, striking out more than 12 batters per nine, rocking an xFIP under three, and getting through games in an ultra-efficient manner with a 6:1 K:BB ratio. I don't love setting things up here against the Red Sox in Yankee Stadium, but he's almost just too good a talent to pass up. The Yankees have had a longer leash with his pitch counts in the past and he won't totally break the bank for you considering the strikeout upside. He's an especially good deal on DraftKings coming less than $10K. 

Shane McClanahan FD - P 8700 DK - SP 6600
Opponent - BAL (John Means) Park - TB
FD - 38.22 DK - 20.68
McClanahan enters Friday as one of the biggest moneyline favorites on the day at -184 with the Tampa Bay and Baltimore game also having the lowest total at 7.5. That's a good place to be for a starting pitcher and the young lefty is coming off an excellent rookie campaign in 2021. He struck out more than ten batters per nine and sported a 3.23 xFIP along the way. The one knock is that he didn't average a ton of innings per start which does cut into the upside. But if we learned anything from the first set of games, starting pitchers by and large are on short strings to start the season. He is coming way too cheap on both sites.

Max Scherzer FD - P 11000 DK - SP 10200
Opponent - WSH (Josiah Gray) Park - WSH
FD - 38.98 DK - 21.99
On the evening slate, it sure looks like we are going to want to roster Max Scherzer even as one of the more expensive arms going. The Mets' big off-season signing brings high expectations here especially considering they are going to now be without another ace Jacob DeGrom for some time. Simply put, Scherzer has been one of baseball's best arms going on almost a decade now and continues to put up some of the most dominating numbers in the game. He's struck out 12 batters per nine like clockwork and, for the most part, has really limited the walks as well. The Mets are -182 road favorites against the Nationals and Scherzer should be able to dominate his old team.
Catcher/First Base

Max Muncy FD - 1B 3800 DK - 1B/3B 5100
Opponent - COL (Kyle Freeland) Park - COL
FD - 16.88 DK - 12.48
While we aren't positive exactly how the Dodgers' lineup shakes out on Friday, there stands a good chance that Muncy is hitting the cleanup spot for LA. That's going to work out well if it's the case with the team heading into Coors for the opening tilt. Muncy is actually a reverse platoon guy for his career with an .893 OPS and .378 wOBA against lefties. Those are significantly higher than what he's done against righties and he's priced way too low on FanDuel especially.

Rowdy Tellez FD - 1B 2200 DK - 1B 3500
Opponent - CHC (Justin Steele) Park - CHC
FD - 10.04 DK - 7.59
We are going to try to add some cheaper options at the plate to go with the stud pitchers and Coors guys on this slate so there are some functional ways to build lineups. Tellez started the season batting fifth for the Brewers and should stick in in that slot again here considering he's been a platoon neutral hitter for his career. There's a chance they platoon him against the lefty Steele, so we will need to be on the lookout for that, but for the time being, I think we can consider slotting him in for this matchup considering how cheap he is coming.
Second Base

Robinson Canó FD - 2B 2200 DK - 2B 2400
Opponent - WSH (Josiah Gray) Park - WSH
FD - 10.23 DK - 7.81
Jeff McNeil FD - 2B 2300 DK - 2B/OF 3300
Opponent - WSH (Josiah Gray) Park - WSH
FD - 9.68 DK - 7.44
Second base is kind of a problem on Friday and there are plenty of ways to spend on this slate in other spots. I think that's going to mean taking some savings where we can get it and this might be the position. With Brandon Nimmo banged up and the Mets facing the righty Josiah Gray, we could see one of these guys move up the order. It could be McNeil in the leadoff slot if Nimmo can't go and that would instantly be one of the better values on the slate. McNeil struggled last season with an OPS under .700. But he had BABIP issues for starters and really saw the Hr/FB% plummet as well. He's still a patient hitter and is very tough to strike out.
And then there is Cano who is back from the suspension and should be in and around the middle of the Mets lineup. He's 39 years old and the PEDs were likely a thing, but this dude did have close to a .900 OPS in 182 plate appearances back in 2020. He's coming super cheap on both sites and I think he's worth a stab in cash games for the savings at a weaker position if he's around the middle of the lineup.
Shortstop

Trea Turner FD - SS 4600 DK - 2B/SS 6300
Opponent - COL (Kyle Freeland) Park - COL
FD - 18.39 DK - 14.16
Our first big slate of the season has the Dodgers going into Coors and facing off against Kyle Freeland. This game, obviously, has the highest run total of the slate and it isn't really all that close. Such is the case with games in Coors and we are going to want to have bats here as much as we can fit them with the higher-priced arms. Turner should be hitting third in the lineup against the lefty Freeland and is basically everything you would want in a fantasy bat, smacking 28 home runs and stealing 32 bases last season. There's a reason he's among the highest-priced offensive guys going here.
Willy Adames FD - SS 2900 DK - SS 4300
Opponent - CHC (Justin Steele) Park - CHC
FD - 11.32 DK - 8.58
The Adames play goes along with Tellez and maybe a couple of other Brewers we can consider on Friday. They were chalk plays on the main Opening Day slate facing off against Kyle Hendricks. Milwaukee struggled early, but eventually we able to put some runs on the board. Justin Steele had some control issues last season, walking more than four batters per nine. And Adames has been better against righties for his career, though some of that is BABIP-related. I'm still fine playing him here as a middle-of-the-order bat against one of the weaker arms on the slate.
Third Base

Justin Turner FD - 3B 3800 DK - 3B 4600
Opponent - COL (Kyle Freeland) Park - COL
FD - 15.06 DK - 11.36
Again, Coors Field is going to be the theme here and this isn't the last Dodger you will see for Friday. With the addition of Freddie Freeman, Turner will likely move down the order some for LA, but he's still able to get it done with the bat. He's coming off a mid-800s OPS season that saw him hit 27 home runs. And though he's always been better against righties, the walk rate is good against lefties and he does have a higher ISO (191) in that split. He's coming on the cheaper side compared to some of his teammates as well, which helps.

Austin Riley FD - 3B 3600 DK - 3B 5000
Opponent - CIN (Reiver Sanmartin) Park - ATL
FD - 13.44 DK - 10.17
Riley had a breakout season in 2021 with a .898 OPS and 33 home runs in his 662 plate appearances. He put it all together and was among the best hitters in the game. There was some BABIP run hot for sure, but overall he looked every bit the top prospect and there's a reason he was going high in drafts this year. He's been platoon neutral for his career so far, so it doesn't look like there's a huge advantage facing off against the lefty Sanmartin in this one, but the latter is coming as a big underdog in this game and could face some problems against a potent Braves offense.
Outfield

Mookie Betts FD - OF 4500 DK - OF 5700
Opponent - COL (Kyle Freeland) Park - COL
FD - 19.11 DK - 14.39
If you can get three Dodgers into your lineups on Friday you will be better off for it. And targeting the top of the order is going to be the way to go. Betts didn't have quite the same fantasy impact last season with a mid-800s OPS, 23 home runs, and 10 steals. But he remains super dangerous and this is easily the best spot for any offense heading into the weekend. I suspect he's a very popular play on both sites.

Andrew McCutchen FD - OF 2500 DK - OF 4300
Opponent - CHC (Justin Steele) Park - CHC
FD - 11.58 DK - 8.67
McCutchen might be getting a bit up there in age, but he's still got some pop in the bat coming off 27 home runs last season with the Phillies and starting off this year well in his first game with the Brewers. He's been a lefty killer throughout his career with a .955 OPS and .406 wOBA in that split. That bodes well against Steele in this game and all we are waiting for is what direction the wind will be blowing in Wrigley.

Marcell Ozuna FD - OF 2900 DK - OF 4000
Opponent - CIN (Reiver Sanmartin) Park - ATL
FD - 12.9 DK - 9.77
Ozuna was terrible last season, no doubt about it. He struggled with an OPS in the mid-600s, had injuries and just couldn't really get anything going. He's looking for a turnaround this year for sure, and this one offers a favorable matchup considering Ozuna is much better against lefties for his career. He has a 129 wRC+ and .851 OPS in that platoon to go with a .220 ISO and .360 wOBA. All of those are considerably higher than what he's done against righties. The price is still lower on FanDuel because he was a trainwreck last season.
FREE EBOOK
SECRETS TO CRUSHING DAILY FANTASY FOOTBALL!
DON'T SET ANOTHER LINEUP BEFORE YOU READ THIS BOOK.