Baseball Picks Daily Fantasy
Expert Advice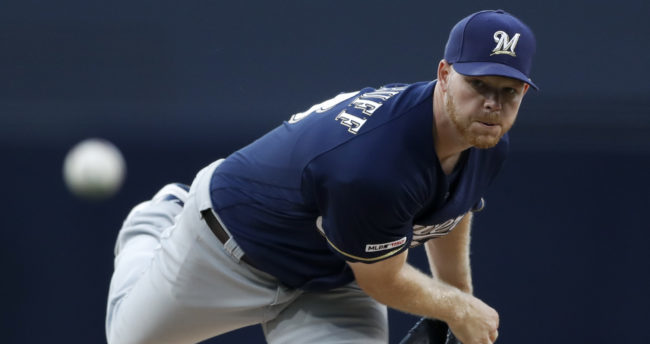 DraftKings and FanDuel MLB Picks for Saturday 4/9/22 - All Day
Now's your chance to get DFSR PRO, which will give you access to our MLB, NBA, PGA, NHL, and NFL optimizers and our new player lab! Get started for free by clicking the button below.
Pitchers

Brandon Woodruff FD - P 10500 DK - SP 9700
Opponent - CHC (Justin Steele) Park - CHC
FD - 38.48 DK - 21.04
The Brewers and Cubs were rained out on Friday pushing the Woodruff start to Saturday and he remains in a good spot. We will have to wait on the wind direction to figure out just where this over/under will land, but the Brewers' righty comes in as a -150 road favorite against Chicago. Woodruff was excellent last season, striking out more than 10.5 batters per nine and rocking a 3.05 xFIP which trailed the 2.56 ERA by about a half a run. I like the pricing on both sites and think he has some solid K upside against this Cubs' lineup.
Carlos Rodón FD - P 10100 DK - SP 9300
Opponent - MIA (Pablo López) Park - SF
FD - 38.18 DK - 21.05
Rodon will make his first start in a Giants uniform after coming over as a free agent in the off-season. The lefty was insane last season, finally putting together all of the promise he had coming up, converting the stuff to real strikeouts in a big way. He K'd more than 12 batters per nine and the 2.44 BB/9 rate was, by far, the lowest of his entire career. It all just worked itself out and now he moves to the NL and to one of the best pitchers' parks in baseball for the season. You have to love the strikeout upside here against the Marlins and he makes for one of the better pitching options on the day as a -151 home favorite.
I don't mind Kyle Gibson (FD $8300 DK $7200) as a cheaper DraftKings option on this slate facing off against the A's.
Catcher/First Base

Matt Olson FD - 1B 3800 DK - 1B 5200
Opponent - CIN (Vladimir Gutierrez) Park - ATL
FD - 15.24 DK - 11.35
The Braves get one of, if not *the* best matchup of the day facing off against Vladimir Gutierrez who we will get to a little later. For Olson's part, he's sliding into the Freddie Freeman slot in the lineup after coming off a career year in 2021. He sported a .911 OPS with 39 home runs for the A's. One of his biggest changes was cutting out the strikeouts, reducing the K rate from north of 25% to 17% in just one season. That kind of patience should pay off against a guy like Gutierrez who really can't put down batters with consistency and struggles with control as well.

Rowdy Tellez FD - 1B 2200 DK - 1B 3500
Opponent - CHC (Justin Steele) Park - CHC
FD - 10.04 DK - 7.59
We are going to try to add some cheaper options at the plate to go with the stud pitchers and Coors guys on this slate so there are some functional ways to build lineups. Tellez started the season batting fifth for the Brewers and should stick in that slot again here considering he's been a platoon neutral hitter for his career. There's a chance they platoon him against the lefty Steele, so we will need to be on the lookout for that, but for the time being, I think we can consider slotting him in for this matchup considering how cheap he is coming.
Second Base
Brandon Lowe FD - 2B 3700 DK - 2B 5400
Opponent - BAL (Jordan Lyles) Park - TB
FD - 14.49 DK - 10.82
The Rays get an excellent matchup against Jordan Lyles in this one with the Orioles righty striking out fewer than seven batters per nine for his career with a 4.48 xFIP. For Lowe, this bodes well considering he will K at around a 29% rate for his career. But with that expectation reduced, there's room for the power to come in. He popped a career-high 39 home runs last season and he crushed righties to the tune of a .901 OPS.
Nick Senzel FD - 2B 2200 DK - 2B/OF 3000
Opponent - ATL (Kyle Wright) Park - ATL
FD - 9.75 DK - 7.52

Robinson Canó FD - 2B 2200 DK - 2B 2400
Opponent - WSH (Joan Adon) Park - WSH
FD - 9.08 DK - 6.93
I think Lowe is the far and away best option at second base on Saturday so after him, I think I just want to go cheaper and hope for the best. Both of these guys are hitting around 6th in their respective lineups which is just about the cutoff point I want to see in cash games. And their prices help here considering both are coming near punt salaries on FanDuel and DraftKings. Because the position is on the weaker side, I really don't want to get up higher in price tiers because, at that point, it's just diminishing returns on the production.
Shortstop
Willy Adames FD - SS 2900 DK - SS 4300
Opponent - CHC (Justin Steele) Park - CHC
FD - 11.32 DK - 8.58
The Adames play goes along with Tellez and maybe a couple of other Brewers we can consider on Saturday. They were chalk plays on the main Opening Day slate facing off against Kyle Hendricks. Milwaukee struggled early, but eventually we able to put some runs on the board. Justin Steele had some control issues last season, walking more than four batters per nine. And Adames has been better against righties for his career, though some of that is BABIP-related. I'm still fine playing him here as a middle-of-the-order bat against one of the weaker arms on the slate.
Bobby Witt Jr. FD - SS 2500 DK - 3B 2200
Opponent - CLE (Zach Plesac) Park - KC
FD - 10.21 DK - 7.85
Witt is one of the top prospects in the games and started the season for the Royals hitting second in the lineup. That's a great sign for the plan going into this year with the young shortstop and he's coming way, way too cheap on both sites if that's where he's going to slot. He projects to have real major league power with some speed as well and hasn't struck out a ton during his time in the minors. This matchup against Plesac is a good one and Witt's salaries help fit in some of the pricier arms.
Third Base

Josh Donaldson FD - 3B 3300 DK - 3B 5400
Opponent - BOS (Nick Pivetta) Park - NYY
FD - 13.42 DK - 10
Donaldson started the season in the leadoff slot for the Yankees and it's looking like he will stick there at least for the beginning of this campaign. That it was against a righty is even better, especially when projecting out where he'll land against Pivetta on Saturday. Hitting in front of Rizzo, Judge, Stanton, and others will have a major advantage on the counting stats for Donaldson and he's got one of the most advantageous slots in all of baseball now. The FanDuel price doesn't reflect it at all and he's a total bargain over there.

Max Muncy FD 3800 DK 4300
Opponent - COL (Germán Márquez) Park - COL
FD - 16.3 DK - 12.04
We haven't spent a ton of time on Coors for Saturday even though the Dodgers have the highest run line for the day. But with German Marquez on the mound, the juice might not be worth the squeeze considering the price bumps players get when traveling here. That being said, Muncy is still reasonably priced all things considered, and is an especially good deal on DraftKings where he is 3B eligible. He bounced back last year from a rough 2020 campaign and was right back to being a high-800s OPS guy who walked a ton (14%) and smacked a career-high 36 home runs. He makes for a good Coors play today and won't break the bank.
Outfield
Eddie Rosario FD - OF 3000 DK - OF 4300
Opponent - CIN (Vladimir Gutierrez) Park - ATL
FD - 13.15 DK - 10.09

Marcell Ozuna FD - OF 3000 DK - OF 3800
Opponent - CIN (Vladimir Gutierrez) Park - ATL
FD - 13.08 DK - 9.91
Rosario should be in the leadoff slot against the righty Gutierrez on Saturday and that's going to be a good spot for him and the Braves just in general. Gutierrez is one of the worst arms on the slate, striking out fewer than seven batters per nine last season through 114 innings. That's about as bad as you'll see from an arm allowed to go that many innings. His 5.11 xFIP told most of the story. Rosario hasn't quite seen the same power numbers from earlier in his career, but I'm still holding out hopes on that front for the lefty. He is very tough to strike out (less than 15% for the last three seasons) and makes a lot of contact. That's a great profile against a pitcher like this one.
Meanwhile, Ozuna was terrible last season of course, but we are looking for a bounce-back this time around. It hasn't started off all that well, but hey hope springs eternal this time of year. Against a low-K, softer tossing righty arm is where we could hope to see things turn around, especially in the power department.

Andrew McCutchen FD - OF 2500 DK - OF 4300
Opponent - CHC (Justin Steele) Park - CHC
FD - 11.58 DK - 8.67
McCutchen might be getting a bit up there in age, but he's still got some pop in the bat coming off 27 home runs last season with the Phillies and starting off this year well in his first game with the Brewers. He's been a lefty killer throughout his career with a .955 OPS and .406 wOBA in that split. That bodes well against Steele in this game and all we are waiting for is what direction the wind will be blowing in Wrigley.
If looking for another bat in Coors, Mookie Betts (FD $4400 DK $5100) fits the bill.
image sources
Brewers Padres Baseball: AP Images
FREE EBOOK
SECRETS TO CRUSHING DAILY FANTASY FOOTBALL!
DON'T SET ANOTHER LINEUP BEFORE YOU READ THIS BOOK.